Deja Vu (Days 34-38, Erwin to Scotty's Hostel)
This is a special section of trail for me. Before I started on my thru, I had some pretty bad issues with my left knee. I was in physical  therapy for 5+ months, up until 2 weeks before I started my hike. I wasn't sure I'd be healthy enough to do this hike in 2016. So, in mid March, my friend Michael and I did the Carver's Gap to 19E section of the trail. It's only 15 miles, and we took it slow, but the success of that section hike gave me the confidence to quit my job when I got back to Chicago and do the trail this year.
Covering the same section as a thru hiker was surreal, and I was experiencing some major deja vu hiking over the same ground I (very slowly) covered a few months ago.
Anyway, that's enough preamble. On to the updates!
Day 34
Start: No Business Knob Shelter
Finish: Erwin, TN
AT Miles Hiked Today: 6.3
Overall AT Miles Hiked: 342.2
Miles To Go Until Katahdin: 1,846.9
It rained out all night, which was a bummer. I was so tired after the awful day going over Bald Mountain in the snow that I conked out immediately and didn't hear the rain at all. Thankfully, when we awoke the rain had stopped. Reindeer and I got out of camp at 8 and made the mostly downhill sprint down to Erwin.
I'm really thankful that my right ankle was feeling better today. I was seriously limping by the time I got to camp last night.
We got fantastic views coming off the mountain, including Erwin in the distance!
As we arrived at the gap, Reindeer and I decided to hitch into town to get a room at the Super 8. We could have stayed at Uncle Johnny's hostel, which is right next to the trail, but we liked the idea of having a private room and shower to ourselves, along with being close to restaurants.
We stuck out our thumbs near the trail. The first lady to roll by looked apologetic, but indicated she had too much stuff in her backseat for both of us. A few minutes later, a man pulled over next to us and rolled down his window.
And thus began the most terrifying hitchhike of my life.
"Hi!" I yelled. "We're looking to go into Erwin, can you give us a lift?" He nodded, but didn't say anything, as he was on the phone.
Reindeer and I climbed into the backseat with our packs and thanked him profusely. He nodded and continued with his phone conversation.
"YEAH, JUST GETTING BACK FROM THE DOCTOR'S," he yelled into his phone, as we pulled away from the trail. "THEY COULDN'T FIND A PULSE IN MY DAMN FOOT, SO THEY BROUGHT OUT SOME KIND OF DAMN EKG MACHINE!"
Reindeer and I looked at each other. This was going to get interesting.
The man hung up his phone and turned back to us. "Hey, sorry, just getting back from the doctor's. That's why I'm drinking!" And he pulled out an open 40 of beer wrapped in a paper bag from below his seat.
Oh shit. This was about to get really, terrifyingly interesting.
Reindeer and I tried to engage him in small talk, as he swerved past people walking on the side of the road. According to him, he hiked the trail "back in 88 or 89, I can't remember". Small talk cut off as he started changing the CD and took his eyes off the road. So, not only was he drunk, he was no longer watching the road. Terrifying.
He started talking to us about a hibachi place on the outskirts of town. "Well, we'd love to check it out, but we really want to drop our packs off," I replied. "Can you please take us straight to the Super 8?"
"Uhh, yeah, sure, Super 8." He said, as he finally got the new CD loaded. Rob Zombie. It was straight metal, and it was blasting out of the speakers.
We finally pulled into the motel after the longest 10 minutes of my life. We scrambled out of the car, and I yelled "Thanks man!" over my shoulder as we entered the safety of the Super 8.
The rest of the day was MUCH more enjoyable! Reindeer and I went over to Huddle House for some breakfast, then immediately followed up breakfast with lunch by hitting up Bojangles on the way back to the hotel.
The motel was surprisingly really nice! I took a half hour shower as hot as the water would go, then we did laundry and bummed around.
Then, Crusher texted Reindeer that he would make it into town around 3. Perfect! The crew of 3 is back together! We all hung out and watched Breakfast Club and then Caddyshack on TV. So lazy, and so great.
At 5, Reindeer, Crusher and I walked over to the Mexican restaurant along with Snail and  Sandals. It was a long walk, over a mile, but it was so worth it! I finally got my guacamole fix. Snail's smothered burrito weighed more than she does. We all crushed basket after basket of chips and ate queso by the pound. I was so happy.
Snail and Sandals split to go see the new Captain America movie, so the rest of us made our way over to Food Lion to resupply. It's 76 miles to Kincora Hostel, which we are gonna try to do in 5 long days. After suffering so bad over the last section because I packed too much food, I resupplied much lighter for this section.
We got back to the motel, and I video chatted with my Mom to wish her a happy mother's day a few days early. Thanks for the support, mom! I wouldn't be here without you!
For the rest of the night, we lay in bed and watched alien TV shows on the history channel. Great end to a great day. I ate ice cream and Reindeer ate cookie dough. We were out by 10:30.
In sadder news, today we heard about the sudden death of trail legend Baltimore Jack. I had the pleasure of meeting Baltimore Jack while in Franklin a few hundred miles back. He was always smiling, often laughing, and very clearly happy to still be a part of the trail community. You will be missed, Baltimore Jack!
Day 35
Start: Erwin, TN
Finish: Unaka Mountain Tent Site
AT Miles Hiked Today: 12.5
Overall AT Miles Hiked: 354.7
Miles To Go Until Katahdin: 1,834.4
We all slept in until close to 8, then made our way out to the free breakfast spread the motel set out. The dining area was already packed with hikers, with no seats available, so we took our food back to the room and ate while we packed up.
We called a shuttle, as Reindeer and I figured it would be quicker than trying to hitch out to the trail, which is in a pretty obscure spot outside of town. Lots of other hikers making there way out today!
We hit the trail at 10:30. Our entire day was going to be uphill, and we had full food bags. We were prepared for a miserable day, but the weather definitely helped us out! It remained cool, and there was lots of water for the first 7 or so miles, which reduced our need to carry water. (Water weighs 2.1 pounds per liter, which really sucks when you're carrying 2 or 3 liters at once!)
We hiked uphill alongside well-flowing rivers to start the day, then we lost the water, but kept going up, up, up!
Around 2:30 we came across trail magic at Indian Grave Gap! Fresh oranges and lemonade, hosted by Brother Tom from a local Church. Thank you for being kind to hikers!
We continued climbing, hitting some really nice views atop the balds. The sun was full blast at this point and we were really sweating.
We felt pretty good at the water source at mile 11, but it was already 4pm, and the next water source wasn't until we got up and over the summit of Unaka Mountain, at Cherry Gap Shelter. That was over 6 miles away. So, we loaded up on water and decided to climb another mile to a tent site before the summit. The terrain was awful on the climb, but we rolled into camp around 5pm.
Not a bad day, but we will have to make up the mileage towards the end of this section, with a 17 or 18 mile day. That'll be easier once we eat down our food weight! I'm not worrying about that yet. The wind is howling outside my tent, but I'm nice and warm in my sleeping bag. Looking forward to getting in 15+ miles tomorrow.
Day 36
Start: Unaka Mountain Tent Site
Finish: Water source 0.5 miles North of Hughes Gap Road
AT Miles Hiked Today: 17.6
Overall AT Miles Hiked: 372.3
Miles To Go Until Katahdin: 1,816.8
Some chatty hikers camped at the same site as us kept Reindeer, Crusher and me up late last night. Some people have no respect for hiker midnight (9pm).
I was packed up much earlier than the other guys this morning, so I rolled out of camp at 8:30 and hiked most of the day alone. It was a refreshing change from hiking with one or two others. The subtle social pressures become much more evident when you hike alone!
Remember in my last update how i accidentally took someones identical black diamond trekking poles in Hot Springs? At around 4 miles into the day, I hit the first shelter. There's a guy packing up and almost ready to leave. I noticed that he had the same trekking poles as me, so I asked him if he happens to be Breaking Badger. He looked at me for a second, then said "You must be Slice!" We laughed and swapped trekking poles back. He wasn't upset at all! It all worked out in the end. Glad I caught him, he is apparently doing big days to get to Trail Days.
The trail for most of today was hilly, but smooth as butter. I covered the first 6 miles in just over 2 hours. It was chilly, but not cold, so I was hiking in shorts. The temperature definitely made it easier to break less often.
I cruised through to the shelter near mile 13.5, where I told Reindeer that I'd meet him and Crusher. I arrived at 2, and waited about 45 minutes for Reindeer and Crusher to arrive. We were all feeling good, so we decided to keep rolling through for a few more miles.
We hit Hughes Spring Road around 4:30. From there, it's 2,200 feet of elevation gain over 5 miles to Roan High Knob Shelter. We decided to camp near the water source a half mile north of the road. It's a less than ideal spot, I'm at quite the angle as I lie in my tent typing this. But, the terrain is really slanted, and we had already done over 17 miles on the day and didn't want to climb the mountain looking for a suitable spot.
We cross over Carver's Gap tomorrow and into the section of trail that I hiked in mid March with my friend Michael! We're planning on another long day, 17.8 miles, to get to Doll Flats, an excellent campsite I stayed at a few months ago. That also marks the state line for North Carolina and Tennessee!
Short entry today, but nothing really happens when you hike alone. I guess it really is the people that make this trail interesting!
Day 37
Start: Water source 0.5 miles North of Hughes Gap Road
Finish: Doll Flats campsite
AT Miles Hiked Today: 17.8
Overall AT Miles Hiked: 390.1
Miles To Go Until Katahdin: 1,816.8
Awesome day today, although it started out terribly, with a 5.5 mile climb up and over Roan Mountain to Carver's Gap.
We left camp without Crusher, as we were packing up he said he needed to go to the bathroom, and he is notorious for taking 30 minute restroom stops. We figured he would catch up soon enough.
The terrain started out great during the climb, but was absolutely terrible as we made our way up and over the top. So many loose rocks, we had to go really slow to avoid rolling an ankle.
Finally, we hit Carver's Gap just shy of noon. It was surreal to start to hike a section I've already hiked. Serious deja vu all day. Somehow the next 12 miles felt easier, knowing what was ahead! When the destination is known, the journey seems shorter.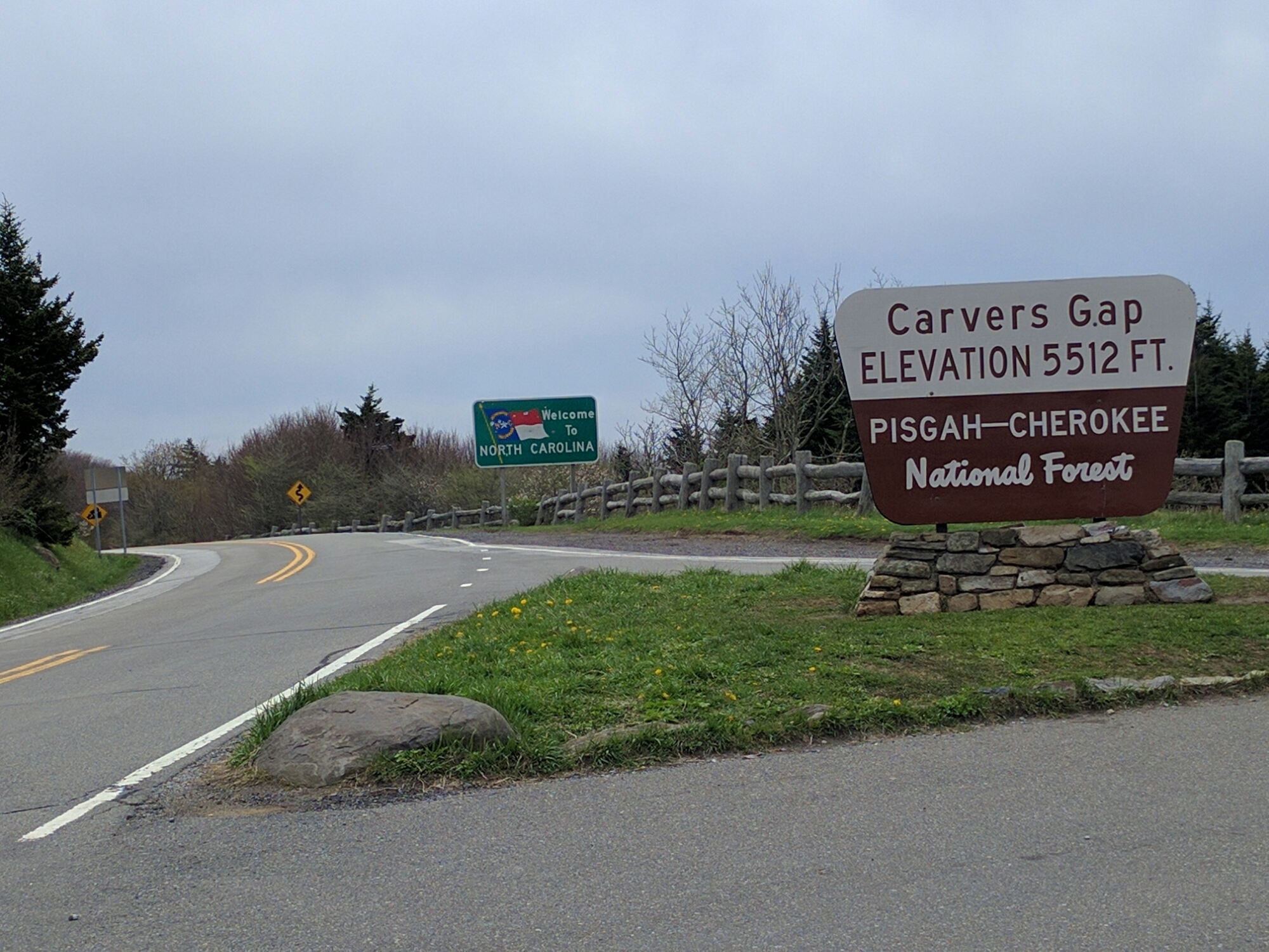 Gorgeous views over Round Bald and Jane Bald. This is one pretty section of the trail, that's for sure. I'll let the pictures speak for themselves.
As we were hiking, we saw a bunch of middle schoolers. They yelled "ARE YOU THRU HIKERS??" followed immediately by "WOULD YOU LIKE SOME FOOD?" And to our disbelief, these kids opened up their lunch boxes and started offering us snacks!
I ended up taking a goldfish bag, but I was more amused than anything else. One kid started filming Reindeer and me for his YouTube channel. This kid was 13 at most, but has a YouTube channel? Times sure have changed, I barely had a game boy color with Pokemon at his age. So I can only imagine I'm famous to preteens around the globe.
Their teacher had taught them all about the trail and was on a field trip! She had even taught the kids to ask if they could take our trash. That's some serious hiker knowledge right there.
Reindeer and I hiked on. The miles were coming much quicker now that we were hiking on gently graded balds!
We caught perfect weather today. I can't imagine going over these high balds during a thunderstorm!
We were wiped coming off of Hump Mountain, but we decided to push to Doll Flats, the same campsite that my buddy Michael and I stayed at during my final Shakedown hike from Carver's Gap to 19E in March. I was having severe deja vu rolling into Doll Flats. Mikey, wish you were here man, I'm thinking of you tonight. Thanks for your help preparing for the trail, answering my dumb questions and looking over the many potential gear lists I sent your way! I definitely owe you a beer.
Crusher never caught us today. Either that was one long poop, or he got tired and stopped early. Hopefully we catch him tomorrow!
Oh, and another cool fact about Doll Flats: It's also the final time we leave North Carolina. After weeks of basically walking the NC/TN border, jumping from one state to the other every day, we can finally say goodbye to North Carolina!
2 states down, 12 to go!
Day 38
Start: Doll Flats campsite
Finish: Hostle off of Upper Laurel Fork 
AT Miles Hiked Today: 15.7
Overall AT Miles Hiked: 405.8
Miles To Go Until Katahdin: 1,783.3
I awoke at midnight to something snacking me in the face. It was my tent, being blown over by strong winds from the East! On my shakedown hike here in March, my tent got blown over as well. These are the only times my tent has failed, and it happened in the exact same campsite. More deja vu.
Anyway, I had to get out in the rain and fix it, then wait out the storm for about an hour before I could fall back asleep.
Last night Reindeer told me he wanted to sleep in a bit, so I told him I'd wait for him at Mountaineer Shelter, 12 miles into our day. I rolled out of camp at 8:30 and cruised down to 19E a few miles down the mountain.
After crossing over the road, there were several noticed about bears being extremely active in the area. They even had to close a shelter!
Before I got a half mile up the other side of the gap, I was sweating through my long sleeved shirt. As I was changing into my sleeveless shirt, I heard a commotion from back on the trail, as if someone was trying to blaze their own trail through the woods. Then, 20 feet away from me, out popped a giant black bear.
Oh, shit! I had time to think, before the bear saw me, then immediately turned and hauled ass in the opposite direction down the trail. My adrenaline was going, but I could do nothing more than laugh and put my pack back on.
A few minutes later, I heard trekking poles smashing together. Another hiker named Conner yelled that he just came across ANOTHER bear! So many bears! He was trying to make noise to scare them off. We walked and loudly talked for the next few miles to keep our path clear.
Other than the bear, it was smooth sailing all day today! The trail was very well maintained and, for the most part, gentle in the ups and downs.
I rolled into the shelter around 2pm to wait for Reindeer. He showed up around 2:30, and as we chilled for a bit, he mentioned there was a hostle 4 miles ahead, via a 0.4 mile side trail, with pizza, soda, and ice cream. I said hell yes to that idea! I was starving by that point, and a few thousand calories sounded like just the fix. We flew through the next 4 miles.
We rolled into the hostle at 5, and I am happy to confirm they had pizza (I had a full pizza), soda (I had 2 Coca-Colas) and ice cream (I had a full pint of Ben and Jerry's). I'm so full as I write this. So much food. And we're happy because Crusher caught up with us! I'll leave you with pictures.
So, that's where I'll wrap this update. We are watching the sunset on the back porch of Scotty's, listening to him play piano and feeling pleasantly full for the first time since Erwin. Crusher is eating two pizzas by himself. Hopefully 4 days into Damascus from here, so we can walk into the middle of Trail Days! Our timing couldn't be better.
Until next time, happy trails!
-Slice
Affiliate Disclosure
This website contains affiliate links, which means The Trek may receive a percentage of any product or service you purchase using the links in the articles or advertisements. The buyer pays the same price as they would otherwise, and your purchase helps to support The Trek's ongoing goal to serve you quality backpacking advice and information. Thanks for your support!
To learn more, please visit the About This Site page.