Dicks Creek Gap to Rock Creek Gap
Prior to Dicks Creek Gap I spent the last hour in the hot tub with the ladies of UVA Wise lacrosse. They're big time.
Sunday, March 1:  Chives, Pitstop, and Synthesizer are in the lobby waiting for their ride out. Liberty the brown lab is eating an apple like I eat a corncob.
Shuttle back to Dicks Creek Gap with Sally and Joyce. I had to ride in the back with seat covers on the way in because I stink and I am wet; on the way back I get front seat warmers, no covers, and another great ride. Thank you!
Chives and Liberty, Pitstop, and Synthesizer are waiting at Dicks Creek Gap. Reception is good on Dicks picnic table and that is where Chives and Pitstop are. Chives dropped his phone in the shuttle, but will get it back later. Synthesizer got his name because he was making sounds on the down from Blood Mountain.
Synthesizer says I am physically looking different because of my facial hair and a loss in fat in my face. Pitstop says she's tightening her waist belt a bit more.
Into the Southern Nantahala Wilderness. Bigger ascent, but my lungs are doing better. Eventually Synthesizer and Pitstop pass me and tell me Chive's phone is on the way.
So today I leave Georgia and hit Tennessee. As I am walking into Tennessee, Devil Went Down to Georgia comes on my earphone. I have Tennessee by Arrested Development ready to play and get it started as I hit my first border.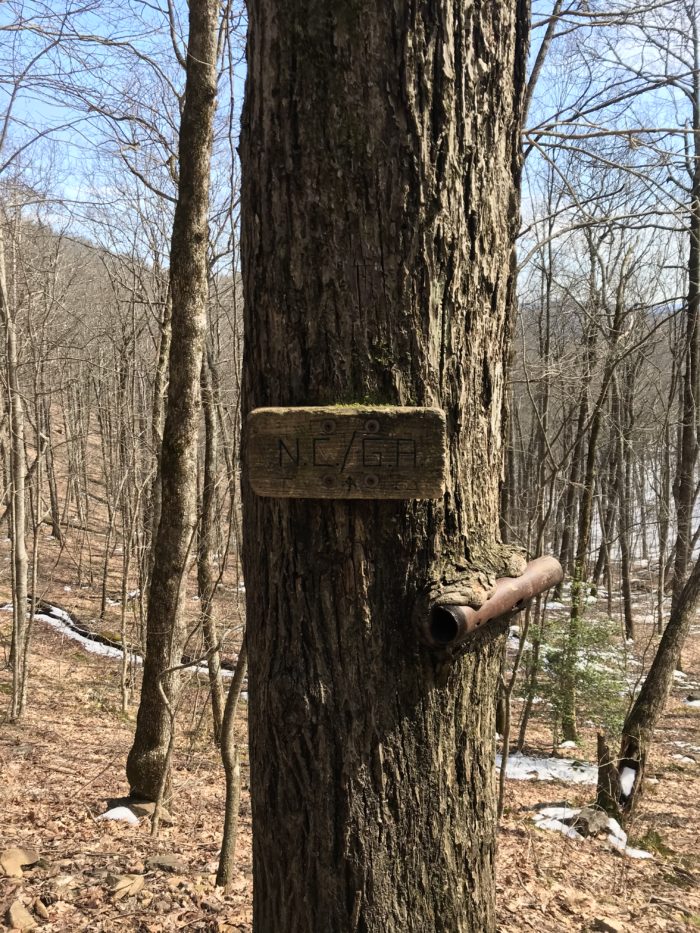 I hit 4,817 feet and stop for a snack of peanut butter pretzels, cashews, and beef and turkey jerky. 5AM passes me and I start the descent. I have hit slush along the way.

I hit 11.8 miles and stop at whatever shelter that is. There are two British guys and three others in the group and in my mind they are The Beatles going forward and they do not mind the name.
Monday, March 2: I struggled getting my bear bag up, but I got it and sleep great, but am probably the first up and the second last to leave because I am fueled by oatmeal and the instant coffee helps. 100% chance of rain today and it starts around 9:30 a.m.
Today's goal is Carter Gap Shelter at 12.8 miles. It is full and overflowing and I continue on into the Southern Nantahala  Wilderness.
An additional 3.75 miles and I go over 16 miles for the day and settle in at Betty Creek Gap around 4:30. I followed 5AM into camp, collect water, and make chicken and mashed potatoes by Mountain House, and hot cocoa by Land O' Lakes. Lights out around 7.
My hiking clothes (below the waist) are soaked from the rain, but my camping clothes are dry.
Every night I toss and turn. I probably wake up at least three times, but in between I sleep on my face, drool, and dream about weird stuff.
Sleepwear is knee-high Darn Tough Socks, ASICS running pants from my running days, Target synthetic upper, Black Diamond glove liners, Huff and Mizuno or Land's End hat again, from my running days.
Tuesday, March  3: I am awake at 4 a.m., but really do not get moving around until 4:40 am.. It takes me around two hours to get coffee, breakfast, and packed. As I am waiting, drinking my coffee or eating my oatmeal, I go through my checklist. Today I forgot my vitamins,  hyaluronic acid, and snacks for the rest of the day.
I have not had cell service for a day and a half, but I am on the trail at 6:40 a.m., a little dark, but I would not call it night hiking.
Around 7:30 a.m. I get reception and respond to mom and dad.  I sent an overload of food back home and apparently my dogs ate it. Silver one, Akron guilty, Presley is innocent because he cannot reach stuff without help.
Today was the toughest climb after Dicks Creek Gap. I had a couple times on all four, but I made it to Rock Gap at 10.1 miles around 11:30 a.m. and get a ride into Franklin, North Carolina.
To conserve phone battery it is usually on airplane mode. Ankar  10000 keeps me powered otherwise .
Tomorrow off to Nantahala Outdoor Center at 9 a.m.
Affiliate Disclosure
This website contains affiliate links, which means The Trek may receive a percentage of any product or service you purchase using the links in the articles or advertisements. The buyer pays the same price as they would otherwise, and your purchase helps to support The Trek's ongoing goal to serve you quality backpacking advice and information. Thanks for your support!
To learn more, please visit the About This Site page.