The Dirt on the Trail: Chapter 2
Leaving Franklin
We got one last round of pancakes and bacon before checking out and heading to Haven's Budget Inn to get a shuttle back to the trail. Mr. Ron Haven himself drove us and was full of interesting information as always, such as Cherokee history and how the Cherokee greet each other by saying, "Are you strong?" rather than, "How are you?"
---
The "W.B.'s"
The trail to Wayah Bald Shelter was snowy and swampy, but the weather was warm. The wildfires had done a fair amount of damage throughout the region.
We knew Middle Brother was going to start lagging behind since he had plans to start hiking with friends he was meeting at the N.O.C., but we didn't realize he was stopping at the shelter prior to ours. We felt bad for not saying "goodbye." Hopefully, he'll read our notes in the log books and will catch up later.
We had a short hike to Wesser Bald Shelter the next day, which was nice since I was feeling a bit sluggish. We checked out the view from the tower first. The privies have been quite revealing lately, so rather than being modest, I decided to say, "hello" to people who get too close. The one guy I did it to seemed more embarrassed than me about it. Success.
---
NOC NOC NOC! Let Me In!
Before trucking into the Nantahala Outdoor Center (NOC), there were nice views to be had.
We grabbed our drop box, a couple beers and waited for Panda to catch up.
He informed us he was missing his wife and kid, and had decided to get a ride home from our friend John who was heading home from Atlanta. We were bummed, but understood. The rest of the time spent at the NOC was a blur, and I would be making the climb out of town hungover (wee!).

The next morning we'd make the brutal climb out of the NOC and would stop at Locust Cove Gap for the night. Our group would be separated for the first time.
---
Fontana
After tip toeing up Jacob's Ladder the next morning, we took our time covering the 18 miles to the Fontana "Hilton" Shelter. We saw Odie there, who makes the AT Yearbooks, and caught up to Ears and PCP. We would also run back into Gumby and Backtrack who we met in Franklin. After resupplying, I took a much needed shower although the bathroom smelled like salad vomit, and I only had paper towels to dry off with. The crew at Fontana was fun, and Frisbee was stoked to run into another Bama fan. Every sentence was ended with, "Roll Tide."
---
Headed for the Smoky's
I got up early and caught the sunrise, but was not too pleased with my right ankle which was hurting pretty bad. Frisbee helped me wrap it in KT Tape before we crossed the Dam and entered the Great Smoky Mountain National Park.
We stopped at the Shuckstack Fire Tower and enjoyed the flowers which started blooming around Mud Gap.
Our hike ended at Spence Field Shelter. I was in a funk. I'm enjoying being back on the trail, but seeing the same scenery I saw last year is losing its pizzazz.
My hiker hunger officially kicked in and all I can think about is town food the next two days. We stopped at Double Spring Gap Shelter, and it got super crowded. Many of us had plans to hike first thing in the morning to catch the sunrise at Clingman's Dome, something we enjoyed in 2016. Our buddy Pharmacist, the first hiker we met last year, surprised us at the shelter. It was nice to catch up!
---
Beer Me, Gatlinburg!
There was no sunrise in the morning as the Smokys were smoky, however we all got a good head start and passed the 200 mile point.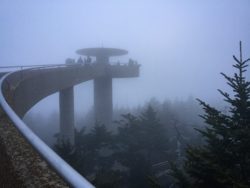 It was Frisbee's Birthday and we pushed to Newfound Gap where Pharmacist had parked, and drove us into the "Armpit of America" which is Gatlinburg.
We ate, drank, cleaned up, and relaxed. We would get another surprise visit from Peanut, who we also hiked with last year, and saw Panda briefly earlier in the day with his wife and son. It was a fun time!
Affiliate Disclosure
This website contains affiliate links, which means The Trek may receive a percentage of any product or service you purchase using the links in the articles or advertisements. The buyer pays the same price as they would otherwise, and your purchase helps to support The Trek's ongoing goal to serve you quality backpacking advice and information. Thanks for your support!
To learn more, please visit the About This Site page.