Dodging the Virginia Blues and More Than Halfway There
Virginia tends to be a love it or hate it state for many thru-hikers. The daunting number of miles that are ahead, the terrain, and the increasing heat and humidity are some of the challenges that hikers face in Virginia. Add in that for many hikers, Virginia is typically the time when the honeymoon period with thru-hiking tends to be ending and thru-hiking begins to become more of a new lifestyle rather than a vacation. All of this put together tends to cause some hikers to suffer from the Virginia Blues. I was able to use living and hiking in Virginia for the last three years to my advantage and going into the state I had a rough idea of what to expect. I mentally broke the state up into four sections; Southern Virginia, Central Virginia, Shenandoah, and Northern Virginia. So let's take a look at the highs and lows of getting through Virginia and ultimately dodging the Virginia Blues!
Leading Up to Virginia
To be totally honest, I was in a complete rut walking into Virginia. The week leading up to Damascus was rough. The Roan Highlands, a section that I had been really looking forward to, was a total flop. The weather was miserable, the terrain was difficult, and did I mention that the weather was miserable? The views that everyone raves about were completely nonexistent and the rain just didn't stop. A section that I had looked forward to so much became one of the most physically and mentally exhausting sections of my entire hike so far.
The section after the Roan Highlands through the remainder of Tennessee wasn't particular challenging but was fairly mind-numbing. Normally that wouldn't bother me too much but with the head space I was in after the previous few days, this just seemed to add to my frustrations heading into Virginia.
Southern Virginia
I crossed the TN/ VA state line and made it to Damascus a few days before Trail Days was set to begin. In my sulking state after the Roan Highlands, my original plan was to get into Damascus and then zero for three days leading into Trail Days. When I got into town I went to the post office to pick up a resupply box that Sydney had sent to me. It might sound crazy but a box filled with candy and an amazing and perfectly timed card with words of encouragement really was the kick I needed to turn things around.
A visit to the Damascus diner for a huge pulled pork platter and a night in town at the local church hostel really helped rebuild some morale. The next morning I left town and continued on with new plans to hitch back to town on the Saturday of Trail Days. This ended up being one of the best decisions I've made because the next few days of hiking were absolutely incredible.
Leaving Damascus (the first time) I felt so refreshed. I was looking forward to the Grayson Highlands and then getting back to town for Trail Days. The Grayson Highlands did not disappoint in the least bit. The terrain was fun, the views were just incredible and yes, the wild ponies will come right up and lick you. After the Grayson Highlands I was able to get a quick hitch at a road crossing to get back to Damascus for Trail Days!
The rest of Southern Virginia was a nice change of pace. The terrain wasn't terribly difficult and going through pastures was a nice change of scenery. The trail family that I had started to hike with was also great and made the days just fly by.
I ended up getting off the trail for several planned days off so I could head to Pittsburgh for a friend's wedding. That time off was much needed for my body to rest and recover a bit but by the fifth day off I was already chomping to get back to the trail!
Central Virginia
Coming back on the trail from nearly five days off was a bit of an adjustment. After taking the first two days slower than I had been previously doing, I was able to get back to my pace and lay down some 20+ mile days through most of Central Virginia. With the trail family I had been hiking with, a few days ahead, I spent most of this time in between a few different groups or by myself, both of which were nice in their own ways.
With the exception of getting caught on a ridgeline near Dragon's Tooth in a thunderstorm that I can only describe as "this isn't fun anymore," the weather was absolutely incredible. Sunny, blue sky days, not too hot or humid with nice cool nights.
I made it to McAfee Knob on a beautiful Sunday afternoon. Fortunately, some ominous looking clouds that ended up being nothing scared most of the crowds away, and I and a few other thru-hikers were able to enjoy the area pretty much to ourselves.
The area between Roanoke and Waynesboro, I felt was some of the most underrated part of the AT. The terrain does become a bit more challenging in some areas but the views are just amazing and the trail goes through some beautiful areas of Virginia. Unfortunately, after riding nice weather all the way into Glasgow, it eventually had to rain, and rain it did, for four days straight.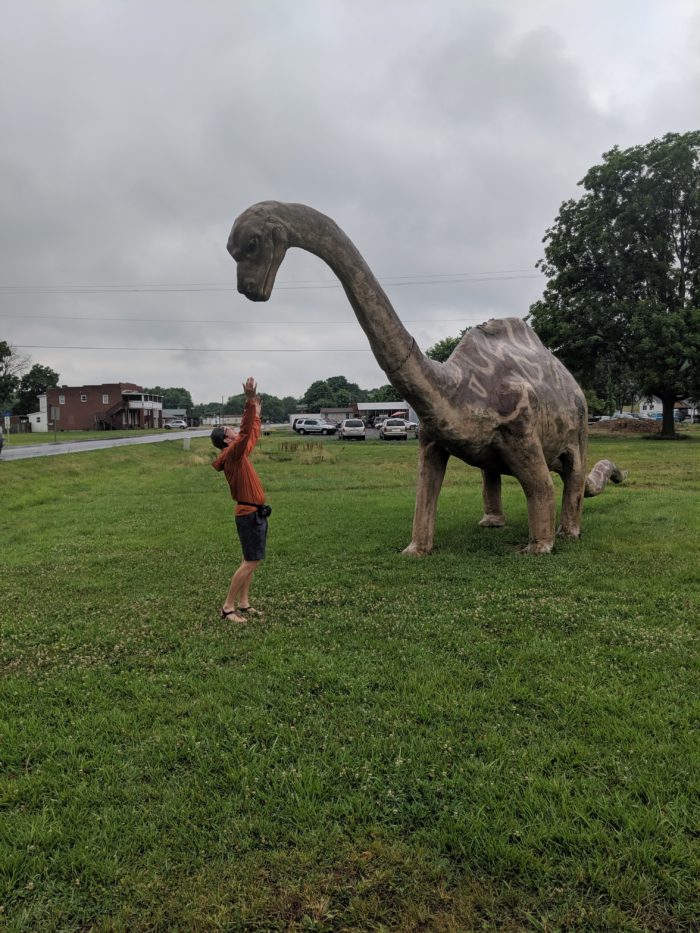 After being freshly watered, I made my way onto Devils Backbone where I met up with some friends from Charlottesville to enjoy some day drinking at the brewery. I made it into Waynesboro the next and was met by family who live in the area. Huge shout-out and thank you to Sue and Steve for the amazing hospitality and dinner! After spending the night with them, it was back to the trail the next day to meet up with my sister to hike the beginning of Shenandoah together.
Shenandoah
The beginning of Shenandoah started what became my mini vacation on the trail. I spent the first three days hiking with Emma (my sister). In an effort to not make her experience miserable, we did shorter-mile days and spent some time enjoying the southern part of the park. After hiking with her for those three days, I spent a day and a half continuing north at my usual pace until I met up with Sydney. I met her at Big Meadows and we spent a night together in the park before heading into Charlottesville and spending three days visiting wineries, seeing friends, and just relaxing.
After a few days off with Sydney it was back to the reality of thru-hiking; well, as real as thru-hiking can be through Shenandoah. My last few days through Shenandoah were simply amazing. With waysides, restaurants, and trail magic all over the park, I was able to do 20+ mile days comfortably and get a warm meal, milkshake, and beer pretty much every day. The experience through Shenandoah was simply amazing and really helped put me in a great mood and mind-set to get to Harpers Ferry.
Northern Virginia and West Virginia
Northern Virginia was fairly uneventful; the terrain was fairly easy, and the streak of amazing weather since Waynesboro continued. It made for some really awesome days where I could lay out some big miles and still feel good at the end of the day.
The most challenging section of trail that I had experienced since Central Virginia was the Roller Coaster. This is a section of trail that is on a narrow 25-mile long section of trail that is known for a series of nine or ten steep climbs and descents. With the increasing temperatures and humidity this ended up becoming a bit more difficult than I had anticipated, but wasn't anything too awful. Knowing that Harpers Ferry, (a major milestone for thru-hikers) was on the other side of the Roller Coaster kept me motivated to get through it.
Maryland and Southern Pennsylvania
After a surprise visit from Sydney in Harpers Ferry, it was off to Maryland. Maryland was probably one of the most surprising states on the trail so far. The trail through Maryland was seriously amazing. What it lacked in scenery and views it more than made up for in a well-maintained trail, state parks with running water, showers, and bathrooms. My only critique of Maryland is that I wish it had more than 43 miles of the AT.
After a small hiker trash party at the Pen-Mar park pavilion, it was time to step into Pennsylvania and into the North.
Southern Pennsylvania really felt like a continuation of Maryland. The trail scenery through the Michaux State Forest was just beautiful and the trail was just a lot of fun through this area. With the 1,000-mile marker behind me and the halfway point just ahead, I was feeling great!
I got to the halfway point and felt an enormous sense of accomplishment. I had just walked 1,096 miles. That accomplished feeling was quickly tempered with the realization that I still had 1,096 miles to go. The short-lived halfway celebration ended and it was back to exactly what I have been doing for the last three months: walking.
Looking back at the last 1,200 miles has been surreal. This journey has been simply amazing. Looking back at how far I've come, what I've overcome mentally and physically, what I've learned about myself and the people I've met, has been nothing short of incredible.
At the same time I am so excited to look forward to the next 900 miles and what they have in store.
Until then, just keep walking.
-Baloo
Affiliate Disclosure
This website contains affiliate links, which means The Trek may receive a percentage of any product or service you purchase using the links in the articles or advertisements. The buyer pays the same price as they would otherwise, and your purchase helps to support The Trek's ongoing goal to serve you quality backpacking advice and information. Thanks for your support!
To learn more, please visit the About This Site page.