Doing the Damascus Dash (Days 39-43, Scotty's Hostel to Damascus)
Day 39
Start: Scotty's Hostel
Finish: Kincora Hostel
AT Miles Hiked Today: 12.4
Overall AT Miles Hiked: 418.2
Miles To Go Until Katahdin: 1,770.9
After the excellent meal of pizza, ice cream, and soda, I slept great in my tent outside the hostel. Distant thunder at 5:30am woke Crusher and me up, we dragged our belongings and tents onto the covered porch of the hostel and packed up as the rain started coming down in sheets. We were temporarily dry! But, that wouldn't last long.
The rain continued with no signs of letting up, so, reluctantly, we decided to head back to the trail around 8:30 to schlep over to Kincora. I had only three snacks for the 12 miles, so I was hoping the terrain wasn't too bad as we headed out into the rain.
I took no pictures while we were getting dumped on, but the rain stopped around 11am, just as we were walking through a recent burn zone that a wildfire tore through a few weeks back.
We had to do a bit of road walking down to the hostel, but we were so excited to be there. Hot showers! Laundry! There's a Subway in town! We were so hungry.
We got to Kincora to learn that Bob, the owner, was out doing trail maintenance, and there was no shuttle to town, many miles away. But, there were peanut brownies for us to eat! (Useless, due to my deadly peanut allergy.)
What to say about Kincora? It's a legendary spot on the trail, run by Bob Peoples, a legendary figure on the trail. Bob has done many thousands of hours of trail maintenance on the AT. He goes out of his way to help hikers, and has hosted over 15,000 hikers at his hostel. The hostel only costs a $5 suggested donation. I appreciate all he offers for the low price, and the community he brings together is fantastic.
However, his hostel was pretty nasty. He owns 14 cats, which run all over the hostel, and the bunk room was really grubby. A cat had peed on one of the bunks. In hindsight I wish I had skipped the hostel and pushed on to town, which would have been another 8 miles of hiking. I was wet, tired and hungry, and a private room is what I needed above all. I think that's on me, though. For most hikers, Kincora is probably a really nice and really cheap stop, but it just wasn't my cup of tea. If you have the funds or the friends, there's another place to stay nearby called Black Bear Resort, which offers resupply as well.
For dinner at the hostel a couple was making spaghetti for the hikers, but the cleanness of the kitchen and the hostel was a concern for me, as I have a deadly peanut allergy. So I decided not to eat anything in the hostel, out of an abundance of caution.
We finally got a ride into town at 5:30 from Bob, but he wanted to rush home for dinner, so he only brought us to a half hardware store, half grocery store named Browns. I asked Bob if the Subway was within walking distance, but he shook his head and said "We aren't doing that, we need to get back." So, my dream of two footlong subs for dinner died a quick death.
Bob stayed in the front of the store and may as well have been impatiently tapping his foot waiting for us, he was clearly (and understandably) very anxious to get back home after a long day of trail maintenance. The result was that the three of us ran down the aisles grabbing anything that looked decent. I also grabbed two frozen breakfast burritos for dinner. (Sigh.)
We got back to the hostel and everyone enjoyed their spaghetti dinner while I heated up my sad frozen breakfast burritos. It wasn't ideal but it got the job done, I suppose.
The rest of the night was hanging out in the living room, until we retired to the communal bunk room at 9:30. There are about 14 hikers in the bunk room. It's gonna be a long night.
Day 40
Start: Kincora Hostel
Finish: Vanderventer Shelter
AT Miles Hiked Today: 17.7
Overall AT Miles Hiked: 435.9
Miles To Go Until Katahdin: 1,753.2
I woke up early. Actually, everyone woke up early, as someone's cell phone alarm went off at 6am. I couldn't get back to sleep and I didn't want to be inside with so many others, so I went out to the porch and waited for Crusher and Reindeer to be ready to go.
The 50 miles from Kincora Hostel into Damascus is, according to several sources on the trail, a very easy section. Baltimore Jack said many hikers do two 25 mile days into town! I was hopeful to do big miles as well. We wanted to do 20-20-10 for the next three days to walk into Trail Days on Saturday early afternoon.
We got moving at 8:30, and had a really nice river walk to start the day.
We went up and over a mountain, and it started heating up fast. We were sweating up a storm as the sun beat down on us. We arrived at Watuga Lake around 12:30, making great time, but we were much more tired than we expected to be.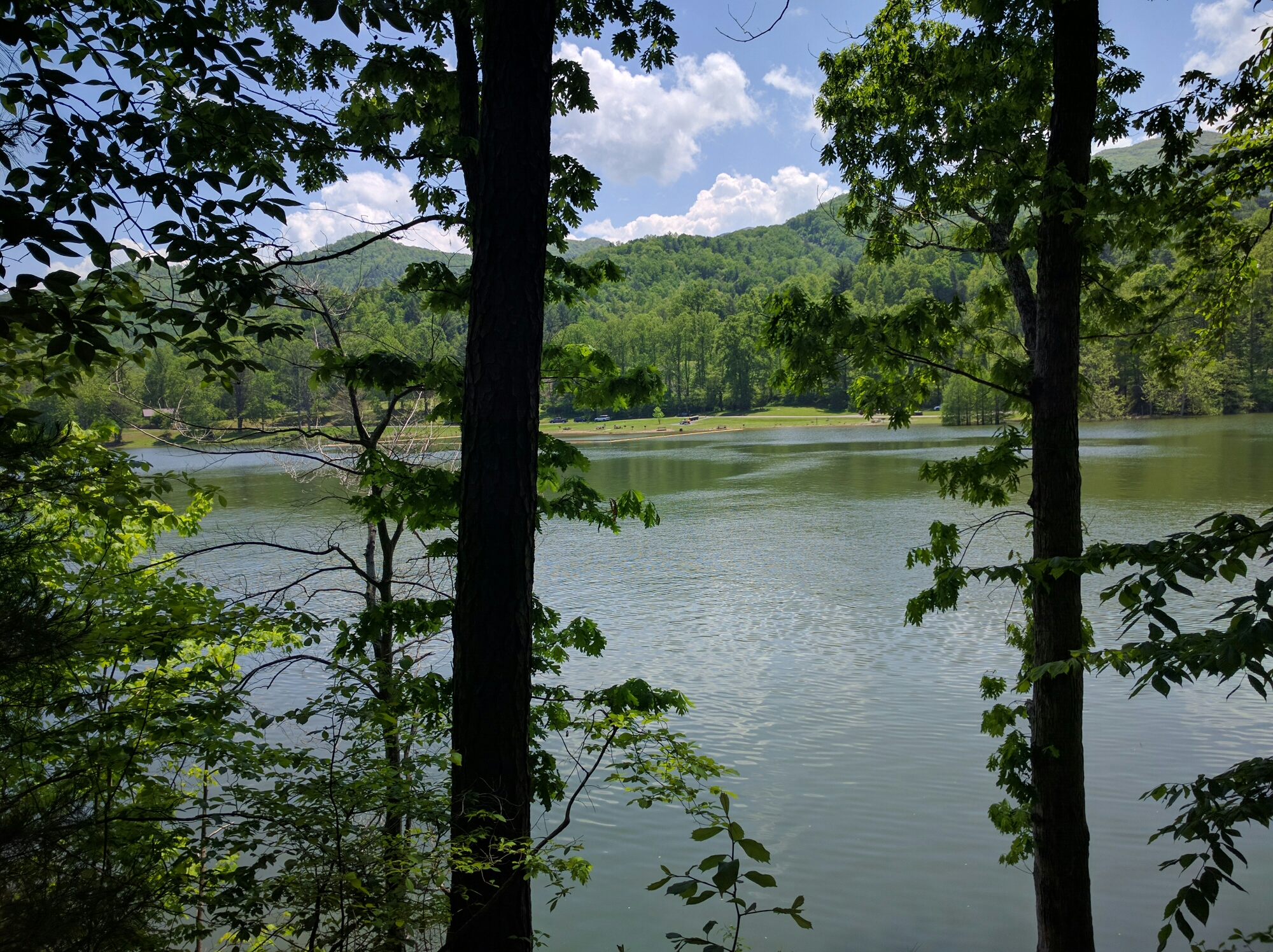 We crossed over the Watuga Lake Dam, which provided great views!
Unfortunately I was feeling like crap at this point, and I think I can blame it on the food. All the food we bought yesterday is expired. Reindeer opened up one item and it had mold all over it. Also, it immediately became clear that in the rush to resupply for this next section, I didn't buy nearly enough food, and all the food I bought is crap food like chips ahoy and oreos. So I was running on not enough calories and crap calories to boot. Not a happy hiker.
As we climbed another mountain, all we could talk about is how everyone said that this section is flat and easy. Definitely not true. I wouldn't have been able to push mid 20 mileage today.
Thunderstorms were visible to the east, and the weather started pushing our way as we approached Vanderventer Shelter, around 18 miles into our day. We decided to pull up short from our grand plans of 20+ miles today. I felt like crap, Crusher had turned his ankle pretty bad a few miles back, and storms were moving in.
We barely made it to the shelter before the skies opened up, so I decided to sleep in the shelter for the night. It's packed in here but at least it's dry. Crusher is sleeping in here too, but Reindeer is out in the rain setting up his hammock. Reindeer and I both packed in two liters of water from the last water source, but Crusher had to go out in the rain down a very treacherous 0.5 mile side trail to go get water for the night. He came back drenched.
I'm planning on doing big mileage tomorrow, hopefully 23, to make up for the shorter day today. That would leave us with 10 into Damascus to hopefully get lunch on Saturday and experience Trail Days in full swing!
Day 41
Start: Vanderventer Shelter
Finish: Abingdon Gap Shelter
AT Miles Hiked Today: 22.7
Overall AT Miles Hiked: 458.6
Miles To Go Until Katahdin: 1,730.5
Huge day today! Our first 20 mile day. Strange to think that every time I go 22 miles in a day, that represents 1% of the trail finished. So I completed a little over 1% of the entire trail today. I'm strangely proud of that! I am the 1%.
I slept pretty terribly, as you would expect sleeping in a packed shelter. I was so tired from yesterday that I went out immediately, but I kept waking up to people snoring or shifting around. Plus it rained out all night.
I woke up at 6:30 with the shelter in the clouds, but I knew I had a long day ahead of me, so I packed up, ate breakfast, and headed out by 7:30. The rain thankfully stopped for the entire day right before I headed out. I was ahead of Reindeer and Crusher for the entire day, but flip flopped back and forth with some new guys – Allen, Ivan, and Windwalker.
The clouds cleared by 9, and the entire day was ridgewalking for the most part. Very easy terrain and not a lot of uphills more than a few hundred feet of elevation gain. I was making good time, but I felt like crap due to being hungry.
Around halfway through the day, the trail suddenly crossed a road and the trail went straight into a cow pasture for the next half mile. Very cool! We were walking around cows who sometimes blocked the trail.
I stopped for lunch at Double Spring Shelter and felt tired, like I was done for the day. But, I still had 8.3 miles left. The problem with going 23 is that my body felt super tired at 15. I don't think I'm ready to consistently do 20's yet.
The rest of the day was a bit of a blur. My Achilles tendon on my right foot really flared up, so I was moving slow. I turned on some music to help me power through, which somehow helped with the pain (or, more accurately, distracted me from the pain).
I rolled into the shelter at 5:30, after 10 hours of hiking. Long day, and I was so tired and hungry, I could do little more than lean against a tree and eat whatever I could out of my pack. At that point, I had a tuna packet and a package of expired chips ahoy to eat for dinner, and I was saving a packet of pop tarts and a nutragrain bar for the 10 miles into Damascus tomorrow. The situation was getting desperate.
Fortunately, Crusher came to my rescue, and offered a packet of tuna (which I immediately ate) and a package of Raman (which I'm cold soaking overnight to eat for breakfast tomorrow, as I don't have a stove). I was able to eat my pop tarts for dinner too, which took the edge off my hunger, barely. I'm looking forward to eating a ridiculous amount of food at Trail Days tomorrow. Hope there's a Mexican grill where I can get a giant burrito and a desert quesadilla.
Reindeer and I were in our tents by 8. Crusher said he wants to wake up at 5:30 to pack up and get into Damascus by lunch. I told him to just wake us up whenever he wants to go!
Day 42
Start: Abingdon Gap Shelter
Finish: Damascus, VA
AT Miles Hiked Today: 10.2
Overall AT Miles Hiked: 468.8
Miles To Go Until Katahdin: 1,720.3
Oh man, it feels so good to be full of food and in town!
There were around 10 people at the shelter and surrounding tent area last night, and all of us woke up at 6 with one thing on our minds: Damascus!
I let a package of Raman cold-soak overnight in my food bag, hoping that it would be edible in the morning, and to my surprise it was a really delicious breakfast! Either that or I was so hungry that anything would have tasted delicious. Either way it gave me enough calories to get out of Camp, I only had that ramen and a nutragrain bar to get me the 10 miles to town.
We started at 7 and flew out of camp. Really cold morning, close to 45 degrees as we headed out, and I was wearing my puffy jacket and long pants. We were absolutely hailing down the trail, though, and we made it the 6.5 miles to the Virginia border in 2 hours. Hello, Virginia!
We continued our ridiculous pace down the trail and got into Damascus at 10:30. Not bad, 10 miles in 3.5 hours!
We walked into the nonsense that is Trail Days in full swing. People everywhere, booths set up by vendors, hikers carrying packs, and best of all, FOOD EVERYWHERE! I had two breakfast plates of two eggs, sausage, biscuit and gravy. It felt fantastic to have real food again. Reindeer made fun of me because I loved the breakfast so much. He insists it was crappy biscuits and gravy that I loved because I was so hungry.
We walked down the road to One Way Ministries, where they were giving away food (I'm only slightly ashamed to admit I had 6 bags of chips), and free haircuts.
Crusher went off to check out the gear, while Reindeer and I lounged around the ministries. I was looking a bit shaggy at this point, so I decided to get a quick free haircut, but when my name came up, the haircut guy said he was breaking for lunch. I waited for two hours and he never came back.
Eventually I wandered over to the vendor tents in the heart of trail days. What a scene! All the major brands were there, including the cottage vendors like Zpacks and Hyperlite. I bought an AT koozy and a new rock sack for my bear bag.
I saw lots of people I hadn't seen in a while, including Sandals and Snail, Mowgli and Blossom, and the legendary New Hampshire Bob, who rented a uhaul from 70 miles up the trail and is using it as his own apartment and beer lounge for the festival. What a genius idea.
We also met back up with Nilla! We haven't seen her in forever! She may be hiking out of Damascus with us, she covered this section of the trail last year. It'll be great to hike with her once again!
The hiker talent show was a real hoot. Lots of music, some yo-yo magic, animal impersonations and some poetry performed by our friend Haiku.
As the talent show wrapped, we started to get hungry. There's an all you can eat pizza and salad bar restaurant for $8 right down the road. Sign me up! We rolled in with a big crew and destroyed so much food.
We waddled out of the pizza place and went in search of a beer. The old Damascus mill is now a restaurant and bar, and I drank a Long Trail Ale while talking with a man who was in town on business and had zero idea what the hell all these hikers were doing in Damascus. Great conversation, actually, he works in tech for Microsoft, and the discussion quickly turned to the future of technology. Very enjoyable! But, the clock ticked closer to 9pm, and I was getting tired. We went back to tent city to set up our tents, but lost track of Crusher who is strangely the most social person out of all of us, and stayed behind at the bar to talk to people.
Tent city was strange. It reminded me of music festivals – half the tents in the field were people who wanted to sleep, the other half were people busy partying their faces off. Then there were tents set up in the trees, where people were getting WEIRD. Reindeer and I are old men, so we went straight into our tents to go to sleep, while Nilla went to dance around the drum circle and bonfire until well past midnight. I'm very happy with my 8 hours of sleep!
Day 43
Start: Damascus, VA
Finish: Damascus, VA
AT Miles Hiked Today: 0!
Overall AT Miles Hiked: 468.8
Miles To Go Until Katahdin: 1,720.3
Oh, zero days, how I've missed you. We got to sleep in past 7am today, but when you're camping in a field, a lot of daylight leaks in the tent, so I was up quickly.
Lots of people still asleep as Reindeer and I packed up, you can tell everyone is hung over. Nilla, Reindeer and I went to a local restaurant called In The Country for breakfast, we were all ravenous. I got two breakfast burritos and 3 pancakes.
We wandered around for a while after breakfast then went to drop our packs at the B&B where we're spending the night. We couldn't check in until 2, so we had to kill some time, but it's so much easier when you don't have to carry your pack!
Reindeer and I were walking to the supermarket when a guy in a truck rolled by and asked if we needed a lift! We hopped in the back of his truck and he took us directly to the supermarket. I'm amazed at how friendly this town is towards hikers. We have been offered multiple unsolicited rides.
We went to the outfitter, where I had to retire my Brooks Cascadia 9's. They were separating at the toe box, and the mesh was ripping. Farewell, brave soldiers. You served me well for 200 miles before the trail and 470 miles on trail. I grabbed some new Merrill's, hopefully they last as long.
Now we are just hanging out at the bed and breakfast! Subway for dinner, and theres a hot tub here that we can soak in after dinner. So this is where I'll say goodbye for this post.
Looking ahead, my cousin and his boy scouts want to meet me in the Grayson Highlands in one week, on Saturday May 21st. The issue is that the Highlands are only 30 miles from Damascus! So, I think we gun for Atkins by Friday night (75 miles away) and I'll hire a shuttle to take me back to visit with them for the day, then back to Atkins. I know I'm supposed to hike my own hike, but I would hate to quadruple zero here in Damascus and never see Crusher or Reindeer again. This way, I only lose a day from them. Those two have made this journey so much more fun.
Until next time, happy trails!
-Slice
Affiliate Disclosure
This website contains affiliate links, which means The Trek may receive a percentage of any product or service you purchase using the links in the articles or advertisements. The buyer pays the same price as they would otherwise, and your purchase helps to support The Trek's ongoing goal to serve you quality backpacking advice and information. Thanks for your support!
To learn more, please visit the About This Site page.