Don't Forget to Follow Some Blue Blazes in Life
"Understand that the right to choose your own path is a sacred privilege.  Use it.  Dwell in possibility."  —Oprah Winfrey
As most of you readers out there know, AT hikers follow the directional white blazes on trees, stones, posts. These help us continue in the direction we intend, and will hopefully help us reach our goal destination.  It has taken the majority of us great courage to commit to this, America's oldest long-distance footpath.
"Do something because you really want to do it.  If you're doing it just for the goal and don't enjoy the path, then I think you're cheating yourself." —Kalpana Chawla
But several times each day, we also encounter blue blazes leading to side paths.  It might be to a water source, a shelter, another trail, a scenic overlook, or other item of interest.
Do we check these out?  It depends on many factors.
Maybe it's the water source we were counting on for  midday refill of our water bottles.  These trails can be a godsend if you're low on water. But perhaps you feel you could achieve another mile or two before having to stop your forward movement.
Or perhaps there's a shelter sign that tempts you for a brief rest for our feet or a lunch break. But how far (and how steep) would we have to go down this side trail to arrive at this temporary destination?  Would it be worth the effort?
If it's a viewpoint, would it really be any different from our previous dozen?  And if it's hazy or we're up high, could we actually see anything?  Why bother?
If it's of historical significance, do we actually care?  Seen one Civil War battlefield, seen 'em all.  Can't we just skip it and keep moving in our intended direction?
And most importantly of all, are we in a rush to get to today's destination?  Is it late in the day? Are we tired? Is a storm approaching and we need to get secured for the night? Are we trying to get in as many big mileage days as possible, because of a time constraint or because it makes us proud to refer to our 20s or 25s?
The point of today's post is to encourage all of us, not just backpackers, to continue to pursue our goals (white blazes), while also leaving ourselves open to other opportunities (blue blazes).  There are rewards in both.
"I do what I feel is right. I am not scared to walk on the new path and take risk." —Aamir  Khan
The blazes to water sources have provided me with quiet times filtering water, taking rest breaks, and enjoying lunches beside streams.  The cell phone stays in its hip belt pocket.  I listen to the birds and soak up nature without having to constantly watch my step on the trail.
The blue blaze that led me to a shelter for a lunch break also provided a dry space during a sudden shower and a new acquaintance.
As Hiker Boy ate his leftover pizza and talked about the homey and welcoming B&B he had stayed in the past two nights, my lodging plans for the night quickly changed.   I ended up spending that night in the room he had just vacated.  Wonderful hosts, a bed that must have been filled with clouds, a delicious breakfast with freshly baked gluten-free bread, a lovely county setting beside a Mennonite farm.  Hurray for this blue blaze!
Side trails to viewpoints?  It's all in your attitude.  We have "signed on" to hike the Appalachian Mountains, one of the oldest ranges in the world.  Think what eons of erosion have done.  Gone are the most dramatic elevations and peaks.  Instead we find a quiet, verdant beauty.  Gaze out on all those treetops.
Imagine a squirrel hopping from tree to tree from here to the Mississippi, before so much land was cleared for farming.  Here in Pennsylvania, a squirrel can still have a nice treetop trip.  Look carefully to the sky and spy a hawk soaring effortlessly.
If the view is clouded over, sit on the rocks and enjoy the sense of space still present.  I'll bet previous hikers who are blind have done so.
A historical marker or object?  Old cemeteries are touching to visit.  The oldest gravestone I have found dated to 1806.  Babies' graves make me sad for how their parents felt.  Small cemeteries tucked under trees in the countryside are peaceful and nostalgic. I like to let the people there know I'm honoring them that day.
Yesterday I came to a choice I had to make.  The AT gave me two options: the original trail, which now was partially flooded by a large beaver dam.  Passable, but water up to the shins.  Choice two was a dry alternate path on logging roads.  What to do?
I laced up my boots tightly, tucked the bottom of my pant legs into the boots' gaiters, and sloshed right past the longest beaver dam I've ever seen. No sightings of the elusive architects, but so worth the effort. I was surprised how many hikers later told me they took the dry (boring) route.
Get off the beaten track of life.  During my zero day in Duncannon, a sad-appearing, economically challenged small town, I found a small, vibrant salon.
The pedicurist had no other appointments that afternoon, so I got a lot of questions about my journey, a light beverage, a 90-minute pedicure and foot massage (heaven) for a mere pittance.
Trail magic took place twice in this little setting. I was offered three bags of gluten-free snacks from another customer  (I took just one bag).
And when the pedicurist heard that I was going to order a small can of pepper spray from Amazon, she insisted on giving me hers as a gift. I now carry it at easy reach on my backpack, and beside me when in shelters or camping.
When I called Nancy at Duncannon's soft pretzel shop about her advertised gluten-free options, she reported sadly that she was closed for the day.  However, she cooked four of them from scratch for me the next day.  She refused to charge me, though, because she didn't like the new flour she used.  I refused to take them without paying.  I won.
It took a lot of effort to follow the off-trail route to this hotel in Lickdale, PA, where I presently am spending this zero day. Cell service was limited all day, so making arrangements for a ride into town was difficult to accomplish.  I had to hoof it hard my final hour on the AT yesterday to arrive on time at the designated meeting spot with the shuttle driver.  Was it worth the sore feet that night?  Sure was!  Five other hikers I knew and enjoyed were also at this hotel.  When figuring out how to get to a restaurant a few miles away, our new best friend behind the hotel reception desk offered us the free use of her car.
Her car was made available not just once, but again today, to get to Dollar General (they're everywhere!) and a post office five miles away.

We helped this trail angel keep on flying by filling up her tank.
On all the trails of our lives, both the main routes and the diversions, we will find sticky, rocky situations that are less than ideal.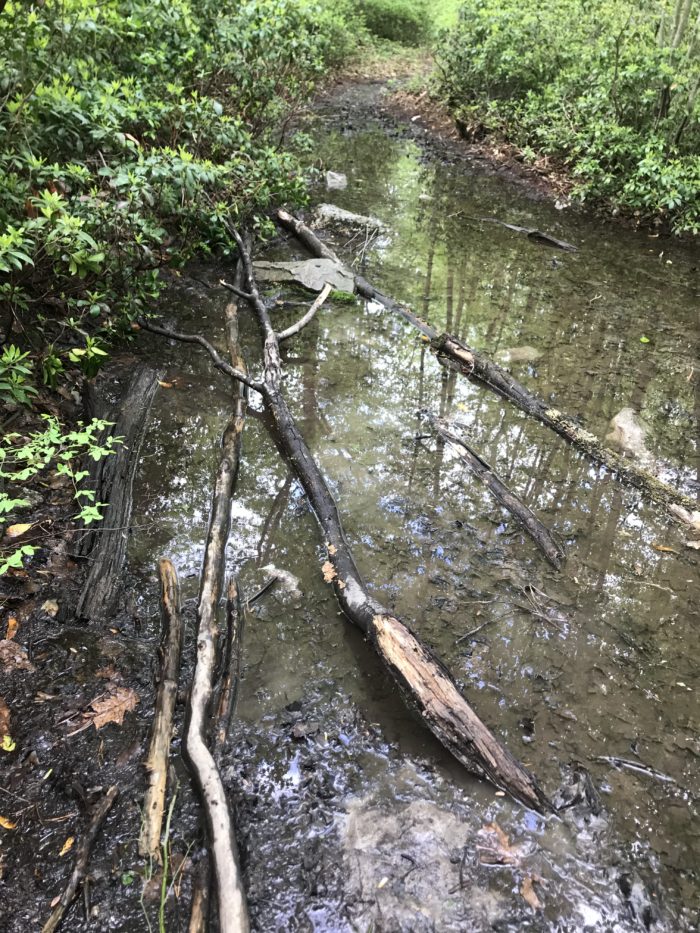 We will also find beauty, some obvious, some that call for more careful observation.
Please take off the blinders.  Don't be in a rush to achieve mega miles or mega achievements without enjoying the journey toward those goals.  Each day is truly a gift.  You will never get this day to experience again. Explore new possibilities and opportunities (Hurray for my sister!  Medical mission trip to the Honduras!)  Drive home a new way.  Stop at a park and sit on a bench away from traffic.  Breathe.  Live. Take time to enjoy quiet moments of awareness.  Be a trail angel to someone, including yourself,  in a small way.
"A single act of kindness throws out roots in all directions, and the roots spring up and make new trees."  —Amelia Earhart
Affiliate Disclosure
This website contains affiliate links, which means The Trek may receive a percentage of any product or service you purchase using the links in the articles or advertisements. The buyer pays the same price as they would otherwise, and your purchase helps to support The Trek's ongoing goal to serve you quality backpacking advice and information. Thanks for your support!
To learn more, please visit the About This Site page.