Essay for AT Hurricane Survival Course 101
By Ruth Morley, Student ID #120952. 
In times of emergency, such as a hurricane, tornado, or flood, one must follow the advice of safety officials and maintain a level head.
If at all possible, it is advisable to keep the following considerations in mind:
1.  Find suitable shelter for the duration of the danger period. Best locations would be safe from flooding and tree damage,
Optimal for hurricane conditions
Suboptimal. Definitely flood and treefall magnet.
and sanitary facilities into which you are unafraid to enter.

Perfect for daily hygienic use.

Proceed with caution.
Particularly desirable:  microwave and refrigerator, complimentary breakfast, WI-FI, Netflix and HBO,
Wi-Fi, daily maid service, and hair drier for drying out hiking boots.
2.  Become acquainted and comfortable with your new environment.
Charming main street of Marion, VA.
Guitars and cigar box instruments in the process of construction in the wood shop.
The print shop.
3. Continue to practice good nutrition.
Farmers market, where those who are gluten intolerant consider life most unfair.
However, lactose intolerant shoppers can still enjoy goat cheese.  Life just got fairer.
Delicious ribs consumed here twice within 24 hours. No gluten, no dairy, no regrets.

Also excellent, twice.  Particularly the margaritas.  Be vigilant at avoiding dehydration.
4.   Take care of physical concerns and needs.  Continue daily exercise if possible.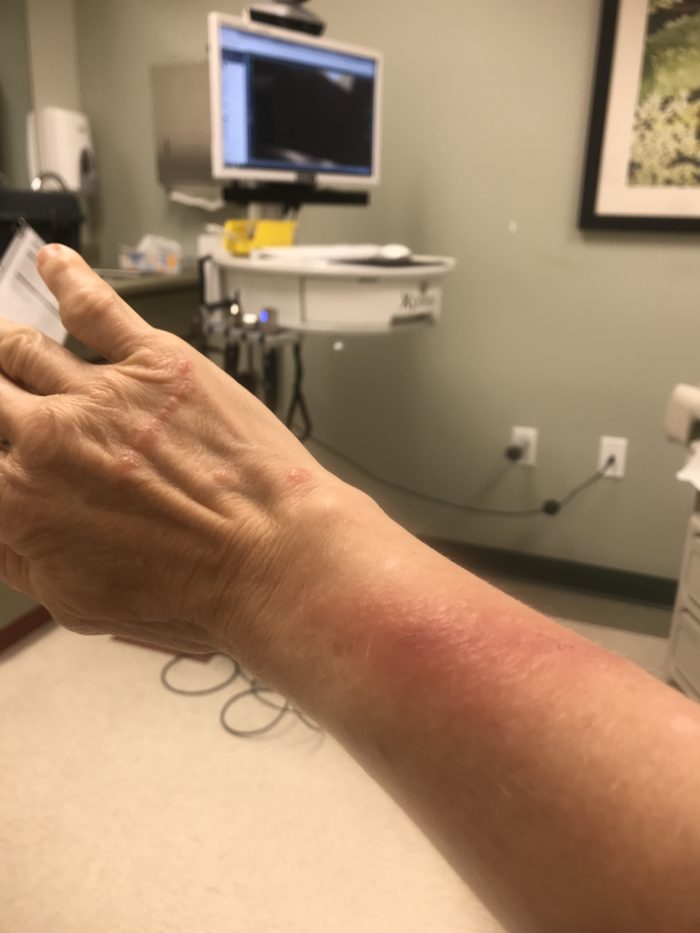 Poison ivy is not pleasant.
But a pedicure certainly is.
Thanks to free guest passes from a new acquaintance (see below, Carrie) to a local fitness center, with discount swimwear from a huge chain discount store usually scorned, swimming laps is a fine way to maintain fitness.
5.  Find a reliable means of transportation, if available, to supplement your own two feet.
Most generous local resident, Carrie Sparks, joins her husband, Jim, in offering free rides for many backpackers to trailheads and around town.
Excellent transit system used often by locals and hikers visiting Marion.  Fifty cents gets you a ride anywhere on their route.  Cincinnati City Council needs to talk to these folks for bus and streetcar pointers.
This taxi will take you anywhere else in town for just $4.
5.  Don't neglect spiritual and personal enrichment.
Sunday service at the very friendly Methodist church, where the bell choir played an appropriate piece.
A lively evening of gospel and bluegrass music by the well known Isaac family.
6. Companionship is essential during this trying time.
Other long-distance backpackers  are your best source of companionship and comfort, especially when staying directly next to your motel room. Shown above: Princess and Stephan.
Friendships can arise with folks who lend you a helping hand during this time of refuge, such as lunch at Sisters' Cafe with Carrie in downtown Marion.
An instant kinship can also form with others who enjoy the same forms of fitness…
…which can transition to a second delicious lunch at Sisters' Cafe.  When servers and clerks instantly  recognize you, it's time to start planning your return to the trail.
Friendly folks next to you in a pew may soon end up sharing a lunch table and lots of laughs.
7. Maintain contact with loved ones.
8.  Prepare to return  to the trail when conditions are deemed to be safe.
9.  Choose your first lodging back on the trail with care, being sure to avoid any dangerous situations and not tempting fate in any, small unforeseen manner.
10.  Cherish your memories of an enriching trail town experience during this life adventure called the Appalachian Trail.
Affiliate Disclosure
This website contains affiliate links, which means The Trek may receive a percentage of any product or service you purchase using the links in the articles or advertisements. The buyer pays the same price as they would otherwise, and your purchase helps to support The Trek's ongoing goal to serve you quality backpacking advice and information. Thanks for your support!
To learn more, please visit the About This Site page.