Everything is Falling Apart (Days 146 to 148, Pinkham Notch to Gorham)
Day 146
Start: Pinkham Notch
Finish: Bushcamp a half mile past Carter Notch Hut
AT Miles Hiked Today: 6.3
Overall AT Miles Hiked: 1,876.0
Miles To Go Until Katahdin: 313.1
I never appreciated a good night's sleep in a real bed until I started hiking the Appalachian Trail. I had what may have been my best night's sleep ever at my friend Ryan's house in Franconia. I guess I was pretty shot after blowing through the Presidentials over the last two days.
It was raining when I woke up, but I was in no rush to get back to the trail, so I killed time speaking with Ryan's family and keeping an eye on the radar. It looked to be clearing up around 9:30, so I packed up and Ryan's dad drove me back to Pinkham Notch to continue North! I got hiking around 10:30, intending to do a short day.
The first half mile or so was flat and near Lost Pond. Everything was still wet from the rainfall so it was slow going, picking my way through the rocks and trees. Another hiker took a bad fall ahead of me and had blood all over his leg.
The trail took a sharp left after the pond and started to climb Wildcat Mountain, a ski mountain. Unfortunately we weren't going up the nice ski trail – we were hiking up steep rocks.
The climb was almost comically slow. It was crazy steep, and the rocks were slippery. I took lots of breaks to enjoy the views back towards Mt Washington (which was fully socked in).
The trail went right near a gondola lift, but quickly turned back into the woods. Fortunately the terrain improved and while we still had several thousand feet of elevation change, it was much less dangerous than the initial ascent.
The descent towards Carter Notch Hut passed by a beautiful stream, and I filled up 3 liters for the rest of the day, the night and the next day's start. Word is that the next water source at Zeta Pass may be dried up, so I wanted to be extra cautious.
It was a slow ascent partway up Carter Dome, and I found a nice bushcamp spot around 4:30 and decided to call it a day. I enjoyed the warm weather and relaxed near my tent, snacking and greeting the thru hikers and regular hikers passing by. It became extremely windy as I settled into my tent for the night. I'm glad I decided to set up camp about 800 feet below the summit, but I'm still camping above 4,000 feet, which I haven't done too many times on trail.
Part of my shoe fell off today. With only 300 miles left, much of my gear is showing signs of extreme wear. My tent has a few holes in the bug netting, my filter stream is down to barely a trickle despite my backflushes, my socks have holes in them and my shoes are falling apart. My trekking poles are both bent and one of the tips is smashed off. The internal frame of my backpack is poking out a hole in the bottom. I'm so close to Katahdin, though… My gear just needs to hold out for a little while longer.
I only have a 13 mile day planned tomorrow. It feels great to relax a bit going over this difficult terrain. I've heard this tough terrain continues into southern Maine so I'm happy to not have to pull 20 mile days!
Day 147
Start: Bushcamp a half mile past Carter Notch Hut
Finish: Bushcamp a mile before US 2
AT Miles Hiked Today: 13.7
Overall AT Miles Hiked: 1,889.7
Miles To Go Until Katahdin: 299.4
I awoke several times last night as the gusty wind loudly shook the trees near me. Camping at elevation is thrilling but it does come with some minor annoyances! I was up at 6:30 and hiking by 7:30.
I had to complete the last 800 vertical feet up Carter Dome. It was really chilly as I started hiking, but I didn't mind, the vertical ascent had me sweating.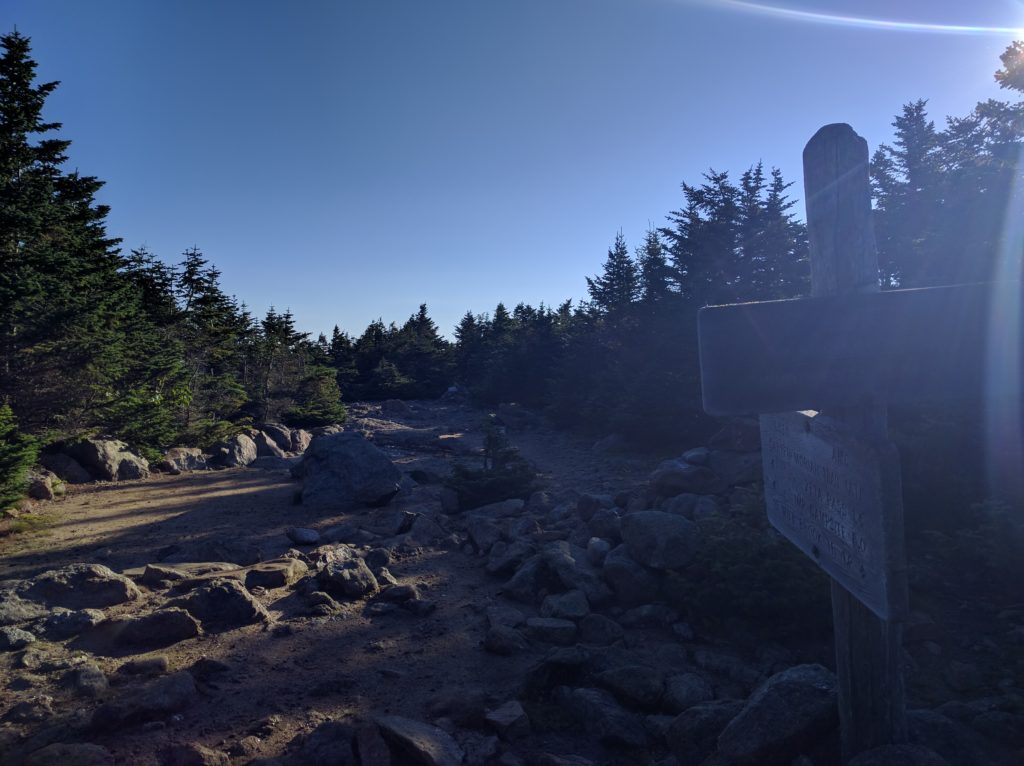 The summit of Mt Height opened up, and I could look back to see the Presidentials clear as day. Today would be an amazing day to summit Washington.
Most of the trail today was smooth sailing, unlike yesterday. Some hikers clear this entire section from Pinkham Notch to Gorham in one day. I'm not sure how they do it – the ascent up Wildcat alone exhausted me yesterday! I was happy that I pulled a short day yesterday.
The views from North Carter Mountain were amazing. But, the trail decided to go directly down a cliff towards Mt Moriah. I spent most of that downhill on my butt. There's no shame in scooting down cliffs, it's unarguably the safest way to get down.
I finally cleared Mt Moriah, the last of the 4,000 footers in the White Mountains, shortly after noon. The descent was treacherous but I didn't mind – I was through the Whites! Well, I think I am. I don't actually know where the whites end. So let's just agree that I'm through the Whites!
The trail eventually smoothed out as it approached town, and I walked slowly, enjoying the sound of Rattle River as it flowed near the trail. I filled up on water and found a nice bushcamp a mile short of town. Tomorrow I'll Nearo in. I could have gone in today, but I'm getting picked up at Grafton Notch on 8/31 to fly to a wedding, so there's no sense in rushing.
It's a beautiful evening here at the campsite. I can hear Rattle River passing near my tent, and it's very warm since I'm at low elevation. As I lay in my tent relaxing, I decided to do some quick math now that I am under 300 miles from Katahdin. I came up with a rough summit date: September 27th. Crazy to think that I'm under one month away from summiting.
Day 147
Start: Bushcamp a mile before US 2
Finish: White Mountains Lodge and Hostel
AT Miles Hiked Today: 1.2
Overall AT Miles Hiked: 1,890.9
Miles To Go Until Katahdin: 298.2
I was up early, the sounds of Rattle River drifting up from below my tentsite. It was a perfect night – cool but not cold, the river drowned out any sounds of traffic from US 2 a mile up the trail. I packed up quickly and headed to the road crossing.
The hostel I wanted to stay at is right along the trail next to the road, and as I approached at 7:30, hikers were loading up into a van preparing to do a 21 mile slackpack over the section I just completed. Good for them for trying to do it all in one day! You wouldn't catch me trying to do that.
I got the last available spot for tonight – turns out this place is very popular. And for good reason! White Mountains Lodge and Hostel is extremely clean, extremely organized and run by a mother of a thru hiker. The $35 fee includes laundry and a full breakfast. I secured my spot and was trying to hitchhike into town when the owner told me she had leftovers and would be delighted to feed me breakfast. I won't say no to that!
After breakfast I met up with Smeagol, a girl from France I've seen on and off the last few weeks. She had slackpacked the 21 mile section two days ago and was so beat up that she zeroed yesterday. We had fun catching up and speaking with two other weekenders from Massachusetts who were bagging all the 4,000 footers in NH. Such a cool goal!
Smeagol and I climbed onto the couch and she turned on Keeping Up With The Kardashians. It was 11am.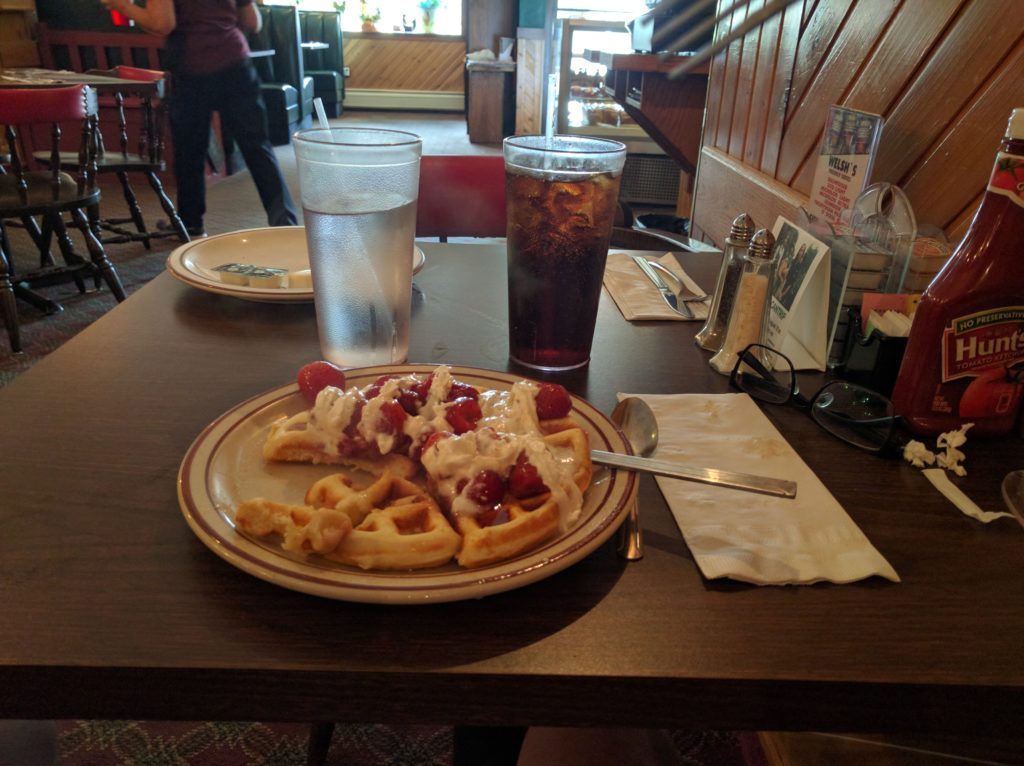 I went to town to grab lunch at noon and use the library WiFi. (Wondering why all my NH blog posts went up at once? This was the first fast WiFi I've had since Hanover!) I got back at 2:30 and she was still watching the Kardashians.
I went to Walmart to resupply and got back at 4. She was still watching the Kardashians. She was going to hike out today, but paid to sleep on the couch instead. Hey, sometimes you just have one of those days. Reindeer and I did this same thing with Ancient Aliens, so I can't judge!
I ate dinner and returned to the living room to hang out with the hikers. Guess what was on? The Kardashians. I'd be lying if I didn't tell you that it was actually fun to watch that show with the hikers. It's the polar opposite of the life we lead.
It got to be 8pm. The Kardashians was still on. For those of you counting, it had been 9 hours straight of Kardashians. I could hear Smeagol's brain cells frying. Eventually a thunder storm rolled through and I cheered the sudden message on the TV of "COMPLETE SIGNAL LOSS", and I went up to bed.
In 3 days I'll be picked at Grafton Notch for a wedding in Wyoming. I'll be off trail for 6 days… But, I'm still on track to summit Katahdin before the end of September. Finish strong!
Until next time, happy trails!
-Slice
Affiliate Disclosure
This website contains affiliate links, which means The Trek may receive a percentage of any product or service you purchase using the links in the articles or advertisements. The buyer pays the same price as they would otherwise, and your purchase helps to support The Trek's ongoing goal to serve you quality backpacking advice and information. Thanks for your support!
To learn more, please visit the About This Site page.