Family Fitness: Physically Preparing My Kids and Me for Our Thru-Hike
It always surprises me how much a backpacking trip can kick my butt. As a runner and fitness fanatic, I can handle the aerobic demands, but the physical strength needed to carry a heavy pack is literally a backbreaker to me. All my backpacking trips thus far have been slog fests. One painful step after another with a load so heavy, I could hardly stand it.
On the AT, I can't get away with our usual plan of enduring the pain, cursing every step, and contemplating turning around. I have to be able to carry a pack for five months straight and actually enjoy it. I know many people wait to train on the trail, but I wanted to start the hike with some physical fitness in place for me and my kids. I know we'll never be fully prepared for a thru-hike. Still, I am hoping any fitness we build now will make it a bit easier when we hit the ground running in Georgia this spring. We also have updated our gear over the years to help lower our pack weight considerably.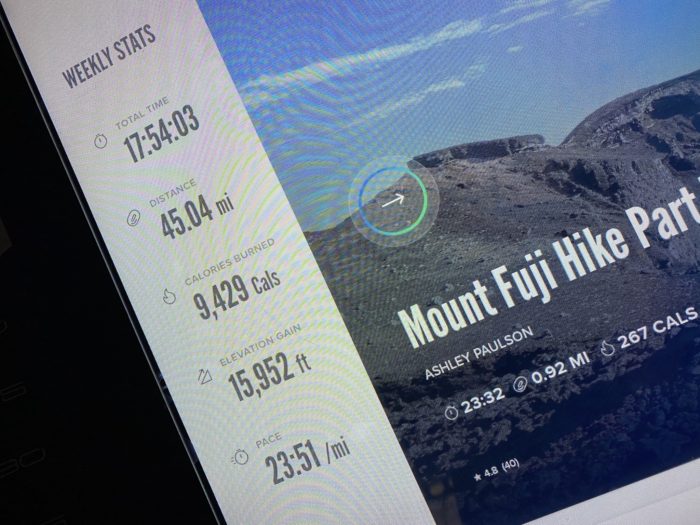 Indoor Training
It's winter where we live, so we are exercising indoors. The treadmill is our best friend. I have a NordicTrack X32i with an incredible 40 percent incline that'll challenge even the most seasoned hikers. It also has a -6 percent decline, which helps for  walking or running downhill. If there's an ideal treadmill for hiking indoors, this Nordictrack is it.
The incline is fantastic, but the best part is iFit, an immersive video-based training program for walking, running, or even hiking. Each exercise series features a trainer who leads the hike/walk/run with an assistant who is filming. The cameraman does an excellent job alternating between the trainer and stunning views. Each trainer is a bit different, but most talk about the area where you are hiking, sharing tidbits of historical and cultural information. He or she also offers helpful fitness tips (like how to walk down inclines) and encouragement along the way. The trainer and the scenery make you forget you are working out. The time flies right by.
Each series is composed of 10-20 workouts designed to improve your fitness through endurance, interval, and recovery workouts. Best of all, the treadmill automatically adjusts during the exercise. The speed increases when the trainer starts to run and the incline goes up when the trainer climbs a hill. I just finished a 21-part Mount Kilimanjaro series and loved every minute of it. My kids are working their way through the beginner incline series in the Swiss Alps. Most of our workouts last 20-40 minutes. I do them four to five days a week, while the kids do them two to three days to keep it fun for them.
Outdoor Training
I snowshoe in the winter, but my kids don't like it, so we don't do it that often. Instead, they walk with me on packed trails and cross country ski. We also downhill ski. Sledding is probably our favorite outside activity—sledding down and then walking up the hill ten times in a row is a great workout and it's fun!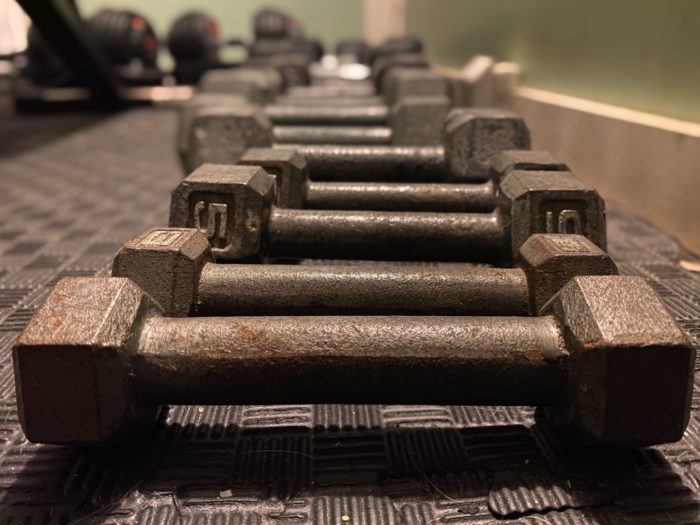 Weight Training
You know those skinny runners with no upper body? Yeah, that's me. I started a winter job as a part-time ski instructor teaching young kids to ski. A lot of the work requires you to help pick up kids when they fall  … and fall … and fall again. I was shocked at how weak I was in all the essential areas—arms, shoulders, back, and core. I immediately started doing some free weights so I could adequately do my job.
My lack of strength is my focus in this pre-hike period. I've moved away from free weights and am starting to wear a loaded backpack. I'm wearing it on the treadmill, when I go for hikes, and even around the house. My kids think I'm wacky. I hope to gradually increase the amount of time that I am wearing the pack, treating it as an extension of my body instead of this external burden. I don't have my kids doing free weights, but they do body weight exercises like push-ups and burpees as part of their physical education class. I also plan to have them wear their packs around home and while hiking starting next month.
Core Strength Fitness
Core strength is often overlooked, but so critical to carrying a backpack and maintaining balance while hiking. To strengthen my core and legs, I have been using a seven-minute workout app and tweaking the exercises until the workout suits my needs. I program the seven-minute app with ten activities and set the duration for each one, usually 40 seconds with a 20-second rest period. I typically choose a variety of activities, including wall-sits, leg raises, planks, lunges, and more. We do these exercises as a family when we have some time to spare. It's fun and lighthearted training that both the kids and I enjoy.
Affiliate Disclosure
This website contains affiliate links, which means The Trek may receive a percentage of any product or service you purchase using the links in the articles or advertisements. The buyer pays the same price as they would otherwise, and your purchase helps to support The Trek's ongoing goal to serve you quality backpacking advice and information. Thanks for your support!
To learn more, please visit the About This Site page.