February 1, 2022
Just a quick update to say that I'm still here and getting ready to go.
This is getting real. After surgery and pandemic forced me to postpone my planned 2020 and then 2021 starts, I just bought my Rochester to Atlanta ticket for a February 1, 2022 start at Springer Mountain.
Appalachian Trail 2022 for birthday 72. Let's do this!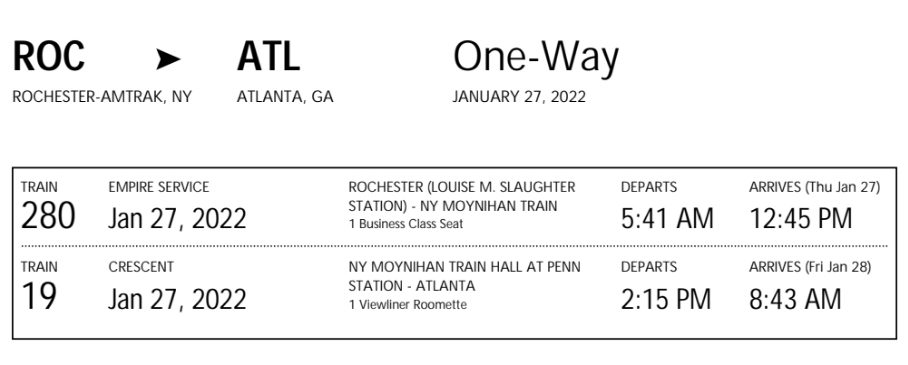 Blessings,
Steve / pearwood
Soli Deo Gloria
Affiliate Disclosure
This website contains affiliate links, which means The Trek may receive a percentage of any product or service you purchase using the links in the articles or advertisements. The buyer pays the same price as they would otherwise, and your purchase helps to support The Trek's ongoing goal to serve you quality backpacking advice and information. Thanks for your support!
To learn more, please visit the About This Site page.
Comments
14
You got this Pearwood! Can't wait to follow along! Thanks for your support on my own journey. –Monkey Toes

Thank you, Ms Monkey Toes!

Could you explain why you needed back surgery, how you injured it, and how was the pain after surgery? I am a back pain suffer myself.

Ron,
I had an L4/L5 herniated disk that I got cleaned up in 2017 with a couple hours of outpatient surgery and a three inch incision. The surgeon did not want me doing extended bending and reaching for a few weeks (emptying the dishwasher was expressly forbidden) but placed no restrictions whatsoever on my walking. I was walking around the neighborhood the next day. I started out with my cane but quickly grabbed it mid-shaft and carried it the rest of the way. I didn't need it and it was throwing my gait out of kilter. What took the longest to heal were the muscle bruises from all the stretching they had to do to get access to the site.
Two years later I developed a disk infection in the same location. We tried to clear it out with heavy antibiotics and a PICC line but did not succeed. Surgery for that took ten hours on the table and eight days in the hospital. But the debilitating pain in my hip and leg were simple gone. Surgery was in August 2019. The surgeon told me I would be ready to do the AT in 2020. I told him I would be ready to get back into training in 2020. He had hiked parts of the AT himself, so he knew what he was talking about. In any case, the pandemic sealed the deal.
I had surgery in January 2020 to repair and fuse a really nasty bunion that was all eaten up with arthritis and quickly becoming crippling. That surgeon game me the ok, too.
Somewhere in 2017 I started doing Pilates one on one, later adding in yoga. I highly recommend either or both to ease your back pain whether or not you end up needing surgery. My orthopaedics nurse-practitioner says it's the best thing I could be doing. Just don't get all gung ho and overdo it. A good instructor will work with you on that.
Does that help?
Blessings,
Steve

Looking forward to reading about your adventures…best to you!
Paul

Standing by to follow you on line as I section hike not only AT in Va but all the other trails I can find, there are many. Best of trail luck to you Brother Pearwood

GL, I should start a few weeks behind you, but not booked international airline tickets yet.

You may well catch up with me; I am not going to be setting any speed records.
My travel arrangements were considerably simpler than yours. My brother lives near Atlanta. I'll stay with them a couple days then he will take me to the trailhead.
Blessings,
Steve

I am in Colombia, so at least in the same time zone, so NO jet lag addjustments.

But less good kit options here so will spend a few hours in Atlanta getting missing things.

On the positive there are mountains that start 2 mins from my door, so used to walking very steep inclines, I do 7.5 hours walk once a week, for AT training, plus I naturally walk quite quick on flatish terriain.

Hopefully I will catch up and see you, make sure you post a clear shot of yourself on your first blog.

I am not much for writing, so no blog from me.