Fontana to Hot Springs
Forgive any misspellings or gramatical errors, being on a phone and limited wifi precludes extensive editing.
Day 10
Took a zero day today. My first one yet. After 164 miles, it felt like a good time. I made my stay at the Fontana lodge worth it, staying the latest before checkout  and I spent the rest of the day at the "Fontana Hilton." A sink to wash my hands is fantastic. Just eating and sorting through my gear for the smokies. I know I have enough food to get me all the way to avoid Gatlinburg, and hopefully get me though to Hot Springs.
Some wonderful trail magic arrived as soon as I brushed my teeth for the evening. A 2014 Flip Flop hiker named Smooth D showed up to give me some advice. "Some people make it about the miles but remember, it is all about the smiles." Also he told me if you want to quit, do it on a nice day. It is too easy to quit on a bad day. If you really wanted to quit, you would bow out on a beautiful day. As long as my head is in the game, I cannot fail. If it was sunny and 75 everyday, it would not be an accomplishment.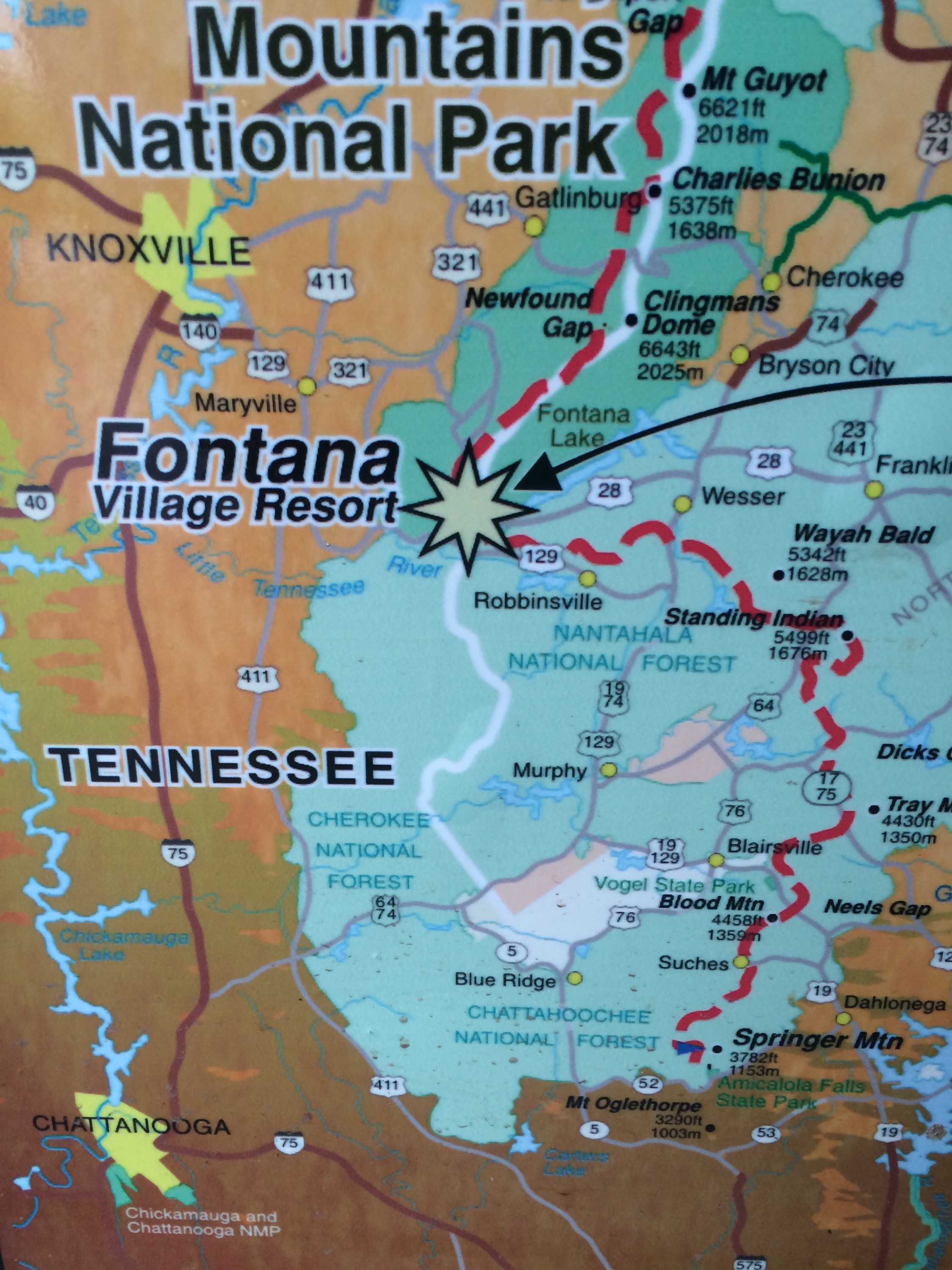 Day 11
3.7 miles in 2 hours (sample pace)
Made it to Russell field shelter. Hike, sweat, deal with bugs, eat. That seemed to be my day. This will be my first night staying in a shelter. Although it is mandatory to stay in a shelter, I always expected to sleep in a tent because of germs and privacy. But tomorrow is supposed to be a torrential downpour and I did not want to pack up a sopping wet tent. Lots of nice people and no crazies yet.
Big 14 mile day into the smokies. Big heavy resupply out of Fontana, so the hike was really tough. Lots of food to get me all the way through. Hopefully this will make me eat more though. Didn't want to push myself too hard out of Fontana. With the amount of weight that I am carrying, and my trail runners, I am still developing my "hiker legs."
Day 12
Just a downpour of a day. By mile 9, I was done. Arriving at Derrick Knob shelter at 1:30 pm was a gamble. Knowing full well that everyone would be seeing reprive from the raging storm that seemed to drop rain from every direction and turn 3 miles of downhill into a river I had to wade through. So the shelter filled up mostly with thru hikers by 2 pm. I knew that I didn't want to stay in shelters for the most part because of the threat of getting sick and mice. Stuffed like a can of sardines doesn't do the feeling justice. Why? Because sardines are dead and don't have to deal with damp clothing and sopping dudes with beards who insist on rolling their own cigarettes. I am trying my best to not get a chill. Being around people in the shelter hacking and coughing was motivation enough to bail. So the rain, but not the wind let up and I was able to find a spot for my tent, as did 17 other folks/tents who showed up. This is the exact shelter where there are exactly 2000 miles to go until Katahdin.
Day 13
Ever since the NOC, it has rained every damn day. Sitting here in my tent at 6:39 in the morning on April 20th with lightning and massive thunder every minute. Still debate on whether to get out of my tent and pack up in this.
5.8 miles is 2 hours in the morning
Walked on the map for 21.3 miles, but it was more like 22.3 miles because of going to the bottom of clingmans dome parking lot and hiking back up. Bought myself 2 candy bars and devoured one immediately.
The other dark chocolate bar was going to be my reward at the end of the day, and boy was it great.
Hiking through the smokies is like traveling through middle earth. Trees that look like Ents and the smell of Douglas Fir just permeates everything. The most beautiful piece of trail I have encountered yet.
Such as exhausting day. Since I plan to be in hot springs by Friday, I need to do some big mile days this week. Getting to Newfound gap at 5pm knowing I needed to do 3 more miles was a challenge. Hungry and starting to rain, I made the miles in record time before the sun went down and I was able to make dinner. Tenting so close to the shelter is not ideal. Every obnoxious laugh and boring story just envelopes my tent.
I caught up with a guy who I met on my Shakedown hike. Meaning that I seem to be exceeding my expectations in mile to be done.
Day 14
Another 20.3 mile day to Cosby Knob shelter.
Waking up to most of the camp frozen was a first on this hike. Being above 5500 feet will do that to you. Waking up at 2:30 AM to being cold is devastating. Putting on most of my remaining clothing and cinching my sleeping bag hood to the max seemed to do the trick until morning. So what do you do when your stove won't ignite in the morning and your body might freeze without some hot liquid? You troubleshoot extensively, and even when your backup lighter is not functioning because of the cold, it magically ignites with my other canister. I also saved Paddington's tent by pouring hot water on a tent buckle to make it unclip.
Some of the most gorgeous views on today's hike. From having frost trickle down from the branches, to being enveloped in Douglas Fir tunnels that remind me of the holidays, the day was perfect for hiking.
Hiked along some of the horse paths today. Tip to fellow hikers – don't just stomp through the muck that you are confronted with just assuming it is mud. The aroma of mud mixed with horse shit and pea is not something you want carrying around on your shoes and pant leg.(something the hiker mind thinks about on long days)
My plan is to stop at standing bear farm for a modest resupply and push on for another 20 mile day.
Since I am planning to spend 2 nights in Hot springs, it would be nice to take a Nero day on Friday as I make my way into town.
Day 15
Enjoy each step, relish every step and ALWAYS take candy from strangers. This is the advice I heard from Lumpy, the innkeeper of the establishment.
Bit of a small day with 10.7 miles. Mostly downhill out of the smokies to Standing Bear Hostel. Running low on food, I thought I was going to do a small resupply and push on to the next shelter. But the best things happen when your carefully laid out plans fall apart. This place is another great location right off the trail for relaxing once you get out of the smokies. A river runs right through the middle of the camp, and the resupply shop is a real haven for starved hikers. A place where I can polish off an entire frozen pizza and a bag of chips and salsa and still be hungry for an oatmeal cream pie and nutty bars. Washing it all down with a ginger ale.
I have lost 9 pounds since Hiawassee and I am trying to make it all back up in towns.
2 more days until hot springs.
Day 16
An exactly 20 mile day from standing bear farm to walnut mountain shelter. First bit of trail magic in a long stretch. After consuming 3 hot dogs, 2 chicken thighs, 2 Otis muffins, a small bag of carrots. Washed down with some chocolate ice cream, a Capri sun and a PBR, I made my way up to Max Patch. An absolute gem on this trail.
Words and photos cannot do this place justice. The sweeping 360 Panoramic views of the Appalachian mountain just gave me a sense of the scale of what I have been doing these past 2 weeks.
Day 17
I did about 13.1 miles in 4 hours. The motivation to get into hot springs was enough to make me get up at 5:30 and hike in the dark; mostly downhill to get into the town. Bluff mountain outfitters is a real gem in that town. Make sure you check out the upstairs map room to get a sense of perspective. First outfitters I have been to that sells avocados.
I made sure to stop at the tavern on the river to see if I could hand the AT hiker burger. Eating 18 ounces of cow covered in fried onion and a stack of waffle fries was no problem at all. All that after I devoured 5 cookies and an oatmeal cream pie across the street at the hiker ministries. Take advantage of that place people.
Affiliate Disclosure
This website contains affiliate links, which means The Trek may receive a percentage of any product or service you purchase using the links in the articles or advertisements. The buyer pays the same price as they would otherwise, and your purchase helps to support The Trek's ongoing goal to serve you quality backpacking advice and information. Thanks for your support!
To learn more, please visit the About This Site page.