After Four Weeks, Hitting My Stride and Still Loving It
It's wonderful  when it feels like everything is clicking along smoothly. That's how I feel tonight while reflecting on the past seven days   I've been on the trail for 31 days now and I feel  very comfortable about it. Each morning, I look forward to seeing whatever the trail presents to me, whether it's simply trees to the left, trees to the right, expansive panoramas, memorials or historic relics, interesting people or unexpected animals.
The days have turned slightly cooler, with temperatures rarely over 80 now. The nights still remain around 60 degrees. It's evident that a few of the leaves are beginning to turn color, but some of summer's flowers can still be found.

The first big excitement when I left Damascus was passing from Virginia into Tennessee. This is the fifth state I have hiked on the AT these past two years.
Happily, there was a wooden sign on a tree. Some enterprising hikers, probably younger with energy to spare, had constructed an official state line.
The trail wasn't overly punishing this week, with just its usual ups and downs, some a bit longer than others.  There was a lot of the green tunnel, with ever-increasing amounts of rhododendrons.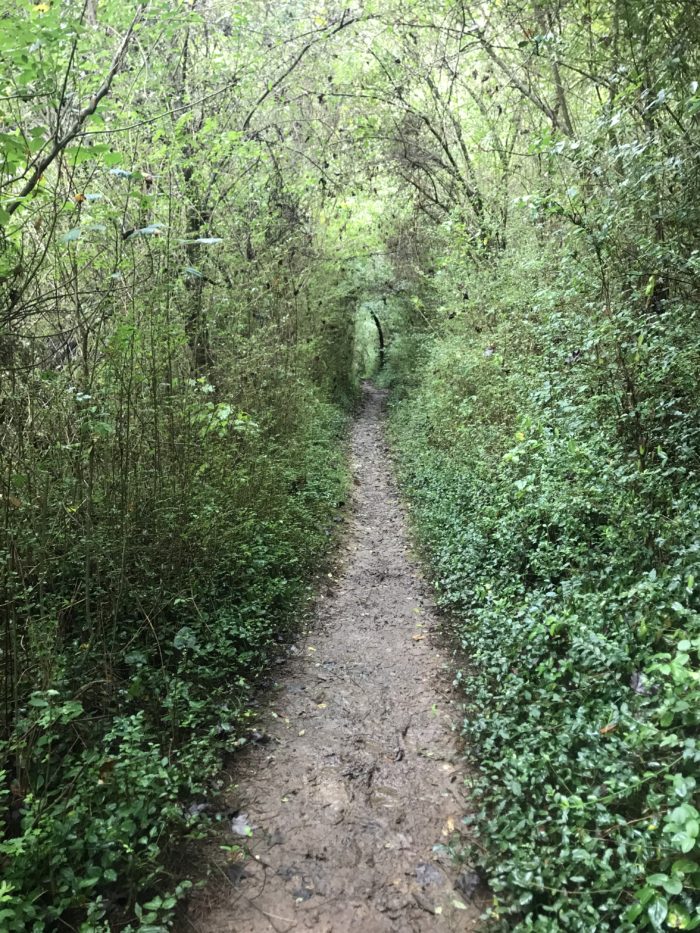 And, as always, there were moments when you thought, "Don't make me go there!"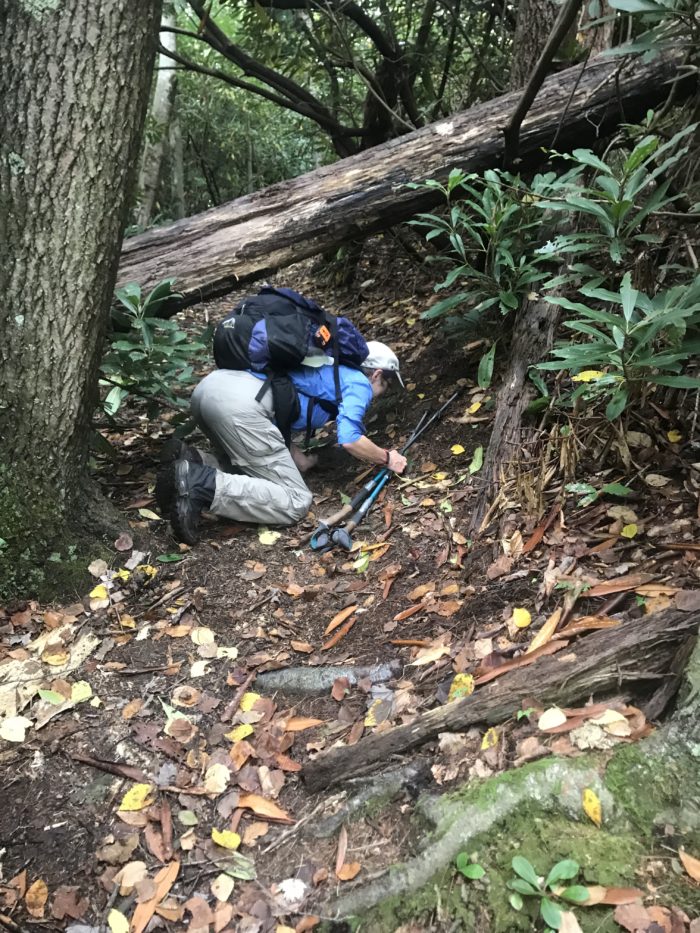 My lodging the first night was at a shelter with two men about my age (Yakker and Gordon) and a much younger one in his 20s (Hustle). Despite the age gap, we all shared our enthusiasm for the trail and had a nice time together.  The two older hikers, experienced scout leaders,  brought fire starter, so I had my first campfire of the season. I left the shelter to the guys and slept in my tarp nearby,  which is always my preferred choice.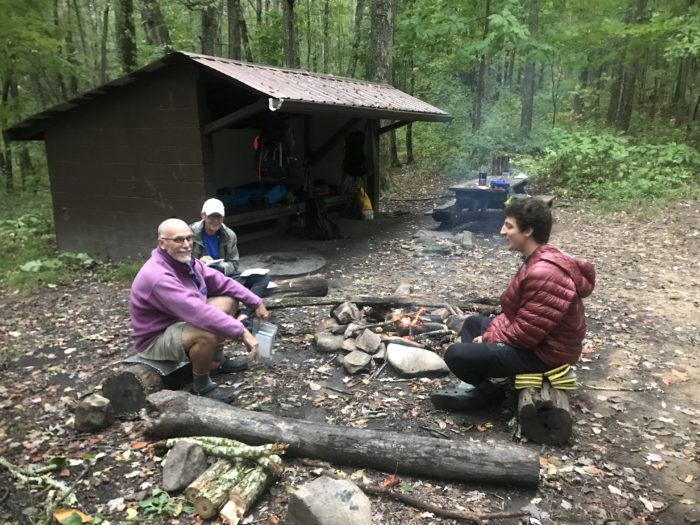 During day two of this section, I came upon this unannounced sign affixed to a post by a forest service road:

I spent at at least a minute debating whether it was worth a possible 30-minute round-trip.  But I want to see as much as I can and felt it would be good to honor this veteran. So down the road I went. And it was only five minutes away! It was a small family plot  for the Scott family, very simple and very touching, in a little clearing in the woods. Worth it.
Interesting people met on the trail included a woman my age who lives in Loveland, OH, only 20 minutes from our home.   Unfortunately, I forgot to take a photo, but we exchanged our information so that we can hike together in the future.
Just ten minutes later, I met these three men also from Cincinnati, one of whom grew up in a house two blocks away from our present home. In fact, he played with the  boys who lived in our home in the 1960s.
This day wrapped  with one of my favorite things, walking through a spacious meadow with  views of mountains in the distance.
I called the owner of a small private campground for a lift  to his place two miles away.   It turned out that it was simply the large meadow where he presently lives in a travel trailer seven months a year while beginning to construct a geodesic dome for retirement.  He has been renting space for tents to hikers for 14 years.  I was the only one there this evening, and rented one of his two tiny cabins due to possible rain.  Comfortable, electricity, a good bathhouse with hot showers, laundry, Wi-Fi.  I amused myself by watching an episode on my iPhone of my present favorite (ridiculous) reality TV show, Married at First Sight.   Not exactly roughing it.
The next day started with a beautiful sunrise that I could see out the door of my little cabin.
I met three interesting people on the trail this day. The first was a senior trail runner who has done some of the same long-distance marathons and ultras I have done in the past.
The second was a thru-hiker (Mountain Grizz) who had already hiked the northern half of the trail this year and was now  finishing up the South.    It surprised me how long he wanted to chat, given all the people he's met and the miles he has covered. I was happy to oblige, of course.
The third person (7 Mile Snail) gave himself this trail name in order to remind himself of his distance limits at this age.  He began hiking on the AT back in the 1960s and continues to get out every year for at least a week.  It's interesting to  observe that the  shorter the time a person spends on the trail, the more stuff they bring and the bigger their pack is. The thru-hikers end up with nothing bigger than the average school bag.
Also encountered was the memorial to a hermit who used to live up in the woods in this vicinity. They say that if you camp in the area, you can sometimes hear the howling of the ghost of his dog.
This turned  into a day with several downpours. I arrived at my shelter feeling like a wet dog.

I quickly took over the shelter and hung up my wet clothes, even though I knew they wouldn't dry.
Happily, I didn't have to go out in the rain again to get water, a usual evening task. I had carried two extra liters of water (4.4 pounds) with me up the mountain, knowing the trail down to the spring was steep and long. It was worth the effort of carrying the water, given the present rain.  My hanging clothes had to come down and my belongings gathered closer when four more sodden hikers arrived. We all appreciated the roof over our heads that night.
The next day, the weather was much better.  Starting with views from afar, I slowly descended to Watauga Lake.
After  skirting its  shores and going up and down numerous PUDs (pointless ups and downs), I finally came to tonight's charming and rustic Boots Off Hostel.
I enjoyed a spinach and chicken salad from a nearby Subway shop and a canned margarita with a young Australian girl who is spending six months traveling the world. Forty-five years difference in our ages, but it didn't matter.
The next day brought even more fun. My friend Amy, whom I met in April 2017 on the AT, came up from Florida for a family vacation nearby, and was  hiking two days with me.
Let it be said that much talking commenced, and the miles flew by.  The trail was lovely, along a rushing river, hugging a rock wall, and by a beautiful waterfall.
We stayed in the comfortable bunkhouse of  a small family lodging, the Black Bear Resort.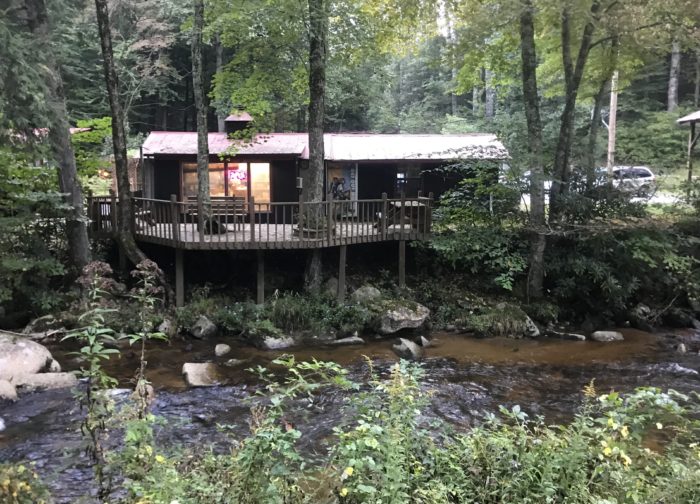 We found the hosts friendly, the hot showers invigorating, and the toilet paper holders fun.
Our second day together flew by. We were slackpacking both days,  meaning that we had left much of our gear in the car with her husband, Jim, and dog Berkeley. With less weight on our backs, we flew past even more rhododendrons along the trail.
At last we came down to a forest service road where Jim and Berkeley were waiting. It had been tons of fun to be together again and I know we'll hike again together sometime, somewhere.
The three of them left in their car and I headed off on foot to find a camping spot. I passed the first because the Powerade I had had with Amy had given me all sorts of  energy. I passed the second camping spot because someone let me know this was his favorite place.
I finally found a third spot, after achieving my first 15-mile day this year.
Day seven  brought me to a sign that was very exciting.
In just few more days, I will have hiked one-third of the Appalachian Trail in 2017 and 2018. It doesn't seem possible,  but day by day the miles add up.  But, as they say, "The journey is the destination."
I passed by another cemetery, where I found some touching headstones.
Lunch was by lovely Jones waterfall.  Nice soundtrack.
As I was approaching Doe River, TN, the site of my next much anticipated zero day, I had a good view of Roan Mountain. This summit would be my next destination.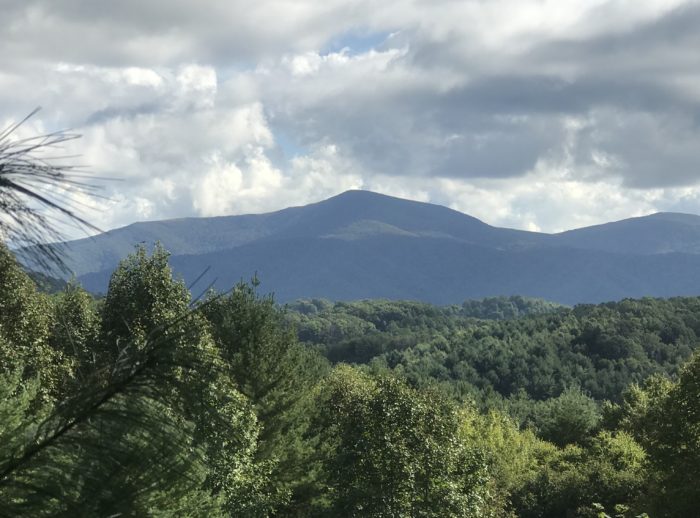 I was full of energy yesterday and this morning, but I completely ran out of steam my last hour.  I suspect it was the Powerade, which I'm not used to. Its sugar high had crashed.
I was picked up at the trail head by the owner of the hostel where I'm staying, Doe River Hikers' Rest. It's a small hobby hydroponic farm with horses, goats, chickens, and dogs.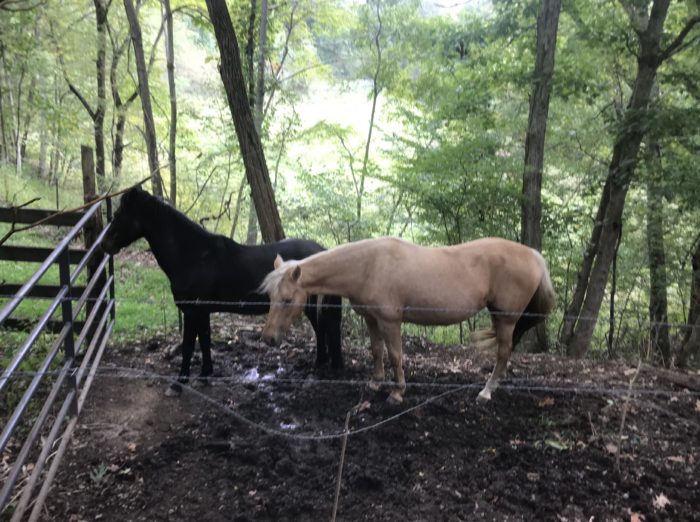 The owner also owns another nearby hostel/craft beer brewery, where his  bartender is a hiker I saw several times last year, Crazy Wolf.  Very fun to  renew acquaintances.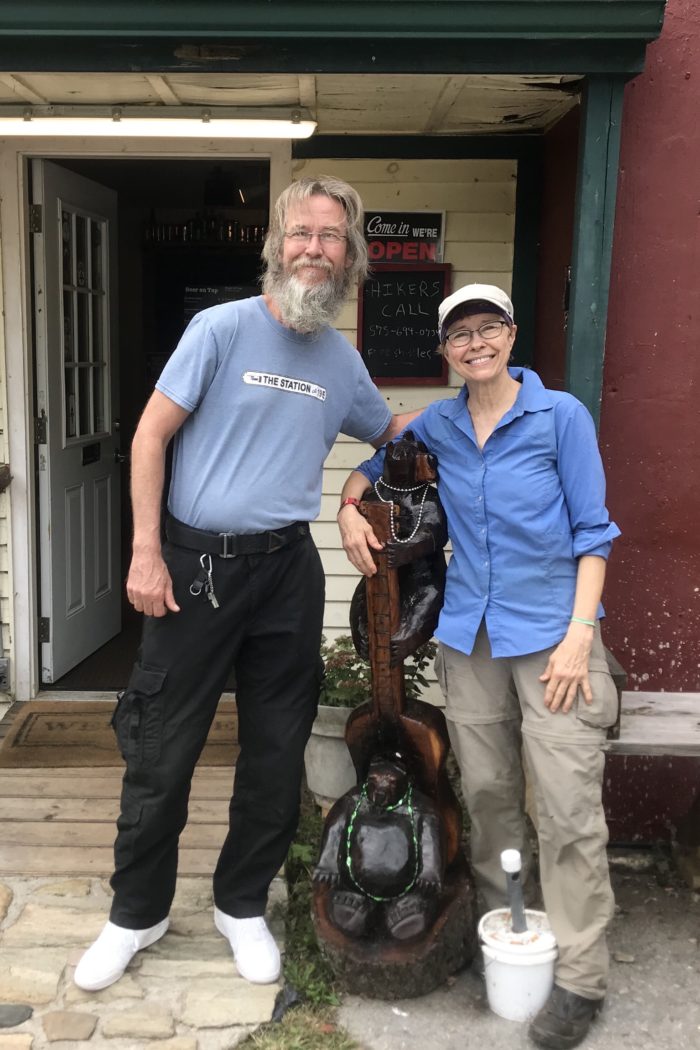 This zero day was a good day of recovery after my first full week of nonstop hiking . It began with contorted yoga in my cramped little room,

followed by a half hour acupuncture session, treating a knee that hasn't liked recent steep climbs.
Later I was driven into town for some supplies and a 90-minute massage. That was living.
Another Subway chicken salad was my dinner and now here I am composing this blog post.  Time to wrap it up get ready to hit the trail again tomorrow. On to the beauty of Roan Mountain. I'm ready!
Affiliate Disclosure
This website contains affiliate links, which means The Trek may receive a percentage of any product or service you purchase using the links in the articles or advertisements. The buyer pays the same price as they would otherwise, and your purchase helps to support The Trek's ongoing goal to serve you quality backpacking advice and information. Thanks for your support!
To learn more, please visit the About This Site page.