Gear! Gear! Gear!
With mere days before my Appalachian Trail thru-hike begins, I submit: my starting gear list.*
*Subject to many last-minute changes. 
All gear was either pre-owned or purchased specifically for this thru-hike. This gear collection was amassed after considerable time spent reading and listening to backpacking forums and podcasts, Appalachian Trail-specific advice, and other thru-hiker gear lists from The Trek. I did not aim to be an "ultralight" hiker, but I did try to use lighter options when possible. My goal was to have a base weight (base weight = packed weight — food and water weight) as close to, or below, 20 pounds, with a packed weight not exceeding 25 pounds. I got very close, with this setup clocking in at 21.75 pounds base weight.
The Big 3: Sleep, Shelter, Backpack
Backpack: Gregory J63 60L. I've had this backpack since 2014, when I went on a trip to Europe with my family. I've brought it on every single backpacking and camping trip I've taken since. It fits surprisingly well, considering I selected it for its color, not its fit (despite what I might have insisted at the time of purchase), and weighs in at just over 3 pounds. I'll carry it as far as it will last.
Fanny Pack: Lululemon Mini Belt Bag. I brought this on a whim on my first shakedown hike, and now I don't think I could hike without it. It's the perfect size for everything I want quick access to—phone, headphones, chapstick, electrolytes, snacks, wallet—and much larger and easier to maneuver than my backpack's belt pockets.
Tent: NEMO Hornet 2 Person. This tent was the result of a 3 am online shopping session, when I picked it up at an irresistible price. (I was originally going to go with an REI Passage 1, but the NEMO Hornet is almost 2 pounds lighter—weight savings I couldn't pass up.) The NEMO Hornet is a semi-freestanding tent, meaning it is held up by both a tent pole and by stakes in the ground (as opposed to a freestanding tent, which is supported by tent poles alone). Many thru-hikers opt for tents that are held up by trekking poles in efforts to save weight; you can forego the tent poles and use your trekking poles for double duty. I've never used that style of tent, don't know anyone personally who uses one, and did not find the idea appealing enough to spend money trying one out. I also went with a 2-person tent, trading the additional ounces for extra room to spread myself and my gear out.
Sleeping Pad: NEMO Tensor Ultralight. A sleeping pad provides extra insulation and comfort when sleeping on the ground. They typically come in two styles: an inflatable air mattress and a foam pad. I went with an inflatable sleeping pad since they are generally more comfortable for side sleepers, such as myself. The NEMO Tensor is also rated for use in cold weather, meaning it significantly insulates against the cold ground. The morning after I first slept on the Tensor, I woke up without any back pain and discomfort that I usually get from sleeping pads and air mattresses. It's become one of my favorite new gear additions, and one I would recommend to anyone.
Sleeping Bag: North Face Blue Kazoo Women's 15 Degree Down Bag. I already owned this bag, thanks to car camping trips to the White Mountains. It's very warm, but a little heavy for a backpacking sleeping bag, weighing in at over 2 pounds. I have used it on every backpacking and camping trip I've taken, and I've am satisfied with it. I expect to send it home once the nights get warmer in exchange for a Rumpl 1-person 45 Degree Synthetic Quilt (not pictured). As the Rumpl weighs nearly half as much as the Kazoo, and is rated for warm, 45 degree weather compared to the Kazoo's 15 degree cold weather rating, it will save weight and keep me from overheating on hot summer nights.
Sleeping Bag Liner: Sea to Summit Thermolite. A bag liner is an additional layer between a hiker and her sleeping bag. Usually made of silk or wool, it's basically a thin sheet, and it's totally optional. The reasons I opted for one include: (1) the extra warmth it provides (this wool liner in particular adds 8 extra degrees to my sleep setup), (2) it's much easier to wash a bag liner than a down sleeping bag, meaning it can be washed more often, and (3) to have an extra layer between me and my sleeping pad in the summer months when I swap for the quilt.
Pillow: LL Bean Camp Pillow. Also something I already owned. I tried to go without and save a few ounces, but as a side sleeper, I needed something to support my head. This pillow is compact at 5.5 ounces, and can be shoved into my sleeping bag's mummy pillow to prevent it from sliding around at night. This item is an example of an item where I decided to compromise on weight in favor of comfort: while others may see a pillow as unnecessary weight, I see it as a luxury item important to my mental and physical well-being—two things I think are important to successfully complete a thru-hike.
Camp Kitchen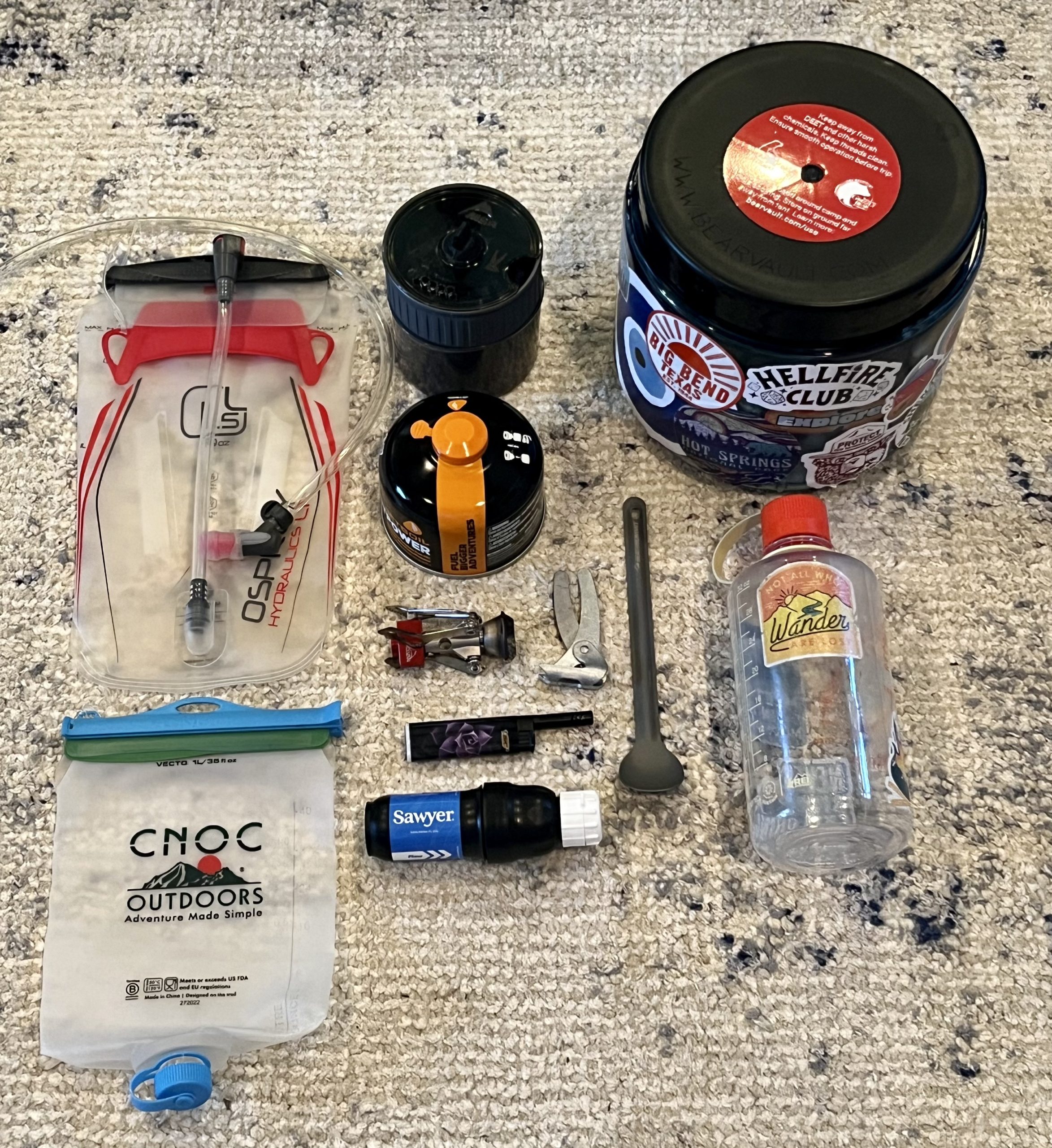 Cooking Set: MSR Pocket Rocket 2 Stove with 0.75L aluminum pot, pot holder, 2-cup bowl, XL titanium spoon, and fuel canister. This setup is pretty common among thru-hikers, with the Pocket Rocket being extremely lightweight and boiling water within a matter of minutes. The XL spoon is the best kept secret of backpacking: it has an extra long handle so the user can scrape food out of the bottom of pots and food bags without getting their hands dirty.
Water: Osprey 1.5 L Reservoir, CNOC 1 L Bag, 32 oz Nalgene, and Sawyer Squeeze. When I tried the thru-hiker favorite, 2 Smart Water bottles and the Sawyer Squeeze, I didn't like it. I wasn't drinking enough water because I had to take off my pack to reach my water. I tried a mesh bottle holder attached to the front of my pack, but didn't like how it bounced off of my chest while walking. I've had the best experience using a reservoir with a drinking hose, and want to continue with it for as long as I can. My Nalgene will be for extra water, as well as for mixing electrolytes, drinking tea, and as a hot pack on cold nights. As for filtering water, the CNOC bag is reserved for dirty water, which will be filtered through the Sawyer into the clean water receptacles.
Food Storage: BearVault 450. The Appalachian Trail Club recommends AT hikers carry a bear canister, such as the Bear Vault, to store all food and scented items when hiking. A bear canister, however, is not a popular choice, due to its bulkiness and weight (almost 2 pounds when empty!). For bear-proofing items, many hikers instead opt for an odor proof, bear-resistant bag which can be tied to a tree trunk, or hang other odor proof bags over a tree branch, out of reach of curious bears. Neither option interested me. I had heard of bear bags failing when it came to rodents in search of food, and I do not have confidence in my ability to tie a proper bear hang. Thus, a bear canister was my last choice. The 450 can hold 4-5 days' worth of food for one person, is easy to open and close, and can simply be stored on the ground 100 feet away from my campsite in order to be effective. Plus, it's stable enough to be used as a chair!
Clothes
Hiking Clothes:
Lululemon Cargo High-Rise Hiking Pant (after searching for a loose-fitting hiking pant with a drawstring closure and a number of pockets, I tried these by Lululemon, and fell in love with them. They are definitely under appreciated as far as hiking pants go and I hope they hold up to the huge number of miles in store for them.)
2 pairs of Darn Tough Socks
2 pairs of sock liners
Lululemon Power Pivot Tank
Lululemon headband and ball cap
Sleep Clothes:
Land's End fleece pants
LL Bean wool base layer shirt
LL Bean medium wool socks
Smartwool sports bra
Misc. Clothes:
Patagonia fleece quarter-zip
LL Bean Rain Jacket
LL Bean Fleece Base Layer Pant
LL Bean Ultralight Down Gloves
Xero Sandals
Footwear: North Face Women's Hedgehog Fastpack II Hiking Boots. There's passionate discussion among the thru-hiking community regarding footwear. Most end up picking from two categories: hiking boots or trail runners. I'd spent 3 years hiking the White Mountains in my last pair of Fastpacks, loved them, and was not inclined to switch since they were working so well. Until my first shakedown hike, that is, when I developed blisters so large and painful that I had to end my hike early. I decided then to check out trail runners, and snagged a pair of Altra Lone Peaks—the most popular of trail runners—on sale at REI. I took small hikes in them around my neighborhood, with my pack and without, and never took a liking to them. My feet didn't feel secure, I struggled without ankle support, and they didn't have the heft and durability that I like in hiking boots. I purchased another pair of Fastpacks, in a size up, and found training in those to be comfortable and blister-free. Here's hoping that continues!
Miscellaneous
Electronics
Ankor 10000mAh portable charger, Blavor 10000mAh portable charger. (If this proves to be too much reserve power, I will send one home.)
Garmin inReach Messenger satellite communicator
Black Diamond rechargeable headlamp
iPhone 13, Apple Watch Ultra, AirPods
Assorted cables
Health and Hygiene
Port-a-wipes (unscented)
Soap sheets and hand sanitizer
First aid kit (with band aids, Advil, leukotape, moleskin)
She-wee and trowel
Sunscreen stick
Bamboo hair brush
Toothbrush and toothpaste
Pocketknife
Happy trails!
Affiliate Disclosure
This website contains affiliate links, which means The Trek may receive a percentage of any product or service you purchase using the links in the articles or advertisements. The buyer pays the same price as they would otherwise, and your purchase helps to support The Trek's ongoing goal to serve you quality backpacking advice and information. Thanks for your support!
To learn more, please visit the About This Site page.