Our Gear List with 2.5K+ Miles of Track Changes
It has been two and a half years since we finished our AT thru-hike. Since then, Little Rhino and I have set out as section hikers on the Ozark Highlands Trail, Buffalo River Trail, and even made a visit back to Baxter Peak. While our trips are much shorter, usually just two nights, I enjoy tweaking my pack and gear list each time. Because we're in and out so much, we can pack for a trip in less than an hour. It brings me joy to know what I need and be able to quickly put my hands on it. Although we could wait, I usually start packing on Wednesday for a Friday departure. As a recovering thru-hiker, going through gear takes me to my happy place.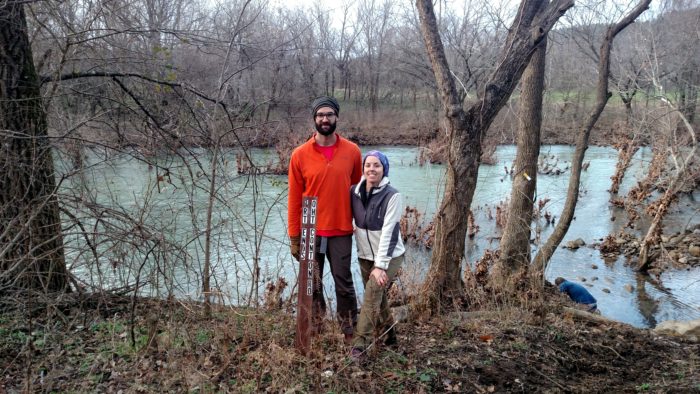 We haven't bought much new gear or made major changes since we finished our hike, but we made many changes during our thru-hike. Living outside for six months gave us the chance adapt to or perfect our gear lists. I haven't posted a gear list since our pre-hike lists (part 1 and part 2). I am sharing our current list here for my fellow weekend warriors in Arkansas and similar climates, in hopes it helps you keep your adventures light and fun.
Disclaimer: We are efficient, not ultralight. I haven't even checked my base weight. Looking back at the comments on our original posts, we made the recommended changes eventually, I was just too stubborn to change right away. Sometimes we learn the hard way. I knew there were lighter options out there for our tent and packs, but didn't want to spend the time doing research online. I wanted to start out with what we had on hand, talk to fellow hikers and see what worked before making investments in the big three.
These are our original gear lists with track changes and comments in italic.
Gear Lists

Lollygag
Garage
Pack- Kelty RedCloud 5400 (1990's model- my pack since middle school!)
Pack: Osprey Exos 58 

–

Swapped out for the Kelty in the Smoky Mountains, for a weight savings of  5 POUNDS!  Mine is a 2016 model, they look to be a bit heavier now. 

Brooks Cascadia 10 trail runners- We have tried a variety of trail runners, currently wearing whatever we find on clearance. They all perform similarly and break down faster than we'd like them to. 

REI Carbon Powerlock Trekking Poles

Safety Whistle –After taking a wilderness first aid course we realize the life saving potential of a whistle. 
Fishing Gear– Line and a few hooks that I can rig up on a trekking pole during downtime.
Kitchen
MSR Whisperlite stove – These are a rarity on long distance hikes, but for us (a couple who cooks a lot and drinks lots of tea and coffee), the Whisperlite is ideal.  Benefits include: white gas is much cheaper than canisters, we could refill our bottle instead of carrying 2 canisters, and in a pinch we could fuel up with gasoline for less than 50 cents.  Also, it is fun to watch the flames while it is priming, and is  field serviceable. I did the annual maintenance on our stove 3 times on the AT, and once recently in AR. It takes me about 10 minutes now. 
MSR Miniworks ceramic water filter
Chloramine tabs- Weight savings of about 2 pounds and one less chore. We actually left the ceramic filter at home when we left for Springer. 

2 plastic spoons,

1 plastic knife??? –

 –

The spoons are still in use. We use 1 pocket knife for everything and dropped the plastic knife. All we used the pocket knife for was slicing summer sausage and cheese. 

Stainless steel cup- one of my luxury items, since 1999 

 –

The sentiments of my first overnight trip were not strong enough to justify the weight. Sent home from the Smokies, relegated to drinking coffee on the porch. 

Pocket Knife

Sawyer Squeeze Mini Filter – We picked this up in Hot Springs, NC to supplement our water.  It makes a huge difference when you are thirsty and don't want to wait 30 mins for chloramine tabs to work.
Bear Hang- Carabiner and paracord. – Now that I've learned a few new knots, I'm thinking about ditching the carabiner to save weight. 

3-5 Liters water

– 1 Nalgene and 2- 2 liter bladders –Nalgenes are one of the easiest ways for most backpackers to cut weight. Get a 2-liter bladder! We don't miss the Nalgene at all.
Pantry
Shared dry bulk foods (group foods for breakfast and dinner)

Snacks for myself (i.e. bars)

Seat to Summit Big River Dry Bag – We tore through several lightweight dry bags before settling on these. Lightweight bags were not durable enough for our lifestyle. 
Closet
2 sets of light long underwear layers –1 set is plenty. 

Fleece

Outdoor Research down jacket

REI rain jacket

3x socks- heavy, mid weight, and thin running socks. –  I usually just carry 2 pairs, one to hike and one to sleep in. 
Outdoor Research Gaiters–

I got so tired of picking leaves and pebbles out of my shoes. These are very light and keep stuff out of your shoes. They're also a great conversation starter! 

Warm hat

Gloves

Balaclava/neck warmer – I still wear it to bed every night, even at home. 
2 pairs 1 pair running shorts
Head Tennis Shorts – 

I found these in a hiker box at Neel's Gap. I still wear them on every hiking trip! 

Hiking shirt – Lake DeGray Triathlon shirt is still my standard hiking uniform. 
Hiking pants –Only in the extreme cold for Lollygag. 

Sunglasses

Bandana

 – Not unlike Arthur Dent and his towel.

Crocks- Camp Shoes
Bedroom
Office
Rite in the Rain waterproof notebook– These were nice to start with, but we bought cheap notebooks along the way and they also worked fine. 
Mechanical pencil

Pen

Droid phone

Kindle

Camera– I broke our camera in VA, so we finished the trail without it. We have a new Cannon camera that we take on some trips. 
Spare camera battery

Charger (same plug works for phone, kindle and camera!)

Compass- More for entertainment than navigation. 

Foam Seat Pad

– Picked up a rectangle of foam pad in a hiker box at the NOC. I carry it to this day!

Headlamp

Maps or guidebook

No Watch- Time is a construct of the mind
Bathroom
Glasses and case

Contacts and saline solution

–

I found contacts were not worth the trouble and I rarely wore them. Now I only bring them if there's a good chance of swimming. 

Toothbrush/Toothpaste

Small plastic Trowel

Chapstick

Wet wipes & a designated baggie
Little Rhino
Garage
Pack- Jansport 52L – She is still using it after several repairs!   She's tried on new packs several times but loves the comfort of her old classic.
Brooks Cascadia trail runners – We have tried a variety of trail runners, currently wearing whatever we find on clearance. They all perform similarly and break down faster than we'd like them to. 
Kitchen
GSI outdoors bugaboo cookware set (minus the frying pan, one of the cups, and foldable sink.) – Continue to carry two of the cups with lids from original set. When we met up with Lollygag's Uncle Dave in Maine he said our pot looked like a Civil War relic, and Aunt Alice was worried about us eating the non-stick lining that was flaking off, so they threw ours out and gave us an aluminum pot from their closet. I dream of having a 2-liter titanium pot but can't justify the cost. **Moved from Andrew's pack to balance weight.** 

Aluminum pot with lid/handles

2 Bentley Drinkware cups – At a work going away party, Mary Bentley gave us a personalized set of 4 Bentley Drinkware cups. These cups are tough! Only one has cracked after 3 years of abuse. 
1-2 liters of water –now carried in a 2 liter Platypus bladder
Iodine tablets – We do use these in a pinch but prefer Chloramine tabs. 
Pantry
Shared dry bulk foods (group foods for lunch and bulk snacks)

Snacks for herself (i.e. bars)

Seat to Summit Big River Dry Bag – We tore through several lightweight dry bags before settling on these. Lightweight bags were not durable enough for our lifestyle. 
Oil 

in 

small

Nalgene
Closet
Two sets of light long underwear layers  –1 set is plenty.

Fleece

Down jacket

Rain jacket

2x wool socks

Warm hat

Gloves

Nylon scarf 

-added this in the Smokies.  I find it to be a versatile, light weight layer.

Hiking shirt

Hiking pants

Sunglasses –sometimes I take a ball cap instead

Sports bra

Underwear x2

Bandana –even thought I usually wear a Buff on my head, I still take a bandana tied to the outside of my pack to use as a towel or hankie
Camp shoes -Crocs are now my favorite camp shoes.
Bedroom
Office
Notebook

Pen

Kindle

Headlamp

Timex watch for setting wake-up calls, if needed – I only carry the watch face, no band.  It was literally torn apart by wild alpine parrots, Keas, in New Zealand…
Random plastic shopping bag or 2

–

 So many uses!  Sometimes I sit on them instead of the wet ground, sometimes I need an extra trash bag or use it to waterproof something when rain is coming.  Anish says they can even be used to scare away animals!
Bathroom
Toothbrush/Toothpaste

Dr. Bronner's soap

Wet wipes  & a designated baggie

Sunscreen

Comb- extended trips only

Pony tail holder x2

Lip balm

Feminine goods

First aid kit- After taking a wilderness first aid course (wish we had taken it before the thru-hike), we have added a triangle bandage (bandage, tourniquet, sling, and more in one!), benadryl, and a syringe for irrigating wounds to our basic first aid kit.
This is an evolving list that feels light on our backs and gives us everything we need. If you find even one idea here that helps you improve your pack list, or have your own ideas to share, we'd love to hear about it!
Affiliate Disclosure
This website contains affiliate links, which means The Trek may receive a percentage of any product or service you purchase using the links in the articles or advertisements. The buyer pays the same price as they would otherwise, and your purchase helps to support The Trek's ongoing goal to serve you quality backpacking advice and information. Thanks for your support!
To learn more, please visit the About This Site page.