Getting in Gear to Live in the Woods for 6 Months
How Will I Gear Up for a Thru-Hike?
First, Inspiration from My Uncle Bob.

My Uncle Bob hiked the Appalachian Trail about 35 years ago before lightweight backpacking gear existed. He had a metal frame backpack and embarked on a similar journey with cans of food. In addition, he slept at cemeteries as there was always a water spigot and he says you couldn't beat the price nor was he bothered. Hostels were not as available as they are today. And, my bad-ass uncle would take a zero to play a round of golf in towns. Also, he would stop at thrift stores along the way to buy more layers if he needed it. So, if my Uncle Bob could do it under those circumstances, I hope that I can hike comfortably with the gear listed below.
My Gear Journey
I started backpacking and accumulating gear about a decade ago. Then, two years ago I hiked a long-ass section of the Appalachian Trail and learned that I would need some different, even more lightweight gear to successfully and comfortably hike the A.T. I have slowly accumulated gear for the past several years and recently made a few big purchases mentioned below. While I have spent almost $1700 in gear overall, I only spent about half of that in recent months. This will be my approach to comfortably, and somewhat affordably, thru-hiking.
Pack
I will be using an Outdoor Adventure 55-liter pack that weighs 63.04 ounces. I used this pack for a month from Connecticut to Maine on the A.T. two years ago and it was comfortable for my frame and it worked. This was gifted to me after an Osprey pack was hurting my back from a worn shoulder strap and an inappropriate fit. I am happy to start my journey with this and open to purchasing a new, lighter pack along the way if need be.
Sleeping
After reading about the best sleeping bags for thru-hikers in 2021, I decided to purchase the REI Magma Comfort 15 extra-long women's sleeping bag. My decision to go with REI was due to the fact that this store has an exceptional return and warranty policy and it is ubiquitous on the east coast. In addition, the bag is comfortable down to fifteen degrees Fahrenheit. This was my biggest recent purchase of almost four hundred dollars as I want to ensure that I stay warm in the late spring months and at higher elevations up north. All thirty-six ounces of it live in a trimmed contractor garbage bag in the bottom section of my pack. I will also be using a Klymit Static V sleeping pad that weighs eighteen point six ounces. The easy to set up and deflate sleeping pad keeps me warm at night and adds extra comfort.
My Digs
My last tent was the Big Agnes Mountain Glo for 2. I used this on my 572-mile section hike. This bulky tent would not suit me on a thru-hike although I love it for shorter weekend backpacking trips. This time I purchased the sale tent of SL Solo 1 from Big Agnes for $179.97. This tent has gone up in price since my purchase and is no longer available. While it is a smaller tent than I am accustomed to, it seems spacious enough for me. I cut a footprint from a 2-millimeter drop cloth that I purchased at Lowe's. 
Fashion, I Mean Functional Clothing
After the big three, clothing is my heaviest category. My fear of being cold has me bringing enough layers to comfortably sleep through the night. The layers include thermal pants, a synthetic t-shirt, and a Nike Fit Compression base layer. And, I have some clothing that doubles as a bathing suit or minimal clothing when washing my clothes in town. This includes Calvin Klein yoga shorts and a Champion sports bra. I put my clothing in a big zip lock bag to keep it dry when hiking in the rain. And, my fashionable footwear is shower shoes from Decathalon, a Spanish outdoor company. I also brought an REI rain jacket and Outdoor Research rain pants. Each of these folds up nicely as pictured above. Lastly, I brought an LL Bean Puffer Jacket 850, a beanie, and liner gloves.

How I Will Cook on Trail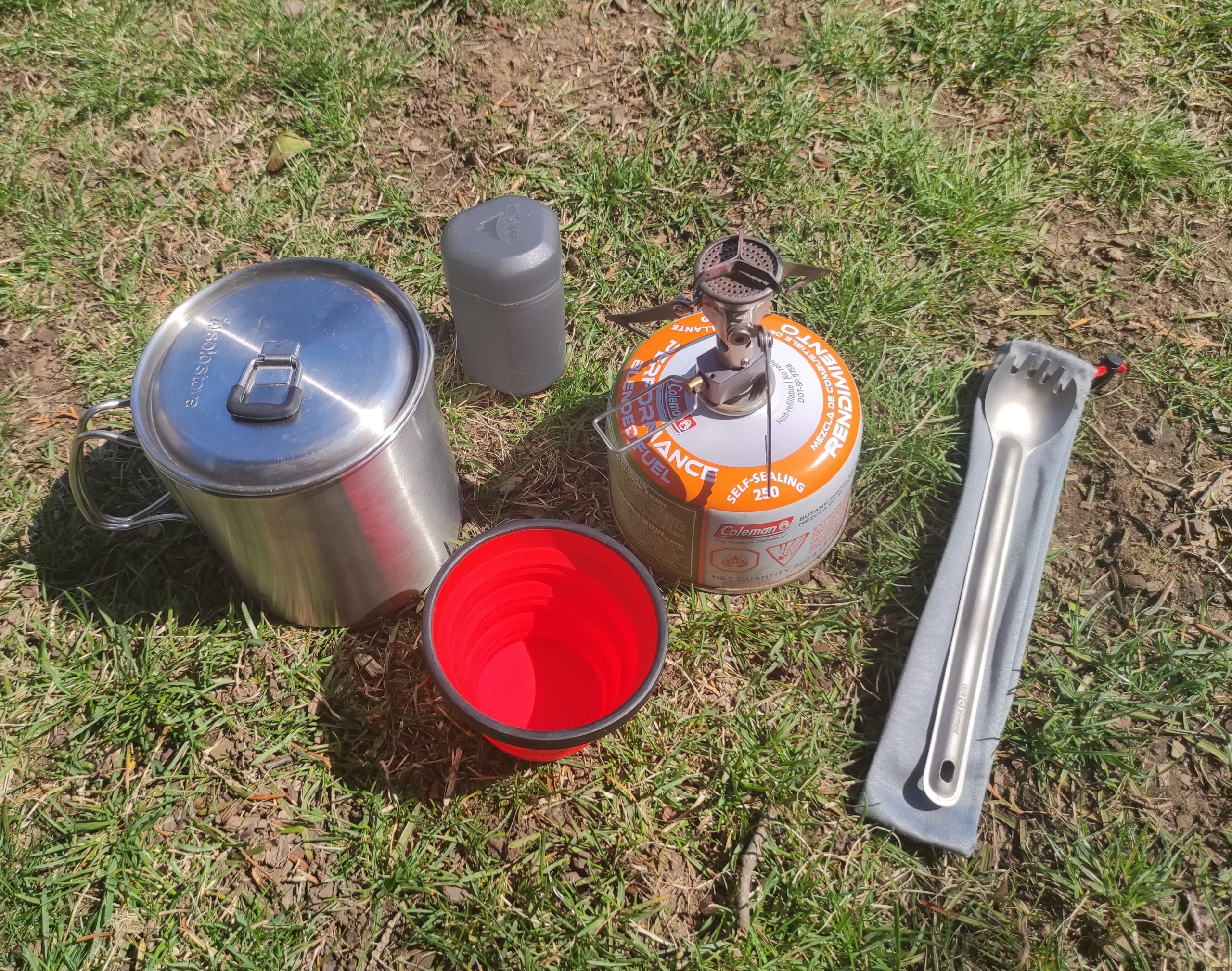 I love hot coffee and food in the morning and like to enjoy warm food at night. So, I will carry the extra weight of fuel and some kitchen items. Perhaps this will change as I spend more time on the trail. But, for now, I am happy to have an MSR Pocketrocket Stove with a Solostove Pot for cooking. I learned my short spoon didn't suffice on my section hike, so I went with the long spork that is ubiquitous on trails with thru-hikers. Lastly, a Sea to Summit X-Cup will be the vessel for my morning beverage. Hot food is a luxury on trail that I enjoy daily as a reward for all of the miles hiked.
Miscellaneous Items I will Bring that I Learned of From Previous Thru-Hikers
Leukotape is the magical adhesive that prevents blisters from forming. I will bring some of this to ensure healthy feet along the way. Additionally, I will be bringing pantiliners. This will not be for my monthly friend, but for my first aid kit to apply to a bleeding area in case of emergency.
Packing It All Up
You have to start somewhere and a base weight of just under seventeen pounds seems like a good start. When I regret having a seventeen-pound pack on my back without food, I will remember my Uncle Bob whose pack was much heavier. And, a recent eight hundred dollar investment won't break the bank and will allow me to purchase new gear along the way if needed. Furthermore, I am looking forward to learning from a pack shakedown along the way. If you would like to see the breakdown of cost and weight per item and category you can check out the link below. I hope that includes everything that I need for a thru-hike and nothing that I don't. I cannot wait to start my journey next week!

https://hikerlink.co/hiker/kona
Affiliate Disclosure
This website contains affiliate links, which means The Trek may receive a percentage of any product or service you purchase using the links in the articles or advertisements. The buyer pays the same price as they would otherwise, and your purchase helps to support The Trek's ongoing goal to serve you quality backpacking advice and information. Thanks for your support!
To learn more, please visit the About This Site page.