This Girl's Guide to Resupplying on the AT
It never once occurred to me that I wouldn't send myself resupply boxes.  Perhaps because I read Wild before my first backpacking trip, resupply boxes are inextricably linked to the concept of a thru-hike.  There's a lot of debate about them, and I'm sure at times I will be annoyed at being forced to wait for a post office or outdoor retailer to open so I can get my box of food that I'm probably already sick of eating.  However, I like the article by fellow Trek blogger Poppy P., where she suggests resupply boxes are analogous to an inspiration board. I can say for sure that plotting out my boxes was definitely one of the things that kept me motivated these last few wintry months.
Parameters
I am limited by the size of my bear canister because it only holds about four days of food and I just didn't want to buy a larger size.  I tried the Ursack AllMitey but the Velcro made me incredibly hostile every time I dug into it, and I decided I'd rather carry the extra weight of the BearVault than dread opening the Ursack.  I also can't simply use a bear bag because a childhood shoulder injury makes throwing a rope over a tree limb very unlikely.
Further complicating things is that my princess tummy is sensitive to gluten, wheat, dairy, and a handful of other ingredients.  This makes restocking my pack along the way slightly more difficult, and the trail is an inauspicious place for an upset stomach.  I have no doubt that I will get tired of eating the things I've packed, or maybe just want to buy food in town at some AYCE buffet.  Regardless, this way I can have the experience of resupply boxes while still maintaining some flexibility to chow down on whatever I feel like since I'm only getting a box once a week.
To that end, a link to my general menu for the next five months can be found here.
A Few Notes
I don't normally like sweets, but when I'm hiking, I crave sugar.  Adding a Snickers or (gluten free) shortbread cookie was an easy way to add calories into my day and also satisfy any hiking-induced sweet tooth.
Another way to add easy calories involves including hemp hearts or olive oil.  Neither weighs very much and they both pack a substantial nutrition punch where certain of my selections were lacking.
In an attempt to make my dinners more appetizing, I made spice straws to go with certain menu items.  They were super fun to make, but I couldn't move my thumb for a week after melting all of the straws.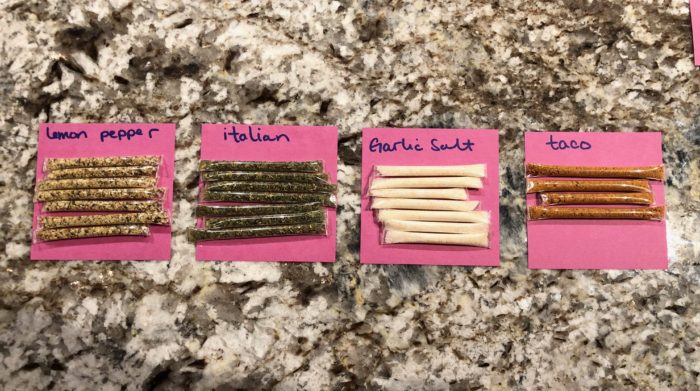 I did initially attempt to dehydrate my own food. That experiment went very badly enough times that I decided it was more efficient to buy food that was already dehydrated.  I was also afraid to use the vacuum sealer that I bought for all the food I planned to dehydrate, so I ended up adding silica gel packets to almost all of my meals.
My resupply boxes have more snacks than what is listed in the spreadsheet, but the miscellaneous snacks that aren't on the list were so random that it didn't make sense to individually add each to the spreadsheet.  What is on the list are my standard staples that I take on just about every trip.
Affiliate Disclosure
This website contains affiliate links, which means The Trek may receive a percentage of any product or service you purchase using the links in the articles or advertisements. The buyer pays the same price as they would otherwise, and your purchase helps to support The Trek's ongoing goal to serve you quality backpacking advice and information. Thanks for your support!
To learn more, please visit the About This Site page.