Go with the Flow
Doing a long-distance endeavor like this AT trek is a lesson in adaptability. Despite all the careful planning in the world and attention to detail, things can change in an instant. You have to go with it and adjust accordingly.
Happily, none of my changes were serious. No injuries, no loss of gear, no scary encounters of any kind. Well, sort of, if you count balancing on the top of boulders as scary.  More on that later.
The first change in plans came on the day after my last zero day and blog post. At a lunch stop at a shelter, I met another hiker and a trail maintainer and the caretaker of the shelter I was heading to for a one night stay.
At this point, this was the first shelter I knew of with a full-time caretaker, who lives in an adjacent house.  The hiker, Just Eric, and I helped Borderline carry trash left by others a couple of miles to his 501 Shelter.
This building is actually enclosed, with ywo exterior entrances. Its previous life was as a pottery shed for an artist. A large skylight illuminates the room, which is lined by bunks for  ten hikers. As far as I know, Borderline  is employed by the Appalachian Trail Conservancy.  He truly loves the trail and helping the hikers, or his "flock," as he calls us.
A fun group of folks were staying there, including a couple from Dallas and their 14-year-old son. They are doing the entire trail this year, but the son insists he has been kidnapped against his will and leaves desperate (comical) messages in shelter journals. But all is done with a cute smile on his face. I really enjoy this family, and have seen them a few more times on trail.
The change that had to take place was because of a severe weather forecast for the next afternoon. Borderline strongly advised we respect the strength of storms in the mountains and stay over another night. After some deliberation, I agreed to do so, as did the family and three other hikers.
Of course, the weather was beautiful the next day. We kept waiting for the storm to arrive and justify our delay of a day, to no avail.  Borderline made two 15-minute round trips to get all of us down to a nearby village for breakfast at a darling cafe.  This is owned and operated by a local church, to give locals an informal gathering place. It felt quite welcoming, and the gluten-free bean based bread there made into delicious french toast.
I was concerned about being able to retrieve my next food box, which was in a post office one day's hike farther on.   The Memorial Day weekend would keep me from retrieving it for three more days, a long time to wait without food. Borderline kindly offered to drive me to get it, which took more than an hour round trip. As a member of his flock, I happily filled his gas tank for this peace of mind.
More people kept arriving at the shelter that second day, some passing through, some staying, on what turned out to be a day perfect for hiking. We all agreed we were meant to be there this day, and had a lot of laughs together, much at my expense, as I verbally considered reserving a room for my next zero at a "clothing optional" resort.  The high price and the thought of hiding in my room for 36 hours (with a few peeks through the curtains) changed my mind.
The next morning, ready to head out for a lengthy day, I was approached by one of the others who had spent two nights there. Her name was Karen, a college student, and is surely considered legally blind. But she did well enough navigating on her own, on this three-day practice hike. But she asked me for assistance in getting off the shelter grounds, with its many blue blazes,  and onto the the AT proper. I was glad to help.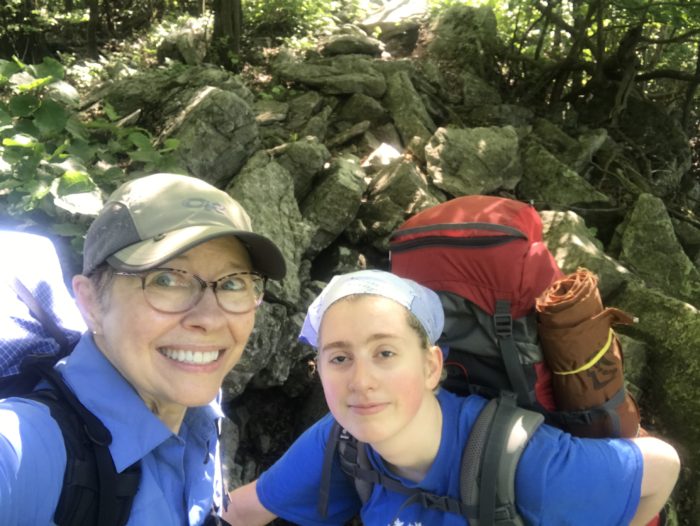 We ended up walking together the entire day, although I had hoped to pick up my pace a bit and cover more miles that day.  She did well enough on smooth trails, but had many trips and falls on rocky sections. She gratefully accepted the offer of the use of my poles for the day, which helped a great deal.
I initially enjoyed our time together, knowing it would be only one day. But I soon became tired of her continual complaints about classmates, one sister, and her parents. After hours of this, I finally asked if I could speak frankly. She said yes, and listened as I basically emphasized how hard parenting can be and pointed out all that she had told me her parents have done for her. She thanked me for this. I asked her to try to be a bit more understanding. I hope it helps a bit.
We parted, still on good terms. She wanted to camp on her own at an established site just a mile from the road where her father would pick her up the next day.
I gratefully reclaimed  my poles and went several more miles, to make up for the slow day. It was a pleasure to be camping again, with just the sound of the birds around me.
I was up early the next morning, but still found that it could take me two hours to break camp and get going. There's stretching to do, (uncooked) breakfast to eat, things to fold and roll up, feet to lubricate before putting on two pairs of socks (thin toe socks and heavier Smartwool ones), the backpack to arrange so that snacks and lunch are at my fingertips.  I managed to leave by 8 a.m., not too bad.
Wide muddy sections continued to be a presence, and the rocks of PA grew in frequency and size.
Happily, the weather was beautiful, and the landscape is in full greenery now.
The day culminated in a 1,000-foot drop in just half a mile with no switchbacks to soften the blow to the knees.
Down to Port Clinton I went, the town to which Borderline had driven me for my food box two days before.
My plans were to save some money and camp at the pavilion in a park provided for backpackers.
But first, a quick stop at the quaint, trip-back-in-time candy shop, where money was spent on a yummy selection of dark chocolate balls. Bet you can't eat just one!
Then into the Port Clinton Restaurant and a hotel, just to check rates, although, of course, I was going take the thrifty pavilion route that night.
But how how could I resist a bed, shower, laundry, restaurant food, and mostly, the companionship?  As I walked into the bar, a chorus of four voices called out, "Chocoholic!" Sitting there with cool beverages and yummy snacks was the Family and Hot Dog, another overnighter at the 501 Shelter.  I was hooked.
The bed was comfy, I became clean, my clothes no longer stank, my steak was delicious, and I enjoyed my friends. This is such a huge part of hiking, which I hadn't experienced to this extent in previous years on the trail.
The next day I got a good early start, which included a quiet walk by a river and a noisy walk under a busy highway. The AT can be full of contrasts.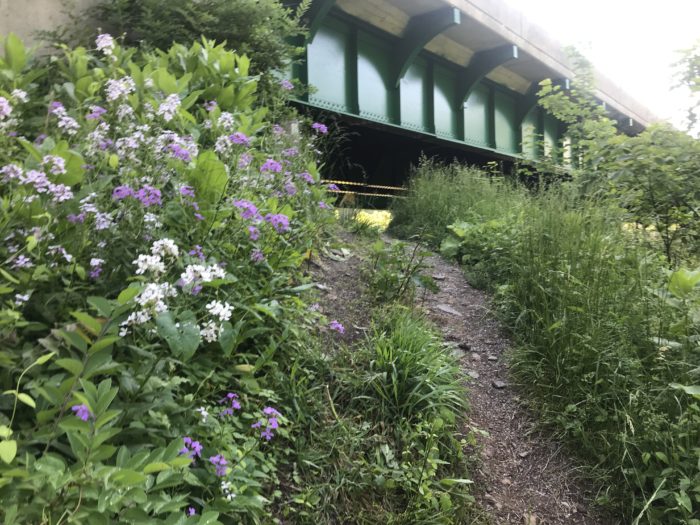 The day progressed nicely, with more great weather and what would be my first 15-miler this year  I could feel my legs getting stronger and my body being accustomed to having a 20-25 pound weight on its back. The pack fits well and we settled in together through the day.
The trail joined with a route in a park going up to an expansive viewpoint over the farmland below. Many locals (muggles, as I've heard a backpacker call them) enjoy this challenging round-trip hike, which begins innocuously enough with a wide, easy route, ending with quite challenging boulders to climb over.  Hats off to the parents taking their kids up there.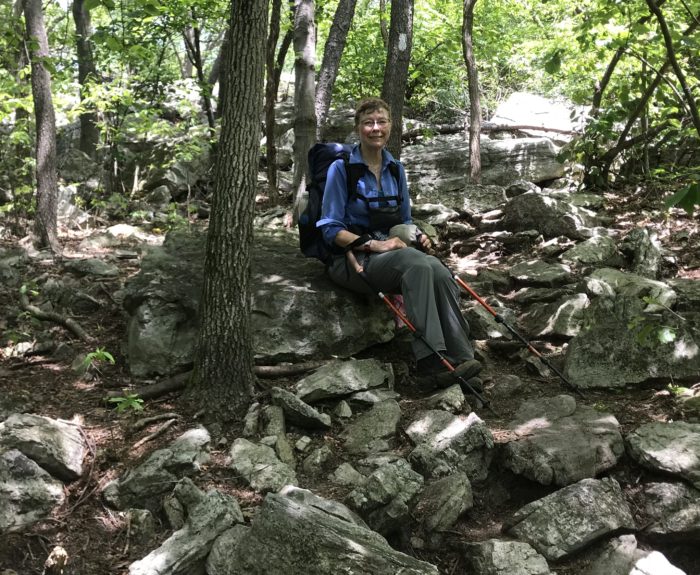 I had intended to camp again, but I chose to let them weather forecast change those plans.  I headed to Eckville Shelter, the second manned shelter I've encountered.
On arriving, I questioned my choice. This place gave me the creeps. Inside a shed behind a farmhouse there was a cracked concrete floor, old wooden walls, faded posters and signs,  bunks for just six people, a table, and two chairs. I felt like I was in an old miner's cabin.
There were perks, though, such as the solar-heated (sorta) shower, a real true flush toilet in the shower shed, drinking water, and a recharging station on the caretaker's porch.
What made it all better was when Just Eric showed up. Now I had another miner I knew to share my hut with. Quiet guy, but a safe presence.
Boulder fields ruled the next day.  Now I am truly beginning to understand the Rocksylvania name.  And I hear it continues into New Jersey, and let's not forget New Hampshire and Maine!  And I signed up for this.
One perk was finding a nine-foot snakeskin by some rocks.  I about jumped out of my own skin when I first spied this!  I'd been wanting see a snake, since so many live around the rocks.  This was the best way.
My lunchtime at a shelter was fun with a 40-something newbie to all of this trail stuff on a one-day intro hike with an older, experienced friend. He had lots of questions about gear and trail life, and was interested in trying on my pack.
My entertainment my last hour was chatting about the trail and about  travel around the world with a couple from Russia and Bulgaria, with their Boston University son.  It's so fun connecting and sharing travel stories with internationals.
I loved camping that night.  I always enjoy sleeping under my open tarp.
My most recent day on the trail was my earliest start: 6 a.m.  I wanted to get the hardest part, the Knife's Edge, done before the heavy rains came.  The Knife's Edge was definitely a balancing challenge and kinda scary.  When I got through that long stretch of pointed boulders, I told myself I was a badass.  I needed some affirmation, and I was all I had at the time.
The rock fields continued, with some smoother paths in between to lull the hiker into a false sense of security.  There was so much beauty to be found in the mist.
The occasional downpour made things a whole lot more slippery, which meant I slowed way, way down, and carefully planned every foot placement.  Only one fall, and my pack took the brunt of it; thank you very much for your service.
I finally came to the end of all of this fun.  Down I went to the town of Palmerton, PA, where the owner of a little hostel picked me up at the trailhead.
This hostel, former storage rooms for a restaurant out front,
is comprised of a cramped entry room for packs, boots, poles, etc.,
a cramped sitting area,
and a cramped sleeping room for five people.
Did I mention cramped?  Did I mention no natural light to speak of?  Did I mention that the one person I dislike in the trail happened to also be staying there?  We had had an exchange of words at an earlier shelter,  I had apologized, he had accepted, and we pretended all was well.  With all these factors, I had to be adaptable.  No other lodging in town; this was it for two nights.
So I slept there and basically lived elsewhere during my zero day:
the welcoming library next door, where they give each hiker a free paperback book of their choice,
the tiny community historical center/museum,
Bert's Restaurant, in front of the hostel.
I brought gluten-free bread from the supermarket and they made me french toast, and later, GF toast for a hamburger.  Because of their good food, I have extra uneaten food from my mail drop that I will have to haul up the mountain with me tomorrow.  Extra weight, but welcome at dinner time on the trail.
And it's up the mountain I go tomorrow, carrying extra water because of no sources for 12 hard, boulder-filled miles to the next hostel.  And rain.  And I'm still enjoying this.  I just try to stay adaptable to whatever happens.  Go with the  flow, even when it's quite literally flowing into your boots.
Affiliate Disclosure
This website contains affiliate links, which means The Trek may receive a percentage of any product or service you purchase using the links in the articles or advertisements. The buyer pays the same price as they would otherwise, and your purchase helps to support The Trek's ongoing goal to serve you quality backpacking advice and information. Thanks for your support!
To learn more, please visit the About This Site page.