26 Gorgeous Appalachian Trail Photos to Help You Get Through the Week
We asked for your favorite AT photos, and a lot of you answered. While we aren't currently able to achieve our thru-hiking goals, or even presently spend time on the Appalachian Trail, our readers shared their favorite AT photos with us for everyone to enjoy. This is the first installment, but there will be plenty more.
Have a favorite AT photo you want to share? Submit it here.
I had a torn ligament and cried every step of the 15 rainy miles between Carvers Gap and 19E, but the beauty of Roan Mountain and the kindness of the folks at Mountain Harbour Bed and Breakfast made it all worthwhile. As they used to say before 2020, no rain, no pain, no Maine.
-Janice Sherman
A fellow hiker named Savage took this of me during our ascent of the Wildcats. We nearly got caught in a thunderstorm at the top.
-Ronen Schatsky
McAfee Knob! I decided to do sunrise here and sunset on Tinker Cliffs, an extremely slow day, but so worth it. After night hiking down from Tinker Cliffs I had the craziest animal experience of my life: first a bird flew into my back in the shelter, then I saw the biggest spider of my life, a freaking cottonmouth was on the sleeping platform, then, after setting up my tent, I listened to a bear run around for the entire night. I love the AT!
Picture taken June 18, 2015, in Hamburg, Pennsylvania, right before receiving a hiker box with new shoes. These shoes had over 600 miles on them. They met their death in the Pennsylvania rocks.
-Richard Massie
This was my first hike back on the Appalachian Trail after having two amputation surgeries less than a year before. December 25, 2019, my friend Snax and I made our way up Dragon's Tooth and were treated to one the most amazing sunrises I had ever seen. It was like the trail was welcoming me back home.
Secret Shelter with Jake the donkey, mile 1,346 NOBO, on the NJ/NY border.
We are #thetrekkingtrio! We started and finished the trail together and plan to do many more long-distance trails together in the future. The AT created an unshakable bond! This is us coming off Siler Bald, one of our favorite camp spots on the whole trail!
This photo was taken in 2015 somewhere in the 100-Mile Wilderness. I love this image of my camp friends and me, four strong girls humbled by the power and beauty of Maine! I pray for our community's health and safety every day, and I hope the trail is missing us as much as we miss it!
The Whites. 2014 thru-hike.
This was taken at the top of South Kinsman mountain. It was a beautiful morning after a few very rough days for me mentally. I had just finished the tough climb to the top of the south peak and I felt on top of the world and so accomplished that I was hiking the Whites, feeling strong and confident while doing so. The sun was shining on my face and I felt so invigorated that it felt like I could do anything. That climb truly set the tone for my time in the Whites on my thru-hike. Every time I look at this picture I feel my heart race just a little remembering the adrenaline I was feeling in that moment and how genuinely happy I am smiling on that mountain. There truly is no feeling like it.
This photo was taken somewhere in Maine. Rarely did I see/walk a ridge, so every time I did I tried to take an awesome picture to remember.
Morning at Newfound Gap.
-Barry Hill
In the depths of the forest there are beautiful sights to be seen—you just have to be looking.
A snowy winter day captured on the trek up to Mount Rogers summit.
I took this picture on the Appalachian Trail headed southbound from the Carvers Gap parking area. After a night full of snow and ice I got up early in the morning with my two dogs to get some forest hiking in. I was blessed with some amazing light!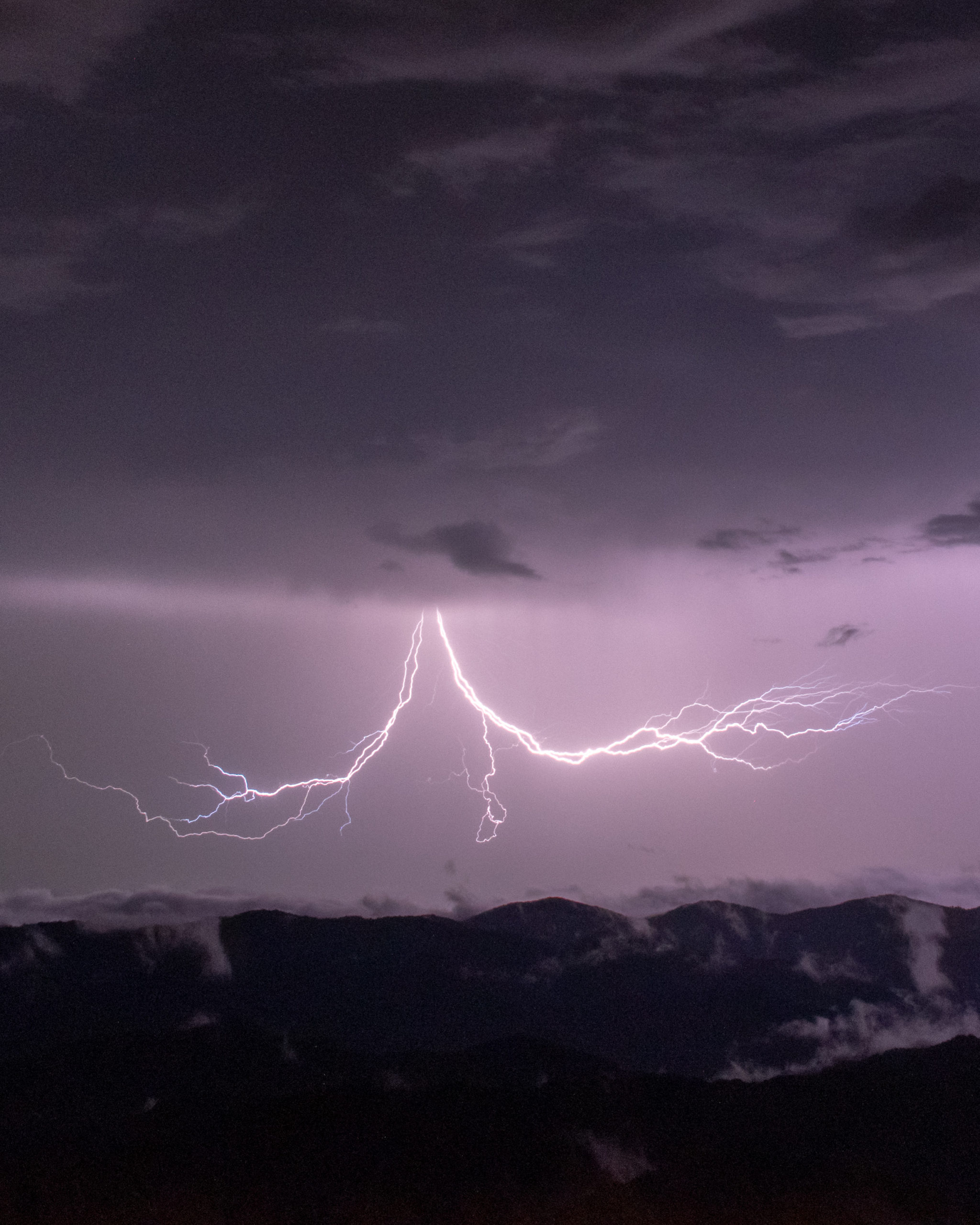 It's almost like this lightning bolt did everything it could to avoid striking the ground near Max Patch, North Carolina. About 20 minutes before this image was taken, a strong line of storms rolled through the area, but as soon as they passed we sprinted up the AT to the top. I was lucky enough to get this photo in the darkness from the AT on top of Max Patch.
Self-portrait upon finishing my 2011 thru-hike.
Max Patch will always hold a special place in my heart. This day my boyfriend became my fiancé on the summit after a long hike up.
Heading to Three Forks, exact location unknown. Hiking during and after a short rain makes everything so green and peaceful
Picture was taken on June 26, Baldpate East Peak. Going up the granite slab was very slippery and steep. Clouds covered the summit and rising sun.
I've had people ask me what I like about backpacking. This is it—right here. There is nothing better than being miles from anywhere, and climbing a mountain and finding this. Unaka Mountain, TN/NC.
Even though I was a 2020 NOGO, the AT gave me this photo… and then some.
The morning sunrise from Woody Gap up to Blood Mountain, our last hike before making the hard decision to go home during the pandemic. We walked 30.8 miles of our NOBO thru-hike. We will be back to finish!
Foggy days in the Virginia woods in spring.
Little hiker on frozen Max Patch.
Appalachian Trail right outside Shenandoah National Park, Virginia. After driving an hour and a half to find the majority of Skyline Drive closed due to weather, I pulled over to figure out another plan. I saw a little path up ahead, so I parked my car right there on the side of the road and decided to take it. It ended up taking me to the Appalachian Trail, an unexpected, beautiful surprise.
Affiliate Disclosure
This website contains affiliate links, which means The Trek may receive a percentage of any product or service you purchase using the links in the articles or advertisements. The buyer pays the same price as they would otherwise, and your purchase helps to support The Trek's ongoing goal to serve you quality backpacking advice and information. Thanks for your support!
To learn more, please visit the About This Site page.