Halfway Q&A
As promised, we are dedicating this post to answering questions from our dear readers. If you have other questions, feel free to leave us a comment and we'll answer in a future post!
How's this journey been for you as newlyweds? Bringing y'all closer together?
Pepper: Honestly, pretty awesome. I had worried that spending all day, every day together we would be on each other's nerves all the time, but that's not (usually) the case. We've spent a lot of time dreaming about the future, telling stories, and laughing together. He's my biggest encourager when I would rather sit and pout than hike. Overall, I'm really grateful to have someone to share the journey with.
Jet Pack: The journey has posed a lot of challenges for me personally, more than it has for us as a couple I think. Physically, sharing 36 sq-ft of shelter space has brought us closer together. 😉 Overall, it's proved that we can pull it together to accomplish what we set out to do – and to have fun while doing it!
How long does it take to get used to feeling sweaty and dirty all the time?
Pepper: I'm still not sure if I'm used to it… but I think after a few weeks we started doing higher mileage and I became too tired to care anymore.
When do you expect to finish hiking the AT?
Both: mid-September, hopefully!
What do you plan to do when you're done?
Pepper: good question! I'll be searching for a job and a place for us to live back home in Grand Rapids. I've got nothing more specific than that at this time. 🙂
Jet Pack: I'm heading to St Croix to help my dad and fiancée renovate their condo.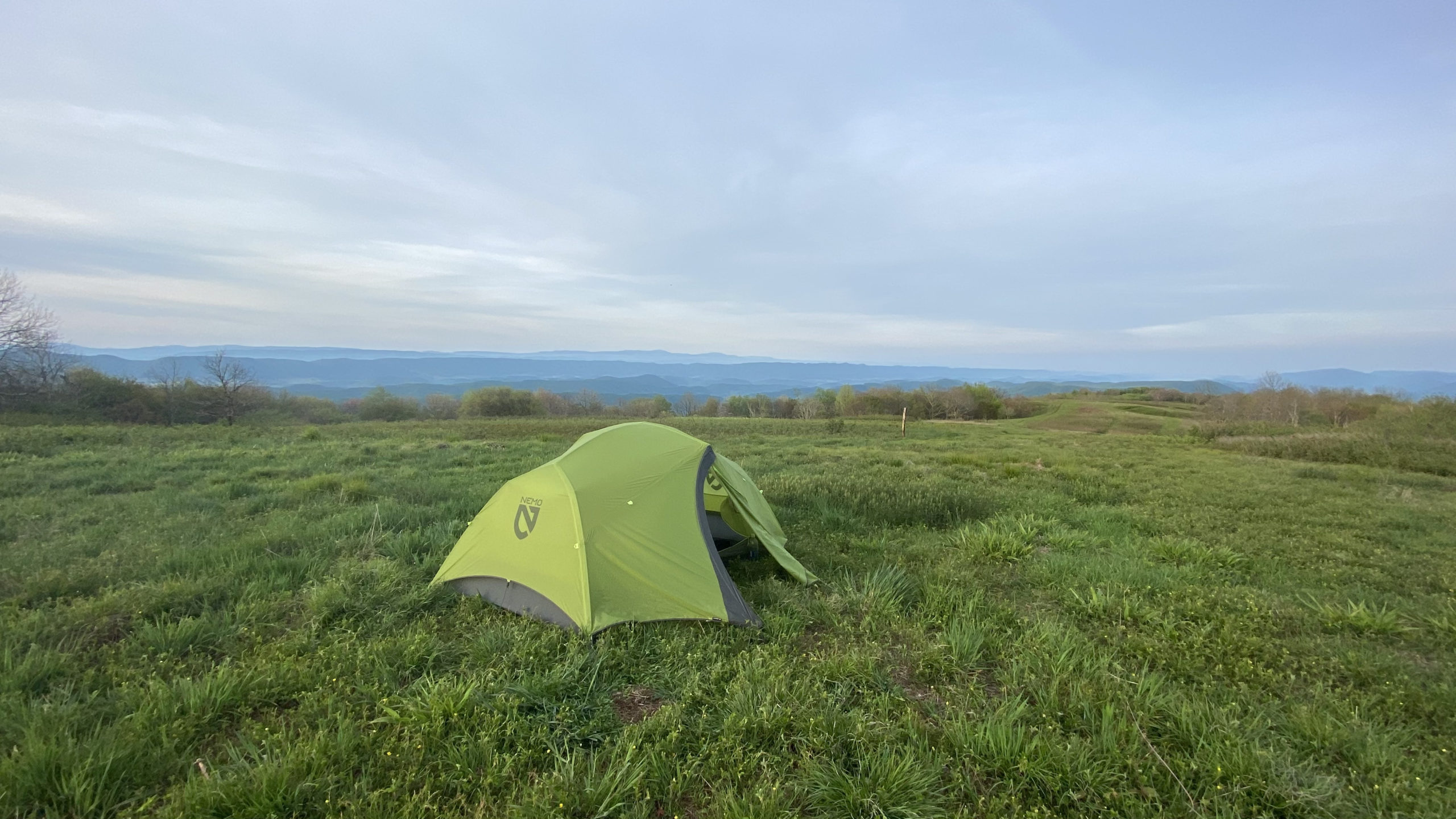 What's one thing you wish you HADN'T brought along?
Pepper: my glasses, because I didn't bring a case and they got bent and then sent home. I wear my contacts every day.
Jet Pack: a deck of cards, but we ditched them early on after realizing we never played them.
What's one thing you wish you HAD brought along?
Pepper: a rain poncho to cover both me and my pack instead of a rain coat and pack cover.
Jet Pack: Shoe gaiters to keep stuff out of my shoes – I did purchase some earlier on the trail.
What is one piece of gear that you unexpectedly love A LOT?
Pepper: the titanium trowel that we found in a hiker box in Harper's Ferry. We were using a big tent stake to dig cat holes and the trowel has been a game changer.
Jet Pack: my long handled spoon.
Have you trashed or purchased any gear along the way?
Jet Pack: I threw out a Walmart sport tee recently because it was stinky beyond saving. I purchased gaiters in Hot Springs, NC.
Pepper: I bought rain pants in Franklin, NC, since I hike in shorts. Some days back in April and May were really wet and windy and the rain pants kept me from freezing my legs off.
Do you think you'll buzz your hair again!? Or are you already on your way to a pixie?
Pepper: I'm well into a shaggy pixie! I would definitely buzz my hair again someday, but I want to take advantage of my time on trail to get through the awkward phase of growing out a buzz cut.
Have your future life plans changed drastically since you've started this journey? Or does coming home to get back to working towards old goals sound as exciting as before?
Jet Pack: My (our) plans change with the weather. I think we've had time to think through some pretty unrealistic plans and weed them out. We've also met people who have done things we've talked about doing, like living out of a van, and decided that it's probably not for us.
Pepper: I wouldn't say my future life plans have changed drastically. I'd still like to go back to school, have a home, and start a family some day. We did consider buying a bus for a while and living on the road for a while, but three months (so far) of nomadic living has gotten us pretty excited for a more permanent home.
Do you think you'll do another life hiatus and hike another trail for 6 months in the future?
Jet Pack: we've talked about doing the Pacific Crest Trail someday, maybe after we retire. No immediate plans.
Do you hope to hike with future kids one day?
Both: yes!
What material thing are you most looking forward to reuniting with upon your return to civilization?
Pepper: a refrigerator
Jet Pack: flat ground
What's your favorite beer along the trail?
Pepper: Devil's Backbone Vienna Lager
Jet Pack: 1) free and 2) cold
What has been your go to food for dinner?  
Both: tie between cous cous and ramen
What have been your go to snacks?
Jet Pack: Gatorade whey protein bars, chewy granola bars, goldfish, and sweet tarts
Pepper: peanut m&ms, Gatorade whey protein bars, and beef jerky
Affiliate Disclosure
This website contains affiliate links, which means The Trek may receive a percentage of any product or service you purchase using the links in the articles or advertisements. The buyer pays the same price as they would otherwise, and your purchase helps to support The Trek's ongoing goal to serve you quality backpacking advice and information. Thanks for your support!
To learn more, please visit the About This Site page.