Hanover, NH-Spartacus's Cabin in Maine: Final State Yep 
Total mileage: 1922
Miles to go: 270 maybe?
Average daily mileage: Ugh like 15
So we were supposed to be in Andover today, another 10 miles up the trail, but you know what? Maine is really, really hard. So when Spartacus magically appeared doing a SOBO slackpack yesterday, and we made vague plans to meet up and go to his cabin in Norway, ME for dinner, it seemed fair to do 7 miles instead of 17 today and wait outside an abandoned gas station on a rural road for our old buddy. Thank goodness too, we were feeling pretty dumpy.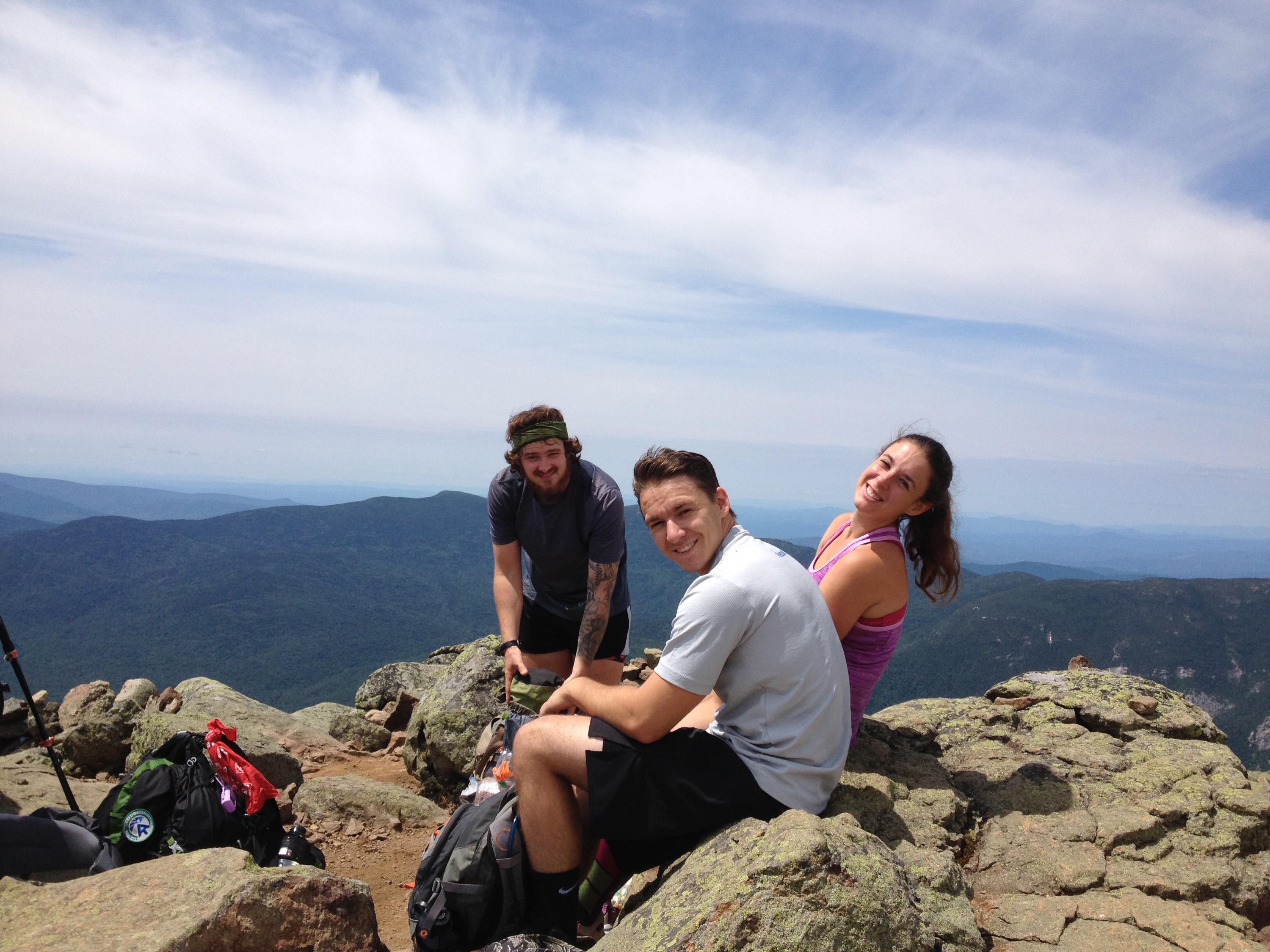 Spartacus's wife Janelle made us an AMAZING dinner with veggies from her garden, did our laundry, and gave us dogs to play with. Best night ever.
Ok now we'll get a brief rundown of the past few weeks, then I'm going to sleep. It's 9:30 and way past my bedtime.
We hiked from Hanover to Franconia Notch with Forest (of the legendary beard) and Silent Bob (just legendary in general). This stretch included a super fun slackpack over Moussilauke, then a slap in the face as I remembered just how slow going the Whites are. But oh man I LOVE hiking in New Hampshire– it's just incredible. No matter how many cool places I've backpacked out west, hiking in the Whites will always be my favorite. Even though we took 90 minutes to go one mile coming off Kinsman. The trails are well built, but very steep.
My mom picked us up in North Woodstock, and Hareball was very well received by his future inlaws. My mom did do a double-take at his cutoff tiger shirt and crotch-hole scrubs, and she said: "I didn't think anyone could try less than Ellen-Claire's boyfriend, but you've done it." She was kidding, I think.
I hadn't seen my family in two years, so it was wonderful to see them again. I am the oldest of four, Ellen-Claire is a nurse, Harry is in college getting a BFA in photography, and Aaron is in college for civil engineering. They all have their lives together. We went blueberry picking, I met my sibling's boyfriends/girlfriend, went wedding dress shopping, and we just generally had a good time together. I'll definitely start visiting home more often!
My dad came back to Franconia Notch to do a 3-day section with us, and Aaron drove our second car and hiked up to the ridge to see us off. My dad is the person who got me into backpacking in the first place, so it's like we've come full circle. He's such a positive person, and has hiked in the Whites more than anyone I know. His pack weighed about 50 pounds though, so we're going to work on that.
It was hard to see my dad leave, because pretty much since Georgia, I had been looking forward to visiting home and having him hike with us.
The rest of the Whites were splendid though, and aside from a crazy storm on Webster Cliffs, we had good luck with the weather. We did work-for-stay at Lake of the Clouds Hut, and (naturally) it was rather awkward. The thru-hikers had to sit at a table in a dark corner while all the guests are hanging out and playing cards in the dining room. We also had to try and not stare while they ate. Hare and I washed dishes, and there weren't a ton of leftovers for us to eat. It was ok though, I'm glad I did it once.
The wind on Mt Washington was insane, every time I picked my foot up, I felt like I was getting blown off the peak. It was pretty funny considering how bad my balance is already. We went to Pinkham Notch to catch our shuttle to the White Mountain Hostel, and a weekend hiker bought us dinner in the lodge, just for being thru-hikers! That's never happened to us before, and it was just lovely.
We did a 21-mile slackpack over the Wildcats and Carters, and it took 11.5 hours.
Our knees were hurting pretty bad, but we headed out the next day to start the Mahoosuc trail. Someone added a K to the trail sign, changing it to Mahoosuck. I totally agree. It's absolutely wretched. We are averaging barely over one mile per hour, and getting into Maine did little to boost our spirits. The Mahoosuc Notch was a fun boulder scramble, but the challenging terrain, slow pace, and general fatigue equal low miles, which equals low morale.
Maine is gorgeous, but we are impatient to finish, and we can't manage more than 15 per day. For the past three days, the trail has been an obstacle course of steep slabs, trip-wire roots, and tooth-rattling descents. I feel like we take five steps, then encounter a pile of shoulder-high boulders to climb over, then a vertical slab to slide down. Hare fell so hard the other day we thought he broke his elbow.
Having dinner with Spartacus and Janelle was great, and I love looking at pictures of my visit with my family. We have less than three weeks left out here, and even if it's slow and plodding, I know we will adjust and appreciate it for what it is.
Ok see ya. Honey Badger going to sleep now. Hare's already there. Sorry this update is discombobulated.
Affiliate Disclosure
This website contains affiliate links, which means The Trek may receive a percentage of any product or service you purchase using the links in the articles or advertisements. The buyer pays the same price as they would otherwise, and your purchase helps to support The Trek's ongoing goal to serve you quality backpacking advice and information. Thanks for your support!
To learn more, please visit the About This Site page.