Happiest Week on the Trail
Having just seen my friends and gotten cleaned up; the piney, hilly Vermont terrain filled me with light, so much so that when I discovered some elaborate rock gardens out of nowhere my grin was bursting. It was one of those trail moments of unbridled happiness. People have the beautiful tendency to build up something from nothing, without reason or gain. Hundreds of people over many years must have contributed to these gardens of cairns a pebble at a time, individually.
Just as I was having a great day, I encountered a thru-hiker acquaintance sitting by the trail having a terrible day. She was feeling depressed because she had fallen behind her friends. She feared she would never catch them, and the prospect of continuing alone seemed unbearable. I hiked with her until somehow I managed to take a wrong trail. I hiked a quarter mile before I realized, and when I returned to the AT, I was again in solitude.
That night at Minerva Hinchey Shelter a group of teenagers arrived late and stayed up babbling long after dark. I actually had to play the grouchy adult, walk from my tent in the dark, and tell them to quiet down.
Day 122
I ascended Killington Mountain, a ski resort I always wanted to visit but never did. At the top I hiked up an extra precipitous quarter mile to the ski lodge on the peak. I felt super cool emerging from the blustery fog in front of all the befuddled tourists getting off the gondola. I had a coffee in the mostly vacant lodge, basking in the surrealism.
However, the end of the day turned a bit sour. I hiked several extra miles in search of an acceptable campsite. I eventually settled on some sloped moss.
After a quick (expensive) resupply at a Killington general store I tackled the heart of Vermont. Though none of the climbs were particularly high, they were steep and frequent, and the terrain tired me out way more than expected. More than happy to stop a couple miles early, I discovered a hidden gem in the guidebook merely marked as "The Lookout." I hiked to the lookout, only expecting to find an old fire tower, instead, I found a beautiful cabin on top of a hill. Signs marked "Lookout Farm" invited hikers to sleep inside. Even better, a wooden ladder led to a platform on the top of the cabin. Forget sleeping inside, I set up on the roof for a clear and remarkable night.
Day 124
The Vermont terrain continued to capture my heart. It was, I decided, my favorite section yet. Several times I stopped to devour fistfuls of wild raspberries. After 19 miles I was crossing a bridge through a tiny town when a man rang a bell and waved to me. I crossed to his porch and met Frank, a trail angel who has waved down thousands of hikers over the past few years for free soda and hot dogs. He invited me and fellow hikers: Ox, Roo, and Disco to spend the night in his barn. He had it set up with beds and everything, hoping to open up a hostel in the coming years.
In an odd twist Frank asked us if we wanted to drive into town. Sure, we said, and then Frank held up his keys, "Who's driving?" Preferring my own driving skills I took the keys. Then, Frank asked us to pick him up a 32-pack of Bud Light and a 24-pack of Bud Light at the gas station in New Hampshire, as it was cheaper there. So Ox, Roo, and I had a good laugh crossing state lines in Frank's wife's pickup on a beer run. As added humor the truck ran on empty; we filled it up as a donation.
The garage was packed with eclectic junk: old tools, a giant wasp nest, a gun rack, snowshoes, stereos, ambiguous rusty objects… We chose Fern Gully from a bookshelf of VHS films and sat around drinking. The epitome of a day on the trail.
The next morning was pristine. I started early to get into Hanover by noon aiming to catch a bus to Middlebury at two. On the approach to Hanover, the trail follows residential Elm Street for over a mile. Three houses Elm Street had buckets of trail magic at the end of their driveways. I dubbed this the friendliest street on the entire AT. Good feelings all around.
After some confusion, a generous Dartmouth employee drove me to White River Junction where I could buy a bus ticket to Middlebury. Riding back across Vermont I was burning with anticipation to see my old stomping grounds and a handful of good friends who would be there.
The next couple days in Middlebury were near perfect. Idyllic is the word. The peaceful, small town beauty of walking around Middlebury with my friends really slammed me. A farmers market. A town festival. Glorious weather. I stayed with my friend Teddy. Unfortunately, he had to go photograph an event while April, Angela, Mimi, and I went out to a lake to go log rolling. April was on the log rolling team in college, I always meant to try it sometime but never had until now. April with her old coach's synthetic log: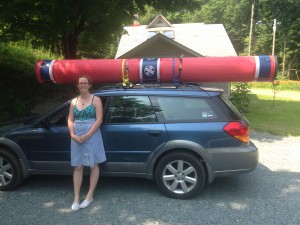 Here's Mimi and Angela with a man in the background we think looks just like Jerry Gergich from Parks and Recreation.
The weekend in Middlebury meant a lot to me. It is difficult to express the emotion. A beautiful weekend to end a beautiful week, though it was difficult indeed to get back on the trail on Monday.
On to New Hampshire!
Affiliate Disclosure
This website contains affiliate links, which means The Trek may receive a percentage of any product or service you purchase using the links in the articles or advertisements. The buyer pays the same price as they would otherwise, and your purchase helps to support The Trek's ongoing goal to serve you quality backpacking advice and information. Thanks for your support!
To learn more, please visit the About This Site page.