Harper's Ferry to Rock 'n Sole Hostel Scorecard
I am very, very sleepy. I'm curled up on one of the nicest of the many bunks I've slept in since I started hiking. My feet hurt, but I'm snuggled in enough to not care that much. I would give quite a bit to read three pages of a book before passing out. Full disclosure: blogging has been a massive chore. To actually make time to blog I have to give up time spent on one of the three essentials: hiking, sleeping, or eating. Right now it's sleeping.
I'm currently trying to stretch it to August 4th without a zero day, making it a full month without a day off. It feels wonderful to be in a groove of laying my head down in a new place every night after several weeks of no progress. But I digress. I'd say no one wants to read my complaints, although my blogs are full of them.
That said, things have been pretty dandy since coming out of Harper's Ferry.
Miles Hiked
I'm currently at mile 1203, over halfway through Pennsylvania. For the sake of simplicity,  I'm going to continue to update as to the mile marker of the AT I'm currently on, although my actual total is about 70 miles less. I've hiked 180 miles since last check in.
Quick Update
West Virginia is a teeny state, so we crossed out of Harper's Ferry and into Maryland almost immediately. It's a minuscule enough state to not have a border crossing sign upon exiting. Maryland is also a short state, albeit a fun one. It was full of very nice shelters and blazes that were perfectly rectangle, plus lots of historical sites with a plethora of signage to explain their significance.
Maryland, in relation to the time we were in there, was the rainiest state on the AT. It kind of felt nice to trudge through the rain again and sit around glumly with other thru-hikers at shelters. I realized it had been a long time since I felt like a thru-hiker, and only thru-hikers subject themselves to days upon days of rain.
Maryland was over in a blink and I crossed into Pennsylvania solo on a nice day. It also meant crossing the Mason-Dixon line and leaving the South.
The first third of Pennsylvania is lovely and flat, with none of the rocks you hear so much about. I knew the first part of the state was free of them so I tried to bang out miles while I could. I've got about 90 miles left of the 220 miles in the state and the rocks have definitely reared their ugly heads. Coupled with rain that's made them slick, I wouldn't call PA my favorite exactly, especially because I know the rocks get worse as I go north.
Amazingly, my feet are holding up fine, and it's been frustrating to realize how much of a negative effect my previous pair of shoes had on my feet for the roughly 400 miles I wore them. It's hard to think back on those 400 miles and realize how much nicer they could have been if I'd just picked any other pair of shoes. I've basically crushed the metatarsal inserts the podiatrist gave me to flat stamps on top of my insoles, so the difference is really in the shoes. I'm not good at letting water under the bridge be water under the bridge, so I sometimes feel like I messed up 400 miles of my thru-hike.
But other times I'm so in awe of my ability to move without limping along that no rain or rocks can get me down. I've taken to trying to make my last two miles into camp my fastest two of the day, which is possible whether I hike ten miles or twenty. I'm a long way off from days where my feet were the ones that definitively decided we were not moving any more that day.
Milestones
Even if you take out the miles of my skipped section, I'm over a thousand miles and the halfway point. I also finished the state of Maryland.
Happy Pants Milestones
This is a new category I've wanted to include for awhile now, but it requires some backstory. Way, way back in Georgia I met a winter south-bounder named Happy Pants, who was literally at the very end of his thru-hike. I was less than a week in, and we passed on the trail and chatted. I was hiking with another girl and as we turned to leave, Happy Pants turned around and said, "Oh, when you get to Pearisburg, go to Angel's Rest Hiker Haven and tell them Happy Pants sent you!" By the time we caught up to our friends, we had forgotten much of the details and Marco said, "You guys are never going to end up at that place."
When we got to Hiawassee, my friend and I flipped through the AT guide looking for the town we remembered as "having Paris somewhere in it." I remember how far we flipped until we found it. 635 miles, I thought. That seemed years away at that point.
And then, nearly 600 miles later, I walked into Angel's Rest Hiker Haven. It was the day before Trail Days and as I checked in, I told them Happy Pants had sent me. "Did he?" the guy asked with a laugh. "He's here, stopped by on the way to Trail Days."
I really had no memory of what Happy Pants looked like and he clearly didn't remember me. A bit later, a hiker came up to me and introduced himself as Happy Pants. I made an embarrassing squealing noise and told him he was the one who told me to come here, roughly 600 miles ago. He made a squealing noise on par to mine and wrapped me in a bear hug. "Six hundred and thirty five miles!" he said as we laughed through one of those bewildering sentimental thru-hiking moments. "Congratulations! Did you think you'd make it this far then?" I can answer yes and no to that question with complete honesty every time.
But that felt like such a milestone to me, at this random town along the AT. The first time I'd heard of this town, my gut reaction was, "Oh God, what if I never make it there?" And there I was. I thought back to that girl Happy Pants met on the trail hundreds of miles ago. We didn't feel like the same person.
So that's a Happy Pants milestone: a point on the trail that's significant to you and only you, that doesn't have some cool mile marker made out of sticks. I've had a couple.
Back in the Shenandoahs, I passed 950 miles, which I knew was how far Bilbo walked to the Lonely Mountain. A couple days before Erwin, a different southbounder informed me of all the Lord of the Rings journey distances and I nodded politely, pretending I hadn't already looked these up when the weather got us stuck in Gatlinburg.
I've also walked more than 1100 miles, which is how far Cheryl Strayed walked in "Wild." I'd finally read it around mile 800, after running out of other books in my kindle because you really don't want to have to read about hiking after a day of hiking. But I remember her joy as she neared the end of her hike, knowing that I was basically at the same number of miles as her. It reminded me that 1100 miles is still a crap ton of miles, even if it is only half of the goal I've set for myself. It's easy to get lost in the enormity of 2189 miles sometimes.
Conditions Report
Hot, humid, very gross, with maybe a quarter of the days in a completely and total downpour. You east coasters have some weird ass weather. I'm pleased to see I don't mind the heat and humidity as much as I thought I would, even though some days it feels like you're hiking through soup. And of course, it's rocky.
Low Point
I really like ice cream. It is possibly my favorite food. I have some digestive issues with dairy, which I blatantly ignore because I love ice cream. At Greasy Creek Hostel, I ate a pint of Ben and Jerry's and drank two yoo-hoos and puked on the side trail back to the trail. I could have eaten a pint of ice cream with dinner that night. I felt uniquely prepared to take on the Half Gallon Challenge at Pine Grove Furnace, because I had spent much of my 20's ignoring my stomach's wishes regarding dairy products.
I failed it, guys. I'm still so disappointed in myself. I made it through a quart and a half of mint chocolate chip and was on the last pint when my brain said "no more" and started forcing me to spit out whatever I shoveled into my mouth.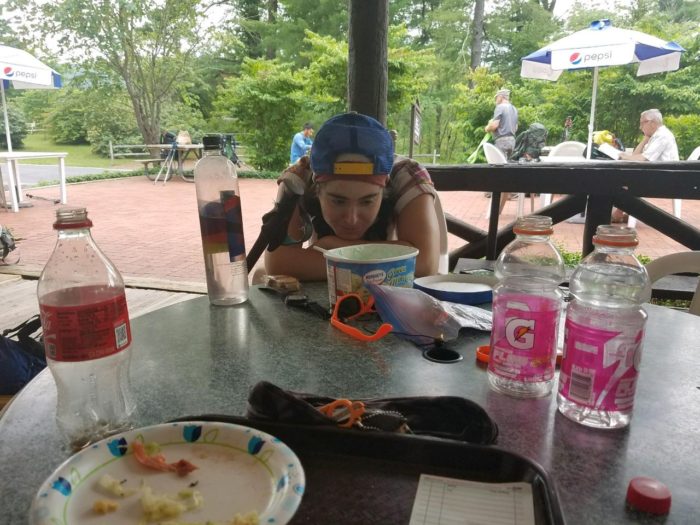 A couple of tips for those that are attempting the Half Gallon Challenge in the future:
Do not do it for breakfast.
Try to complete your miles for the day BEFORE consuming that much ice cream.
Try to have more than 4 miles under you so you're sufficiently hungry.
Shove it all down before your brain can realize what's happening.
There are some stealth sites immediately after the mile long camping ban near Pine Grove Park. The terrain is flat and you can make it. Just get there and collapse.
High Point
An hour long thunderstorm sufficiently soaked the trail and me as I was heading to 501 Shelter. I knew it was a good place to stay on a stormy night, as it's a completely enclosed cabin you can order pizza to. I got there, wrung out my things and was comfortably sheltered as a couple more rain storms came through.
The next day I planned to hike 9 miles to the hostel I'm at now (short days are the new zero) and I tiptoed through a good amount of rocks in the morning. At one point I got lost and found myself staring down a field of boulders which seemed almost impossible to cross, but also seemed on par with I had experienced so far. I spent 10 minutes moving myself about 5 feet before deciding that if this was a part of the trail, people would have died here and I'd have heard about it, so I turned back around and found where I had gotten lost.
I got myself back on track and climbed to the top of the ridgeline, which was blissfully rock free. It was also a river. I was hiking near another hiker named Big Money and we spent a half an hour edging around the trail and rock hopping, pointing out different dry routes to take. At one point I stopped behind her as she reached a foot out tentatively this way and that, using her trekking poles to test depth.
"Is it over?" I asked.
"I think so," she nodded.
And we splashed into the center of the trail, soaking our shoes and wading in ankle deep.
It's bad to get your shoes wet. It's hard to dry them out and wet shoes/socks cause blisters, athlete's foot, and trench foot. But there's still something freeing about the moment you realize you can't inch along and keep them dry any more. We stamped and splashed along, laughing as occasional steps sunk so low our shins would sink in. It was hysterical that this was the trail in Pennsylvania, that dry state with no water sources. Hikers in other years had to rely on trail angels to leave out gallon jugs of water. We could have filtered the trail. The water flowed around our legs like a creek as we waded through.
I know how vastly different everyone's experiences are on the trail. A million tiny factors can make hikers experience the same parts of the trail in different ways. Even for me, having to wade ankle deep through miles of trail could have ranged from annoying to downright demoralizing on a different day. But on this particular day, at this particular time, it was a blast.
Feet Report
I've basically covered how they're doing, although I do have to report that aqua-blazing a mile and a half of trail today did end up giving me a blister.
Overall Score
This section was incredibly fun and I finally feel I'm back in the swing of things. I'd give it 8 out of 10 fudge stripe cookies.
Affiliate Disclosure
This website contains affiliate links, which means The Trek may receive a percentage of any product or service you purchase using the links in the articles or advertisements. The buyer pays the same price as they would otherwise, and your purchase helps to support The Trek's ongoing goal to serve you quality backpacking advice and information. Thanks for your support!
To learn more, please visit the About This Site page.