Hello New Hampshire
3 Aug 2017
Mileage
AT NOBO Miles – 454 miles
AT SOBO Miles – 291.4 miles
AT Total Miles – 745.4 miles
% Complete – 34%
Today's Miles – 10.1 miles
Time – 7.5 hrs
Speed – 1.34 mph
# States Completed – 4
Start: Carlo Col Shelter
Stop: Trident Col Campsite
It wasn't a bad night in the shelter last night. Pretty restful overall. Only four people slept in the shelter, all of the others tented. It worked out for them because it never rained even though it was predicted.
I awoke this morning at the usual before 5am. However, since it was a short day planned, I didn't get moving immediately (bad decision…later).
I really like hiking early in the dsy. Usually it's cooler and you have the trail to yourself. I usually hike 2 to 3 hours before running into other hikers. It's kind of nice being out there alone and having the trail ALL to yourself.
I finally started hiking at 6:30am and it was about a hour before I started seeing NoBos. There were a lot of them today. More than the last few days for sure. I even ran into a young group who were struggling to get up Mt Success. One girl in particular just wanted tp know when the next flat section was cause she needed a drink of water. However, they trudged on up the hill to SUCCESS!
The temps were rising substantially today. In the 80s for sure. That means afternoon thunderstorms are very VERY highly likely. So getting to camp early is always a good plan.
Later on, I ran into this guy, One Gallon. His name comes ftom the Half Gallon Ice Cream Challenge at Pine Grove Furnace State Park in PA. He thought a half gallon wasn't enough and ate 2nd. There created his trail name One Gallon.
I agree with One Gallon…anyone should be able to eat a half gallon of ice cream, but I'm an ice cream lover so what do I know. When I'm back home, I can down a half gallon of ice cream in the Walmart parking lot while doing some people watching…just sayin'
Anyhow…One Gallon is doing the ECT (Eastern Continental Trail). It runs from Florida to Canada and includes the AT. He plans to hike 5,000 miles this year. Also, he's a 3 time Triple Crown Hiker (PCT, AT, CDT). So…he's a big time hiker.
We got to talking on the trail and it was 30 minutes later before I was hiking again. It may have been me as much as him…talk talk talk. Anyway, that's another delay I wasn't expecting. So at this point, I'm 90 minutes behind normal schedule.
Shortly after departing One Gallon, it was lunchtime. I stopped an realized I had cell service. This is very rare, so I jumped on posting a few things and texting with myWife. It raises my spirits anytime I get some convo with myWife…she keeps me grounded. So more delay…but I like delays when talking with myWife.
Then I realized dark clouds forming over me. Hmmm, I had two miles to go and it was going to be a race against the weather.
About 0.3 miles from camp, I stopped for water and then hustled on to camp. Just as I arrived, the bottom dropped out of the sky. I was hoping to have the tent up and gear stowed inside BEFORE this event. Oh well, no rain no pain no Maine.
So I whipped out the trusty SnowPeak umbrella and hunkered down until the rain subsided. After about 40 minutes, the skies cleared and I could dry out and setup camp.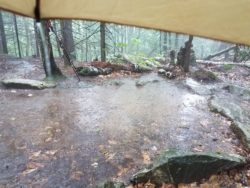 So…With a 90+ minute delay, I got soaking wet from the storm. However, it could have been worse if I were on a ridge when the storm hit. Therefore, I think a 5:30am start time is a good thing. If I had stayed with my normal routine, I would have been setup and dry BEFORE the storm hit camp. Lesson learned…early hiking is better.
Tomorrow, it's on to Gorham NH for a Nero & Zero. I need a rest before heading into The Whites. I had a distant view of Mt Washington today.
Pretty impressive at 6288ft. The Presidentials are my next challenging part of this hike. I've heard it's beautiful if the weather is clear Or Scary if a Thunderstorm hits.
Up-n-Ready
Flip GA to VA
Flop ME to VA
"On the road to Damascus"
bit.ly/Up-n-Ready
bit.ly/Hike4AFEV
Affiliate Disclosure
This website contains affiliate links, which means The Trek may receive a percentage of any product or service you purchase using the links in the articles or advertisements. The buyer pays the same price as they would otherwise, and your purchase helps to support The Trek's ongoing goal to serve you quality backpacking advice and information. Thanks for your support!
To learn more, please visit the About This Site page.