Her Earrings Were Rubber Chickens (Days 126 to 131, North Adams to Rutland)
Day 126
Start: MA 2 / North Adams, MA
Finish: Bushcamp near VT Route 9
AT Miles Hiked Today: 18.4
Overall AT Miles Hiked: 1,610.6
Miles To Go Until Katahdin: 578.6
After the relatively slow and easy section through Massachusetts, plus the zero day in North Adams, Reindeer and I were feeling fully charged and ready to rock and roll through the last three states on our thru hike. We set an aggressive goal to get to Hanover (145 miles) in 9 days, as we knew that we had a double zero awaiting us at my family's place in NH. 3 days to Manchester, 3 days to Rutland, then 3 days to Hanover. Nice and easy! All that stands in the way is the pesky state of Vermont.
We woke up in our comfy hotel room, looked out the window, and saw it was absolutely pouring. Argh, hiking out of town in the rain is the worst – you stay wet for the entire section. We sighed, called a cab, and walked downstairs.
Somehow in the time between when we left our room and when the cab picked us up, the rain completely stopped for the rest of the day. The professional rain dodgers continue their hot streak! I was happy to be hiking with dry feet.
The ascent up and out of Massachusetts was mostly good terrain, but near the Vermont border we hit a nice, slick rock climb section. We climbed into the clouds.
About 4 miles into our day we hit the official border sign. 3 states left in the hike! Crazy!
The Appalachian Trail runs along with the Long Trail for the first hundred or so miles of Vermont. The Long Trail goes all the way to Canada, while the Appalachian Trail doglegs right to head towards Hanover.
Vermont is a famously muddy state, hence the nickname "Vermud" among hikers. The vegetation and trees are so packed in along the sides of the trail that going around the mud is impractical. You just stomp right through the puddles. The trail is dryer than it has been in previous years but some sections still look like muddy swimming pools.
The forest in Vermont is totally different than the other forests we have hiked through. Dense wilderness surrounds us on all sides. The path is rooty, rocky and difficult to navigate. We have elevation far above anything we have experienced since before Shanendoah in Virginia. Flowing water is everywhere. It's beautiful. The blazes on the trees are super faded and irregular in shape, which led a few hikers I spoke with to get lost and do bonus miles to get back to the actual AT.
I got to the end of my day feeling pretty good. The last half mile down to the road was steep, rocky and slick. About halfway down I lost my footing, overbalanced, and fell slow but hard, bending my right trekking pole pretty terribly. I wasn't hurt but my poor pole was. I carefully picked my way down the rest of the hill and found a nice campsite near the road. I bent my pole back most of the way. If one of my poles breaks, I'm screwed – I need my poles to support my tent!
My mood was listed when I found a trail magic cooler near the campsite that contained soda, beer and airplane bottles of Fireball. Another hiker named Cheddar and I grabbed a few Sam Adams and got to know each other. She is a real trail chef and carries a cast iron skillet on the trail! I watched as she cooked up jalapeno broccoli sausage pancakes. My tuna and cheese stick tortilla wraps suddenly didn't look so impressive.
Just as we wrapped up dinner a very loud crowd of hikers rolled up and set up camp directly next to us. I have three tents set up within 5 feet of my tent. Oh well, some nights you get some solitude, and some nights you have to use the earplugs.
Day 127
Start: Bushcamp near VT Route 9
Finish: Campsite near Black Brook
AT Miles Hiked Today: 21.6
Overall AT Miles Hiked: 1,632.2
Miles To Go Until Katahdin: 556.9
An Australian hiker hitched a ride to a Dunkin Donuts 5 miles away and brought back donuts and coffee for all the other hikers, so that was an awesome treat as we woke up this morning! To their credit, despite there being a ton of hikers nearby last night, they all got quiet at 9pm and I slept great all night.
Reindeer and I were the first ones out of camp at 7:30, and I was leading the way, which meant I was eating cobwebs all morning as I broke trail. The day started with a 1,400 foot climb up and out of the gap, into the Glastenbury Wilderness.
The Glastenbury Wilderness is supposedly the most remote part on the Appalachian Trail, aside from the 100 mile wilderness in Maine. The whole state of Vermont is starting to feel more remote. Neither Reindeer or I were able to get any cell phone reception all day, for the first time since Virginia.
The remoteness soon became clear, as a major bridge was out. Fortunately the water was low this year which made fording the river easy.
Just like yesterday, I am amazed at how different the forest is here. Crazy trees surround me. Massive trees growing up on top of huge boulders with roots surrounding the rocks and stretching across the trail. 90% of the trail today was pretty technical hiking. It was fun but I could see how it would be awful with injuries fairing up.
I cruised in front of Reindeer all day, and I was moving pretty quickly. I fell twice today and ended up bleeding both times. The terrain was just relentless, and I was bloody on my knee and elbow. Plus, I bent my trekking pole again today during my second fall. I know I have to be careful…this is how thru hikes end.
I was still feeling good when I hit the shelter at 19 miles, so I kept cruising to a river a few miles later. It ended up being a big day, and made me feel good about the 18.5 miles we have to town tomorrow. If we are able to get into Manchester tomorrow, we should have no problem getting to Hanover as we planned.
Day 128
Start: Campsite near Black Brook
Finish: VT Route 11/30 / Manchester, VT
AT Miles Hiked Today: 18.5
Overall AT Miles Hiked: 1,650.7
Miles To Go Until Katahdin: 538.4
It is getting super chilly at night these days! I'm glad I have my 30 degree sleeping bag, I find myself reluctant to get out and carpe the diem, just like when I was in Georgia and North Carolina. Chilly morning, I had my puffy and my fleece hat on as we ate breakfast. We set out at 7:30 and quickly warmed up, as immediately we were faced with the 1,800 foot climb up Stratton Mountain.
The forest broke into the mossy, rocky, piney forest I saw on top of Glastenbury and Greylock. That is quickly becoming my favorite type of forest to hike through. The ascent wasn't too bad, as our legs were fresh and the trail was well maintained. We got to the summit and climbed the fire tower, and were treated with one heck of a view.
The remainder of the day was really easy. Mostly downhill, and the trail was smooth and perfect for fast walking. I got to the road crossing 18.5 miles into the day by 4:30pm, and posted up to wait for Reindeer to arrive. His ankle is bothering him again, so he walks a bit slower than me these days.
We got a hitch from a really nice college kid scoping out places for his college orientation class to hike. He brought us to Manchester, a surprisingly ritzy small town nestled into the mountains, with J Crew and Vineyard Vines and Merrill Lynch offices. Hiking over 18 miles then going to town is a very different experience from doing a nearo, and I found myself wanting to destroy some restaurant food then immediately go to sleep.
We grabbed dinner at a Mexican place, and I know what you're thinking – A Mexican place in Vermont? A state that is geographically one of the farthest from Mexico? But oh man it was the best burrito I've ever eaten. Delicious. A must stop for hikers coming through town!
We got back to our hotel, and crashed. Another long day tomorrow. No rest until Hanover!
Day 129
Start: VT Route 11/30 / Manchester, VT
Finish: Bushcamp just before the Big Branch Bridge
AT Miles Hiked Today: 16.3
Overall AT Miles Hiked: 1,667.0
Miles To Go Until Katahdin: 522.1
We awoke to another beautiful, chilly morning. I went downstairs and made myself some tea, and we packed up. Staying in a home is somehow more relaxing than staying at a Super 8 or other motel.
We walked through town to a breakfast joint called Up For Breakfast. I marveled at how beautiful this town was, nestled into the mountains. It was also undeniably extremely wealthy. The cars that passed were Audis, BMWs and Mustangs. Getting a hitch out of here might be tricky.
Breakfast was almost unbelievably delicious – fresh real home fries in olive oil, eggs, sausage, thick bacon, and excellent pancakes topped with real Vermont maple syrup. My favorite breakfast on trail! Between that awesome burrito last night and this breakfast, it's clear to me that Manchester, VT knows how to cook some damn good food.
A local told Reindeer where hikers usually get hitches (a local coffee shop), so we made our way down. I threw up my thumb, and within 5 minutes an old lady had pulled over.
Now, folks, I've mentioned before that hitching on the trail can be interesting. You never know who is going to pick you up. (See my Erwin post for Example A.) This was, by far, the craziest hitch I've had on the Appalachian Trail.
First, she turned to us and said "I didn't pick up any hitchhikers. I'm not the type to pick up hitchhikers." She shook her head, and we tried to respond, but she just would not stop talking, from the moment we stepped in the car. It's almost stream of consciousness. She talked and talked and as we tried to respond, she would pause, say "Yes, and as I was saying…" and continue her rambling.
She said something about not having her dirty CDs in the car. Then, she said "You boys aren't easily offended, right? Do you boys want to hear a dirty Limerick?"
"Uh, sure?"
Then, this sweet, old, obviously crazy lady proceeds to say some of the dirtiest things I've ever heard someone say out loud. Things that made me blush. Things that, if I reprinted them here, would get me banned from blogging for Appalachian Trials and possibly banned from the internet.
This lady drops the C word, the F word, and references certain bodily functions that adult males are able to do which result in pregnancy.All in the same sentence. I'm in the front seat, and Reindeer is in the back seat. We are both frozen as she continues the onslaught.
It's strange what you notice at times like these. It's like a car wreck, where you remember what song was playing for the rest of your life. I looked at her as she spewed filth from her old lady mouth, and I noticed her earrings.
Her earrings were rubber chickens.
She continued the dirty jokes until we got to the trail. Then she pulled over, got out of the car and climbed through the backseat, very obviously checking to make sure we hadn't stolen anything. Then she told us one last dirty joke, muttered "I didn't pick up hitchhikers" again as if she was convincing herself that the last 5 minutes didn't happen, and then she drove away.
Reindeer looked at me, and I looked at him. Between us we shared an unspoken agreement.
Maybe next time we'll just call a cab.
Right away we were faced with climbing up Bromley. We hit several ski resorts in this section – Stratton, Bromley, and Killington. I grew up in New Hampshire and skiied some of these mountains. I never knew the AT literally crossed over the summits of many of these mountains. The trail started in the trees, then emerged onto a wide open trail up the mountain. I was walking up ski trails! The glades were always the double black diamonds when I was a skiier, and now I was walking up a blue square of a trail.
The views from the summit were predictably spectacular. I couldn't help but think of the brave hikers who hiked this section of the AT during winter. Skiiers riding past a guy walking up the trail with a backpack and no skis, looking like a crazy person.
The whole day today was walking through beautiful pine forest, on a mostly smooth trail. Vermont is just gorgeous. Maybe it's because I walked through the mid-atlantic states recently, but I almost forgot what it's like to walk through true wilderness, not just forested areas near towns. I appreciate this section of trail so much more than I did when I was young, growing up around forest like this.
I'm not sure if it was the huge breakfast, or if I'm actually this fit, but I hiked like a machine all day today, barely pausing to rest. I was well ahead of Reindeer all day.
Towards the end of the day, the trail began to alternate between dense conifer forest and sweeping views on rocky cliffs.
I pulled up around 4:30 at a really nice campsite just shy of Big Branch bridge, in view of the river. Hopefully Reindeer will find me here. I arrived at camp around 3 hours ago and he hasn't arrived, I think his ankle is really giving him trouble. I soaked my feet for a while in the water, then the bugs got too bad, so I retired to my tent for an early bed time.
Hoping for around 20 miles tomorrow, to make my day into Rutland easier the day after.
Day 130
Start: Bushcamp just before the Big Branch Bridge
Finish: Bushcamp just short of Kieffer Road
AT Miles Hiked Today: 19.6
Overall AT Miles Hiked: 1,686.6
Miles To Go Until Katahdin: 502.5
Reindeer never showed up last night, which was concerning. I woke at 5:30 to heavy rain coming down. I poked around in my tent for a while, then dashed out and grabbed my food bag, and retreated to the dry sanctuary of my tent.
The rain started to let up around 7:30, and I was hiking by 8. It was drizzly and slippery. Not fun hiking conditions.
The trees up here continue to amaze me with their beauty. I guess I'm just a sucker for towering pines. Since I was at a higher elevation, I checked to see if I had service, and amazingly I did, barely. I shot off a message to Reindeer before the cell phone gods revoked my data connection. Hopefully he has service as well and knows my intended campsite.
It rained on and off all morning. It was slow going and I got a later start than usual, neither of which is good for pushing a 20 mile day. Still, safety was the name of the game. The last thing I need is to fall while rushing down a decline and end my hike thanks to a broken ankle. Even being careful, I still slipped and fell twice.
Towards the end of the day, I crossed a cool suspension bridge and found myself facing a 1,000 foot ascent up steep, wet rocks. Climbs like this are fine for early in the day, but late in the day my legs are tired and my footfalls get sloppy. I carefully picked my way up as the heavy rain started again. At the top I was surprised by some very suspicious cows eyeballing me through a fence.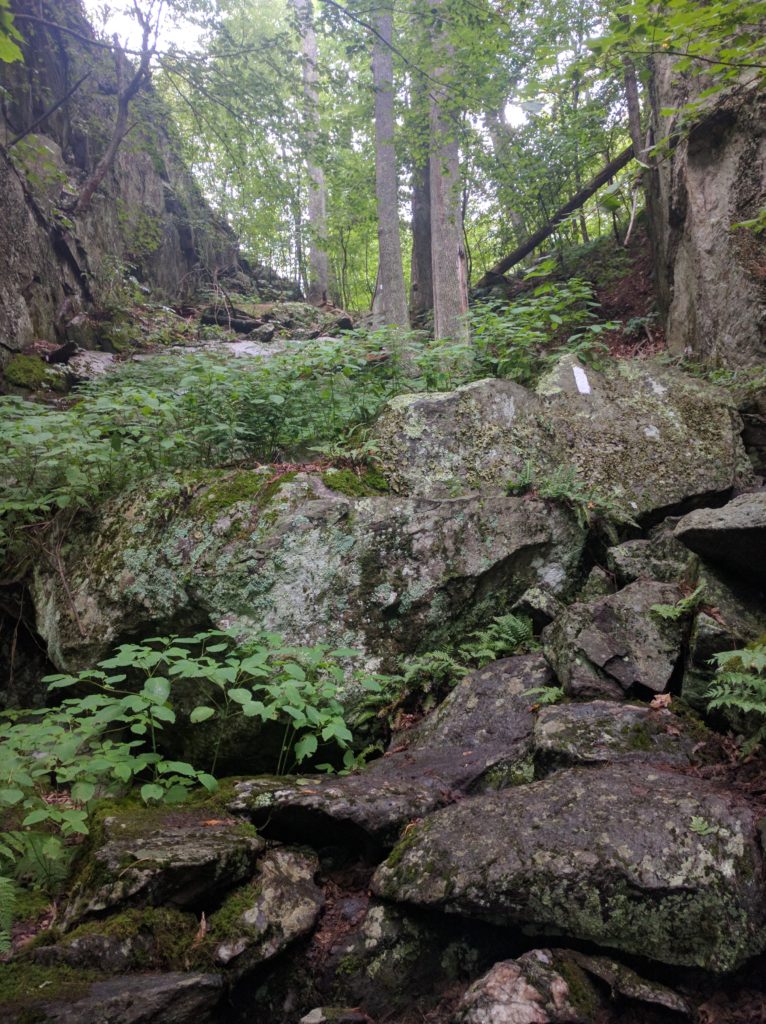 I was happy to get my wet socks off at camp. Around an hour later Reindeer rolled up. Turns out he cruised by me yesterday without seeing my tent, and camped a half mile beyond.
Tomorrow is basically going up Killington then going back down Killington. We are aiming to clear the 14 miles to Rutland by 3pm! I'm lucky to have a friend's family hosting us in Rutland, so we have to make our pickup time. Hopefully it's easy hiking, and dryer than it was today.
Day 131
Start: Bushcamp just before the Big Branch Bridge
Finish: US Route 4 / Rutland, VT
AT Miles Hiked Today: 14.2
Overall AT Miles Hiked: 1,700.8
Miles To Go Until Katahdin: 488.3
We woke to an extremely warm morning – we were at low elevation, and it was almost too hot to be in my sleeping bag! We were excited to get to town, so we packed up quickly and got moving!
It was easy hiking for the first few miles, as we approached Killington. The terrain was smooth and it was quickly becoming a hot day, the first truly hot day that we have had in Vermont. We also hit another milestone – 500 miles left to Katahdin!
The 2,400 foot ascent was just miserable. The humidity kept us sweating, I had a headache for some reason (dehydration probably), and my glasses were permanently fogged. The terrain was steep and tiring. We schlepped our way up and as we got to the higher elevation, the humidity dropped and we felt like we could breath again. What a relief. The terrain took a turn for the worse but at least the air was cooler.
We flew up and over the mountain and got down in time for our ride. My friend Justin's family lives nearby and offered to host us for the night! His sister Chelsea picked us up. I apologised a million times for how bad we smelled, and we ran errands before returning to the house.
It feels amazing to be at a real house, with real couches, watching the Olympics and relaxing. Justin's mom and dad are amazing and made us spaghetti and meatballs, and also ordered two pizzas, and a bought a ton of ice cream for dessert. I'm stuffed and a very happy boy right now. It was fun telling stories around the dinner table. If it weren't for Justin offering to host us, we would probably be in a crappy hotel watching Ancient Aliens right now.
The weather is calling for rain the next three days, but all we have to do is make it to Hanover, then we get two days off trail. It'll be a wet sprint to the NH state line but it'll be worth it.
Until next time, happy trails!
-Slice
Affiliate Disclosure
This website contains affiliate links, which means The Trek may receive a percentage of any product or service you purchase using the links in the articles or advertisements. The buyer pays the same price as they would otherwise, and your purchase helps to support The Trek's ongoing goal to serve you quality backpacking advice and information. Thanks for your support!
To learn more, please visit the About This Site page.