Hiking 500 miles just to hike 500 more
Bama
➡️
Baxter Day 39 & 40
Day 39: 20 miles
This morning we woke in the shelter pretty early. It never rained last night which was hilarious. Especially considering we spend nearly all day sitting in the shelter. But that's ok! These things happen.
Someone else in the shelter woke up early so most of us wound up getting up. I was packed up and ready to walk by around 7am. So John and I set out to begin another day of walking. Our plan for the day was to get some pretty serious mileage done so that we could have a short morning into Hiawassee tomorrow.
The trail was quite cruisy and the miles came easy which was nice. There wasn't too much killer uphill and the weather was gorgeous. It was a really great day. John and I had a nice routine of breaking every handful of miles.
Mid way through the day when I got to a road intersection there was trail magic! A guy was set up cooking sausage and egg on toast and there were sodas too. I sat and hung out with John, OBX, and a few other hikers and enjoyed the magic. Another trail angel Bitcoin was there who was a cool dude. He's following the bubble north to Maine so I figure I'll see him again.
I spent a pretty good bit of time at the trail magic before finally heading out. There was a long climb coming out of that gap so I was dreading getting back to walking. Plus the sun had come out and it turned into a scorching day. But we all set out after a while and got going on the climb. It was easily the toughest one yet on the AT. I found that I didn't really have to stop intermittently, but I was super out of breath. The hot air was making it so much harder to walk and breath. It really took its toll on me. But eventually I finally made it to the top.
At the top of the climb up Trent Mountain there was a shelter which we stopped at to enjoy a nice long break. Our plan was to go as far as we could today but first we definitely needed some rest. A hiker at Trent mountain shelter offered all of us tangerines which was an amazing surprise. Just what I wanted after a hot climb up a mountain. I sat there and filtered water, ate a snack, and stretched. Then we pushed on to get some more miles in.
The rest of the day was much easier terrain, though there were still a few more small climbs. I hiked with John and OBX and we did another handful of miles. Then we stopped to debate on going further. The more we do today the less we have to do to get to town tomorrow. So we decided to push another mile or so before finally calling it a night.
We wound up camping at Sassafras Gap which was a 20 mile day. My first 20 mile day on the AT! And only on day 5 of the AT. When we got to the site it was super busy but there was enough room to squeeze in our three tents. We set up by a group of guys who were doing a section hike. They were all really nice and accommodating of us squeezing in.
I wound up setting up quickly and eating snacks for dinner. Then called it a night pretty soon after that. My body was tired but I felt really good.
Day 40: 6 miles
This morning all of us woke up around 6am and began to pack up. We wanted to make the 10am shuttle from Dicks Gap Trailhead to the town of Hiawassee. Just after 7am we had set out to begin walking. It was only 6 miles to the trailhead parking lot but there was a good bit of climbing to do at the start of the day.
Hiking out in the morning I felt surprisingly great, even after our long day yesterday. The climbs were steep but I was able to push on. I passed a few hikers early on in the day which always feels really good. When I pass grown men on uphill stretches I truly realize how strong I've become. My first set of trail legs has certainly come in. 
When I got to the first water source of the day I had enough so I was able to continue on. I decided to just push to the gap without taking a break because I felt good enough. I went by two hikers that everyone is calling the Ashley's because they're both named Ashley. Then by 9:40am I was at Dicks Gap. I felt pretty giddy arriving because this parking lot was a big mile marker for me. It's 69 miles into the AT, which meant it's my 500 mile mark on this Bama➡️Baxter thru hike. I cannot believe that I've hiked 500 miles already this season.
When I got to the parking lot I made a 500 mile marker out of sticks. Then John made a 69 mile marker because it was too funny not to. We talked to the Ashley's and a couple of other hikers and then got on the shuttle headed to Hiawassee. It was full of other hikers so we wound up sitting on the ground of the van which I didn't mind.
A few of the hikers in the shuttle asked about my marker and what it meant. So I explained about the Bama to Baxter hike and how I started down in Alabama. It feels odd at times to be so far into a thru hike when most of the people around you haven't even hit their first 100 mile marker yet. But at the same time I love to talk to those eager hikers who are just starting their adventure. I think about my first thru hike and how much my life has changed since then. It's so exciting how much their lives are going to change as well.
Right before the shuttle left OBX made it and joined us! Then we got a ride over to the hotel in Hiawassee. The lobby was full of hikers trying to check in early and many who had stayed the night before and were checking out.  There was one hiker there named Jesse who we had seen a few times yesterday. He had the tiniest pack ever with a base weight of about 8 pounds. That's damn light.
Apparently he had pushed 24 miles yesterday and was hurting a bit. So he wound up zeroing and spending a lot of the day with John, OBX, and I. The three of us did early check in and were able to drop off our packs at the room around 11am. Then we all headed over to a cafe nearby for an early lunch. We ate and had a drink and it was a great time. I was so looking forward to a bit of a rest day.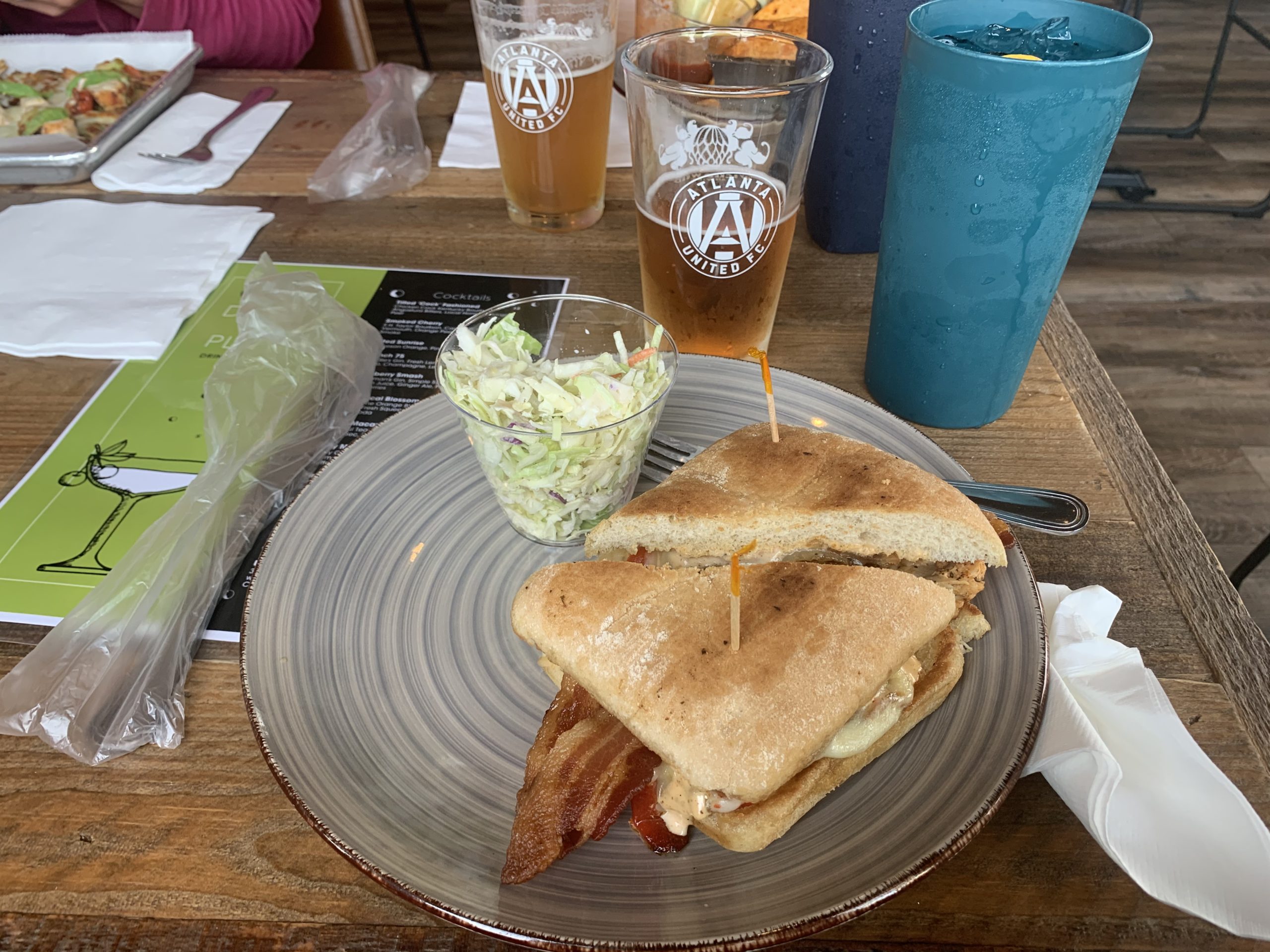 After eating we went to the gear shop, post office, and grocery store. I made phone calls and got my resupplying done. Then John, Jesse, and I went over to a steakhouse buffet for late lunch. It was mediocre at best but it was pretty cheap.
The rest of the day was spent doing some journaling, hanging out, and mostly just resting. We planned to get the 9am shuttle back to the trailhead tomorrow morning so all of us had an early night. Sometimes in town I have trouble sleeping so I wound up laying up in bed for a long time before eventually calling it a night.
Affiliate Disclosure
This website contains affiliate links, which means The Trek may receive a percentage of any product or service you purchase using the links in the articles or advertisements. The buyer pays the same price as they would otherwise, and your purchase helps to support The Trek's ongoing goal to serve you quality backpacking advice and information. Thanks for your support!
To learn more, please visit the About This Site page.