Hiking Coastal Quebec Right Before a Hurricane
ECT Day 203&204
IAT Day 34&35
Day 203: 31 miles
This morning we woke up early in the beautiful refuge. Last night I couldn't fully appreciate the location of the refuge. But getting up this morning we could see the sun rising over the ocean through the refuge window. It was incredible.
Once we were all packed up we walked down to the water. There was a waterfall right on the beach where we filled our water up. Then we walked along the shore for the next couple of miles. I'd never experienced anything like this before on a thru hike. To walk along the rocky beach with the sun rising is something truly incredible. You really can't put into words the power of something like that. I just keep wondering, how did I get here? Did I really walk here from Alabama? How could that even be possible. But here I am. We're running out of land to hike along. Soon we will have completed all of Quebec. Then the only way to travel to the rest of the provinces will be by buses across bridges or ferries across the ocean.
After a couple miles of beach walking we came to a picnic area alongside the road. We stopped off briefly to pull out some snacks and get ready to road walk. Then we kept on walking until around 11am before stopping again. Once again we passed through a small town and couldn't resist stopping off somewhere. Rivière au Renard was a pretty big town with a few shops and a pharmacy. We stopped off at a Dixie Lee which is a fried chicken joint. It was actually really good too. I got popcorn chicken, poutine, and cole slaw. Plus drank so much soda it was ridiculous. The last hour or so I've been feeling super tired. Like I can't keep my eyes open. So I figured the caffeine would help me out.
We stuffed our faces with food and then kept on moving. Before leaving town we also went over to the pharmacy quickly. Sparkle and I have been looking for more KT tape for a little while but haven't found it anywhere. This pharmacy had some though! Now we're able to take off our old tape and start fresh. Both of us have been taping various areas lately, from our ankles to our calves and around our knees. It's magical stuff.
Then we continued along and walked the rest of the way through town. After a few miles we were out of town completely and passed by an overlook near the beach. There was a picnic bench so we figured it was a sign to quickly stop for a break. I stretched in the grass and we hung out there. Then we kept on moving. We're doing another long day today. With the hurricane coming in we're really trying to finish up Quebec as quickly as possible. Hopefully we'll be able to wrap things up almost entirely today. Then we'll just have a handful of miles to do tomorrow before the storm hits.
The rest of the day we were blessed with some incredible ocean views. The weather was perfect too! We crossed into Forillon National Park in the early evening. Then kept on road walking. There was a playground and park that we went by and decided that would be a solid place to stop next. My feet were killing me but we still had about 6 or so miles to go. The break helped a lot and I was ready to crush the last bit of miles as quickly as possible.
We passed by a beautiful lighthouse and then followed along some back roads and dirt paths. There was a faster route to get to the campground than just the road itself. So we took the fun alternate path instead. While we walked the sun set around us. It was the perfect end to the day.
Just as it was getting dark we arrived at the Des Rosiers campground. There were lots of people tenting and car camping. We got our tents set up quickly. I was laying inside in no time eating some snacks. Once again I wrapped my leg all day today with compression and it was feeling better still. Taking the wrap off at the end of the day it definitely seemed better than yesterday. That's hopeful!
I laid in my tent and ate kettle corn. Then got cleaned up in the bath house which was right by our tent site. After that I got back into my tent to stretch and call it a night. Tomorrow we're finishing off the province of Quebec! I can't believe that we've already pretty much hiked the entire 400 mile section.
Day 204: 9 miles
This morning I was up around 5am at the campsite. I broke down camp quickly and then sat inside the large bath house to hang out. It had a kitchen and eating area as well as bathrooms and showers. The mosquitos were rough this morning so I was happy to pack up quickly to get away from them.
My leg feels so much better this morning. I decided to put some KT tape on to see if I could go without compression today. We only have to go about 6 miles to Cap Gasp where the IAT ends. Then we have to back track a bit and hopefully get a hitch into town.
Once we were all packed up we set out. It would be great to get the miles in before the rain starts this afternoon. I decided to start the day without the compression wrap and actually felt really good. We had to road walk for a couple miles and then picked up the trail. Which we followed for a mile or so before we started road walking again.
Along our walk we went past a woman who asked us where we were headed and what we were doing. She said that if she was still around when we were on our way back that she'd give us a ride to Gaspesie. We walked for another hour or so after that. Eventually the road turned to a dirt path that was no longer accessible to vehicles. While we were walking those final 2 miles to Cap Gasp we saw a whale out in the ocean! It came up to the surface and blew out water on two separate occasions. Then we saw a giant fish that almost looked like a swordfish jump out of the after. It was such an epic morning.
We arrived at Cap Gasp just as the wind was starting to pick up and it began to rain. What timing. All of us took photos at the lighthouse and enjoyed the moment briefly. But it was short lived because it truly felt like the hurricane was starting to come in. Once we had our moment there we started to head back.
My leg had felt pretty good for those first few miles of the morning. Though it became a little sore the last mile or so. When we left the light house I decided to put the compression back on. Maybe I should have had it on all along because it really felt like it was helping.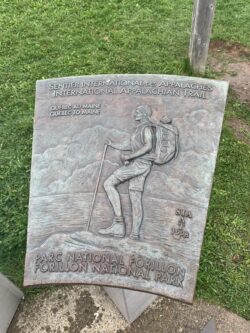 We had to back trap the two miles to where the road picked back up. It was raining lightly but honestly calmed down as we moved further away from Cap Gasp. As soon as we got back to the road we were able to try our luck at hitching. But everyone drove right by us without stopping. We walked for another mile or so before a car finally pulled off. The couple inside spoke mostly French but they offered to take us as far as they could. They could at least get us out of the national park. Then we could try to hitch the rest of the way to Gaspesie.
They brought us a handful of miles which was awesome. That's just mileage that we no longer have to walk! We have completed the IAT here in Quebec, now we're just trying to get to a motel room nearby.
As soon as the couple dropped us off and we crossed the street another car pulled over. It was the lady who had offered us a ride earlier! She said she could bring us all the way into town to our motel. Apparently her husband is in the states hiking the PCT right now! What a small world. She was incredibly nice and I was so grateful for the way our rides aligned.
She dropped us off right at the motel. We were able to check in early even though it was only 11am. Then we left our packs in the room and headed next door to Tim Hortons. I got a pumpkin spice latte and a sausage and egg wrap. I love Tim Hortons! Then we decided to walk over to McDonald's before heading back to the room to shower. McDonald's is so good in Canada. I got a crispy chicken sandwich with homemade ranch, poutine, and a mango refresher drink.
After that we walked back to the motel. All we wanted to do for the rest of the day was lounge and eat! I dove into the food and we rotated off showering. Its been such a cold day so it felt incredible to take a nice hot shower. Then I got my pack situated and lounged in bed. We had a really lazy rest of the day. I did a bit of writing and we watched TV.
Later on we walked over to a gas station for some drinks. I wanted to grab some drinks for our bus ride tomorrow. Then we wound up getting dinner at a chicken place right across from the hotel. I got a bowl with chicken, rice, beans, and a tikka masala sauce. It was delicious.
The rest of the night was spent eating and laying in bed. We watched movies and had a pretty late night. Tomorrow we have to be up bright and early to catch a bus from here back to New Brunswick. Then from New Brunswick we'll be able to get a ride to Prince Edward Island. It's just the only way to get over there.
Affiliate Disclosure
This website contains affiliate links, which means The Trek may receive a percentage of any product or service you purchase using the links in the articles or advertisements. The buyer pays the same price as they would otherwise, and your purchase helps to support The Trek's ongoing goal to serve you quality backpacking advice and information. Thanks for your support!
To learn more, please visit the About This Site page.