Holy Smokes! Surviving the Smokies
Great Smoky Mountains National Park brought me days of seemingly endless rain and dense fog, my first rattlesnake encounter, an outbreak of the dreaded norovirus… and a whole lot of luck.
Rattler
I was very much hoping to see a rattlesnake on this trek. I thought maybe when I got to Pennsylvania. I did not expect to see one so soon. But I was hiking along and came upon Cosmo, which was strange because once he passes me I'll never catch him again throughout the day, and he turns around and tells me there's a rattlesnake. And it's just eaten. A little furry tail is still sticking out of his/her mouth. I was surprised at the sound. It almost sounded like a cicada and was louder than I would have guessed. It was awesome. Eventually Spider and Tadpole came upon us and we watched for a bit before finding a space to hike around.
No-No Noro
The shelter situation in the Smokies is a bit complicated. You have to stay at the shelters, with no stealth camping allowed, and if there's room in the shelters you actually have to sleep in the shelters and are only allowed to tent around the shelters if the shelters are full. However, you can get a shelter spot and then be kicked out of it if a section hiker comes along that has a reserved spot in the shelter and then you're forced to tent regardless of what time it is or what the weather is doing.
Despite the fact that this causes a lot of grumbling among other hikers, I'm OK with it. The Smokies are the number one visited national park and thru-hikers are a blip on the radar with what they have to deal with. The park is actually pretty flexible with thru-hikers, only charging $20 for up to eight days of backpacking. Most other parks that I've backpacked in charge a flat rate of $15 and then $5 for each additional night. With that in mind, $20 with an eight-day window is pretty generous.
However, one big problem with forcing all the hikers to stay only in the shelters, and not be spread out, is norovirus. Pack that many hikers into the same spaces and, yeah, sickness is going to spread. I had heard of people occasionally getting sick on the trail prior to the Smokies, but it wasn't until the Smokies that a total outbreak of norovirus ran through the thru-hikers and followed us out of the Smokies, through Hot Springs, and all the way to Erwin.
Norovirus is a highly contagious virus that causes food poisoning-like symptoms. It's easily spread through contact, food, unwashed hands or clothes (hello, thru-hiker with their occasional shower and laundry) and can even be spread through air. So, like my dad said, "Don't eat, drink, breathr, wear clothes, or touch anyone."
All of a sudden I was surrounded by it. People I knew were getting it. People I didn't know but staying at the same shelters/campsites as me were getting it. Unfortunately, half of my tramily came down with it. On one night we were camped at a shelter where a large group of about ten were camping, half of whom were sick or getting over being sick. They were so thoughtful that none of them stayed in the shelter or even came near the shelter at all. Even the hikers in the group that weren't sick stayed away, just in case they were carrying it or about to get sick. Luckily, I have avoided it thus far. Now, it seems to have run through the bubble that I've been hiking in/around and we seem to be far enough out of the Smokies where hikers have spread out again.
Rain Is a Good Thing
Sometimes. Don't get me wrong; rain can really suck. We had continuous rain in the Smokies all the way to Newfound Gap, which is roughly halfway through. By Newfound Gap I was sick of it. Everything I had was wet. But, rain also makes grass green, and trees grow, and things come alive. The rain made things become very ethereal and transformed the Smokies from a national park to an enchanted forest.
There was a moment, roughly five miles into one of my days, when I had just ducked under a shelter roof for a quick break. It had been a slow drizzle for most of the morning, and the skies just opened up to a torrential downpour. I stood there looking out at the rain and two deer loped through the forest, undoubtedly looking for cover of their own. I've seen deer before. I used to live on 28 acres and finding up to a dozen deer grazing in the backyard was normal. But this was different. I'm not even sure I can explain how. But I was there, in the middle of the forest just witnessing this wildlife running for cover, not even caring that they came within 30 feet of me, just acting naturally, and it was beautiful. It's a moment that I won't soon forget.
Trail Magic Is the Best Magic
As I said, by Newfound Gap I was getting mentally worn down from the rain and everything I had being wet. The plan was to get into Gatlinburg for cleanup and resupply but I wasn't sure how that was going to happen. It's 15 miles from Newfound Gap through a winding park road. There are no shuttles and no phone service, so the only option is to hitch. Since we were getting there in appalling weather and dense fog I was doubtful as to how many tourists might be there. Well, I was right; the parking lot was pretty deserted. But there was trail magic. A church group in the parking lot with food, drinks, and a free shuttle to town that left roughly ten minutes after I got there. After days of rain, putting on wet socks, setting up my tent in the rain, disintegrating toilet paper, and muddy trails, it was exactly what I needed. My stress was lifted immediately and I happily ate a banana (because it was the right choice), an oatmeal creme pie (because it was the yummy choice), and a red Gatorade (because it's my weakness out here). Bliss.
Sunshine
For the entire second half of the Smokies we had sunshine and blue skies. As luck would have it, according to my guidebooks, there are several more viewpoints in the second half than the first.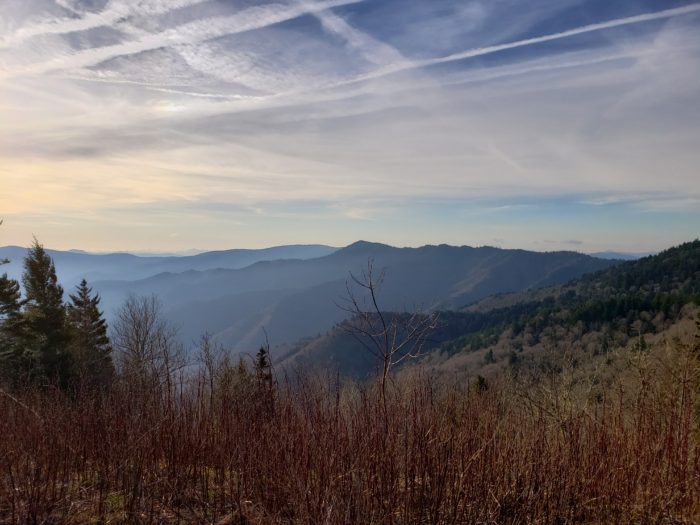 I did the short side trail to Charlies Bunion, but I also did the longer blue blaze to Mount Cammerer. I found it well worth the extra 1.2 miles.
The Smokies were undoubtedly hard. But I really do consider myself having gotten lucky on my trek. I'm so glad that I got some sunshine and some epic views, but I'm also really glad I got to see it in the rain. It really changed the place. And I was lucky with the temperatures; it was very moderate, which makes all the difference when it comes to hiking in the rain. I'm excited about the rattlesnake and beyond thankful that I've avoided getting sick. And of course, the epic trail magic.
Affiliate Disclosure
This website contains affiliate links, which means The Trek may receive a percentage of any product or service you purchase using the links in the articles or advertisements. The buyer pays the same price as they would otherwise, and your purchase helps to support The Trek's ongoing goal to serve you quality backpacking advice and information. Thanks for your support!
To learn more, please visit the About This Site page.