Holy Crap
I always understood thru hiking the Appalachian Trail was going to come with a few make or break moments. I'm here to report the first one has arrived.
And it's an ill-timed triple-whammy.
Though I had seen Sapling struggle over the last few weeks I always hoped she'd eventually reach the mindset of "I've come this far so I've got to finish now." Probably not the wisest or healthiest way to live life but admittedly I use that tactic often. It's also the difference between us that I pointed out in the previous "Dear Sapling" blog by writing "Someone that was herself and only part me."
When she verbalized the decision to end her hike we were still 23 miles from being picked up by my wife at the aptly named Devil's Fork Gap for a pre-planned break. There was a certain amount of levity in the first of the two days it would take to get there. All the tension both Sapling and I had felt seemed gone. In its place was a determination to enjoy these days for what they could be, which was  an opportunity to spend time together hiking and to close out an amazing 300 mile adventure.
If only it had played out that way.
Sapling's penultimate day on trail was a good one. Nice weather, good views and she seemed very strong as we climbed and descended a tough mountain known as Big Firescald Knob. At times I have no doubt she was stronger than me up there. The terrain and footing at the top of the mountain was precarious and followed a long ridge. Large and awkwardly strewn rocks abounded for well over a mile. Sapling's balance is better than mine and she easily traversed this section while I struggled through like I was in a minefield. Somewhere along the way I took my third fall of the trip, a head-first tumble that left me trapped between an impossibly thick Rhododendron bush and a tall rock. Having learned from the first two falls, this time I unclipped my pack straps and managed to wriggle out so I could return to my feet. No harm, no foul.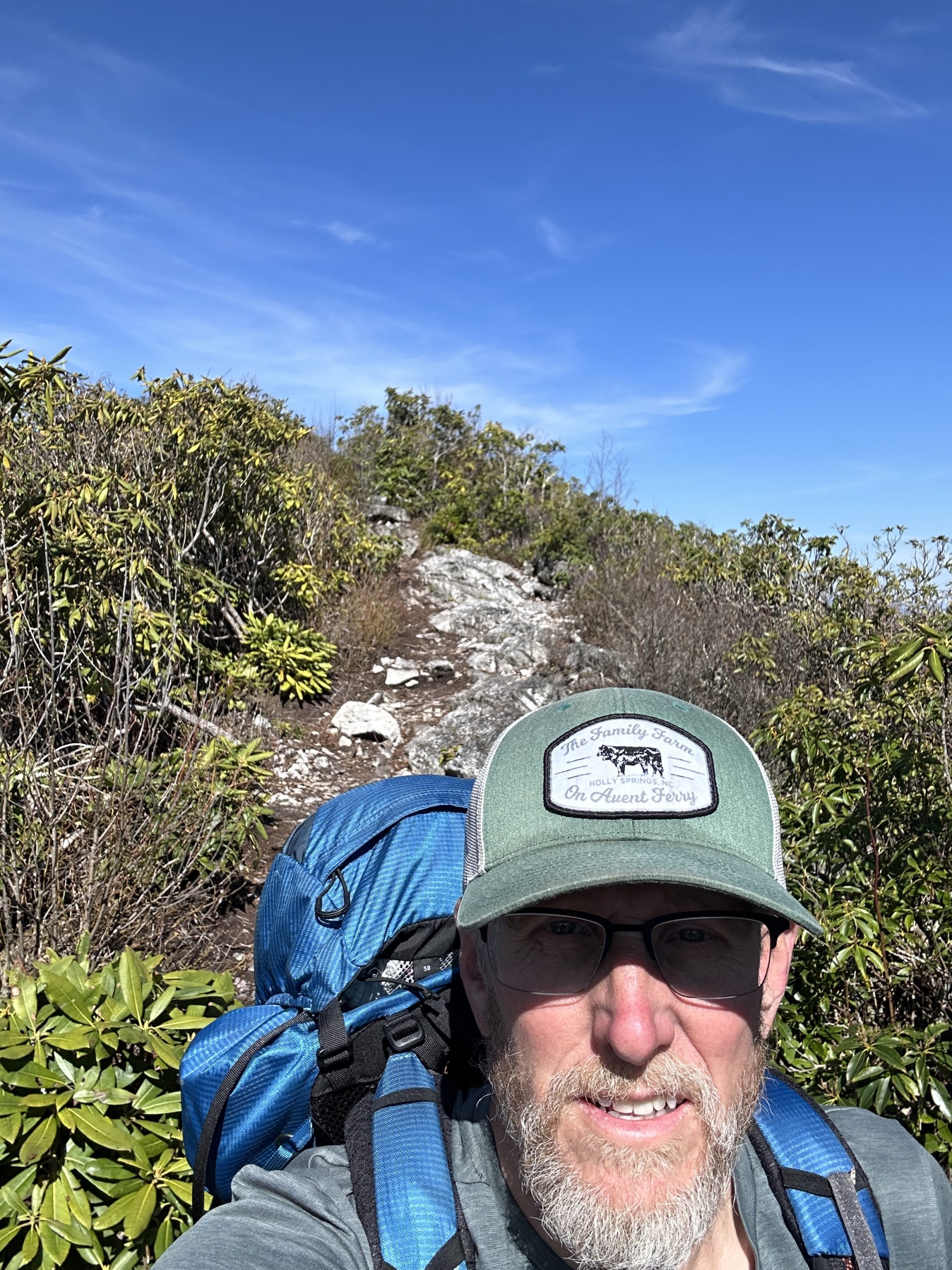 The evening started well too. We arrived at Jerry's Cabin Shelter to discover it was empty save for a young woman Sapling and I met earlier in the day named Oriole. She was very pleasant and welcoming so we decided to join her. After unpacking I headed down to fill the cnoc water bladder. On my return I was happily surprised to see Sapling and Oriole speaking with the newest arrivals, our firefighting Buddy Sleepwalker and a friend of his named Militant Buddha, or MB for short. MB set up his tent close by and Sleepwalker elected for the Shelter. It was somewhat late by this point so we all chit-chatted while preparing supper, eating and prepping for the night.
By hiker midnight the only lights I could see were the ones on my phone and Oriole's Kindle. As I lay there trying to coax the one-bar cell signal into pulling up Thursday's weather Sapling whispered to me that she didn't feel well. I told her sorry and asked what I could do. There was no reply and not long later I heard the telltale signs of deep breathing as she slept. I gave up on my phone signal and turned onto my side to do the same.
That turned out to be the final peaceful moment in the foreseeable future.
Around true midnight I abruptly awoke to the panicked scramble of Sapling fleeing the shelter. She didn't get far before I heard her retching in the darkness. She returned promptly and I rubbed her back as she lay there uncomfortably. At some point we fell back asleep, only to have the same scene play out hourly for the rest of the night. Each time I'd join her to shine my phone's light or hand her a bandana to wipe her mouth off with.
Thursday morning dawned and we had 10 miles of mostly downhill hiking before reaching the rendezvous point with my wife in the late afternoon. I had no idea how we were gonna pull it off. While Sapling profusely apologized to Sleepwalker and Oriole for keeping them up all night I braced for what I knew would be a trying day. She was leaning against the back wall of the Shelter looking pale and nauseous. As I packed up she simply remained motionless with a blank stare on her face.
About that time I turned as I heard the crunching of rocks underfoot coming from downtrail behind me. It was JD. He's been our friend going back to the second or third week. We had seen JD twice yesterday- the first time at the iconic Cookie Lady's house and next along the Ridge of Firescald Knob. When taking our free cookies and refilling bottles from the water cooler sitting on the porch all three of us were in wonderful spirits. We even paused to get a photo of Sapling and JD posing together.
But by the top of the mountain several hours later JD looked shrunken and queasy. He told me he'd thrown up and now was in a panic to find a place to relieve the more "southerly portion" of his body. He scooted by and I didn't see him again until just before I departed the upper ridge. There'd been no place up there to pitch his tent correctly so he'd created a makeshift shelter better compared to a fort created by a child with blankets and chairs. I asked if he had water and he had a little less than a bottle. I was out and we were 3 miles from Jerry's Cabin Shelter. I got his phone number and promised to check back in if cell service allowed.
Obviously I was relieved JD made it down to us. But no sooner had he shown up than he dropped his pack to the ground and wearily lay upon the trail itself. He pulled the bill of his ballcap over his eyes and began to sleep. Sleepwalker, MB, and Oriole looked at each other quizzically. I glanced at Sapling and she had her eyes closed with her head leaned back against the wall.
Within a half hour everyone, including JD, had started their hikes. Everyone but us. Sapling was really dragging and kept saying she didn't see how she could make it. I had examined the route in detail and knew it wouldn't be easy. It began with a two and a half mile climb. There was no way to know if it would be as technical, and therefore time consuming, as yesterday had been. Afterwards was rolling and mostly downhill, though the connotation of the word "downhill" often leads to underestimating not only the elevation sprinkled throughout but also the challenges that come with descents. However, I needed to get Sapling to safety so I leveraged the more positive aspects of the term and coached her into starting.
Thus began a day I'd rather not relive in too much detail. Most importantly Sapling showed great resolve in hiking 10 miles in the throes of Norovirus. She threw up many times, stopped to lay down repeatedly and slept once or twice. But she did it. We swapped some lighter-weight bulky items from my pack with her heavy food and clothes bags. Plus I carried all the water. Near the top of the climb, cheekily named Big Butt due to a rock in the shape of a derrière, I ferried Saplings pack up while she lay in the shade. Also, while resting before a short but steep climb near the finish Sapling drew the interest of a hiker named Tank. He's a 40 something firefighter that gave her a couple items from his medical bag that brought comfort. Thanks Tank!
Sapling showed grit and determination and did something amazing based on her situation. She felt nauseous with zero energy, had no food in her since she'd throw it right back up every time she swallowed, and was lightheaded from the time she woke up. But she stayed focused and didn't let her palpable weakness or emotions overwhelm her. 
A bright moment came at the very end when we could finally look down and see a familiar vehicle parked at Devil's Fork Gap. Nearby I spotted Lori and my dog Letty awaiting our arrival. Lori was talking to someone who turned out to be Tank. He'd decided to introduce himself and let Lori know we weren't far behind. It was great to hug and kiss my beautiful bride. It was our 33rd wedding anniversary the next day and we've never in all these years been away from each other this long. And Letty? She went nuts! This picture says it all. Lori says somehow she knew we were coming down those steps and my hyperactive dog, who surely thought I'd abandoned her back in March, just sat staring like that in eager anticipation for 15 straight minutes. Crazy.
That evening, with Sapling safely off trail and checked into a tiny AirBnB with her pup and parents, things finally seemed less threatening. Though she'd decided to end her hike I'd thought to myself maybe she'd still change her mind. But now it seemed all but certain it was over given the experience of the past 24 hours.

As I began to contemplate the rest of my hike something didn't feel quite right. I attributed it to my own day, which had taxed me physically by carrying a 40 plus pound pack and mentally with worry. Turns out those were not the culprits.
Back before we'd begun, when I'd tell most people my plan to hike the AT their response had normally centered around safety. Aren't you scared of: bears, murderers, injuries, getting lost…? Not a single person ever asked about Norovirus. I'd heard about it, even figured there was a good chance I could get it. But boy did I underestimate that nasty little virus. It beat me up like Bluto used to do Popeye without his spinach. Up and down the street and back again. 
Instead of throwing up like Sapling I had EXTREME diarrhea and gas. And there is no clear dividing line between those 2 so beware. And you wanna know one place you don't want a problem like this? A 750 square foot AirBnB with paper-thin walls, that's where! At some point you just have to laugh about it. So that's what I did for the next few days. But by Saturday night and 20 something trips to the bathroom Lori had seen enough. At 2:30 am I came out the lavatory and Lori was dressed with the keys in her hand. She said I was dehydrated and she was taking me to the emergency room. I did not object. I was glad my honey was taking over and saving me.
When we arrived at Unicoi County Hospital it seemed dark and closed. But as Lori drove up to the Emergency Room entrance the sliding glass doors parted to reveal a guy in a plaid shirt holding a trash can under a lady's face and ushering her away. After a fast check-in I got prompt service and was quickly plugged into an IV after a blood draw. Normally this would gross me out as I hate needles but it felt like needed relief. Not long afterwards the doctor came and said my bloodwork looked good and since I had no abdominal pain when he pressed on me, nor blood in my stool, it was likely Norovirus. The only cure was going to be the passage of time and a whole lot of toilet destruction.
While driving back to the AirBnB I realized I was in a quandary. Lori was offering for me to go back to Wilmington with her and Madeline the next day and then she'd drive me back out to the trail in a week. I figured that was overkill because it was a six and a half hour drive each way and I'd probably feel better within 48 hours. Big miscalculation. So instead we decided to check me in to a cheap Super 8 hotel off Interstate 26 just outside of Erwin. From there I could get a shuttle ride back to Devil's Fork Gap on Monday morning. 
We hastily checked out of the AirBnB and Lori took me to the Food City grocery store to pick up the horribly bland ingredients of the BRAT diet. In the parking lot I saw a large white van with hiking stickers  plastered all over it. I approached to inquire whether it was a shuttle and learned it belonged to a well known and legendary Trail figure named Ms. Janet. She said she'd be happy to shuttle me when I was better and I took her number down to send my details later.
Saying goodbye to Lori, Sapling and Letty in front of the Super 8 was really hard. Lori, as always, had been amazing. She works so hard and cares for her family so much. She doesn't get many days off work. This was supposed to be 4 days of fun and instead she spent most of it scrubbing down surfaces with Clorox wipes, walking the dog, and making Supply runs for the sick ones. I owed her BIG TIME already for making this hike possible and now just that much more. Thanks baby- I love you!
I snuggled with Letty a bit to say goodbye and then turned to Sapling, who was unsurprisingly crying. She was torn up that she was unable to continue. I tried to reassure her she'd made the best decision for herself and tried to convince her not to second guess it too much. But even I knew that's easier said than done. She'd had this huge goal for years and now it was coming to a premature end. 
Do I think she could have made it if she hadn't stopped? Yes- I do. But at what cost? She will go on to accomplish so much in life. We choose paths not knowing what's around the bend. An AT YouTube video or blog doesn't convey anything close to a full picture. Not even the imagination can. Some of life's paths lead to happiness, some to sadness, and most to something in between. Sapling may or may not come back to the AT someday. But she will discover many beautiful paths of happiness throughout her life. I have no doubt.
I continued to wave forlornly until they drove out of sight. My triple whammy crisis was crystal clear. My hiking partner and daughter was sad and leaving; I was heartsick for my darling wife; and I had a terrible case of Norovirus!
I ended up being at the Super 8 until Friday- a whole work week! I was miserable. I was three times sicker than I've ever been before with gastrointestinal problems. I lived on that cheap toilet, which challenged me each visit with a seat only bolted down on its right side. But I was safe and not on trail like JD and others. And that matters big time.
Eventually the doctor was right. This morning I woke up a new man. I felt excited for the first time in awhile. I peaked at the upcoming weather and route.
I'm back baby… Bring on the trail-
It's time to start makin' miles!
Notes:
***Update on JD. Sapling and I passed him that last day at 2pm laying alone in Flint mountain shelter a few miles before Devil's Fork Gap. He said he was just going to "sleep it off". But yesterday he texted to say he'd been in Nature's Inn Hostel recovering and regaining his strength. I hope to catch up with him eventually.
***Ms. Janet was awesome. She stayed in touch with a complete stranger she'd met in a parking lot to reassure the big baby he'd be okay. And she didn't get frustrated when he'd mess up her schedule every morning by canceling the rides he kept foolishly reserving.
***On the AT, worlds colliding can never be too much of a coincidence. However, it surprised me mightily when Ms. Janet told me she was working to help save a hiker with Norovirus symptoms who'd been too weak to hike off the trail. He'd reached out to her asking for help (her contact info is on FarOut), but then never responded to her reply to do so. So Ms. Janet called the authorities and a team of 8 rescuers got him off the mountain on an ATV. They brought him to Unicoi County Hospital and then to the Super 8 to recover. She asked me if I would speak to the guy to kind of relate to his situation and cheer him up. I said sure and told her to pass my number on to him. Imagine my shock after answering the call and the speaker said, "Hi, I got your number from Ms. Janet. My name is Sleepwalker…"
Affiliate Disclosure
This website contains affiliate links, which means The Trek may receive a percentage of any product or service you purchase using the links in the articles or advertisements. The buyer pays the same price as they would otherwise, and your purchase helps to support The Trek's ongoing goal to serve you quality backpacking advice and information. Thanks for your support!
To learn more, please visit the About This Site page.