Hot Springs, Cool Rain, Cold Snowstorms (Days 28-33, Hot Springs to Erwin)
Wild couple of days here! Over the last 6 days, we've seen the triumphant return of Crusher, soaked in mineral hot springs, walked through a recent forest fire zone, been snowed and hailed on, and finally made our way into Erwin. What a crazy section. So happy to have this behind me.
On to the updates!
Day 28
Start: Deer Park Mountain Shelter
Finish: Hot Springs, NC
AT Miles Hiked Today: 2.7
Overall AT Miles Hiked: 273.7
Miles To Go Until Katahdin: 1,915.4
Hello, Hot Springs! You are beautiful. After spending the last 8 days out in the woods, I was smelly, sore and hungry. Hot Springs fixed all of that.
There's a bluegrass festival in Hot Springs this weekend, and we could hear the music up in the mountains last night. Banjo music in the mountains? Jesus, it's like a scene out of Deliverance. Luckily we had some warning of the festival, so we didn't panic.
We woke up super early, before 6, thanks to some kind of robot bird from the future in our campsite. Sometimes nature is beautiful, and sometimes nature is annoying.
But, that meant we were hiking by 7:30, and in town by 9! Our Inn, Elmer's Sunnybank, is right across the street from a diner. Score, time to get me some eggs!
We couldn't check in until 11:30, so we walked the main strip of town. The main strip takes all of 5 minutes to traverse. The AT runs right through the middle of town! We saw the bluegrass festival, but it costs $85 to enter. I like music, but not enough to shell out that kind of dough.
Maybe I've been spending too much time in the woods, but I love this place. Small town filled with delicious restaurants and surrounded by beautiful mountains? Sign me up.
Reindeer and I spent the first part of the day doing chores (laundry, organizing mail drop, shopping), and the latter part of the day chilling on the balcony of the Inn drinking local beer and watching squirrels in the yard. This is a beautiful Inn and I highly recommend future hikers stay here! The only issue is that there's no Wi-Fi, so we have to walk down to the local library to get internet.
Rain moved in during the evening, which gave us even more hope that the fires would be extinguished by Monday. Fingers crossed, but it looks like we might have times this perfectly.
At dinner, I saw a local man pick up the dinner tab for two hikers nearby. The look on their faces was priceless. I've witnessed so much generosity on this adventure, from trail magic on trail, to random acts of kindness like tonight. People are awesome.
After a few beers and a big dinner, I was ready for an early bed time. Reindeer and I were curled up in our beds by 10pm.
Day 29
Start: Hot Springs, NC
Finish: Hot Springs, NC
AT Miles Hiked Today: 0!
Overall AT Miles Hiked: 273.7
Miles To Go Until Katahdin: 1,915.4
We received confirmation from a few different sources that the trail will open tomorrow! Also, our friend Nemo heard the story on the forest fire north of Hot Springs from a forest service ranger. It appears to be arson, the fire was allegedly intentionally set by a man who was busted for marijuana here in Hot Springs and was heard to say that he will "burn the whole town down". What a dick.
We had a monster breakfast at the same diner as yesterday. I ate a full size French toast order with whip cream and strawberries, along with hash browns, and eggs. So much food. But the beauty of a zero day is that I got to go back to my room and immediately go back to sleep!
Rain moved in, as I sat on the covered porch and read a book borrowed from the extensive library here at the inn. When was the last time you just grabbed a random book and read it? I love all the free space that this hike is creating in my life. My life before the AT was scheduled down to every last minute, with feelings of guilt if I scheduled in any relaxation time. That's all changed in the month I've been on trail.
Reindeer and I were outside the library doing very important work (browsing Reddit) when I hear a yell. " SLICE!!" I turn around and who is walking up, but our good friend Crusher! We haven't seen him since Franklin! Reindeer and I were so happy. He got his trail legs and caught up with us! He pulled 19 miles yesterday and is double zeroing here to rest and figure out some pack troubles. I have no doubt we will see Crusher again soon, even if he doesn't hike out with us tomorrow.
We ate lunch and took ANOTHER NAP (did i mention how much I enjoy zero days?), then walked down to the hot springs for our appointment. We booked an hour in a natural hot spring, to soak our weary bones. It was incredible. Crusher, Reindeer and I caught up and relaxed in the 100 degree water.
We left the springs and went to dinner, where there was live music on the porch! Grateful Dead covers with an acoustic guitar and banjo, yes please.
Crusher proceeded to order the hiker challenge burger (18oz of meat, plus onion rings, all the burger fixings, fries on side) as well as a chicken sandwich and a side salad, and two beers. Crusher! Welcome back!
Slightly drunk and extremely full, we all were in bed by 9:30. Hiking out in the morning! We're all excited the trail is reopened. Lots of hikers in town planning their next 5 days to Erwin.
Day 30
Start: Hot Springs, NC
Finish: Bushcamp just short of Allen Gap
AT Miles Hiked Today: 14.6
Overall AT Miles Hiked: 288.3
Miles To Go Until Katahdin: 1,900.8
I was sad to leave Hot Springs, but duty calls. Back to the trail we went!
As I was leaving Elmer's, something strange happened. Elmer's has this general area where you are supposed to keep your trekking poles outside of the Inn. When i arrived, I had the only pair of cork handle black diamond trekking poles. Now, there were two pairs of the same Black diamond trekking poles, one of which had tip covers, the other of which did not. I have no trekking pole tip covers, and the poles without tip covers appeared to be mine, so I grabbed them and hiked out, thinking no more of it.
Lots of hikers downtown near the outfitter this morning prepping to hike out. Today is the first day the forest fire section of the Appalachian Trail is open to hikers.
Our goal is to get to Erwin midday on the 5th day out of Hot Springs. That means a schedule like 15-15-15-15-8 for the next 5 days. To be on track, we would have to clear Allen Gap by tonight.
As always, we were greeted by a giant uphill right out of town. These big hills out of town always feel 10x worse because we have all our food on our backs. Today both Reindeer and I were feeling the pain as we climbed a sharp incline out of town.
We hiked along with Snail, Sandals, Purple Mist and Optimist on and off throughout the day. We were all feeling the pain, we had so much food on our backs!
Soon we hit the burned zone. So sad to see all the destruction. The trail South of Hot Springs was teeming with life, bees and birds and caterpillars everywhere. In stark contrast, the trail North of Hot Springs was still, silent, and black.
Plenty of good water today, despite the recent fires. Above, the hole in the ground was a spring, with crystal clear water.
We soon came to a dammed pond in the mountains, pretty cool! Reindeer ventured out on the dam, but no way was I risking that fall.
The burned section of the trail didn't last long, maybe about 7 miles. We were soon back to green, which was a relief. The hiking wasn't any easier though, and Reindeer and I were both vocally complaining most of the day about our damn food bags. They're so heavy, but I'm so hungry! What's a boy to do?
In a meadow just beyond the burn, we came across the specialty forest fire fighters that were flown in to combat the blaze. We yelled THANK YOU! to them as we passed, and they waved. According to the cashier at the outfitter in town, the trucks were loaded onto Boeing 737s and flown directly to Knoxville.
By the shelter at 11 miles, Reindeer and I were toast. We decided to try for the gap anyway, albeit slowly, as our legs were hurting.
A mile beyond the shelter, we started hearing thunder. Then a light rain started falling. Then, heavier thunder. Then, rolling thunder multiple times each minute. We realized we were in trouble and set up camp just short of the gap. We set up our tent and hammock as fast as possible, threw some food down our throats, hung our bear bags and dove under cover, just as the heavy rain moved in. Whew, avoided being drenched!
Not a bad day, all things considered. 14.6 tough miles today and we are on track for Erwin. I gotta eat down a few pounds of my food for breakfast, we have another very hilly day tomorrow!
Day 31
Start: Bushcamp just short of Allen Gap
Finish: Bushcamp a few miles short of Flint Mountain Shelter
AT Miles Hiked Today: 16.2
Overall AT Miles Hiked: 304.5
Miles To Go Until Katahdin: 1,884.6
One month on trail today! 4/3 to 5/3. I'm settling into a nice routine each day now, and I finally feel like the anxiety is starting to subside. When I started this hike I was convinced that I would make it 1 mile, fall and break every bone in my leg, and my hike would be over. I'm starting to admit to myself that I might be able to actually finish this thing! Only several thousand more miles to go.
So, the rain didn't let up all night. I awoke several times to rolling thunder and rain hitting my tent. Then I awoke at 4 to cold, wet feet. My tent was taking on water, I had shifted position in the night and kicked one end of my tent so the roof was draining into the bottom of the tent.
I awoke several times as it began to get light out, but it was still raining, so I rolled over and went back to sleep. Finally at 8, the rain let up enough to get me moving. Reindeer and I got our gear together, quickly ate breakfast, and started hiking.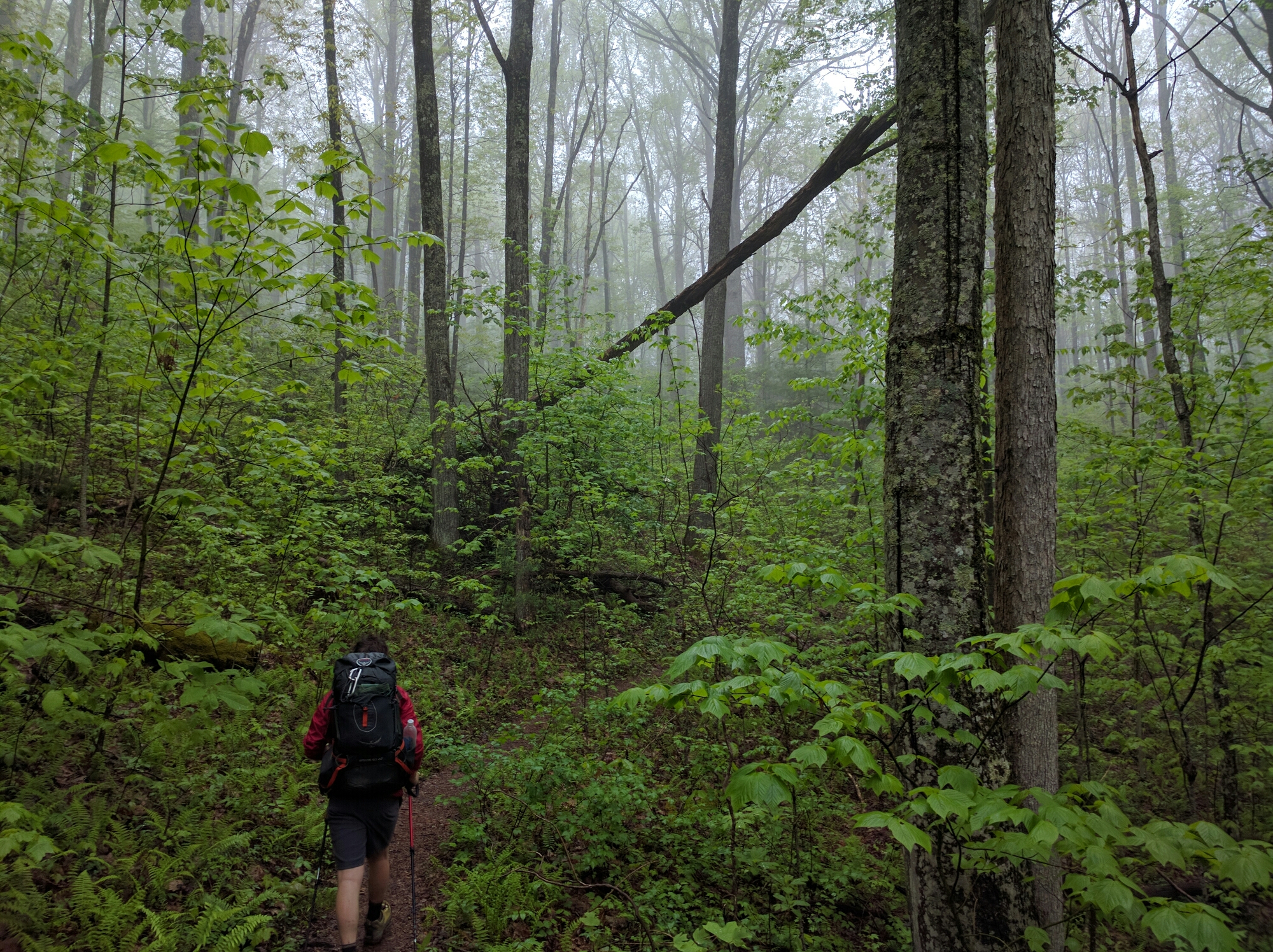 What a dreary day! The rain drizzled on and off for about an hour, then the spigot got turned on full blast, and it started pouring. The trail was so slippery that I came close to landing on my ass several times. The terrain was smooth, which normally would be great, except the trail quickly became a river. My feet were drenched through, and it wasn't even 11am. Nothing to do but keep hiking, wet feet and all! I eventually gave up trying to avoid the puddles in the trail, instead I just slogged through them.
At about 11:30 we hit our first shelter of the day, Little Laurel shelter. We grabbed some water and tried to dry off a bit. A bunch of other hikers had similar ideas! By this point it was absolutely pouring. Not fun hiking, but hey, at least it wasn't hot!
We summited Camp Creek Bald and the terrain immediately turned from smooth and wet to rocky and wet. Now instead of being miserable at 2mph we were miserable at 1mph!
The rain started to let up around 1, and soon we could take our rain jackets off. Lots of fog up toward the top of the mountain, but no more rain!
The clouds began to clear at Big Firescald Knob, which produced our first and only great view of the day.
Of course, it wouldn't be as sweet of a view if we didn't earn it with some garbage rock climbs, would it?
The trail smoothed out again after the knob, and we cruised down to Jerry's Cabin Shelter, which represented the 300 mile mark! I was less concerned with the milestone, and more concerned with trying to dry my socks. My feet were prunes at this point. Still, 300 miles! Woohoo!
Storm clouds continued to roll over us, but no more rain fell, thankfully. We reached the 15 mile mark for the day and started searching for a bushcamp similar to yesterday. The section we were on was very hilly though, and we went a mile before finding a Southbound section hiker who told us there were no good sites until the next shelter a mile or so down the trail. We were pretty gassed at that point, So, we found a relatively flat spot off the trail and set up camp.
Nothing new to report tonight, other than that I'm finally eating down my food bag to a reasonable weight. Man that sucker was heavy heading out of Hot Springs. I need to reconsider the food I'm bringing out of town. Hope we stay dry tonight. Another 15 miles tomorrow! I'm already looking forward to that hot shower in Erwin.
Day 32
Start: Bushcamp a few miles short of Flint Mountain Shelter
Finish: Meadow about a mile short of Street Gap
AT Miles Hiked Today: 14.9
Overall AT Miles Hiked: 319.4
Miles To Go Until Katahdin: 1,869.7
Very chilly waking up today – we were jackets on immediately, and it was probably close to 50 as we rolled out of camp.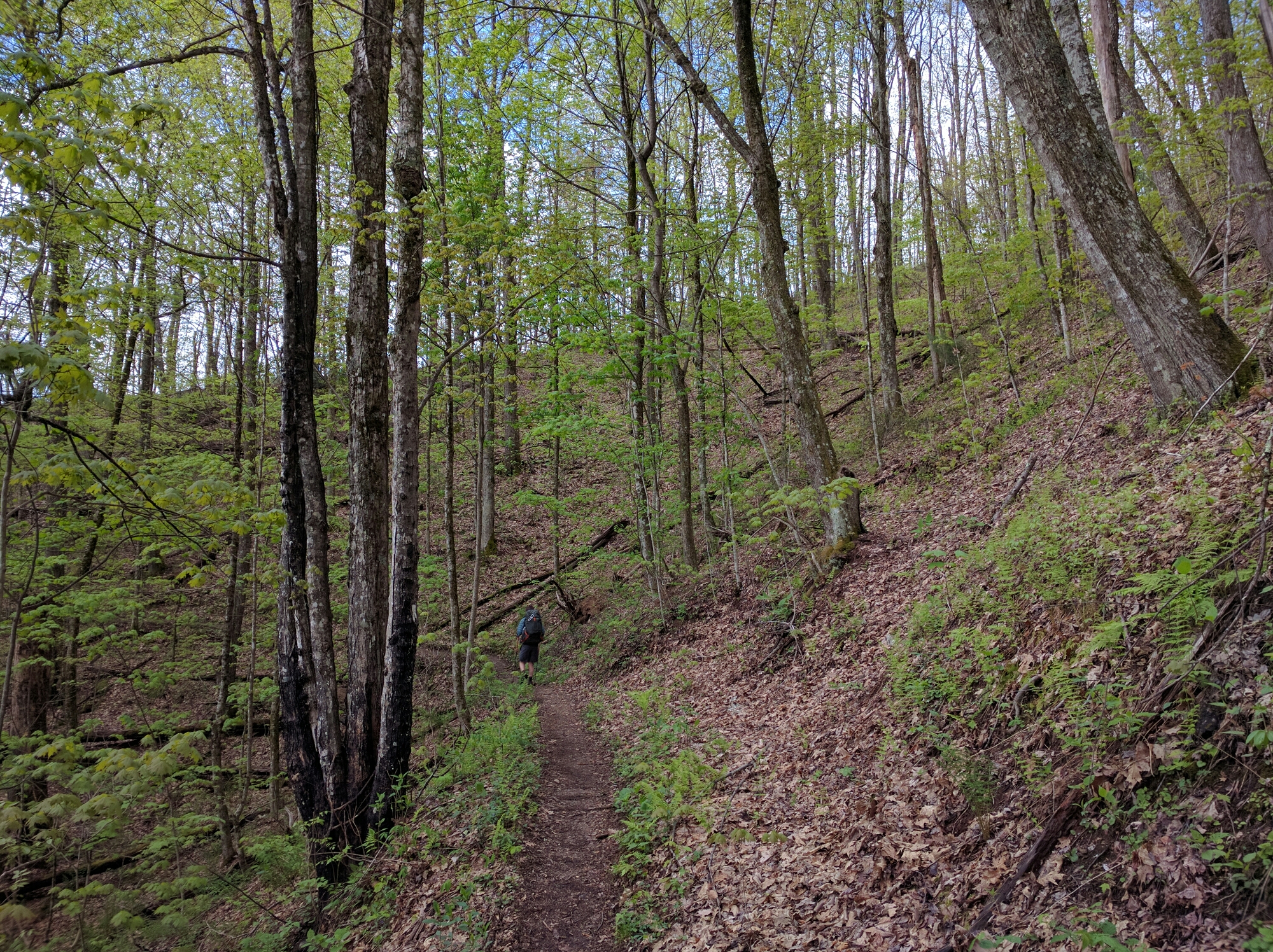 We soon passed a section hiker named Quail who told us that there was snow in the forecast for tonight. Snow! It's May! We sighed and thanked her for the warning. At least I've still got my 10 degree sleeping bag.
About 4 miles into our day, we ran across a former thru hiker named Yonder, who packed a backpack full of trail magic! Bananas, apples, doughnuts, and soda! What a wonderful surprise, especially out on trail and not in a gap. We were truly surprised and extremely thankful.
The trail today was smooth all day. Great hiking, with smooth terrain and colder temps. We cruised at around 2mph all day with very few stops for water.
We flip flopped all day with Mogli and Blossom, as we have for the last several days. We all hung out at a summit for lunch. We were ahead of schedule for the day so we took our time heading back out for the remaining miles.
Finally, we got a view at 1pm. The guidebook doesn't specify the mountain we were on, so enjoy this nameless view!
We hit Sam's Gap around 4pm, and hung out watching the trucks zoom by on the highway above as I snacked on pop tarts and almonds.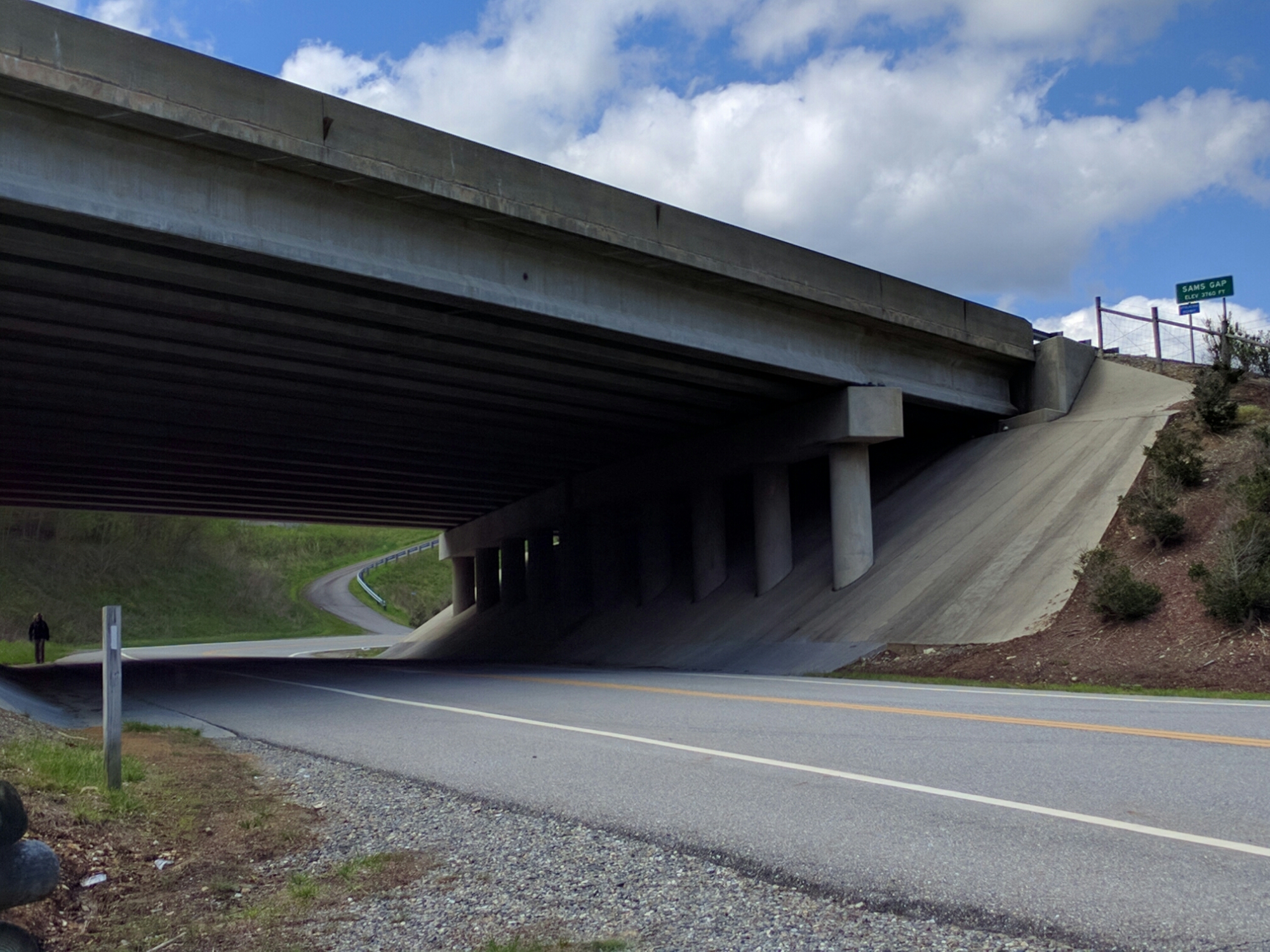 Very soon after that, we hit our goal of ~15 miles on the day, and decided to camp just short of a meadow, which should have an awesome view of the sunrise tomorrow! Reindeer has service up here and checked the weather, and it's calling for a high of 40 with rain and snow tomorrow, and a high of 50 with rain on Friday. Brutal couple of days coming up.
As we were eating dinner, our friend Turbo rolled into camp. (Turbo is the same water filter kid from my second day out of the NOC.) He told us that someone was claiming I took his trekking poles, slandering the good name of Slice to every hiker he meets!
Now, you remember the bit above from my last morning in Hot Springs, don't you? Of course you do. There were two pairs of the same Black diamond trekking poles, one of which had tip covers, the other of which did not. I have no trekking pole tip covers, and the poles without tip covers appeared to be mine, so I grabbed them and hiked out. Now this guy is apparently telling people I stole his trekking poles! And Turbo says he is not happy at all! He's apparently camped at the last shelter a few miles back. You folks know I'm a good guy and would not take his trekking poles on purpose. Hopefully he is a rational man and we can get this sorted out soon.
Day 33
Start: Meadow about a mile short of Street Gap
Finish: No Business Knob Shelter
AT Miles Hiked Today: 16.5
Overall AT Miles Hiked: 335.9
Miles To Go Until Katahdin: 1,853.2
Terrible, terrible day today!
We awoke to the sound of hail hitting our campsite. If you've never been in a tent while hail is coming down, let me tell you – it's tough to sleep through the heavy THWACKs each pellet makes as it strikes your tent.
I ran out during a break in the storm and grabbed my food bag. Windy, and cold! So cold! I sat huddled in my tent out of the wind and ate pop tarts. I could already tell it was going to be a long, long day.
We got rolling at 9:30 during a break in the hail. I was in all my cold weather gear, including my puffy jacket. It's May! But, this is also the Appalachian Trail. I suppose we need to expect the unexpected.
We quickly hiked the first two miles, trying and failing to warm up. It was certainly below freezing. As we climbed the mountain towards Big Bald, it started hailing a little again.
Then, it started hailing A LOT. I was struggling to stay on my feet at this point, so not a lot of pictures of the actual hail. We were miserable ascending the mountain.
At the top, everything was foggy, and frosted over.
Reindeer and I got up and over the top, hiking on and off with Snail and Sandals. (Shout out to Snail, who told me today she found my blog on Appalachian Trials! Shh, don't tell anyone out here what my real name is!) We all regrouped at the Bald Mountain Shelter, ate pop tarts, and complained about the weather.
The forecast was calling for an inch of snow on Bald Mountain, so no way in hell were we staying there. The rest of our day was mostly downhill. Reindeer and I were both limping, as our right ankles were really hurting after the uneven climb up the mountain. Thankfully, at lower elevation, the hail stopped.
We started looking for a campsite around 14 miles into our day, but ended up having to go all the way to No Business Knob Shelter at over 16 miles, because the terrain was so rough, with no flat spots for a tent. We barely got into our tent and hammock before rain moved in. Then we had to walk a quarter mile back South down the trail to get water. A crap icing for a crap day!
So, I'm in my tent, sore, tired, cold, and pretty dang annoyed at the day. Like I said in my last post from the Smokies, for every effortless day, you also get painful days like today. I'm thankful we will get to Erwin tomorrow, for a hot shower, a cold beer, and a warm bed with a roof over our heads. We plan on waking up early to knock out the 6 miles to town before lunch.
And this is where I end my post! Like last time, my WordPress app is crashing, I have too many days in one post. You'll have to wait until next week to hear of our exploits in Erwin.
One last note: There's a Mexican joint in Erwin. All I've been craving for the last 100 miles in Mexican food. I'm about to be a fajita eating machine. Prepare yourselves, I'm about to eat all of the guacamole in town.
Cheers!
-Slice
Affiliate Disclosure
This website contains affiliate links, which means The Trek may receive a percentage of any product or service you purchase using the links in the articles or advertisements. The buyer pays the same price as they would otherwise, and your purchase helps to support The Trek's ongoing goal to serve you quality backpacking advice and information. Thanks for your support!
To learn more, please visit the About This Site page.