How I Lost 200 Pounds and Discovered My Purpose by Hiking Every Day
This is a guest post by Zach Cross. Follow Zach on Instagram and Youtube.

If you asked me to point to a single thing in my life that has fundamentally impacted me the most, other than marrying my wife, I would say hiking. I would love to say hiking has been a lifelong passion, but I didn't always hear the trails calling me.
I grew up in that golden era of childhood before today's internet. In the 90s, the internet was confined to the giant desktop in the family room. I often found myself rambling deep in the woods with my friends, discovering all the bountiful glories of the outdoors.
For much of my childhood, my parents worked with refugees from war-torn countries who were seeking sanctuary in Belgium. The centers abounded with kids my age. Though we did not speak the same language, the woods brought us together. The forest was our playground and our sanctuary.
Forgetting What's Important
As the 2000s slowly eroded into the 2010s, the carefree innocence of childhood began to disappear. The world was changing. The pixelated woodlands I frolicked in on my Xbox took the place of real ones.
Years crept by. We moved back to the United States, and my life was consumed by the busyness of high school, then college. My enchantment with nature seemed to disappear as I entered adulthood.
Ironically, I was attending Appalachian State University in Boone, deep in the heart of the Appalachian Mountains of North Carolina. Boone is a truly beautiful town.  Many of my friends and classmates took advantage of the trails, which were plentiful…or so I was told. I never hiked any of them.
I would much rather hang out in my dorm watching sports, playing video games, drinking beer, and going on late-night fast food runs.
None of that stuff made me happy, and I felt something was missing. Eventually, those feelings turned into depression and despair. On top of that, I was binge eating and drinking worse than ever and gaining weight quickly. As I was nearing graduation, I remember one day finding myself in front of a scale for the first time in a while.
The last time I had weighed myself, I was around 215 pounds, but I knew I had probably put on weight. "Show me 240 and I'll be fine with that, Mr. Scale, please and thank you."  As I stepped on, and the first number started with a 3, my heart sank. 330 pounds. How is that possible? I had put on over 100 pounds in a year.
I wish I could tell you that I kicked my butt into gear then. I wish I could tell you that I realized what I needed to do— to run back to my first love, the woods, and throw myself up peaks and down into valleys to start losing weight and gaining clarity, but I didn't even think about doing that.
Instead, I sank into even deeper despair and darkness, unlike anything I'd felt before. I came to hate everything about myself. Sadly, like some sort of twisted scale, as my weight rose on one end, my mental health mirrored it on the downside.
Rock Bottom
In 2019, I was 400 pounds. Finding clothes that fit was a struggle. I got many of my clothes from thrift stores during that time because I would put on weight so quickly. I remember scoring a big jackpot once when a large quantity of 5XL shirts and jackets were dropped off at my local store.
They fit me well, but when I googled the person whose name was written on the tag in one of the jackets and discovered they had died of heart disease at 40, I was shocked. I was 25. Was my life more than half over?
My doctor had warned me that I was at serious risk for type 2 diabetes, but he hadn't said I could die. This realization started a cycle of attempting to diet and go to the gym, but always failing after a day or two.
I would manage to diet for a few days, but then my willpower would cave, and I would go on a binge. The actual hard part was the exercise. I hated the gym—the smells, the noises. Everything about walking in place for an hour while it felt like everyone was staring at me made me miserable, so I quit going.
Many people realize that physically, being obese is a massive struggle, but it's not just about the physical aspect. It's the way people look at you, the way they judge you, the way they treat you. It's the way you feel about yourself—like you're not good enough, attractive enough, or worthy enough. Every day is a battle. Sometimes it was hard to see past the weight, a constant reminder that I wasn't where I wanted to be.
The depression added to my struggles, as I found it hard to summon the motivation and energy to make positive changes in my life. I often felt like giving up, as if I was destined to spend the rest of my life trapped in a body that didn't feel like my own.
In March of 2020, Covid lockdown began. I found myself sinking deeper into that familiar dark hole of depression. I was trapped in a 600-square-foot apartment, working a job that I didn't like, in a body I felt was catapulting me to an early grave. To make matters worse, my eating habits were out of control.
With nothing to do and nowhere to go, I found myself constantly snacking on junk food. I knew I was easily over 400 pounds, but I couldn't stop.
The Call of the Wild
Then, slowly, something began to shift.
It started as a faint whisper, but as I closed my eyes and listened, it grew louder and more urgent. Something was calling me to escape this hell I was living in and find peace. I wasn't sure the best way to do this, but something was telling me I could find it in nature.
I left my apartment one day and went for a hike. I hadn't gone for a hike in as long as I could remember, but it was something different to do. As I walked on the trail near my apartment, the light filtered through the trees in a way that made everything seem magical.
It felt like I was seeing the world for the first time. As I walked, I could feel my worries and stress melting away. I found a clearing where the sun was shining and lay down in the tall grass. The clouds above were like cotton candy, and I could see birds soaring high above.
It was at that moment that I remembered how wonderful nature truly is. Memories flooded my head of my adventures in the woods of Belgium. I remembered the joy I had felt when my imagination transformed a simple pond into a mighty lake with a towering castle. The simplicity of those moments was so pure, and I realized how much I had missed it.
BACKPACKER RADIO – Episode 111: Second Chance Hiker
As I walked home, I felt rejuvenated and grateful for the experience. It was May 1st, 2020: the day that changed my life.
I wanted to up my game, so I talked to a friend, and they told me about a hiking trail up a steep granite monolith called Stone Mountain. Logistically, it was perfect: the trails were well-marked, the scenery was gorgeous, the difficulty was something I could manage, and it was only a few minutes from my house.
I had discovered something special.
Even though my walk that day had been extremely physically challenging, it didn't feel that hard. I was so distracted by my thoughts, nostalgia, and happiness that the miles seemed to melt away. It was therapeutic in a way that soothed my aching mind and active in a way that healed my swollen body. I decided to do it again the next day.
The Stone Mountain Walk-Up Trail is about one mile from bottom to top, with an elevation gain of 700 feet. The trail has an average grade of 12 percent, with some sections reaching up to a 42 percent grade requiring the use of a handrail. Not a serious climb by any experienced hiker's standards, but to me, it might as well have been Everest.
Venturing up for the first time, I found myself on all fours, crawling over rock and dirt. I was gasping for air with every hard-fought inch of ground I gained. I clawed my way over the final few yards of exposed granite onto the summit, collapsed into a heap, and laid there in tears for nearly an hour.
It was a miserable experience. My thinking that this weight loss journey was going to be easy was obliterated. And yet as I sat on the summit, surrounded by the warm air, sunlight, and chirping birds, I looked out over the canopy of trees in front of me and once again felt inner peace. I made my way down the mountain feeling a sense of accomplishment.
I returned the next day to the same mountain path and once again cursed, sweated, and gasped my way to the top. I went again the next day, and the next day, and every single day after. Although it was hard, the urge to quit never once reared its ugly head as it had previously when I made those trips to the gym.
Over time, I started to lengthen my hikes. It started with me going up and down the mountain twice and turned into me first walking the five-mile trail around the mountain and then going up and down. My confidence was increasing, I was happier, and my weight was continuing to drop at a steady, healthy pace.
Even on the hottest days of the Georgia summer, I persisted in my daily treks up and down the mountain. If you've ever wanted to experience hiking in an oven, I know the place for you!
Upping My Game
As the first signs of autumn crept into the air, a friend reached out and told me he was interested in backpacking. The idea immediately captured my attention. Traveling over 20 miles across mountains, rivers, valleys, and ridges sounded so cool, and we heard there was a great trail not too far away from us named the "Appalachian Trail."
We got a group together that was interested in going, did some research on a good trail, got some gear from REI, and set a date. I was about to embark on my first-ever backpacking journey!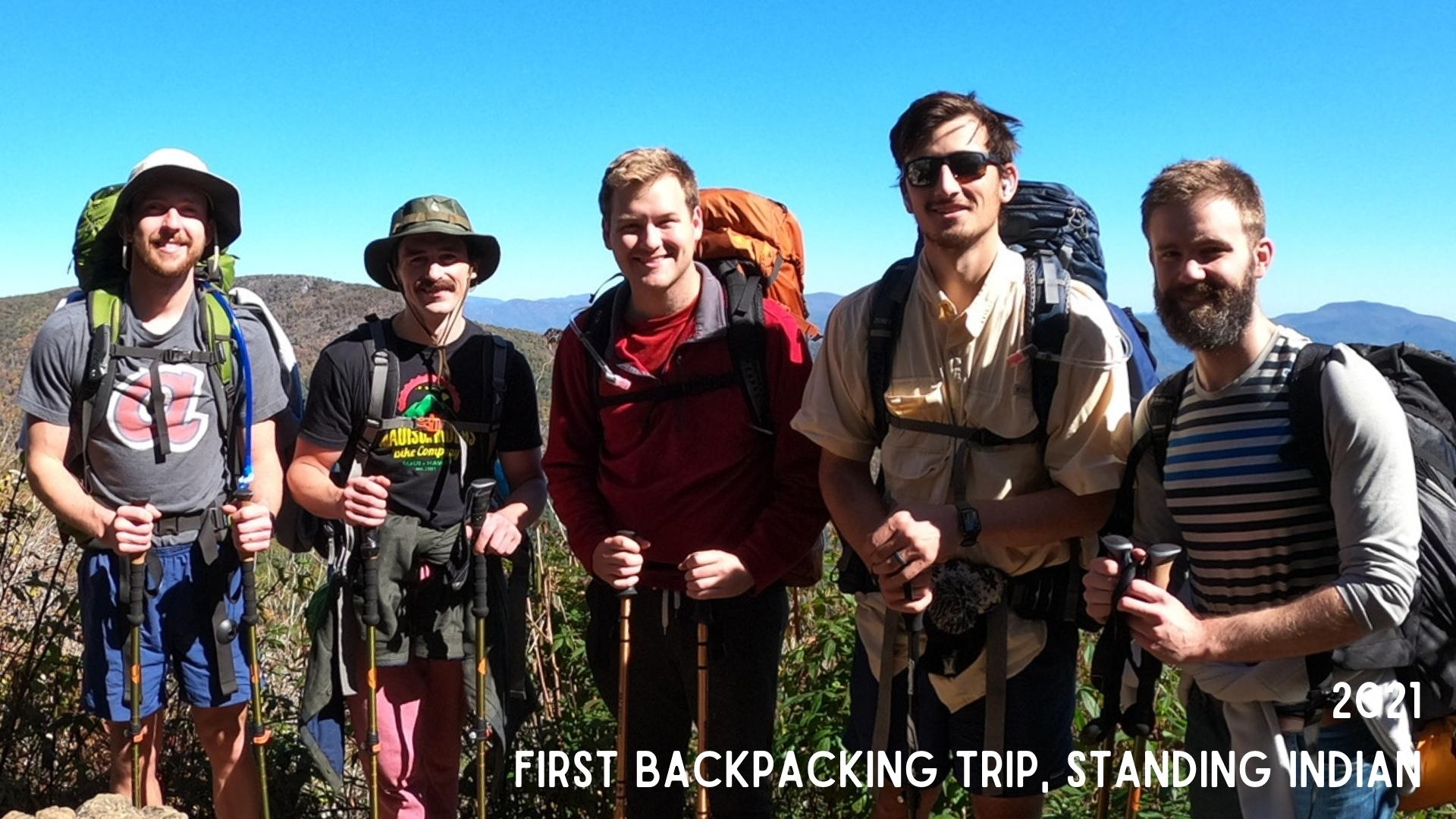 I learned a lot of lessons on that first trip, but the two lessons I learned that stuck with me the most are the ones that have profoundly impacted me more than any other to this day:
1) Backpacking is an adventure back in time. You enter a world that, except for rare traces, is devoid of modern convenience, societal constraints, and regiment. The world around you is untouched and remains as it has been for years.
2) Thru-hiking is the act of walking from one end of a long trail to the other.
As we were sitting around the fire, a few feet off the Appalachian Trail, a man entered our campsite named "Shakespeare." I guess it was the puzzled look that we all gave him that tipped him off that we were newbies to this whole backpacking experience (or maybe it was the 15-pound gas grill one of us had brought), but he quickly explained that Shakespeare was his trail name.
He shared with us that he had hiked the entire Appalachian Trail a few years prior after his brother passed away unexpectedly. He felt a calling to break free from the chains of society and live with carefree abandon on the trail.
That night, as I lay in my hammock, the idea of thru-hiking sounded so wild and interesting. To live your life in such a simple manner—no meetings, no schedule, just hiking every single day—sounded absurd, but in a way that appealed to me.
Just like the bard, whose words have inspired untold millions of people, the Shakespeare that I encountered that night on Mount Albert left a lasting impression on me. It made me want to thru-hike.
"Every step was agony."
After that trip, I started researching thru-hiking. I read every book I could find, watched every video, and began tracking parts of the trail that looked cool. I began backpacking as often as possible at every nearby trail I could find.
I explored the Grayson Highlands, Roan Highlands, and the Great Smokies, among others. I gained valuable experience during these backpacking trips, often solo. I learned how to dial in my pack weight, manage my food and water, and how to overcome adversity.
On one such trip, as I was scrambling over a boulder five miles before the remote finish of the Art Loeb Trail, I tripped and came down hard on my ankle. I heard it snap and knew immediately I was in deep trouble. Night was quickly approaching, I was high up on the rocky ridgeline of the Shining Rock Wilderness, and my cellphone had no service. I had no choice but to hobble my way home.
What followed over the next four hours was the single most grueling experience of my life. As I descended over 3000 feet into the forest below on a broken ankle, I learned a lot about the limits of what the human body can bear.
Every step was agony. Every rock and root, every boulder and blowdown sent white-hot pain through my entire leg and left me screaming in misery.
When my car finally came into view, I was ecstatic and knew that I could accomplish anything, including a thru-hike. I had pushed my body to its limits and won. Even though the ordeal had been utter hell, I could not stop thinking about a thru-hike.
WATCH – See How Zach Is Preparing for His Thru-Hike
To Maine!
Through countless months of grueling hard work, sweat, tears, blood, and soul searching, I lost 200 pounds. Even more importantly, I regained my happiness. I now knew what made me joyous, and my life was changed forever. I am a hiker.
As I set my departure date for my 2023 thru-hike of the Appalachian Trail, I think it's appropriate that I am leaving on May 1st, 2023, three years to the day from when I first stepped foot onto the trail at Stone Mountain.
Previously, I dubbed this experience my "weight loss journey," and while my journey did encompass weight loss, claiming that is all it was would be a huge disservice to the truth. This was a journey into my very soul.  It was a re-discovery of my "happy place" in the woods. It was a journey to help me find inner and outer healing and health.
I anticipate that my thru-hike will be a microcosm of my journey thus far. It will surely have many moments of hardship and strife, but it will also present opportunities for reflection and healing. I don't doubt that it will be the hardest thing I've ever done, but I am ready to see how far I can push myself and hopefully inspire others to do the same.
If an obese guy with severe depression can have these revelations in just three years, think of what you can do in the same amount of time. Through this journey, I've had the opportunity to appear on national television to talk about my story and share what I've learned through nature and hiking.
I've received thousands of messages from people telling me how I have inspired them to seek counsel in nature to heal their mental and physical woes, and that is such an awesome thing for me to hear! I did not set out on this journey to inspire others; I just wanted to lose some weight.
So, my message to others is this.
It's never too late to discover your passions and make them a central part of your life. In doing this, it becomes easier to live, and that makes finding health in every other aspect of life attainable. It's important to be open to change and willing to take risks. Sometimes, the things that scare us the most can lead to the most significant personal growth and discovery.
While I am honored and humbled that my story has been seen by and inspired many, the Appalachian Trail is a journey for me and me alone. I want to push myself to new heights and overcome any obstacle that stands in my way.
As I start my next adventure, I feel a sense of accomplishment and pride. I know that I have grown as a person. I have learned to rely on my own inner strength, but I still have a long way to go, and I always will. Being open to growth is something that I hope never to change, but I plan to take it one day at a time and to appreciate the journey as much as the destination.
The trail has a way of teaching us valuable lessons about ourselves and the world around us, and I have no doubt that I will come out of the experience a stronger and wiser person. My journey has been a long and hard one, but isn't that just how life is? The important thing is making the most of it.
See you on the Appalachian Trail! Onward to Maine!
About the Author
Name: Zach Cross
Location: Atlanta, GA
Follow My Thru-Hike on YouTube: https://www.youtube.com/@AT_Zach/
Instagram: @HikingZach
All images, including featured image, courtesy of Zach Cross.
Affiliate Disclosure
This website contains affiliate links, which means The Trek may receive a percentage of any product or service you purchase using the links in the articles or advertisements. The buyer pays the same price as they would otherwise, and your purchase helps to support The Trek's ongoing goal to serve you quality backpacking advice and information. Thanks for your support!
To learn more, please visit the About This Site page.