How to Answer the Question, Why?
Great Questions 
As summer and school vacation is now in full swing I have come in contact with a few more day hikers.  Sometimes they are solo, or in small groups  and/or families out for some fresh air.  I like seeing day hikers.
I have noticed they are always full of energy, often  ask thought provoking  questions, and they smell sooooo good.  It's one way of identifying that they are fresh to the trail, the smell of laundry soap.   Likewise,  I'm sure the aroma in return is  a combination of beautiful armpit grime and musty, dirty clothes.  With all that our conversations are always fun.
The most common questions are; Where did you start? How many miles is the trail?  How long have I  been hiking?  And  "Why?"
As we depart from the short dialogue, my brain is flooded with a thousand reasons "Why".   All of which, in the moment are too complicated to put into words.
The Questions Leave me With my Thoughts
I have thought about "Why" for months.   Why am I   hiking with a 35 pound pack,  day after day?  Actually, each day my answer is different.    It's mind boggling as to why and what would make me want to do this.  Maybe the answer is simply this; the good Lord has given me the health to do so!
Massachusetts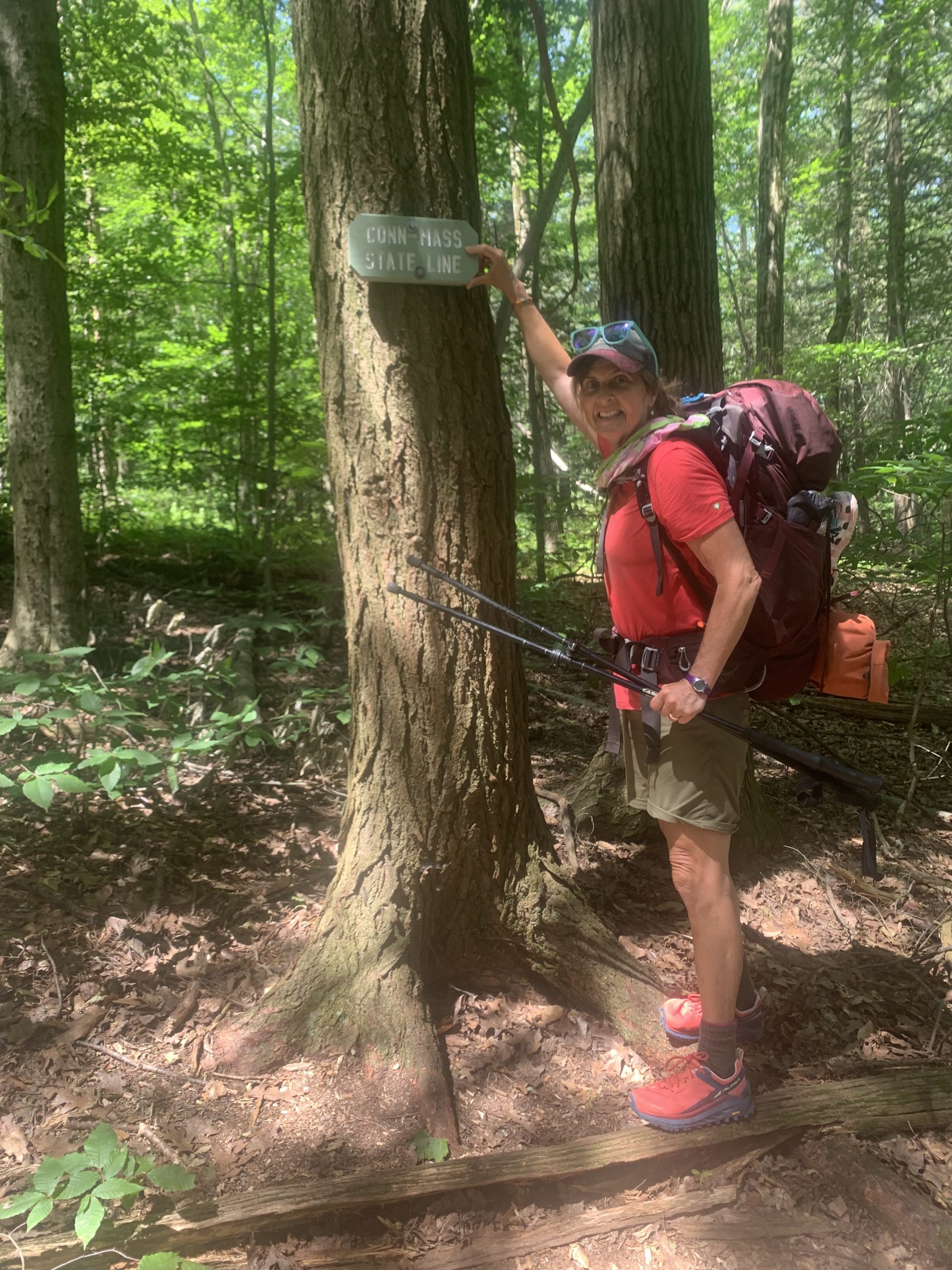 Waking up in Massachusetts.  It was a long day, I'll say a long,  hot day.  I started my morning with the usual routine; coffee, pee behind the perfect tree, put on my sweat dampened hiking clothes, break down camp, and hike.
My day consisted of about 22 miles which included the summit of Mt Greylock.  I was informed that in the past this  mountain was once used for farming,  observational towers,  timber  for various companies, and present day tourism.
Approaching the top there was an incredible dining area that was much needed.  I was able to sit on a "real" patio chair,  eat lunch and enjoy the view.
As I watched people come and go I tried to stay focused on the task at hand;  eat as many calories as possible.  My lunch consisted of tuna, crackers, M and M's and more tuna.
Though,  I could have sat in this beautiful spot for hours, I still had more miles to explore.   I  forced myself from my relaxed position  and continued down the trail.
Sleeping Anywhere
The drive for sleep at the end of the day is real.  The only thing I want to do is curl up in my tent and not move.
This particular evening the trail actually went through a small town, Dalton Massachusetts.  I had already hit the 20 mile marker for the day and I basically just wanted to flop.  Thankfully, as I was trekking with no energy, heat and hunger I saw a tent pitched in someone's backyard.
I eagerly introduced myself to the house owner and asked if I could use a corner of his lawn.  Within minutes I had a place to rest my head.  As I dozed off into a deep sleep,  my last known thought was, "God is good and so are His people."
As morning broke and I peered out of my tent I started to giggle.   I realized I was not the only fortunate hiker.  Many tents had been erected with tired hikers throughout the night and his backyard looked like a campground.
The Trail Buzz Word "500 Miles"
The morale  on the trail is changing.  People are exhausted, tired of hurting every day, yet enticed and motivated to hit the Whites.  The 1600 mile marker has come and gone,  Vermont is next.   I believe the mountains here will prep me for the challenging, breathtaking Whites.
Happy trails to the ones that are still fighting thru to the Whites and of course, Katahdin as the end goal!
Affiliate Disclosure
This website contains affiliate links, which means The Trek may receive a percentage of any product or service you purchase using the links in the articles or advertisements. The buyer pays the same price as they would otherwise, and your purchase helps to support The Trek's ongoing goal to serve you quality backpacking advice and information. Thanks for your support!
To learn more, please visit the About This Site page.