I Have Trust Issues (Days 14-19, Franklin to Fontana Dam, NC)
Before we dive in to the updates – one thing that hasn't come up on the blog before is that I am allergic to peanuts. Not the "Oh I have a bit of an intolerance, now I have a tummy ache" type of allergy, more like the "I had a peanut, guess it's time to go into anaphylactic shock and die within a few minutes" type of allergy. So it becomes difficult for me to hang with the backpacker community, which thrives off of trail mix, peanut clif bars, and peanut butter straight out of the jar. I carry an epipen on the trail, but epipens are intended to give you time to get to a real hospital, so that won't save me if I accidentally eat a peanut 40 miles from the nearest town. With that context, the events on the day before Fontana Dam will make a lot more sense.
Now, on to the updates!
Day 14
Start: Franklin, NC
Finish: Franklin, NC
AT Miles Hiked Today: 0!
Overall AT Miles Hiked: 109.8 
Miles To Go Until Katahdin: 2,079.3 
Zero days are the best. I spent almost all of today horizontal watching crappy movies in our room at the Budget Inn.
Good times at the Lazy Hiker brewery last night! Lots of beer consumed. Too much beer as it turns out, I forgot to close out my tab when I left. Apparently 2 weeks on trail has left me with the tolerance of a 16 year old.
The Budget Inn is right across the street from a screen printing shop, so of course New Hampshire Bob had custom shirts made to announce his candidacy for President.
On the zero day we ate, and ate, and ate. Reindeer and I picked up some raw cookie dough and chocolate milk at the grocery store during our resupply. We ate ourselves silly at the all you can eat buffet, then came back to the hotel and ate cookie dough and drank chocolate milk. Have you ever wanted to be a glutton? Come on out to the Appalachian Trail!
I was asleep by 10, although I heard from Nilla the next morning that there was a big party in the Budget Inn parking lot. Of course everyone knows all good parties happen in motel parking lots, but alas, that's not really my scene.
Day 15
Start: Franklin, NC / Winding Stair Gap
Finish: Cold Spring Shelter
AT Miles Hiked Today: 15.8
Overall AT Miles Hiked: 125.6
Miles To Go Until Katahdin: 2,063.5
Wow! Big mileage day today, almost 16 miles!
We woke around 7 and went to get breakfast, but apparently in the South everything closes down on Sundays. So, I grabbed a turkey sandwich, Pringles, and chocolate milk from the gas station, and that was my breakfast. Sometimes you just gotta improvise!
Nilla, Reindeer, Crusher and I had planned on grabbing the 11 shuttle back to Winding Stair Gap, but since breakfast was so fast, we were able to grab the 9am out. The weather was unbelievable all day, perfect hiking weather, without a cloud in the sky, and we flew down the trail on fresh legs.
Spring has truly sprung, hopefully! There were tiny white flowers lining the sides of the trail for part of the day, which was beautiful.
About 10 miles in, we came to Wayah Bald, which had some incredible views! I tried to take a panorama from atop the tower, hopefully it looks good on the blog. If not, try clicking and zooming in.
I was actually hiking by myself for most of the day today. Reindeer and I have similar mileage at this point, but he was going slower today, so I hiked ahead. It felt like my own little world for most of the day, aside from the shelters I passed and the scenic overlooks.
My plan heading into the day was to get to the 10 mile mark and see how I felt. Well, it was only about 2:30pm, and I was still going strong. So I decided to shoot for the shelter that was close to 16 miles from my start. Reindeer and I made it there around 6, and I proceeded to eat about 1,500 calories for dinner. Man, I was ravenous. I shudder to think of what my hunger will be 2 or 3 months from now.
So, it's just me and Reindeer now. I don't believe Nilla or Crusher made it here, and I know Seltzer stayed about 10 miles back tonight. But our friend Tiny Hippo is here, and we met a bunch of new people. The original group is breaking up a bit, which is a bummer, but we all have to hike our own hike, and a big part of that is not changing our pace for others. I have faith I'll meet all of my friends again up the trail!
For now, I'm going to sleep. The plan is for 10 miles tomorrow to camp just short of the NOC, then wake up and crush some pancakes at their restaurant the next day before doing the legendary 8 mile 3,200 foot elevation gain up to Cheoah Bald out of the gap!
Day 16
Start: Cold Spring Shelter
Finish: Rufus Morgan Shelter
AT Miles Hiked Today: 10.7
Overall AT Miles Hiked: 136.3
Miles To Go Until Katahdin: 2,052.8
This was the first truly warm morning we've had since being on trail. I was able to wake up and hop out of my sleeping bag immediately without putting on my down jacket! Woohoo, Spring!
No soreness at all from yesterday's long day, which is a great sign. We had a slow morning and rolled out of camp at 9:30, not worrying too much about timing because we had a relatively short day ahead, only 10 miles.
Right away, we could tell it was gonna be a hot day. Usually I start hiking in rain pants over my shorts until it starts to warm up, but today I was in shorts right off the bat, and sweating.
We turned onto a blue blaze to the summit of Rocky Bald, which was gorgeous. Not a cloud in the sky all day today which led to some fantastic views.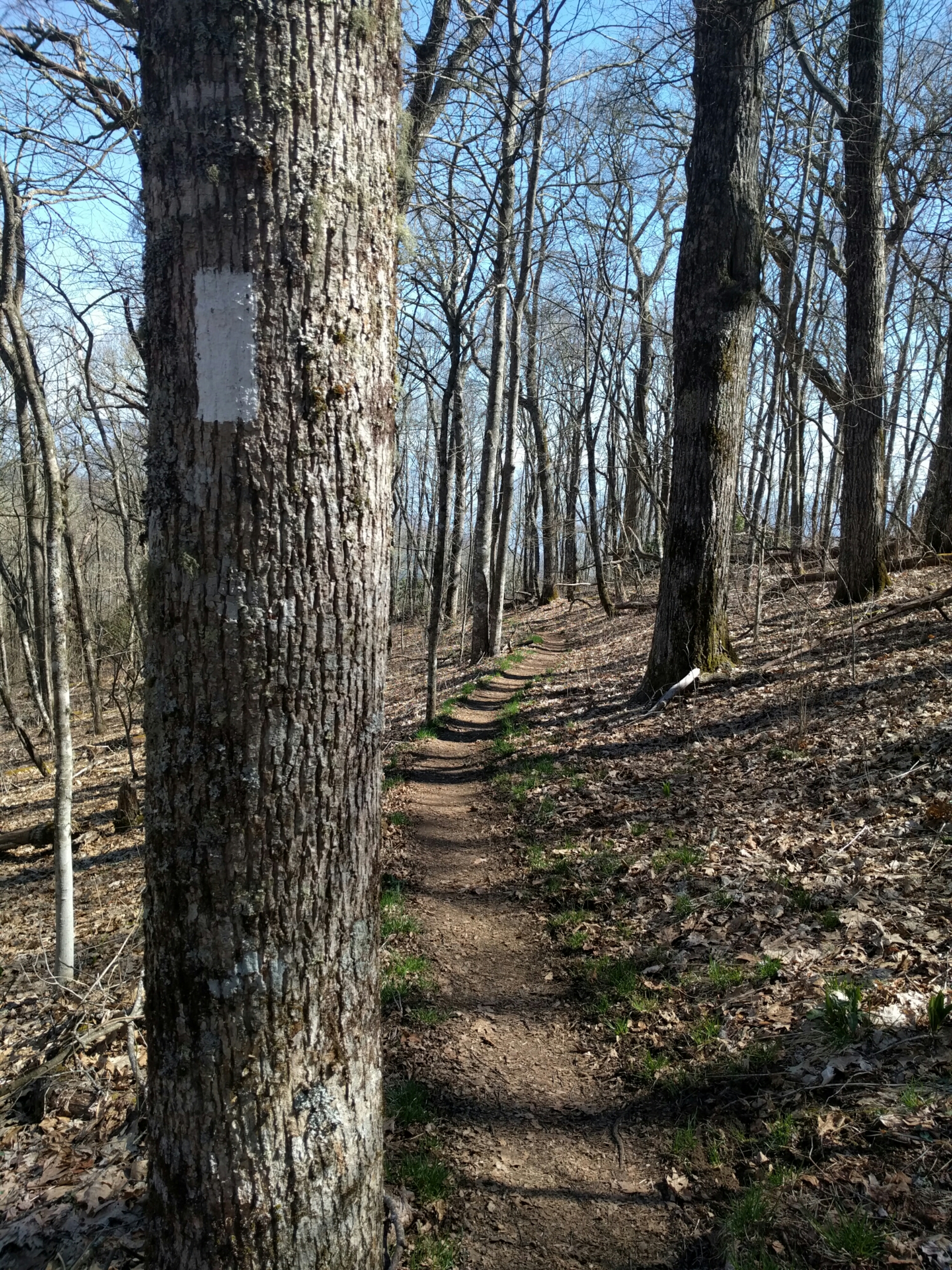 We spent much more time than usual at the water sources today. I tried to chug a liter each time we stopped at a water source. It must have been pushing 80 today at the peak of the day.
Around midday we got to Wesser Bald, which had the best views of my hike so far! 360 degree views as far as the eye could see. Warning: pictures of gorgeous mountains to follow.
The rest of the day was a gnarly downhill towards the Nantahala Outdoor Center (NOC). We drilled from 4619 to 1726 feet, and it was brutal on our knees. Lots of climbing down using your hands for balance.
We rolled into our planned campsite, Rufus Morgan shelter, around 4pm, and decided that we had enough energy to go down to the NOC for dinner. So we did! It was only 0.8 miles, and there is no approved camping near the NOC. So we set up our tents at the shelter and made the quick journey down.
Lots of hikers hanging around the riverfront. Reindeer and I went in to grab some dinner. I had a burger smothered in chili. It was incredible.
.
Now, I'm back at the campsite. The journey back was much more pleasant with a belly full of burger and beer! When I got back I still ate 2 pop tarts and a granola bar before heading to bed. My appetite is out of control.
We plan to grab breakfast tomorrow at the NOC and then tackle the crazy uphill with a belly full of pancakes. We've got to go all the way back up to 4918 feet! And it's supposed to be just as hot and sunny tomorrow. Wish us luck!
Day 17
Start: Rufus Morgan Shelter
Finish: Locust Grove Gap Campsite
AT Miles Hiked Today: 11.3
Overall AT Miles Hiked: 147.6
Miles To Go Until Katahdin: 2,041.5
Man, just as I thought I was getting the hang of this whole thru hiking thing, today came along and just knocked me on my ass.
The day started out well enough. We swung down to the NOC and ate a giant breakfast, I picked up my resupply mail drop from the outfitter, and Reindeer and I started up the mountain.
Up, and up, and up! And it was hot, hot, hot! I was sweating through my shirt by 30 minutes in.
The hiking was super rocky and tough. We were crawling up the mountain on all four limbs at times. And the sun just continued to beat down on us. It had to be pushing 80 degrees again today.
Today, breaks were the name of the game. Every hour it felt like we took a 15 minute break. At the first water source 4 miles up the mountain, we took a big break and I ate about 900 calories worth of snacks.
We took another big break at Sassafras Gap Shelter, about 7 miles up the mountain. We went shoes off for about 30 minutes, filtered more water, and tried to cool off.
We reached the peak (Cheoah Bald) at 3:30, and thank God, because I was dying. All my energy was gone. So much climbing, for the past 5 and a half straight hours. Brutal!
I would love to tell you the rest of the day was easy, but it was nothing but garbage. Climbing down steep rocks and narrow gaps on all fours, until we finally arrived at Locust Grove Gap.
My right ankle was kicking up pain throughout the day. My left shin also was killing me. (Shin splints?) I was miserably hot for most of the day. I was well on my way to being in a funk. And then I remembered that today is Tuesday, and if I was back in Chicago, I would be sitting behind a cubicle staring at a computer screen. My mood immediately improved! I wouldn't trade the bugs, pain, and heat for a sedentary lifestyle right now.
And now I lie in my tent, once again. I've gotten in the habit of lying down and writing out my thoughts from the day before bed each night. It's a good rhythm. I remember the first time I climbed into this tent, it felt like a coffin. Now I look up and it seems a palace. It's my place to escape from the bugs, and the rain, and the cold, and it fits all my gear, with room to spare. It's the most comfortable place in my life right now. So funny how quickly perspective changes.
Day 18
Start: Locust Grove Gap Campsite
Finish: Bush camp 2 miles short of NC 28
AT Miles Hiked Today: 14.3
Overall AT Miles Hiked: 162.0
Miles To Go Until Katahdin: 2,027.1
One thing I forgot to mention last night is that the water source at this campsite was super dirty. It wasn't a good flow and what we could get into our water bottles was cloudy and filled with dirt.
This morning, one of the guys at our camp site had his filter completely clog on him, and he burst his dirty bag trying to force water through his clogged filter. He sees me walking back up from the water with my dirty bottle and filter, and very politely asked me if he could use my filter. A very reasonable request! Hikers helping hikers, right? I immediately respond "Sure!", hand him the supplies, and he trots off to the water source holding my filter and dirty bottle.
Except, I remembered too late that I'm not your usual hiker. I'm a delicate little flower with a peanut allergy.
Remember that peanut allergy I have? No? Come on, it's at the top of this post, I refuse to believe your attention span is that short. I have one of those "immediately swell up and die" allergies to peanuts. Which is not good when every other hiker out here is crushing literal pounds of peanuts each day.
Peanut dust all over their fingers… Peanuts on their bottles… Peanuts on their clothes… Peanuts on their everything. And now my filter has peanut dust all over it. He touched his bottle mouth to the filter, which he probably drank from after eating fistfuls of peanuts last night for dinner. Come to think of it, he probably had a nature valley peanut granola bar at the water source and rubbed the bar all over my filter.
Did I mention I have trust issues?
He trots up a few minutes later and hands me back my filter and bottle. "Thanks!" he says cheerfully, as I immediately drop the filter on the ground, grab my clean water and dump a bunch of water all over the filter and my dirty bottle. I looked like a weirdo, but hey, better safe than sorry, right?
So, that will be the last time I let someone borrow a piece of my gear. It's just not worth the risk. I'll be the unfriendliest hiker on the trail, but at least I'll be alive, right?
That was a long story for an already long blog post! So I will leave you with few words for the rest of today. Enjoy these beautiful pictures!
Day 19
Start: Bush camp 2 miles short of NC 28
Finish: NC 28 / Fontana Village
AT Miles Hiked Today: 2.2
Overall AT Miles Hiked: 164.2
Miles To Go Until Katahdin: 2,024.9
Nero into Fontana Village today! We woke up at 7 and were hiking by 7:30. Usually I take the time to carefully organize things in my pack each morning, but on days where I'm going into town, everything just gets tossed in as quickly as possible.
It was a quick two miles to NC 28, some tough terrain to start, followed by a nice easy path down to the road.
Once we got to the road, it was a little over two miles of road walking to Fontana Village. Or, we could hitchhike. Which we did! Our first hitch of the trip, we stuck out our thumbs and quickly were picked up by the first car that passed by.
The Fontana Village resort is amazing, this is the lap of luxury. Our room is fancy and has lotions and such. So different than the Budget Inn from Hiawassee and Franklin!
We're hanging out on the balcony of the general store with at least a dozen other hikers, waiting for our laundry to finish up. I intend on doing nothing but eating and lying horizontally for the rest of the day. We're gonna try to wait out the incoming rain before leaving for the Smokies tomorrow late morning or early afternoon.
Oh, and there's some kind of propane convention at the resort too, so I'm trying my hardest to come up with inappropriate propane puns for the propane ladies at the bar tonight. Wish me luck!
-Slice
Affiliate Disclosure
This website contains affiliate links, which means The Trek may receive a percentage of any product or service you purchase using the links in the articles or advertisements. The buyer pays the same price as they would otherwise, and your purchase helps to support The Trek's ongoing goal to serve you quality backpacking advice and information. Thanks for your support!
To learn more, please visit the About This Site page.