I smile as I remember my first 24 hours on the AT
For the past year or two I have been attending gatherings with ALDHA-West, assisting with pack shakedowns, and assisting aspiring hikers make their dreams a reality. Not only a reality, but also easier, by sharing advice from what gear to bring to the best way to cross a river with no bridge. It has been a fun and exciting way to stay connected with the long distance hiking community, and make new friends and contacts. Judging from my shaky start on the trail, I probably wasn't the most obvious choice to work with a backpacking organization.
In the summer of 2009 my friend Patrick Kimmons and I decided we wanted to do a "backcountry" backpacking trip. After a hardly any research, we hit the Appalachian Trail choosing a "short" section from Clingman's Dome to Spence Field Shelter: a sixteen mile trek in 3 days. We both brought way too much gear, and were totally unprepared for this adventure.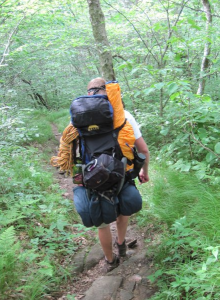 We were the guys with climbing rope attached to our packs, giant camera bags, and survival knives. At the time it was the hardest thing I had ever done; but it was a blast, and changed my life, by introducing me to the trail, thru-hiking, and my first thru-hiker. I do not remember his name, but when we met him at one of the shelters he showed us his Thru Hikers' Companion, and I immediately wanted one. So that Christmas I had the 2010 Thru Hikers' Companion on my list, thinking it was a guide to backpacking in general, not a guide to the entire AT. I was a bit let down upon realizing it was a state by state, mile-by-mile guide book to the AT, I don't even think I knew how to read it.
Fast forward two years and I am on a plane to Atlanta, with the same 2010 guide in my hand and my pack stowed in the belly of the great aluminum bird. This time I left the climbing rope and SLR camera at home, but brought my survival knife, hammock, and quite a few other items at the time I thought were essential for my month-long trek. My plan was to start at Springer Mountain and hike as far as I could in one month; thinking I might make it close to Knoxville and my parents could pick me up and bring me back to my lousy retail job in the mall.
I left a tearful mom and envious dad in the parking lot at Springer, beginning my hike in snow flurries on March 4th. I did 15 miles my first day, and made it to camp just at sundown, surprised at the number of other hikers already there. I set my tent up the first night, too tired to put my tent stakes in. I was rudely welcomed to the Appalachian Trail as wind gusts blew my tent over multiple times, and the following morning was bitterly cold even though I slept in until about 10:30 because I was "on vacation". I smile as I remember my first 24 hours on the trail and laugh at my naivety. The next day I picked up a six-and-a-half foot downed sapling to use as a walking stick since I had no trekking poles, and I carried that very walking stick all the way to Mount Katahdin.
Yes, even a pole-less, survival knife carrying, amateur backpacker out for one month can thru hike the 2000+ miles from Georgia to Maine, with lots of help, pack modifications, and a bit of luck.
Not only did I complete my thru hike, but I have stories for days, some of the best friends you could ask for, and have helped others not to make the same mistakes that I did. 
Since my 2012 AT thru hike I have worked with ALDHA-West, dropped my own pack weight by almost 15 pounds, and completed the 487 mile Colorado Trail with my girlfriend who had never backpacked before. Stay tuned.
Affiliate Disclosure
This website contains affiliate links, which means The Trek may receive a percentage of any product or service you purchase using the links in the articles or advertisements. The buyer pays the same price as they would otherwise, and your purchase helps to support The Trek's ongoing goal to serve you quality backpacking advice and information. Thanks for your support!
To learn more, please visit the About This Site page.