I Think I'm Turning Soft (Days 111 to 115, Fort Montgomery to Kent)
Day 111
Start: Fort Montgomery
Finish: Bushcamp half a mile from Dennytown Road
AT Miles Hiked Today: 15.2
Overall AT Miles Hiked: 1,418.3
Miles To Go Until Katahdin: 770.8
Today was the hottest it's been on trail, by far. I'm sweating just lying down typing this at 8pm.
Reindeer and I had a good night in Fort Montgomery. We ate at a terrible BBQ place (which was basically the only restaurant in town) and resupplied at the gas station nearby. Then we retired to the Holiday Inn to watch the original Fast and Furious movie. What a cinematic masterpiece!
We woke up pretty excited for breakfast. It's well known that Holiday Inn breakfasts are incredible, compared to the truly awful continental breakfast we occasionally get when spending the night at a sketchy trailside motel. We were so looking forward to their magical pancake machine, where you press a button and a fresh pancake comes out a minute later on a fun little conveyor belt. Then, we were devastated – the machine is broken. Still, we fueled up, I managed to get in 3 cups of tea, and were out of the hotel around 8:30.
Hitching is illegal in NY and apparently the cops are dicks about it, so we decided to bite the bullet and just walk the 2 miles back to trail. They're doing construction on the bridge out of Fort Montgomery, so we had a fun little detour where we walked an extra mile trying to get across the bridge and back to the trail. We were both panting and sweating without even being on trail yet.
Thus began the hottest day on trail I've had so far.
It was cool walking over the Hudson on the Bear Mountain Bridge. Gorgeous views to Anthony's Nose and Bear Mountain, not to mention up and down the river.
We started the climb up and out of town, and oh my god were we sweating. It was 90 and barely 10am. I silently cursed myself for not leaving the hotel earlier.
All of the water in New York is basically dry at this point, unless it's a lake. The water sources labeled as dependable in the guidebook are dry 75% of the time. It's brutal to be hiking through NY right now. Fortunately, the trail crosses several roads in this section every day, and there are certain buildings that allow hikers to grab water, so we don't have to carry 8 liters every day. We were planning on going to the Graymoore Spiritual Life Center for water about 6 miles into our day, but a half mile before the turnoff, we passed an unexpected convenience store that had pizza. So, of course we went in!
We killed an hour there then decided we needed to press on. We exited the store and were blasted by heat. This was going to be uncomfortable!
Around 2 we realized that we were probably sweating out more water than we could possibly take in. So, we posted up in a shady spot to wait out the hottest part of the day.
It was a struggle the rest of the day. Fortunately, the terrain wasn't terrible. We got to Dennytown Road around 6. There was a spigot attached to a shed and we celebrated the end of the day by sticking our heads in the blessedly cold water.
We got another half mile before our bodies were telling us to quit, so we found a nice flat spot and bushcamped.
We are hopefully waking up early and knocking out 10 miles before noon, so we can wait out the heat and not kill ourselves like today. Reindeer set his alarm for 5:30. It's set to play Nickelback. Hopefully that gets us moving.
Wait, why does Reindeer have Nickelback downloaded on his iPhone?
Day 112
Start: Bushcamp half a mile from Dennytown Road
Finish: Morgan Stewart Shelter
AT Miles Hiked Today: 19.1
Overall AT Miles Hiked: 1,437.4
Miles To Go Until Katahdin: 751.7
Something big trekked through our campsite at 5am, waking both me and Reindeer. It was either a bear or a serial killer out for thru hikers. We didn't get stabbed, so I have to assume it was a bear. About 30 minutes later, I hear Reindeer's alarm go off. Never made it as a wise man, couldn't cut it as a poor man stealing… Ah, Nickelback. What a great way to start the day.
The mosquitoes were crazy as we packed up. I got at least a few dozen bites. We were walking by 6:15, hoping to do big miles before the heat arrived.
We cruised through the first part of the day. We originally planned to spend the hottest part of the day (2-4pm) at a shelter with water 10 miles into the day. It quickly became clear that we would arrive way too early in our day, the terrain was super smooth and we were flying. We got there at 10:45, and killed a half hour chugging water and figuring out what our next move was. There is a pizza place and deli a half mile off trail in about 5 miles. We would catch some heat by arriving after noon, but it would be as good a place as any to wait out the extreme heat.
We left the shelter and immediately got hit with a steep, hot climb. The terrain also turned tough on top of the next mountain. Not ideal, but we hustled and got to the deli at 1:30.
It was all hikers at the pizza place. Reindeer and I split a large cheese pizza and chugged some cold soda. It felt awesome to be escaping the heat!
I feel like ever since I crossed into Maryland, the trail has been turning me soft. Trail magic, lots of road crossings, soda at gas stations, and now in this section we are getting a deli or pizza place every day between town. Am I turning soft? Guess we'll find out when I get to the White Mountains!
As we were sitting, another hiker named Monarch told us that Katz from A Walk In The Woods is made up. She called him a collection of the hikers that Bryson met on the trail. Is that true?! If so, that is pretty upsetting. Reindeer and I were perturbed.
We hung out in front of the pizza place enjoying the shade and our cold drinks, and the hikers eventually trickled back to the trail. Reindeer and I had done 15 already on the day and were in no rush! We left at 5, after spending 3.5 hours in the shade. I packed out a giant Italian sub for dinner.
The last 4 miles were easy, we were done by 6:30. Great setup at the shelter, with dependable cold water and a nice breeze coming from the west.
Reindeer will head out early, but I'm meeting a friend at the road crossing near Pawling and grabbing brunch. It leaves me hiking during the hottest part of the day to catch up with Reindeer, but I'll be powered by omelette at that point.
Day 113
Start: Morgan Stewart Shelter
Finish: Deuel Hollow Brook
AT Miles Hiked Today: 17.1
Overall AT Miles Hiked: 1,454.5
Miles To Go Until Katahdin: 734.6
I woke up in the middle of the night to what sounded like a mouse messing around in my backpack. I unzipped my tent and took my bag inside, but then I couldn't fall asleep because I worried I just brought the mouse inside! I just can't win.
Reindeer and I woke up around 6:30 and were hiking by 7:30. We flew to the first road crossing where I was meeting my friend Paul. Reindeer moved on and I sat to wait the half hour until our meeting time.
Paul turned up right at 9, and we drove down the road to a local diner to grab breakfast. It was awesome! Breakfast burrito with pancakes and home fries. Breakfast truly is my favorite meal of the day.
After breakfast Paul and I hung out near the trailhead and continued catching up. It's great to be back in the Northeast, where I've got several friends and family members I can meet up with.
Eventually I realized that it was only getting hotter, so Paul and I said goodbye around 11am and I hiked on.
Reindeer was going to meet me at a deli about 10 miles into our day. I hiked fast, hoping to clear the remaining 7 miles to the deli before 2pm.
I was greeted within the first few miles by Nuclear Lake, named from the plutonium research facility that was on the lake in the mid 1900's. The facility was shut down and the area was deemed safe and became a hiking destination. (Still, I avoided drinking the water!)
Most of the remaining trail was flat-ish and cruisable. I had my headphones in and was hiking fast to avoid the heat – it was not as hot as the previous days, but still hot enough to make hiking difficult!
A few miles before the turnoff to the deli, I passed the famous Appalachian Trail stop on the Metro North railroad! This stop only had service on the weekends, but many hikers use the stop to head into NYC.
The deli was awesome. I arrived at 2, and we stayed until 4. The workers were extremely hiker friendly! They let us sit in a side room and eat and drink and watch movies on the TV while the air conditioning blasted us with cold air.
I packed out a big sandwich for dinner, and we headed back out into the heat to clear the next 6 miles to our planned campsite. My left ankle was really hurting for some reason, so I let Reindeer go ahead while I limped down the trail after him. Feels like a tendon issue. I think my body is finally starting to break down.
What a beautiful campsite we have tonight, right near the water! We are camping near a Japanese couple who we have seen on and off for the last month, and a section hiker from NYC named Molly. I ate my giant road beef sandwich and we all chatted near the center of camp. As it turned dark I hurriedly set up my tent and crashed right at 9.
Man, I ate 3 restaurant-prepared meals today. I have eaten restaurant meals each of the last 3 days. The transformation is complete. I am officially soft.
Day 114
Start: Deuel Hollow Brook
Finish: CT 341 / Kent, CT
AT Miles Hiked Today: 12.2
Overall AT Miles Hiked: 1,466.7
Miles To Go Until Katahdin: 722.4
Oh mama, it was another hot one today!
We got rolling around 7:30 and immediately felt like we were walking in a sauna. The air was sticky and awful. We started the day with two steep climbs and I was soaked with sweat.
I was definitely moving slower than Reindeer today. My left ankle was still on fire which is worrisome. I took it slow and as the day progressed it hurt less. I think it needs a day off.
I was seriously struggling by the time we hit the road crossing to Kent. Lots and lots of ankle pain, plus we were walking in what felt like 100% humidity. Luckily, we were meeting the parents of one of Reindeer's college friends, who were picking us up and taking care of us tonight! We hit the road crossing at 1pm and were picked up a few minutes later. The temperature gauge in the car said it was mid 90's outside. Yuck.
We were taken to a beautiful home in the mountains, where Kate and Teo live with their two dogs, Fred and Fozzie. The remainder of the afternoon was eating fresh blueberries, drinking tea, and watching South Park.
In the evening, Kate and Teo whipped up a delicious homemade meal for us! The meal included fresh veggies from the garden next to the house. Unbelievable. So good!
We ate and drank home-brewed beer (Teo is a brewmaster with about 8 five-gallon batches of beer fermenting in his garage). Kate and Teo are both extremely well traveled, so we swapped stories and laughed the night away.
Reindeer and I had intended to hike out tomorrow, but Kate and Teo told us we were welcome to stay for another night. To be honest, my body really needs a day of rest. So, we gratefully accepted their hospitality, and curled up in bed knowing we had zero obligations for our zero day tomorrow.
Day 115
Start: CT 341 / Kent, CT
Finish: CT 341 / Kent, CT
AT Miles Hiked Today: 0!
Overall AT Miles Hiked: 1,466.7
Miles To Go Until Katahdin: 722.4
Man, I love zero days so much.
We were up early, but did what we do best on zero days – we stayed in bed for an extra two hours. Eventually our stomachs forced us to get up, and we made our way into the kitchen for some breakfast sandwiches.
I found out my Uncle Clark is in the area today, so we made lunch plans! He came by the house and picked Reindeer and me up, and we had a great time downtown eating and catching up for a few hours. I miss my family something fierce right now, and for my uncle to come out of his way see me is special. Thanks Uncle Clark!! And thank you Hummel family for the care package!
Quick sidebar, how have I never before had a Monte Cristo? French toast with deli meat and cheese in the middle? It's like something out of my thru-hiker dreams!
We got back to the house and did absolutely nothing the rest of the afternoon. South Park and Futurama and eating as much as possible.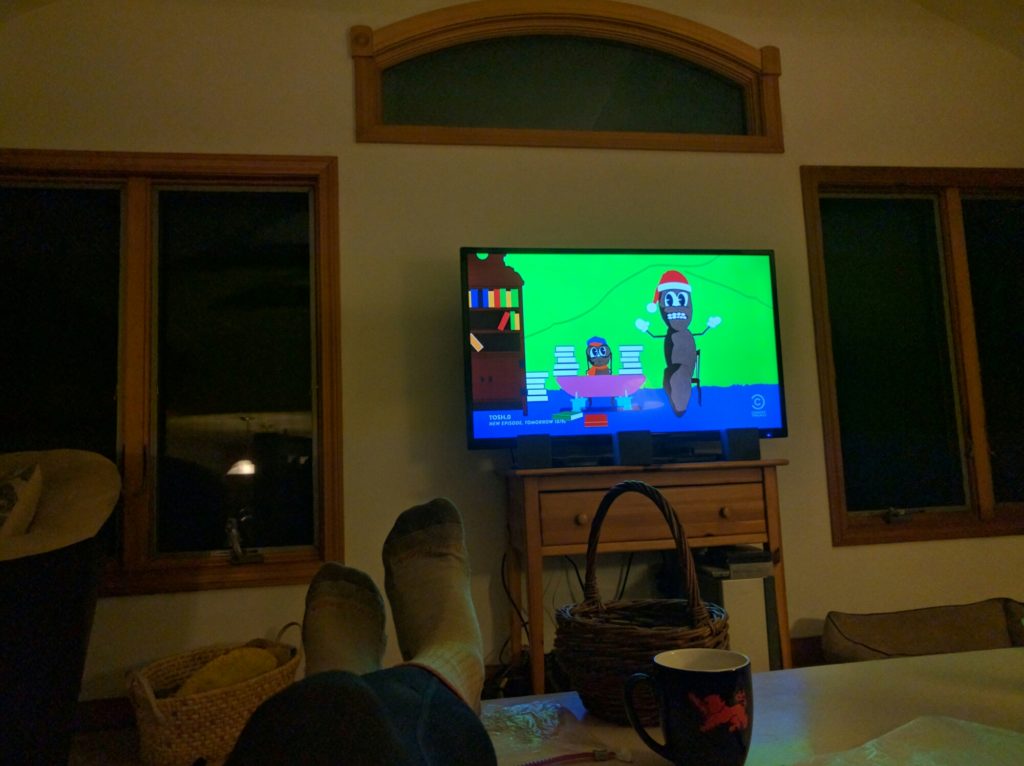 Dinner was another wonderful home-made meal, with more home-brewed beer. Reindeer made desert – blueberry cobbler! My contribution was some Ben and Jerry's ice cream. We were stuffed by the end of the night.
Kate and Teo, you have spoiled us rotten over the last few days. I cannot thank you two enough for taking care of us. This is officially my favorite stop on the entire trail!
Tomorrow is back to the real world. Looks like 4 days to Great Barrington and then 5 days to North Adams. We will soon be back on the lands of real mountains. Until then, let me enjoy being soft for a little longer, ok?
Until next time, happy trails!
-Slice
Affiliate Disclosure
This website contains affiliate links, which means The Trek may receive a percentage of any product or service you purchase using the links in the articles or advertisements. The buyer pays the same price as they would otherwise, and your purchase helps to support The Trek's ongoing goal to serve you quality backpacking advice and information. Thanks for your support!
To learn more, please visit the About This Site page.