I've Got Friends in High Places
Wow, what a great week I've had!  And I'm so happy that you have chosen to follow me on my journey.  Thank you!  It certainly adds to my experience to have your interest and support.
This was my first stretch of seven days of hiking without a zero day thrown in there.  The weather has been fantastic: sunny and cool to warm, with rain just one afternoon and night.  Lodging turned out to be a great mix of three nights under my tarp, one on a wooden bunk in a shelter, and three in real beds (a hostel and two hotels).  As I write this from a cafe beside a laundromat in Peekskill, NY, I look forward to one more night in a cozy, clean hotel bed before continuing my journey through NY and soon, CT.
My plan to gradually increase my daily mileage during the initial month has worked out very well.  My longest day has now been 16 miles, but I still prefer ten to 14 miles, leaving more time for taking photos, chatting with oncoming hikers, and a relaxed lunch break.
Saying goodbye to Short Timer a week ago wasn't unduly difficult, since we'll be seeing each other again in just a few weeks.  We'll meet up in Watkins Glen, NY, to spend a weekend watching son Jon and his racing partner race at the Watkins Glen International racetrack. I'm eager to once again see him racing, which is impressive and exciting.
My first day back to my present pursuit was much slower and quieter than our son's avocation/vocation:  a tranquil, green day of nature.  I only met two hikers, and I found them very impressive in their determination.
The heavier gentleman had tried to lose weight for some time, in order be able to spend some time on the AT, but to no avail.  So he came anyway, all the way from Dallas, and was making a go of it with his good friend, who hadn't been on a trail for 40 years.  Hats off to them for their determination and support for one another!
After this 14.3-mile day, I was picked up by Mosey, a former thru-hiker, who has turned her home into a hiker hostel.
Her warm, helpful welcome was one of the best I've ever experienced on the AT.  She gives very personal attention and assistance to her hikers, since the bunk room only holds six beds.  The company was good, with a friendly group of three from Alaska also there.
The hearty country breakfast and a lift back to the trailhead topped off the experience.
I'm gradually getting on trail earlier now,  thanks to more hours of daylight and the need to walk longer to get in a few more miles than in the past.
This was true on this second day out, too.  The highlights of this 14.4-miler were the superb weather again, being near the highest point in NJ, which was interesting but just didn't warrant the added half-hour trip in my mind, long boardwalks over swampy bogs (helloooo, NJ!),
past lakes where I always thought men were talking, but it was really the frogs,
and a long, leisurely lunch at the "Secret Shelter," a cabin owned by a farmer and former thru-hiker.
Hikers are welcome to rest or sleep over in the little hut or camp on the grassy meadow.  Fresh water from a well, electricity in the cabin, a privy, and a cold outdoor shower are all available.  Hang around long enough and the donkey will visit you.
This day also included a lot of walking beside and through grassy meadows, always a favorite of mine.
There are a whole lot of flowering bushes (blackberry, perhaps?) that are adding sweet perfume to the air.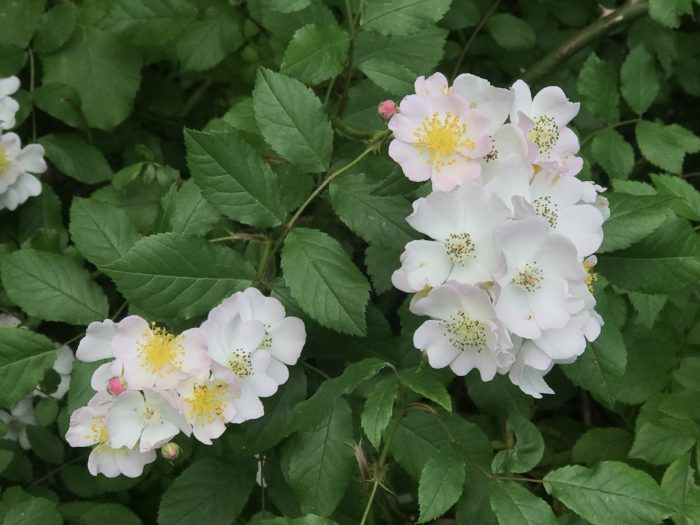 In the late afternoon, the trail led walkers around a protected wetlands area, where I saw cranes and two swans, pretty far away for good photos, which I think was inconsiderate of them.
But the sound of the frogs and the general ambience was a great contrast to forest walking.  I'm enjoying all the red-winged blackbirds I've seen off and on through this hike, particularly in grassy areas.
My day ended at Pochuck Shelter, where I enjoyed a great night of camping. I like to set up my tarp a good distance from others, but join them for dinner and socializing.
A fun group of hikers were there: the three Alaskans, a 17-year-old high schooler (Duke) who I'd see often the next three days, and other hikers I had already met along the way. Fun conversations and laughter ensued.  This is one of the best of the AT experiences.
Perfect weather once again as I walked off and on with Duke, who sported a very heavy pack during his one week on the trail, but is 50 years younger than me and has legs that must extend up to his ears. Fast-walking guy!  So we played catch-up throughout the day.
One section I especially enjoyed was a long stretch, over 1.5 miles of elevated boardwalk above marshy areas. This was beautifully constructed, to give people access without harming the delicate environment.
Duke's and my mutual lunch spot was quite fun:  Mitch's hot dog stand,  just steps away from the trail on a little two-lane highway.
Mitch has all the requisite NJ accent and attitude, which was softened by his desire to talk about accepting and loving one another.  A good guy.
And the icing on the cake (or the catsup on the dog) was getting to meet one of his regulars, Marty, member of the former 1960s group, Jay and the Americans.  I'll always remember This Magic Moment.
With a belly full of my own lunch plus a dog and chips, it was a long haul up the Staircase to Heaven.  A lovely name can't fool me.  It was just a whole heck of a lot of stone slabs we had to climb.
I was surprised at the large number of locals who willingly choose to do this. Several saw a bear along the way, but they keep evading me.
This night's shelter, Wawayanda ("way way yawnda"), was much quieter, initially just Duke and me.  He said he was going to be lonely without all the others, and was surprised when I shared that I'm almost never lonely.  For Duke's sake, I was glad when another young guy came into camp.
Day four, a 12.2 day, presented quite a mix of terrain and conditions:  some smooth and level, some rocks to avoid, some boulders that couldn't be avoided, big smooth slabs to walk across, mostly at the tops of inclines,
very steep hand-over-hand steep climbing,
and a set of rebar rungs on the face of a huge boulder or a small cliff; you be the judge.
Surprising to me, I find I enjoy many of the climbs up the steep rock faces much more than just relentless up a steep trail for what feels like hours (that will come later, I hear).
One highlight was entering my next state.  Just five remain after NY, with the last two (NH and ME) packing the biggest punch of both challenges and beauty.
I met a great pair of young women, recent college graduates, Heather (Bambi for her lovely eyes) and Kara (Swiss Miss for her long braids and cute cap), who became my hiking companions the next few days.  They are flip-floppers, having started about a week ago and going north to Maine, and will then flip back to their starting point and head for Georgia.
Our hiking paces match up pretty well, although we find that they're faster up steep climbs,  I arrive non-winded and ready to continue on immediately.  We also all really enjoy breaks!
Camping at the Wildcat Shelter was enjoyable, with everyone in the camping area in tents, hammocks, or tarps on this beautiful night.  It's fun to see familiar faces you've met earlier.
Just 9.8 miles to get to the Tuxedo Motel the next day, but somehow that now shorter distance still filled the day.  The AT served up a big dose of challenging climbs up rock faces.  I was very happy to be accompanied by Duke, Swiss Miss, Bambi, and later, Jay Squared.  With them by my side, the heights and their ups and downs were fun.
And everywhere, a profusion of stunning wild mountain laurel bushes.  I could fill this entire blog with all the photos I've taken.  But I won't. It just looks that way.
A late afternoon stop at a popular creamery netted a cup of sorbet for me, a rare find.  Ah, this is hiking!
Bambi's aunt picked up the two of them for a stay at her nearby home, and gave me a lift to my modest motel, chosen because it would accept my food box from home.  I'll admit that a shower and laundry were most welcome after three nights of camping.
My plans for 13.6 miles the next day dropped down to ten when the expected rain arrived in the early afternoon.  Since it was predicted to last through the night,  I decided to stop at an earlier shelter and was very happy about this decision,  even though I knew this would add over three miles to the next day's distance.
But before this happened,  I had to slip through the Lemon Squeezer (actually not a big deal),
do lots of ups and downs, go through more  lovely grassy meadows at the tops of the hills, seeing no hikers till noon.
I really enjoyed hiking with the others the previous days, but I'm essentially solo at heart, listening to the birds chirp and the trees whisper in the breeze.  I can spend hours this way. And obviously do.
The looong evening (from 1:30 p.m!) at the William Brien Memorial Shelter was actually quite entertaining.
Already there was a very bright and friendly young fellow (Jacob) who quickly lent a helping hand to other hikers who wandered through.  Arriving when I did was Jay Squared, who I  had enjoyed seeing off and on for days now.  From my position on my top bunk (bunks aren't common in shelters), I observed the parade of others coming through, since the shelter was literally just a few feet off the trail.
There was the NY couple whose accent and outgoing personalities could have landed them parts in the movie My Cousin Vinny;
the 70-something hiker, exhausted and dripping wet from the rain, who decided to push on the 3.6 miles to the next shelter in order to potentially meet up with a friend; and another couple who flipped through so quickly I missed their installation into this version of Canterbury Tales. Two more moved into the shelter for the night: two Navy buddies, one flip-flopping, one a former thru-hiker out for a month to help his pal get started.  One took the last remaining bunk and the other cleverly suspended his hammock from a sturdy timber crossbeam.  Soon,  in dragged a slender, yoga-type guy who already been in his tent in the shelter grounds for hours,  but had to desert ship when the pounding rain flooded his craft.
The last two travelers in this story were Swiss Miss and Bambi, who, seeing a full shelter, bravely set up their tent and hammock, successfully hung their bear bags of food from a branch, and scooped their water from the shallow well.  While the wind blew and the rain fell.  These young women will achieve their goals, with smiles in their faces.
The rain stopped by morning, and I was out by 7:15 for my 16-miler to my zero day hotel in Peekskill, NY.    However, not before I shook out the quarte- cup of cooked penne pasta the shelter mice had stored in one of my boots. Being gluten free, I regifted it to them.
Since this day covered twice the distance as my earliest days on the trail had, it packed twice the punch with big highlights:
the amazing  Bear Mountain State Park, with its views of the distant towers of NYC,
the mighty Hudson River down below,
the tower that provided these views,
its lovely  lake and happy families and kids playing,
the historic lodge,
and the prolific stonework done in the late 1930s.
Just beyond the lodge was one of the most unique quirks of the AT: going right through a small zoo.
The lowest elevation on the trail is right in front of the bears' den.  It looked like it was also the lowest point in one bear's life, given the small, outdated enclosure.
Crossing the Hudson on the Bear Mountain Bridge was a high point for me.
With a couple of hours left to go, up and over a low mountain, I was re-energized by my first big trail bagic.  A thru-hiker on a weeks-long break and his mother had set up a table with free pizza and beers for thru and section hikers.
OK, time to test out gluten!  I truly enjoyed my half piece of pepperoni pizza, and don't know if it was all the hiking or the gluten that helped me sleep ten hours last night.  I think both.  Half a bottle of Angry Orchard hard cider went down well, too.
Staggering slightly, I got up over that last hill, called a taxi and was delivered to my hotel, the Inn on the Hudson, with the lovely view they promised.
Quite a week!  I enjoyed each day, and look forward to continuing on tomorrow. The zero day has fulfilled its purpose: clean body, rested feet, laundered clothing, bear canister refilled with food, solid sleep, restaurant meals, blog done, advance planning continued, and binge-watching in the evenings of the Office, Parks and Recreation, the Big Bang Theory and Naked and Afraid.
It's all fun.  I'm having a ball.
Affiliate Disclosure
This website contains affiliate links, which means The Trek may receive a percentage of any product or service you purchase using the links in the articles or advertisements. The buyer pays the same price as they would otherwise, and your purchase helps to support The Trek's ongoing goal to serve you quality backpacking advice and information. Thanks for your support!
To learn more, please visit the About This Site page.