Ladies, How Can We Empower More Women To Join The Backpacking Scene?
Ladies, How Can We Empower More Women To Join The Backpacking Scene?
As Beyonce would say, "GIRLS, we run the world." Unfortunately, we don't run the Appalachian Trail.
Backpacking is a male-dominated activity. The Appalachian Trail Conservatory recorded 2,000 milers by decade. From 1930s until 2010, a total of 15,524 hikers have completed the trail. Women made up just 25% of the total hike-completions reported. If you want to dig deeper into the facts, checkout fellow female blogger, Stacias fantastic post: https://thetrek.co/girls/ 
If you are a female backpacker you will no doubt identify with this. There are not many of us out here and the few thru-hiking females you do encounter are typically within a largely male group or solo.
Personally, I think most women do not backpack due to a lack of experience. Of course, fear plays a significant role as well as the thought of being a solo backpacker in the woods is daunting. Children and family commitments also play a role in deterring women from backpacking.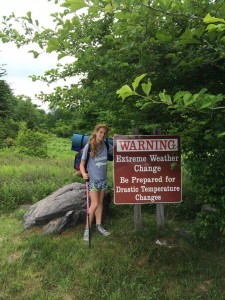 I am the mother of an amazing 11 year old daughter. I feel a strong responsibility to empower her and to set a high bar for the definition of a "strong women". Most of the major media in this day and age portray women who are 90% photo shopped and Its unrealistic. I am sure other mothers will relate to this.
Change only comes from action. How can we inspire other women to join the backpacker community? How can we uplift each other in the process?
For starters, we can begin to share these women's stories with our daughters, sisters, and female friends.
Meet The Iconic Women Of The Appalachian Trail: 
The first ever female thru-hiker was Mildred Norman in 1952. Her trail name was "Peace Pilgrim." To be the first of anything is incredible. This inspiring women went on to walk over 25,000 miles throughout North America.
The first ever solo female thru-hiker was Emma Gatewood, trail named "Grandma Gatewood." She was 67 years old when she completed it – wow! Talk about a bad-ass female role model. She then completed a second thru-hike at age 69 in 1957. She then went on in 1964 to be the first person to complete the entire A.T. three times.
I don't know about you, but I feel like we need less of Kim Kardashian and more of the Emma Gatewoods of the world.
We Really Should Run The Trail:
Ladies, how can we form a stronger community?
I am personally setting out to thru-hike the entire trail this year. Listen, I don't have a Ph.D. but I want to do my small part to help empower more women to do more day trips or even start planning their own thru-hikes.
I came up with the idea of creating a photo story and I need your help.
1. If you are a female thru-hiking the A.T. this year (2015) and are willing to let me photograph you, please reach out to me (jessicageorgiatv @ gmail DOT com).
2. Share or contribute to my KickStarter Campaign here: https://www.kickstarter.com/projects/338448688/women-of-the-appalachian-trail-an-empowering-photo
For the male thru-hikers: Be a little more conscious of the females out on the trail (Most I have met do a fantastic job of this). We are a little more sensitive then your fellow male companions. Treat each one as you would treat your mother. Respect these women and help encourage them.
What Exactly Is This Kickstarter Campaign? 
How I can do my part with what I am best at and a little help from supporters. I was blessed with the ability to write a decent story and capture beautiful images. The funding from this will help me get some more supplies I need and help produce the end product, the photo story.
Yes, it's going to be a challenge in itself to thru-hike the trail as a solo-female backpacker. Not only do I want to show women my story and my struggles but I especially want to draw attention to the other women thru-hiking the A.T. this year.
Why are they doing it? Do they have kids at home? Are they married, single, having a mid-life crisis?!  What are they struggling with on the trail? What do they fear, on the trail and in life?
I want to capture the power of these women within the landscape. I want to photograph their highs, lows, and everything in between, from their tears to their triumphs.
I want other women to flip through the pages of this photo story and to feel like they were right there with us. I want you to look at these women and to feel the pain or the joy they were experiencing in a given moment. I want other women to feel empowered and like they just summited Katahdin with us!
I want these photos to really encompass every emotion a female will endure while thru-hiking in the wilderness and for others to really feel that emotion. Overall, I want this to be a photo story that can educate and inspire other women to get out on the trail. My goal is for a women to be able to identify with another women from my series and think, "If she can do this, so can I!"
Happy Adventuring,
Jess
Affiliate Disclosure
This website contains affiliate links, which means The Trek may receive a percentage of any product or service you purchase using the links in the articles or advertisements. The buyer pays the same price as they would otherwise, and your purchase helps to support The Trek's ongoing goal to serve you quality backpacking advice and information. Thanks for your support!
To learn more, please visit the About This Site page.
Comments
2
Please don't use this web

Support The Hike For Hike's Sake

TO support Hike For Hike's Sake all you have to do is:

Go for one or more hikes, of a distance and duration of your choosing, this year
Not start a highly questionable 5013C that pays for hiking and or yellow blazing 02F's.
Not ask anyone for money to fund your hike (you are free to accept rides, food, or beer if offered)
Not write a book or make a feature film
Not promote an agenda (LNT tips and evangelical hammocking or UL nonsense is ok though)
Not have a website
Promote hiking by hiking and using talking points such as: Nice day!, Hey how's it going?, Have a good hike,
Dispose of waste properly
Keep your partying out of other people's hikes

What you get for supporting Hike For Hike's Sake

A good hike

Thank you for commenting. These funds are not to fund my hike. They are to create the end photo story book. I am fully funding my own thru-hike. The purpose of this is to inspire more women to hit the trail. I have done large section hikes (including a lot of the southern end of the AT among other hikes). I am sorry you feel this is for personal gain. However, I was blessed with the opportunity to take 6 months and thru-hike the trail. I want to take my passions and create something awesome for these women this year. With the hopes it will inspire others to get on the trail too. Thank you for sharing your thoughts and have an amazing week friend!