Learning How to be Alone: My First Three Days on the Northville Placid Trail
Hello, there!
Let me start by giving you an idea of who I am. I'm Rachel, I'm originally from Western New York, and I just graduated from Amherst College with a degree in Geology (like rocks and stuff). I'm a big fan of being outside, from hiking or kayaking to fishing or catching crawfish. Others would describe me as a chronic whiner and full of sassy sarcasm (and a lot of sap). School has kinda always been the focus of my life, with the expectation that a good job will come after.  Now that college is over though, I'm launching into adulthood by hiking the Appalachian Trail instead of getting a fancy job or going to graduate school. I'm finally a grown-up that can do whatever I want, so let's start by going after my longest held dream, sound good?
So how am I going to do it?
I've literally wanted to hike the Appalachian Trail since Fourth Grade. But I've never been backpacking alone. In fact, I haven't been long-distance backpacking in about 8 years. So I'm kind of terrified. But I over prepare for everything, so don't worry, I have a plan. And what is that plan, you wonder?
I'm going to do a shorter thru-hike alone first!
My dad lives in the Adirondacks, and not far from his home passes the 138-mile Northville-Placid Trail. This trail is relatively flat, and runs through some of the most beautiful, and remote, lakes and streams in the Adirondacks. I'm working in the region until early-Fall , at which point it will be peak leaf-changing season up here, and I've decided to tackle the NPT!
But why?
These hikes are happening for several reasons. One is that the NPT is gorgeous and I expect it to be truly magical in the fall. Another is to test-drive all of the gear I plan to use for the AT. The last is to see if I can really handle doing something like this alone (because let's be real, that's kind of scary).
If I can't even handle being alone with myself, how can I expect anyone else to be alone with me on the AT for a portion of the 2000+ miles?
It's no one else's job to make sure that I'm eating enough food and drinking enough water. It's no one else's job to make sure that my bear bag is hung properly. It's no else's job to make sure I feel safe when there are weird noises in the woods at night. I need to know that I can be there for myself.
And so my first three days on the Northville Placid Trail became about learning how to be alone.
The Actual Trek
The first morning of my trek, my dad dropped me off at the archway in Northville to sign the register and start.
The morning of my first day went smoothly. I was on a crazy adventure! I was conquering my fears! I was on top of the world! And then the afternoon happened and I was tired and grumpy and all I wanted was to get to my campsite and be done. I was a miserable sight when I arrived at my camp at Woods Lake, just after the Benson Rd. crossing.
After drinking a ridiculous amount of water and taking a short nap though, my mood improved some. Still though, it was scary to think that after just one day I was already miserable. What about the rest of my hike? What about the AT?
The Problem
That night some heavy journaling and reflecting happened, and I realized the big issue: I started my hike with the purpose of getting to my campsite, of finishing the hike for the experience, and for preparing for the AT. But what happened to just hiking because I like hiking? Of course if all I'm looking for is the end result, then I'll be miserable getting there. But instead, if I'm just enjoying the action of hiking (which is why I'm supposedly doing this crazy thing anyway), then my whole day is giving me that satisfaction. After some sentimental sappy cries, I went to bed in a better mood and slept soundly.
UNTIL I WOKE UP IN THE MIDDLE OF THE NIGHT TO THE SOUND OF SOMETHING SPLASHING IN THE WATER, SOUNDING LIKE IT WAS DYING. That was scary. But obviously I survived. Barely
The next morning when I actually woke up, I was shocked by how quiet my head was, and how ready I was to just walk. I wasn't thinking about the million things I needed to do and the million reasons I needed to do them. My only concerns were feeding myself, packing up camp, and getting back on the trail. Oh, and of course my stuffed animal Penelope the Giraffe. Penelope loved the trail.
But as I said before, I am quite the sappy little thing. And so of course the first hour of my hike was also full of me crying about how happy and grateful I was to finally be actually chasing this dream, AND decently succeeding at it. (I mean, my bear bag was still hanging in the morning, that's pretty great.) The night before I left, one of my best friends told me "Congratulations." He knew how long I had been wanting to do something like this, and how crazy it was for me to have grown so much that I was actually doing it.
Congratulations, Me!
You see, I was one of those super shy introverted kids that followed all the rules and never did anything wild and was content just sitting at home reading. But then life happened, and here I am now! Ready to go hike the world (or at least the east coast), and take on all sorts of adventures! And not only was I taking on these adventures, but I was doing it on my own. And that's HUGE for me. I really should be congratulating myself. So I did and I cried about it and it was great. 10/10 would recommend.
Both my second and third days on the NPT, I lost the urge to constantly be checking my map and guidebook to see how far I had gone and how far I needed to go. I was content to just hike, and know that my campsite would be there whenever it was that I arrived. Loosening my grip on "the plan" and just trusting that it would happen made my hike so much more enjoyable.
Apparently, I'm terrifying.
My second day, sometime in early afternoon, I ran into my first hiker that was willing to chat! (I had passed two SOBO hikers earlier that day that said "hello" but then continued on). I had spotted this guy a while ahead, and I'm not a quiet hiker, so I was sure that he knew I was behind him. But he didn't. So when the poor fellow arrived at a stream crossing and turned, he got his first look at me and HE SCREAMED. And of course I'm a baby, so as soon as he screamed, I SCREAMED. It was great. I was laughing hysterically and he felt bad for shouting at me. It was a perfect first introduction. When we both calmed down, I learned he was just hiking a section to get to a fishing spot, and that we would both be staying at the same lake that night. Our tent sites were far enough apart that we rarely saw each other while there, but it was really nice chatting with him that afternoon and again in the morning when I left. Fellow hikers really are fantastic folks.
That second night, I stayed at a magical spot on Silver Lake.
I arrived at camp early enough that I was able to dry some of my sweat soaked clothing in the sun, and soak my aching feet in the lake.
It really felt like a fairy-tale sitting on the rocks by the water, surrounded by the changing leaves, and later that night watching one of the most beautiful sunsets I've seen.
Sleep that night was more peaceful, and I woke up in the morning ready to carry on. While I was excited to see my dad later that day at my pickup location in Whitehouse, I also wished that I could continue hiking. I felt like I had just finally gotten into my groove, and the trail was only getting more beautiful.
And as much as I wanted to share what I was experiencing with my friends and family, I was really enjoying my time alone. I didn't have to worry about anyone or anything outside of myself. There were no distractions from others or social media or the news.  I could only deal with myself, and my own imminent needs. All I needed to do was hike, drink, eat, and sleep. My life was so simple, and my mind was so quiet, and I think that's what I'm most excited for when I go back.
Day 3 was uneventful, and that's exactly why it was fantastic. I saw beautiful sights on my way into Whitehouse.
I also got my first blister, and was followed by a horse fly for almost a half hour. Damn thing was motivated. If it wouldn't have flown away, I might have actually let it bite me. It deserved it after all it's hard work keeping up with me.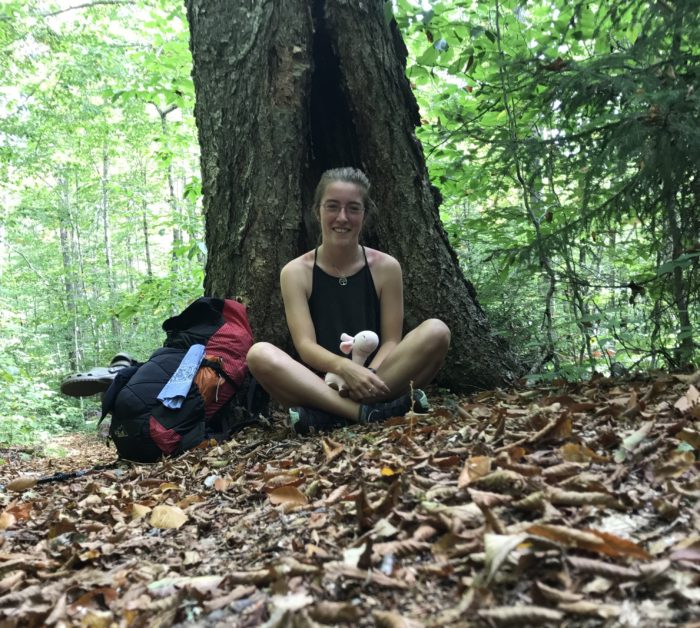 Crossing over the bridge into Whitehouse, I felt strong, confident, and content. Not only had I conquered this hike, but I had an amazing time, and was already looking forward to getting back on the trail. So I am! In a few days, I'll be getting back on the trail in Whitehouse, and heading to the end in Lake Placid. Only 100ish miles to go!  Y'all can expect another post and a million pictures about that trek as well.
See you soon,
Rachel
Affiliate Disclosure
This website contains affiliate links, which means The Trek may receive a percentage of any product or service you purchase using the links in the articles or advertisements. The buyer pays the same price as they would otherwise, and your purchase helps to support The Trek's ongoing goal to serve you quality backpacking advice and information. Thanks for your support!
To learn more, please visit the About This Site page.