Lost and Found: Heat, Hikers, a Hound, and a Husband
Lost:  Heat
OK,  we can kiss summer goodbye. It seems like it happened overnight,   Sleeping outside has gone from comfortable to cold.   That second hurricane certainly hastened the change of seasons.  Although there was no direct hit, this part of the country experienced very strong wind and rain for 24 hours.
 My first night to encounter the sudden temperature change was in a shelter on top of Bald Mountain along the border of TN and NC.  Most fortunately for me, this shelter had two blue tarp curtains that could pull across the front and be secured together with a hook in the middle and rocks on the bottom.
Without that, I would've certainly had the casual wet, windblown look to my inch-long hair.  I was  extremely  grateful for this tarp, but it was hard to sleep with the sound  of the plastic violently flapping in the constant wind.  The next morning it was hard to force myself out of my cozy sleeping bag with the sound of rain beating on the tin roof.
But my reward that day was walking across another bald that was eerily beautiful in the fog/clouds.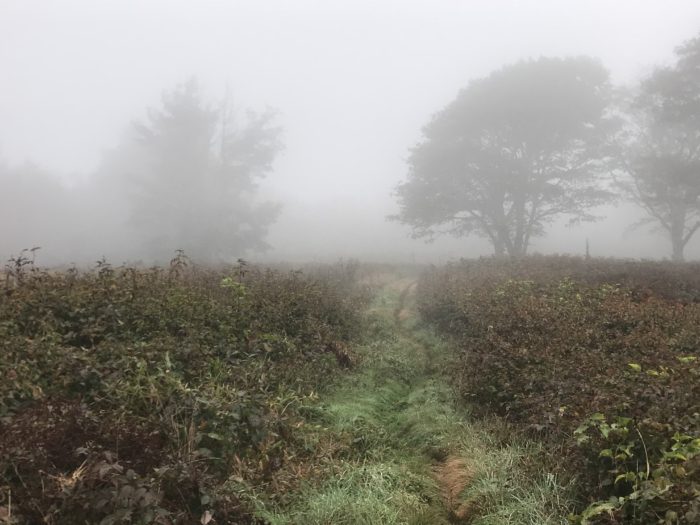 Some kind of bird research and repopulation goes on here. I walked by a blind and nets.
That night, oddly calm and dry, was spent at a very nice hostel, Nature's Inn,  where I was the only resident in the house.
It's a good thing I was there, because the next day's post-Panama City torrential rain and violent winds hit hard. The stream by the house that had been peacefully babbling the previous day was now a raging torrent.
I had an unplanned zero rest day and loved it. The massage chair got plenty of use, and a nap was involved.
Since the temperature had dropped so much and this hostel was far from any stores, I did some "shopping" in what's called a hikers' box (unwanted items left by hikers for hikers),  and found a pair of leggings and a sports shirt that would help keep me warm during future nights outdoors. They are not what I would normally have bought but hikers can't be choosers.
I also found that I now needed to wear several layers and a windbreaker when hiking instead of my summer-weight shirt. My gloves and neck buff also came in handy.  I started sending Bill frequent texts, listing item after item to bring with him during our meet up at Hot Springs, NC.  My backpack is gradually getting heavier, but luckily, my legs are getting stronger.
Lost: Hikers
No,  rest assured that I was not the lost hiker. That would be very embarrassing, especially after the post I made on my blog a week ago.
Late one afternoon, I came across a forlorn-looking fellow setting up his stuff in a corner of a shelter, my planned destination.  It turns out he's originally from Germany but is on a two-year assignment with BMW in South Carolina.  I was catching him at the end of his first (perhaps only?) week on the infamous Appalachian Trail.  He had brought along way too much gear = too heavy a pack.   His feet and knees were absolutely killing him after only five days out, and he hated every hill he came to. Welcome to the initiation into the world of the AT.
The biggest problem, however, was that he had hiked way too many miles during his first days ( a common rookie mistake, believe me, I know this from experience), and continued during that awful maelstrom that I had massaged and slept through.  All his gear was wet.  Worst of all, both his phones were waterlogged and nonoperative.
Offering the use of my phone, he was able to finally contact his concerned wife after two days of silence.  A hostel a few miles up the trail was also located,  where he could catch a ride back to his car and make a beeline for the warmth and dryness of home.  Despite all of this, you could sense that he was an optimistic guy and would have a very interesting story to tell his friends.
I crossed the path of two more lost souls, although they never knew of my presence.  Another backpacker that I passed one afternoon shared that he had encountered two guys who were looking quite perplexed at the shelter just a couple of miles ahead of me.  They had parked their car at an AT trailhead, ready for a multiple day outing, They headed south for five miles.  Unfortunately, they didn't know it was south, because their destination was actually the opposite direction.
The AT can be very deceptive, because of the twists and turns it takes you through.  One day I hiked for well over an hour with the morning sun to my right, while I was hiking south, in AT vernacular.  Toward Springer Mt., GA, = south.  Toward Mount Katahdin, ME = north.  Despite what the compass says.
By the time I came to the shelter, these two hikers had hunkered down in the shelter and were soundly snoring… at 3 p.m.  Why not?  I guess their plans were changed for them.  Many a backpacker has earned the trail name of Wrong Way.
I continued on south to my solo night at a mountaintop campground.
Lost: a Hound
Ah, my favorite lost soul.  Here I was, just hiking along, minding my own business, and this beagle/whatever mix came running down the trail toward me.  Friendly, tail wagging, lovable, and sticking to me like glue.
Around her neck was a collar with her owner's name and number.  A second collar had a receiver attached with a short, flexible antenna that hunting dogs wear, in order to be located when lost.  I could hear the barking of dogs coming from several different directions down the mountain, so I knew where she belonged, more or less.  But there was no way I could get her down there.  Thankful that I had switched from ATT to Verizon last year because of its better coverage on the AT (about 50 percent of the time it works), I called her owner and left a message.
There was no way I could lose this girl, so I just continued heading south, with my new hiking companion.  She heeled beautifully, and, when she ran ahead, she'd periodically stop and wait for me.
It was such a pleasure to be walking with a dog again.  I often miss our two beagle mixes, who were my buddies on the trails in France.  Part of this day's trail had challenging boulders leading up to stunning views in all directions.   Dottie (as I later learned her name was) made this fun, rather than challenging.  She'd scramble up the boulders and look back and me, as if saying, "Well?  Come on up!"
We eventually arrived at our shelter for the night, where there were two other nice southbound (SOBO) backpackers, Bloodhound and Kayak.  We all shared the bits of food that we could spare. Note, however,  that a certain someone was tied up to a post  for a short while under the shelter. This someone continually jumped on the picnic table while the humans were trying to eat their dinner and that's not part of the etiquette of how to share a shelter.
She gobbled down my extra pack of tuna in five seconds, tops.  We were finally able  to speak with the very relieved owner by phone, glad  to know that his American English coonhound was safe and sound.  It was arranged that the two guys would meet him at a trailhead about five miles away the next morning at 7:30, since they liked to start hiking before the sun came up.  We were all happy it would be resolved.
The night turned cold. Poor Dottie was shivering quite severely and just couldn't settle down.  After pulling her onto my air mattress and under my sleeping quilt with me, she settled down and enjoyed her 75 percent of the space.  Her owner had shared that she had been a house dog before being trained to trap bears up in trees, and was very cuddly and lovable.  This was obvious.
Around 5:30, the three of them headed out in the morning's darkness, by the light of their headlamps.  I had to tag along with them a short ways to get Dottie to go.  I then turned off my light and managed to find the shelter again.  After my yoga and breakfast, I was packing up my backpack and feeling nostalgic about "my" hunting dog.  Suddenly, guess who popped her head around the corner! Escapee!  Dottie  jumped happily all over me, as well as the magic pack that had held a tuna fish packet.
Well, at least we were closing in on getting her back to Boone McCrary, her owner.  Leaving another message for him, off we headed toward the south.  Every now and then, Dottie would run off down a side trail, and I'd think, "Well, this time I've lost her."  But I decided to never chase her down.  Let her find me again, which she always did.
Eventually, we came down to a trailhead,  and there was Boone, waiting by his pickup truck, with his three other hunting dogs in crates.  He was a nice guy who obviously loved his dogs, which made me feel better about leaving her.  That poor baby was in need of water, food and a long rest, as Boone was well aware.
But she'll always be my dog.  And I'll always be the hiker she had treed.
Found:  A Husband
And here I am now, in Hot Spring, NC, for a 36-hour reunion with my dear hubby, after five weeks apart.  We have enjoyed exploring little Hot Springs,
as well as a nearby town, Marshall.
We have enjoyed two very delicious dinners out at the Iron Horse Restaurant.  I long for greens, veggies, steaks, eggs and bacon while on the trail, and have indulged in all of that here.  The local diner actually had gluten free bread on hand, so I had the unexpected pleasure of french toast this morning.  A rarity for me!
This afternoon we also took advantage of the well-known hot springs resort, with our own private hot tub for an hour, watching the river slide past us.  Very nice:  relaxing in warm water in the cool autumn air, with your love of your life.  Does it get any better?
Well, only about 3 1/2 weeks left in this year's section of the AT.  Next ahead of me:  the Smokies, which has me a bit apprehensive.  This section involves very challenging terrain, the highest  elevation on the AT, colder sleeping, the requirement to sleep only in the shelters, and a greater chance of bear sightings/encounters.
But I also expect beautiful fall colors and the camaraderie of more hikers.  And I also wouldn't mind seeing another bear or two, as long as they don't get cold and take over Dottie's place under my sleeping quilt.
And, because I'm not on Instagram, I leave you with assorted photos of the beauty that I have been privileged to experience this past week.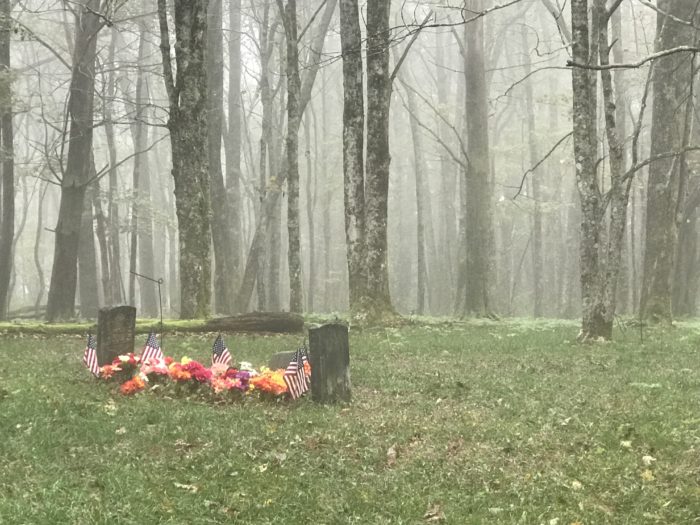 (Grave site  of a Union soldier who came home to see his Confederate cousin and was killed. They're both buried here.)
Morning has broken like the first morning,
Blackbird has spoken like the first bird
Praise for the singing, praise for the morning.
Praise for them springing fresh from the world.
Mine is the sunlight, mine is the morning.
Born of the one light Eden saw play.
Praise with elation, praise every morning.
God's recreation of the new day.
Affiliate Disclosure
This website contains affiliate links, which means The Trek may receive a percentage of any product or service you purchase using the links in the articles or advertisements. The buyer pays the same price as they would otherwise, and your purchase helps to support The Trek's ongoing goal to serve you quality backpacking advice and information. Thanks for your support!
To learn more, please visit the About This Site page.