What Do a Golf Ball, a Pair of Crocs, and an Eeyore Onesie Have in Common? Two Words: Luxury Items!
Pack weight is a really important thing to think about before a thru-hike. So is what you put in your pack. It's how much you'll literally be carrying with you as you trek across the country. SAID EVERYONE EVER! My pack wasn't unbearably heavy, but also I wasn't ultralight. (Defined as under ten-pound base weight according to Google.) Here are the items I packed out that weren't necessary to my survival, but made my adventure much more enjoyable:
Golf Ball
Holy moly. In the beginning of my journey I could tell you how many miles I had hiked that day based on how badly my feet hurt. Once I hit the ten-mile mark they got tired, then slowly deteriorated until I poured weight into my trekking poles more and more, took breaks, and otherwise wanted to be done for the day. It makes sense; I'm slamming my normal body weight + 25ish pounds into them on repeat all day long. They just weren't used to it. My husband and I brought a golf ball and would use it to roll out our feet in the evenings. It was a great relief to do some self-massaging where I didn't have to touch my now-disgusting feet. Since we hiked SOBO and started in the summer, we would roll our feet out and then soak our feet in the chilly water sources. After working them all day, this was such a beautiful relief. It also helped keep our bodies happy and healthy as we walked to Georgia.
Eeyore Onesie
The resupply trip we took right before Halloween was in a Walmart. In the front of the store there was a costume shop, which we proceeded to walk into and find a whole bunch of onesies. This was in conjunction with the first cold spell, so I could not resist a full body fuzzy suit, especially when it came complete with a tail! Not only would it be a hilarious thing to hike in on Halloween, but it would provide some fun PJs for the nights leading up to it. I had NO intention of hiking to Georgia with the onesie, but such is life, right? You make plans and then make better ones later! After spending 5 days with my Eeyore onesie I couldn't bear to part with it. I had brought so many laughs to other hikers and been so cozy at night that it seemed like a great thing to hold onto. While my husband shipped his Winnie the Pooh onesie home, I kept my Eeyore one close by. Extra weight, yes, but also extra fun!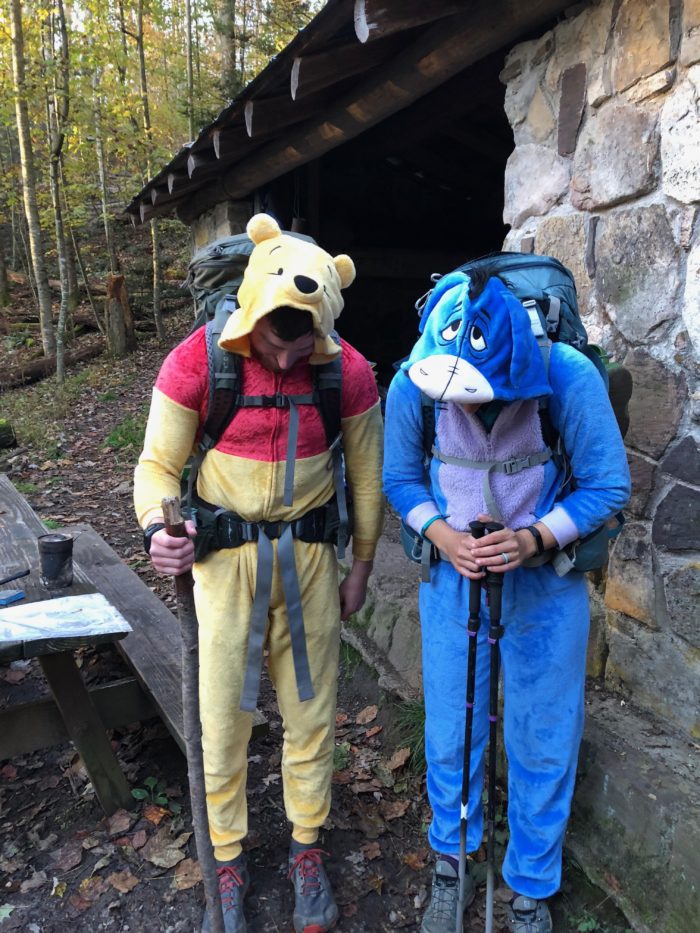 Pillow
My Sea to Summit inflatable pillow made sleeping so much more enjoyable. Weighing in at 2.1 ounces, this weight was more than worth it! I'm a side sleeper, so having my head perked up just a little bit made it so much easier for me to get good sleep on trail. Bonus: Since this pillow is inflatable it took up almost no room in my sleep system stuff sack.
Brush and Conditioner
Alright ladies, or dudes with much hair, where you at? Anyone else start forming dreadlocks after just a few days without brushing your hair? Or have a horrid time in town showering with only shampoo? My hair took a helluva beating on the trail, and after a while I decided I needed to carry a brush and conditioner so that I didn't form the dreadlocks. I tried everything: braiding my hair, leaving it in a ponytail all the time, etc. I think by the time I was almost done it was just so nasty nothing could help it. So every other night I would brush it and whenever I got the chance to shower I would slather it in conditioner. The three-ounce travel size bottle lasted pretty long and I got tiny little cute brush that enhanced my trail name—Flower Power.
Camp Shoes
I carried Crocs the entire way to Georgia. They were awesome in Maine when I had to ford rivers and the whole hike when I just didn't want to wear my shoes after a whole day of hiking. Added bonus was getting out of slipping on wet hiking shoes when I needed a midnight pee break. They were useful on zero days too, when my feet wanted to stretch out and relax or just didn't want to be in my smelly hiker kicks. Also useful during midday lunch breaks when I wanted to air my shoes and socks out! Moral of the story: 10/10 would recommend Crocs as camp shoes.
The Stick
If you're a runner, you've probably heard of this before. It's a self-massage tool that you can use on your legs to help loosen yourself up. Technically, with this and the golf ball, I didn't carry the items. But the joy of having a duo backpacking partnership that was always going to hike together is that you get some efficiencies since there are two of you! I'll admit I did not use this tool nearly as much as the golf ball, but when I was feeling sore I was able to use the Stick and help my legs out. Alex used this much more than I did!
Towel
I only carried a lightweight microfiber towel for maaaybe 800 miles of my journey. It was alright most of the time. I would use it in the summer when I thoroughly washed my feet so that I could dry them off. Alex used it when he rinsed his whole body off after sweating all day. It was also nice to have in towns that had showers but no towels. Overall, I sent it home because I realized it wasn't worth the weight and I didn't need to shower that badly. 😉 This hiker trash photo below was taken in the 100-Mile Wilderness before I even knew what hiker trash really was.
Sit Pad
Pictured below: Alex happily modeling whatever food he has while on lunch break. Having the sit pad literally made anything comfortable to sit on. It also helped keep your butt warm on colder days and dry when things were wet. You could just plop it down and you have a glorious place to sit! Bonus use: Could fold it up and use it as a fan so you could get a fire going quickly.
As always, if you're interested in our current endeavors, follow us on Instagram @adventurous_als. We're currently planning for the Tahoe Rim Trail 2019, eta August!
Affiliate Disclosure
This website contains affiliate links, which means The Trek may receive a percentage of any product or service you purchase using the links in the articles or advertisements. The buyer pays the same price as they would otherwise, and your purchase helps to support The Trek's ongoing goal to serve you quality backpacking advice and information. Thanks for your support!
To learn more, please visit the About This Site page.