I Made it to Georgia.. What Now?
I've been grappling with the words for this post for a bit, but I figured it was time. It's just been over a week since I've been home. Things are a little weird. I keep forgetting I don't need to look at the elevation profile for tomorrow because Ohio is basically flat and I'm not hiking 15-22 miles. I keep checking the weather and realizing it would probably be more prudent to check my email at this point but I guess old habits die hard.
My definition of clean has changed drastically and now when friends complain about the messy state of their apartment I chuckle and reminisce on all the terribly dirty places I've had the opportunity to lay my sleeping pad over the past few months. I've become a neat freak in all other aspects of my life. Having so few items for so long taught me to cherish and care for each and provide each a home and now I want less things and everything I decide to keep must have a home, just like I would if it were with me in my pack.
My body is loving the accessibility to showers, healthy and fresh food, better quality vitamins and health supplements, my bed, and the healthcare practitioners I've needed to see along the trail but didn't have access to. I've even managed to purchase my scrubs and some dress clothes for my nursing job starting soon.
On my trek I lost a little over 20 lbs, but I hope to gain some of the weight back to a more healthy BMI. So far I've done a good job going slow, but I can tell my body is so grateful for the nutrients in all the food, and eager to take it all in. I also grew an inch!
Somehow on my trek I sustained a hernia, I remember vaguely starting in VT, as well as a hip injury in Maine, and my tooth abscess extravaganza in Virginia. While I'm so missing the trail, I'm very happy to be home and in a place I can address these things that have been causing pain for awhile. I tried running yesterday, and was saddened to learn the pain from my hip was far too painful to run with for more than a few minutes. However, I was pleased to find that my lungs felt more than adept at the aerobic activity and had no problem breathing while running even in the cold Ohio night air. I'm grateful to see my trek has benefited my lungs, and I am hoping to find other ways to keep my movement up but in a more pain free manner. Suggestions, anyone? My next thought was biking.
My trek feels completely unreal, almost dreamlike, which I've heard from other thru hikers post trek. The further South I got, the more I realized I would really love to do this again one day, along with the PCT, El Camino, the Long Trail, and some other long distance trails of different lengths. However, I'd like to do them better than I did this trek, as I was a novice with very little experience, despite the countless hours of research and few weekend shakedowns I conducted. Mid Virginia when I was having the blues, I told a group of weekend section hikers I'd never hike a long trail again. I'd be a bomb day hiker and section hiker. But then I began to see the end of my journey coming to a close and I realized how much I really loved the woods. I still miss waking up every morning outside. I miss my trail family giggling from their tents in the early morning. I miss the sound of firewood being broken to start the fire in the morning and the fire crackling in the evening as I hobble into camp. I miss waking up to the sun and being finished with my day as the sun goes down.
I don't miss wearing stinky clothes all the time, or having to put damp, sweaty clothes on every morning in the cold of November. I don't miss shivering away all my fat cells from the cold every night, every morning, and anytime I stopped for a break. I'm so grateful for my hike, but I'm so glad it ended when it did, as I am not well equipped for winter hiking. I miss the days where I could hike with just my sports bra and shorts and sweat all my cares away. I miss the fresh spring water most of all. I know I'll be back, but for now I'm choosing to be so grateful for my experiences and I'm sitting with the knowing that all grand adventures must eventually come to an end so others may begin.
My next adventure is my first nursing job, living on my own, taking care of my healing hiker body, and adulting for awhile until I'm ready for the next adventure! It's already in the works, but for now I'm so excited to begin this next chapter, and so grateful for my time with the trail.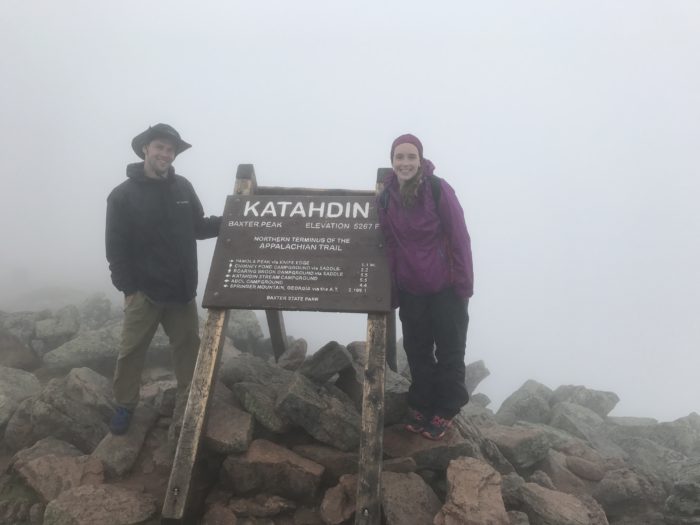 People at home have asked where I finished my hike: Springer Mountain – the Southern Terminus of the Appalachian Trail. I began my trek at the Northern Terminus, Mount Katahdin in Maine on June 6 and I summited Springer November 11. There was also a wedding on Springer The day I summited! My trail friends who I hiked with mostly since Southern Virginia got hitched, and about 30 hikers finished between the 10th and 11th so we could all attend the wedding. It was probably the best possible way to say goodbye to the trail, with all of us being there to celebrate.
I'm working on sending out summit cards to thank everyone who supported me during this time, but I just want to say thank you again to all those who have been with me on this journey. I wouldn't have made it without your support. I am so grateful for each of you, and overwhelmed by the kindness and generosity of others I have encountered while on this trail. A special thanks to the NOBOs Water Boy, Boy Wonder, and Chili Dog, along with a couple others who offered amazing trail magic at the Hickory Flatt's Graveyard our last night on the trail. It will forever be a night remembered.
Here are some of my summit photos!
Until next time,
E
Affiliate Disclosure
This website contains affiliate links, which means The Trek may receive a percentage of any product or service you purchase using the links in the articles or advertisements. The buyer pays the same price as they would otherwise, and your purchase helps to support The Trek's ongoing goal to serve you quality backpacking advice and information. Thanks for your support!
To learn more, please visit the About This Site page.
Comments
5
Yes, try the bike. Works the muscles without the weighty impact to the joints. Swimming is nice too (and your new lung capacity will help).
These also provide a little daily sanctuary away from the annoying hustle-n-bustle of the Muggle world you are reentering.
Congrats!!

Congrats! It has been nice to follow your journey, and I am so looking forward to starting my SOBO hike next June thanks to you.

I would suggest Mountain Biking, trail running (better on the joints), and backcountry skiing as alternatives to running on pavement. Best of luck with the hip and getting back to "normal" living.

Angie you Go Girl !

Emily, Fantastic, Rest – Heal and Remember the Great Times the Fun Times and know that you did an amazing thing. Best of luck with the RN Job and don't put your trail shoes away just yet.

Hi Emily,
I heard a wise piece of advice some time ago that went like this: Before you reach the end of a worthy goal, like the one you just completed, be sure the seeds are already planted for the next, even grander one.
I use this advice after completing my 16,000 mile bicycle ride around the perimeter of the US.I already knew that I was going to paddle the entire Mississippi River, by the time I dipped my front wheel of my bicycle in the Pacific ocean at Lincoln City, OR.
Likewise this summer, when I saw the Gulf of Mexico come into view after paddling 2500 miles, that the next adventure would be the one you just completed, SOBO hike the AT.
This has helped me advoid what I call " adventure withdrawal".Hope that helps!

Congratulations Nine! Was nice to meet you on the trail!