Magic on the Appalachian Trail
Written on June 8, 2019
Today is my 11th day on trail.  I've already experienced so many moments of magic and beauty.  
~Caledonia State Park~
After two sleeps on trail, I quickly discovered I was way colder at night in my hammock than I wanted to be.  The temperatures were hitting about 60, 61 through the nights, and my plan of sleeping under my underquilt instead of having it under me was obviously insufficient.  Looking ahead at the forecast, I saw that there were several nights predicted to get down into the 50s and 40s.  
My mom swooped in like a hero and ordered me a 40-degree sleeping bag so I could put my underquilt under me and snuggle in with a warm bag.  The issue was that I wasn't going to get to a mail drop spot until several days after the 47-degree night coming up.  Looking ahead in my guidebook, I saw that I would be walking through Caledonia State Park, where there was a shuttle service that would drive hikers from the park to Walmart.  I decided my best option was to improvise by picking up a fleece blanket at Walmart to get me through until I got to my sleeping bag mail drop.  
When I got into the park, it was around 10:30, and I called the number of the shuttle service.  The man who answered seemed reluctant to help, saying he was really booked up for the morning.  I told him I didn't mind waiting around until the afternoon if he thought he would have time then.  He said yes, he would call me back later. 
I weighed my options and decided I would be most comfortable with the situation if I paid for a campsite there at the state park and made myself as available as possible for the shuttle service.  It felt extremely important to me to get that blanket and solve my cold sleeping situation.  I paid $34 for my little primitive campsite that was surrounded by RVs.  I took my first lovely shower of the trail and went ahead and washed my hiking clothes in the shower while I was at it.  Afterward, I lay everything out in the sun to dry while I waited patiently for the shuttle to call me back.  
By 4 p.m., all my clothes had dried, and I was starting to feel like I might be getting stood up by the shuttle service.  I started to convince myself that the situation was becoming critical.  I really needed that blanket.  I called the shuttle service back to let them know I had a campsite and I was still available if they were able to help me.  No answer.  Getting worried.  
As a last-ditch effort, I thought I'd give Uber a try because at three days on trail, I had zero confidence to hitchhike.  By a magic stroke of luck, there was one guy in the town running Uber.  He was seriously so kind to me, and even turned off the Uber meter while I was inside shopping so I didn't rack up extra charges.  Then he delivered me right back to my campsite and everything was all taken care of, easy peasy.  I felt so good about my ability to be resilient and solve a problem.  
The people RV'd beside me saw me getting dropped off and came over to ask me about hiking the AT.  We had a great conversation, and eventually they invited me over to their campsite where they made me Italian sausage, and grilled onions and peppers along with a glass of wine.  Generosity abound.
~Strawberries and Good Connections~
The day after Caledonia State Park, I was booking it across nineish miles of Southern Pennsylvania terrain to get to the next shelter before a projected thunderstorm at 2 p.m.  At one point, probably about halfway through the walk, I came to a little cabin by a stream that was available for rent through the PATC.  There was a family staying there, and on a bench beside the trail, they had left a bag of apples and a container of fresh strawberries for hikers to grab as they passed by.  These weren't just any strawberries.  They were plump, deep red, farmers-market-lookin' strawberries.  I selected two of my favorite looking ones, then hopped across the stream to continue on.  The first bite of the first strawberry stopped me in my tracks.  The sweetness!!  Juice dripped down my hand and onto my arm.  I stood still right in the middle of the trail and enjoyed my strawberries fully.  Once I was done my fingertips were stained red and smelled so sweet and delicious.  As I walked the rest of the day I kept smelling my fingertips merrily, and sending gratitude to those people for such a gift.  
That evening at the shelter, more and more people continued to show up as the hours ticked by until there were 14 of us there together, hootin' and hollerin' and laughing.  Everyone talked about the strawberries with lust in their eyes.  That night marked the beginning of me really starting to make genuine connections with other hikers.  The kind of connections where you find yourself sitting at a picnic table still, over an hour after everyone has finished eating, and you're all just enjoying being with each other.  Connections are the true magic out here, and it can be difficult for a getting-in-shape-flip-flopper in a sea of powerful and seasoned NOBOs to be around anyone long enough to connect with them.  I've been very lucky to already be making such heartwarming connections.  
~Bird Medicine~
So far the wildlife has been an absolute gift.  I've had two especially profound moments with birds over the past 11 days.  
The first was with a vulture.  As a backstory, about a month before I left for my thru-hike, I had a vivid dream of sitting at a picnic table with my friend, enjoying life, and suddenly a vulture flew down and started pecking my eyes out.  I was so intrigued that I ended up down a rabbit hole of internet articles about the meaning of vultures in dreams.  I came to this conclusion: a vulture in a dream can symbolize big transformation as "dead" things are being "picked away" to make room for something else.  What is no longer serving you gets removed so more things that will serve you can come to you.  No doubt my hike coming up would facilitate just that!
So on the trail, I was climbing up this incline that was obviously taking me to a ridge. Just as I got to the very top, I saw something big move just up ahead.  I realized that it was a vulture that I had startled into moving from the ground to a low-hanging branch about eye level to me.  I was moved by how massive and graceful this creature was up close.  I stood in awe, watching it be perched while scanning the valley below for several minutes.  I was up so high that I had entered its territory, and I could witness its existence firsthand.  Remembering the dream, and putting my hand on my heart, I bathed in gratitude for the moment, then continued north.  
The second bird was a heron.  My mom's dad, my Grandpa, was an ornery man who I didn't have a lot of opportunity to get to know well.  One thing I did know about him was the fact that he had been an avid fisherman.  I was at a stealth campsite on my sixth night on trail when my mom called me and told me he had been placed in the care of hospice.  He passed the next day.  
In processing the death of one of my family's elders, I felt deep sadness for my family, and a real sense of loneliness that nobody I encountered on trail would ever be able to help.  I was somberly strolling along beside a creek when I saw a tall, graceful heron taking slow, beautiful steps through the water, looking for fish.  A fisherman of sorts.  I stood and watched it move peacefully, and was completely moved to tears, feeling that this was without a doubt, confirmation from Grandpa that I was on the right path.  I stood and watched and cried until there was nothing left to cry, then with a deep breath I was able to continue on, walking a little lighter on the Earth.  
~Boiling Springs~
As a flip-flopper starting at the Mason-Dixon Line, Boiling Springs was the first trail town I walked into.  What a gift that town was!  I paid $2 to take a shower at the pool, and the girl I paid agreed to charge my phone for me while I was showering.  
I picked up a few resupply items at the gas station, and after I had finished the transaction, I noticed a basket of bananas sitting on the counter.  "Dang! I wish I would have seen those," I thought to myself.  The man working the cash register must have read the thought on my face because he grabbed a banana and handed it to me with a kind smile.  "Go ahead," he offered.  "Thank you!" I gushed.  Slowing life down to this pace really opens up space for the smallest acts of kindness to completely fill you up with magic.  
I walked out of Boiling Springs before 7 a.m.  The morning was misty and calm.  As the AT passes through Boiling Springs, it follows the edge of a big pond that sits right in the center of town.  Sitting at the edge of the pond that morning in perfect lotus position was a man holding a strand of mala beads and singing mantras.  We made eye contact as I passed and he held his hands in prayer and bowed to me.  I returned the gesture proudly, my whole body buzzing with love.  
~The Cumberland Valley~
The Cumberland Valley is a 14-mile stretch where no camping is permitted, which made me nervous because I wasn't sure if my body was ready to put in big miles like that so early on in the journey (day ten). The walk turned out to be absolutely delicious as it was entirely flat, and I was breathing in the sweet smell of honeysuckle literally the whole day.  This whole stretch of the trail was alive with colorful flowers and plump berries.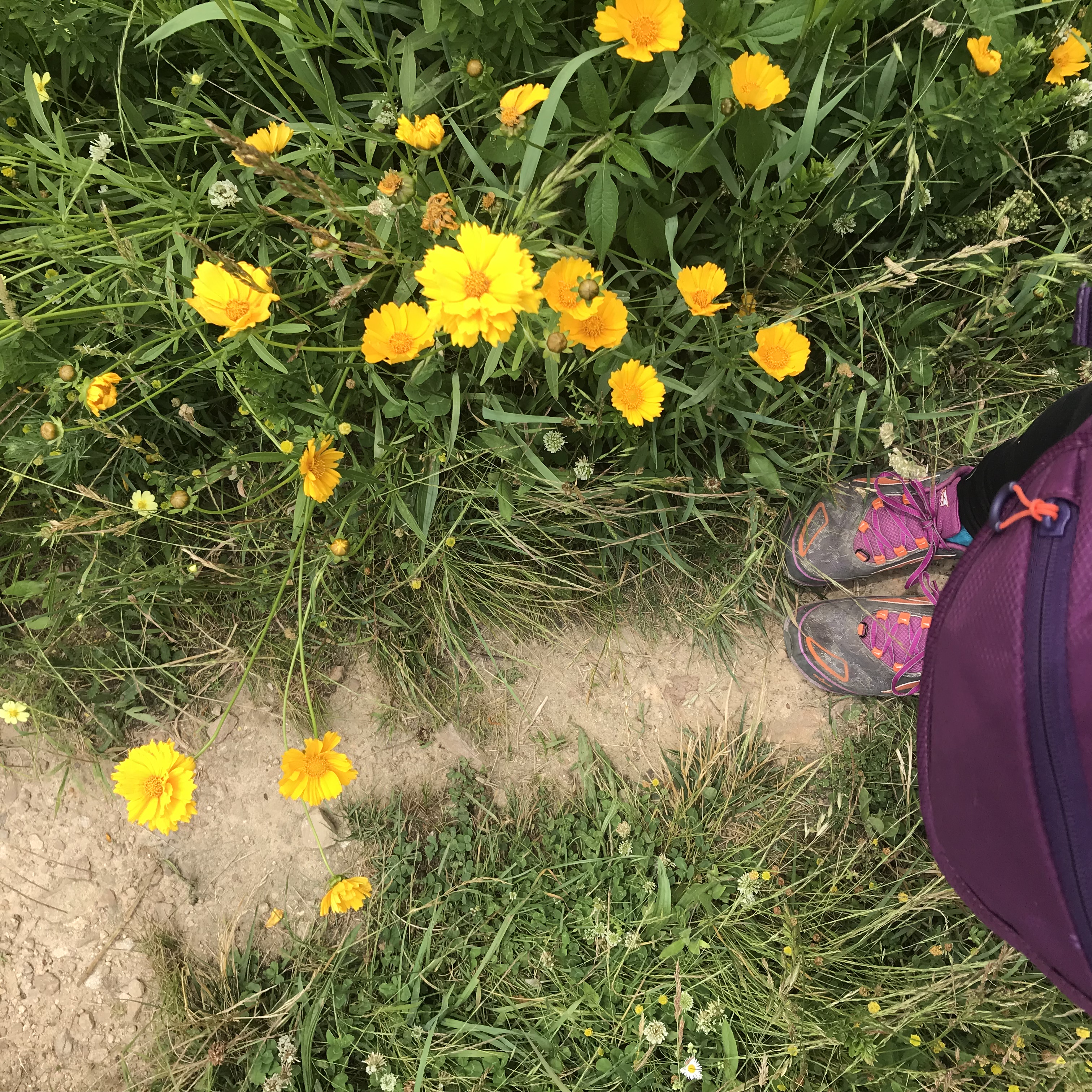 Around mile 11, my feet were definitely starting to feel the long day.  I crossed a bridge and was blasted with cleansing river air, and was smiling to myself as I stepped off the bridge and saw a group of hikers chilling out at the ATC work station.  They waved me over, and as I got closer, I excitedly realized why.  On the picnic table, someone had left a huge Subway platter for hikers.  It was such a welcome blessing that gave me enough steam to push on the last few miles to the shelter.  
The shelter that evening was alive with feminine energy.  Most of the time I'm the only woman in a sea of men out here, which is a scenario I'm familiar and comfortable with.  But that evening at the shelter, including me, there were six women and only one man.  And we had a fire going.  After everyone had snuggled into their sleeping bags, I stood outside my hammock and stared up at the moon.  
I ended my longest day feeling warm and held and safe.  
~Duncannon, PA~

Oh how my body was aching as I trudged along the last few miles into town.  My only thoughts were of cheeseburgers and my first bed in 11 days.  I got to the Doyle Hotel and went into the bar where I sat at a table with four other hikers whom I recognized from previous run-ins and they recognized me too.  QB, at the Doyle, was an absolute breath of fresh air, and I could not have enjoyed her realness or her rawness more.  I put away a burger, fries, and two beers like it was nothing, then dragged my aching body up to the third floor where my room was quirky and all mine.  The building was historic and solid, and QB gave me a room with three windows, winking at me and telling me to tell my mom she raised a polite kid.  
Before I showered, I figured I should hit the gas station and get some evening snacks and a few resupply items.  On the way there I ran into Tricks, an older guy who didn't hike anymore, but who went up and down the trail helping hikers when he could.  After talking for a while, he asked me if I wanted a ride to an actual grocery store so I could have more options at a better price.  He was so generous, insisting I take my time and making sure I had everything I needed.
It is clear to me that my heart is cracked wide open for receiving, and I'm moving along at the perfect pace to appreciate every single blessing at full capacity.  Bless this precious community and all the angels along this trail who do what they can to help us smelly, unruly adventurers have a magical experience.  
Affiliate Disclosure
This website contains affiliate links, which means The Trek may receive a percentage of any product or service you purchase using the links in the articles or advertisements. The buyer pays the same price as they would otherwise, and your purchase helps to support The Trek's ongoing goal to serve you quality backpacking advice and information. Thanks for your support!
To learn more, please visit the About This Site page.