The Mahoosuc Notch and Beyond
2 Aug 2017
Mileage
AT NOBO Miles – 454 miles
AT SOBO Miles –  281.3 miles
AT Total Miles –  735.3 miles
% Complete – 33.5%
Today's Miles – 9.5 miles
Time –  8.5 hrs
Speed –  1.11 mph
Start: Speck Pond Shelter and Campsite
Stop: Carlo Col Shelter
Late start today.  I waited on Vista since we are Shooting the Notch.  However, morning on Speck Pond was gorgeous.
It was like riding a roller coaster.  Heading up to the top from Speck Pond before going over the cliff of the Mahoosuc Arm.   The Anticipation was killing me.
Also, I had my first PopTart of the hike this morning and I think the sugar high had my head spinning as I was hiking.  I don't know if it was the sugar or my fear of the unknown.  I'll attribute it to the sugar…LOL.
The NoBos had been talking up the Arm and Notch like some mystical creature.  How tough it is.  How it takes hours to complete.  One hiker took 10 hours for the 5 mile trek between Full Goose and Speck Pond shelters.
So, like the GSMNP section, I was giving it a deserved bit of respect.  From all of the reports from hikers and blogs online, you would believe that this is the Most Difficult Mile on the AT.
However…
The Arm and Notch weren't what I thought they would be.
I hiked the Mahoosuc Notch and did NOT have to remove my pack…ever!  I had this vision of Big Boulders scrambled down the side of a mountain for one mile.   However, there is very little elevation gain during the Notch.  Big Boulders, yes.
And the potential of getting stuck, yes.  Just checkout Vista. I have a few videos from both side too…  He almost got stuck!
Also, I heard there was ice in the notch.  It was cool down there, but I didn't think ice type cold. But…I did see it.
The route had arrows, but not always were they the best way through.  I sometimes went over vs thru…it worked for me.
I must admit, the Mahoosuc Arm was difficult.  However, it too was not what I envisioned. When I heard slabs of rocks down the mountainside, I expected just that.  However, it was dispersed slabs with other trail features as well.  The best part was that on those really steep sections, hikers have made some trail in the treeline.  So when it's wet, you don't just slide to your death.
As I sit here at lunch at Full Goose shelter, I realize that I'm 5.5 miles from leaving Maine.  Hallelujah!  However, I don't think I have the legs to make it that far today.  The shelter after Carlos Col Shelter is another 4+ miles.
Then this afternoon, I came across WILD Maine blueberries.  I couldn't resist picking some.
And they were good.
Even from a dirty hand…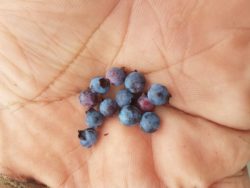 Boy howdy, the weather in the mointains can quickly roll in.  After lunch,  I found myself on peaks with rain storms to the north and south.  It looked like I was in for some rain hiking.  It included some thunder as well…but I made the Carlo Col Shelter before anything materialized.  Then it seemed to blow over.  But I'm staying in the shelter just in case.
Tomorrow, I leave Maine.  So happy to have state number 4 complete.
Let's get ready for…
The Wildcats A-E
The Whites
The Presidentials AKA The Prezies
BTW Ankle Roll #8 today.  And the hits keep coming!  This has to stp
Up-n-Ready
Flip GA to VA
Flop ME to VA
"On the road to Damascus"
bit.ly/Up-n-Ready
bit.ly/Hike4AFEV
Affiliate Disclosure
This website contains affiliate links, which means The Trek may receive a percentage of any product or service you purchase using the links in the articles or advertisements. The buyer pays the same price as they would otherwise, and your purchase helps to support The Trek's ongoing goal to serve you quality backpacking advice and information. Thanks for your support!
To learn more, please visit the About This Site page.