Mail Magic? Trail Magic in Virginia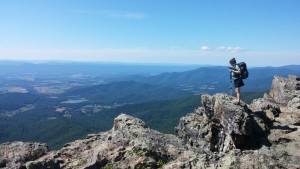 July 1st, 2015
After a long day of chores – resupply, laundry, hittin' up the Dollar General, feasting on rainbow trout and eggs at Uncle Buck's Café, and going to the Caverns only to leave because of the $26 admission fee – Quiet Diet and I arrived at our last errand of the day on the hilly main street in Luray, Virginia – the outfitter. I had found some visibly worn out shoes in a hiker box back in Daleville and after 200 miles, they were worn out even by my standards. I needed some new kicks.
The clerk was incredibly helpful, providing us with shuttle and shower info, getting a variety of shoes for me to try on, and putting up with our stench and grody appearance. As we checked out, she asked, "Neither of you have a package to pick up?" We shook our heads. She laughed and threw up her hands, "I still have like 20 boxes!"
"Well," I joked, "I mean, I'll take one."
To my surprise, she said, "Well, tell me what you think of this," and went into the back. "My staff and I didn't know what to do with this one."
Quiet Diet and I looked at each other, puzzled at what was happening. Were we about to get someone else's package? My eye brows popped up as if to ask, "Can we take someone else's package?"
His brows flattened over his eyes in response: "No, obviously not."
Mine softened and I squinted an eye: "Well, maybe, though. Right?"
Our semi-telepathic debate ended as the clerk reappeared with a small brown cube. She positioned it on the counter for us to examine. "We didn't know if this was a trail name or what, and we can't just open people's mail. It's been here since May."
It was addressed to "Any Long Distance AT Hiker."
"That looks like Magic to me," I said.
"Ok, go ahead and open it," and she handed me a pair of scissors.
Inside there were 2 Reese's peanut butter cups, a 100 Grand candy bar, a bag of Sun Chips, mini powdered donuts, an addressed envelope and a letter. Indeed, as the writer called it, the box was "Mail Magic." The sender of this package, who I will hence forth call Lion Heart due to her initials and her gusto, wished us luck and asked some questions. She is planning on hiking half the Trail next year and the other half the following year, and invented this very creative way of communicating with current thru hikers. So, Lion Heart, here are some answers to your questions.
First of all, thank you for the Mail Magic! It really made our day. Even though the outfitter was very helpful, Luray itself is rather depressing. I am a 26 year old woman who started the AT solo this year on April 2nd and I met Quiet Diet some 170 miles in at Fontana Dam. We have been hiking together since. In 2011, I hiked the first 700 miles, but got off for boyfriend reasons. Ridiculousness. Last year I thru hiked the Pacific Crest Trail, and now I am back on the AT for vengeance. I am writing to you from Harper's Ferry. I needed some time to think about what I would say for advice.
The first piece of advice I have is: listen to people's advice, but do what your heart tells you is right. I've taken a lot of terrible advice (check out losrhodies.tumblr.com for all the bad advice I took on footwear last year).
That said – absolutely 100% certainly fa sho – use trekking poles! Your knees will thank you. They have also saved my ass from many a fall. You'll feel like a weird spider person at first, but they really help balance the weight. Use them like a monkey uses its tail – there is no right or wrong way.
I've taken a lot of zero days, so my average miles per day is very low – like 12 miles a day. However, lately, we do about 20 miles a day when we are away from town. The terrain makes a huge difference. It's nice to set goals, but the Trail is about patience and acceptance. Sometimes you might do more than your goal and sometimes you might do less. I try not to beat myself up when I don't hit my goal. Take it in stride.
If you're going to be hiking from May to August, I don't recommend big leather boots. I had them to start and they were super awesome in the rain, but too hot and heavy to use during the summer. I have since switched to Gore-Tex trail runners. This way I can use waterproof gaiters over them when it rains to keep my feet dry (which I highly recommend), but they are light and breathable in the heat. Honestly, after 4,000 miles, I still haven't made up my mind about footwear.
Even though you are planning to go South from Harper's Ferry starting in May, I think you will still see a lot of hikers. It won't be anything like it is going NoBo, but I think that might be more enjoyable. There are tons of people out here right now, and sometimes it is frustrating. You'll have a different sort of experience, more like the kind you'd expect to have in the wilderness. I don't think you'll be alone at the end of the day, though. We've met plenty of section hikers, and more and more people are flip flopping.
I do think the Trail is safe for a woman to hike solo. Just trust your gut when you're around people, the same way you do when you're at home. It is usually evident pretty quick if someone is a true hiker or not, just by looking at their gear. Hikers look out for each other and word spreads quickly if there is any danger. We're a tight community.
One item I didn't have in 2011 that I love to have now is a little mp3 player I keep in my pocket. Especially on uphills, some tunes help my morale greatly. It's like changing the channel in my brain if I'm stuck on discouraging or negative thoughts. Put some happy tunes on it!
The best piece of advice I've heard is: Don't quit on a bad day. The rain will stop, the uphill or downhill will end. Take your time, get to town, have a hot meal and a shower, then reevaluate if you really want to go home. The first few days, it helps to get from one tree to the next. After that, it helps just to get from one shelter to the next. After that, just get from one town to the next. Bit by bit, it gets accomplished, and soon enough it's hard to believe you've really done all that you've done!
From your letter, Lion Heart, you seem to be intelligent, thoughtful and creative. From the snacks, you seem to know what makes a hiker happy. I think you'll have a fabulous couple of hikes! Please feel free to contact me with any more questions or for moral support!
Quiet Diet's Advice:
1. Don't have an 85 liter pack that weighs 5 pounds (he does).
2. Don't take any wooden nickels.
3. Don't look at the sun.
Sincerely,
John Rambo
FB: TBird Corley — E-mail: [email protected] — Website: hikepast.wordpress.com
Instagram and Twitter: TrailBirdCorley
www.thetrek.co/author/tee-corley/
Affiliate Disclosure
This website contains affiliate links, which means The Trek may receive a percentage of any product or service you purchase using the links in the articles or advertisements. The buyer pays the same price as they would otherwise, and your purchase helps to support The Trek's ongoing goal to serve you quality backpacking advice and information. Thanks for your support!
To learn more, please visit the About This Site page.