Maine travel part 2
9 July 2017
After waiting all afternoon at the bus station eating Pringles and Cheddar Popcorn, my bus finally arrived.  We quickly boarded and they asked who had Cyr bus connectors further north.  Me and one other person raised our hands.  It kind of reminded me of a chalk deployment bus ride where they asked for the troop commander!  Not a good feeling.
Now everyone is looking at us, the weirdos and strangers going further North into the Maine wilderness.  Just us two!
A hiker's diet…not good!  I may have to break into my hiking food if I don't get real nourishment later.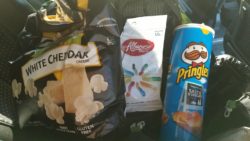 Then we were off…driving to Bangor.  The bus was already PACKED so seat selection was limited.  I found an aisle seat and a nice young lady boarding after me wanted the window seat.  Later I found out that several of the passengers where young thieves in their way to a correctional facility…  maybe we should give them 2 weeks on the AT and I bet they'd be straightened out.
It was a quiet ride.  The girl listened to her iPhone and I took a short catnap.
Transfer Transfer
Whew…that was close.  The bus transfer in Bangor was almost too close for comfort.  This was the one leg of the trip I was concerned with.  But we made it with a little time to spare (at least enough time for a potty break before my next leg).
Arrival in Bangor – 1820
Departure from Bangor – 1830.
There was no way around this schedule because there is only one arrival time in Bangor from Portland and that's 6:30pm!  And there is Only one departure bus to Medway at 6:30pm.
Afer making my airline and bus connections, tonight's accomodations is at Ole Man's place (Appalachian Trail Lodge).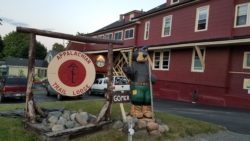 I was picked up at the bus stop by Solo.  He's helping Ole Man this season with shuttle service.   He hiked the AT in 2013 and usually does one long trail hike a year.

He's thinking about doing the Ozark Trail in Missouri later this year.   He is a vandweller like me, but his van is a 4×4.  He likes to backcountry in his van just like he does when he hikes.
And the private room is To Die For!  This is AT hostel at it's finest.  I sure wish the Southern state hostels would have been this nice.

It's swanky!  Almost too fancy for me.
Things to ponder…
Hiking SOBO from Maine at this time if year, it's just like I'm a true SOBO…however, I already have 454 miles under my feet.  But Maine isn't Georgia!  It's going to be tough those first ??? miles.
I know that Katahdin and the 100 Mile Wilderness will take it's toll early on.  And that is quickly followed by The Whites and then NY.  However, it's the stories of the Pennsylvania Rock Pile that keep me up at night.  Hikers are getting beat down through this section of the AT.
While the Georgia AT had me "rocketing to a peak" immediately followed by a "drop in the elevator" to a Gap (rinse and repeat like forever), this Maine Wilderness is austere and the REAL Backcountry hiking.  Resupply points, hostels and other amenities appear to be more spread out.
After highlighting my NoBo AWOL guide book backwards, following along will be tricky…since the warnings and information boxes are at the end of sections.  So, I'll have to stay focused at mile markers and information much further out.  I hope I don't miss anything!
I know I've worked out the initial hiking bugs and I should be ready for this, but once again I've packed my fears.  I have pack Too Much Food.  It will be 12 days max from Katahdin to Monson, but that is only if I crawl the trail.  However, I'm hoping to do 12-14 miles days which should have me to Monson in 8 to 9 days.
So…I'll get "some supplies" in Monson, but I think I'll still have food in the pack.  We'll see…who knows, I could find myself struggling at 8 mile days in the 100 Mile Wilderness…you know those tree roots can take their toll and really slow me down.
Once again, I've NOT created a schedule or plan for this new direction.
Also, I'm looking forward to crossing paths with my hiking buddies still heading North which will be the icing on the cake.  They'll be within days of reaching the Katahdin Summit…Exciting for them and I'll get to draw on their JOY to help push me south on my FlipFlop.
BTW – since I'm starting at Katahdin, this could become a True SoBo hike!  What would happen if I just continued past Damascus (the point I reached on my NoBo?)   I mean what could happen besides myWife killing me?
But…that's still too far in the future to think about right now.  AND I'm looking forward to meeting up with our friends in the Damascus/Brsitol area when I finish this trek.  They are going to help me celebrate since I won't be summiting Mount Katahdin or Springer Mountain.
So get ready Tony&Brenda Powers and family, Amy Johnson Arnold and family, John Christian and Bob&Toni Williams, I should be back in your area sometime in September, October or November! But no promises on a firm date. LOL
Affiliate Disclosure
This website contains affiliate links, which means The Trek may receive a percentage of any product or service you purchase using the links in the articles or advertisements. The buyer pays the same price as they would otherwise, and your purchase helps to support The Trek's ongoing goal to serve you quality backpacking advice and information. Thanks for your support!
To learn more, please visit the About This Site page.