Max Patch
Day 141
We slept very well and were happy with our decision to push into town to stay in a warm bunkhouse.  The temperature this morning is in the low 20s with the high for today of 34 degrees.  With the hostel only steps from the trail, we were not in a hurry to start hiking and we lazily ate breakfast.
Finally just before 9AM we set out into the cold.  We passed several people in the morning hiking down to Hot Springs.  They looked cold, miserable and defeated from what was likely a long night on trail.  We kept thinking that could have been us, defeated from trying to put away our frozen wet tent and hike on in the morning.
As we climbed out of town the terrain resembled more of a winter wonderland. There was no more than an inch of snow but we enjoyed the stillness of our surroundings.  We also enjoyed creating scenarios from the stories told in the snow.  Animal prints were much more visible.  The turkey prints reminded us of little roaming dinosaurs.  We could see the prints of small mammals like rabbits and squirrels scurrying and possibly being tracked by coyote or fox prints.  Also we saw bear prints! Near the two different sets of prints (possibly mother and cub), there was digging through the snow and leaves, they were likely looking for some sort of acorns.  It's amazing the stories the snow can tell.
Due to the sub-freezing temperatures, our breaks were shorter than usual.  It was best to keep moving to stay warm.  At shelter we quickly laid out our sleeping bags and layered up then crawled inside.  Hayley had 3 shirts, 3 pairs of leggings/pants, 3 pairs of socks, neck buff, hat and 2 sets of gloves. It was just enough to hold off the worst of the cold. Backtrack showed up shortly after and followed suite.
We heated up water to enjoy some hot drinks and cooked from the comfort of our sleeping bags.  Once inside the bag was a tough decision to leave for any reason, including the bathroom. We didn't stay awake long and curled into the warmth of our sleeping bags.
Day 142
Temperatures dropped to the low 20s but we stayed warm bundled up in our bags.  Again we can't stress the importance of not only buying the right gear but also quality products.  We had stuffed our shoes, electronics, and water at the foot of our sleeping bag to avoid them freezing overnight. Even being inside the bag there were still some ice crystals forming in the water.
The fog had lifted overnight to a clear starry sky.  It was challenging getting up in the cold but we had a goal for the morning. We set off just before 6AM under headlight.  We enjoyed the beauty of snow crystals sparkling around us as we ascended towards Max Patch.  As we got near the ridge, early morning colors started to appear. We pushed on, quickly ascending to the bald summit of Max Patch.
We enjoyed an amazing sunrise.  We were surprised to have the summit to ourselves and thankful there was no wind.  Max Patch provides incredible 360 degree views.  To our south, we could see the high peaks of the Smoky Mountains a little over 15 miles away.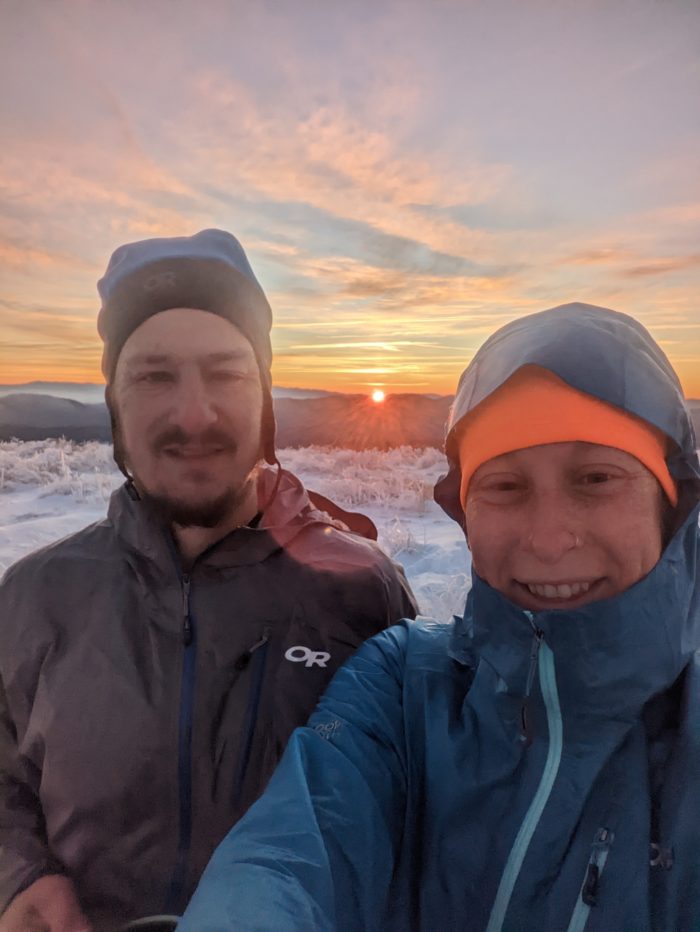 We enjoyed our sunrise, dancing around to stay warm, as well as enjoying a quick cup of coffee. We couldn't stay forever so we descended off the bald back into the forest.  The trail was still unbroken and covered in animal tracks. We spent many minutes discussing and theorizing the stories told in the snow.  The trail then ascended up to Snowbird Mountain summit which houses a communication building. We stopped for a quick break noticing how slushy the snow was starting to get.
The trail descended down into Davenport Gap.  The sun had warmed up the terrain and we started to pull layers off. As we got below 3000 feet, the snow was completely gone or possibly had never fallen at all! No more winter wonderland.
We met Hayley's parents, Barbara and Duncan, and headed to a hotel in Sevierville, Tennessee. We were so excited to have a warm bed and to get our clothes washed. The hotel was very comfortable and we are looking forward to a few days off trail!
Affiliate Disclosure
This website contains affiliate links, which means The Trek may receive a percentage of any product or service you purchase using the links in the articles or advertisements. The buyer pays the same price as they would otherwise, and your purchase helps to support The Trek's ongoing goal to serve you quality backpacking advice and information. Thanks for your support!
To learn more, please visit the About This Site page.