Meanwhile, in Virginia
Day 66
We had been waiting our entire hike for this day. It finally happened. We met Mother Nature and Between! A mother and son duo from Germany, they started the same day that we did, but we had only seen one another once while traipsing the sidewalks in Hiawassee, Georgia, not knowing who each other was. We had been behind them, then ahead of them, then behind them again, always hearing about them from other hikers, and always just missing out on meeting them. They even walked within 100 feet of our tent one morning while we were packing up, unbeknownst to us! But on this day, after more than 800 miles, we finally met!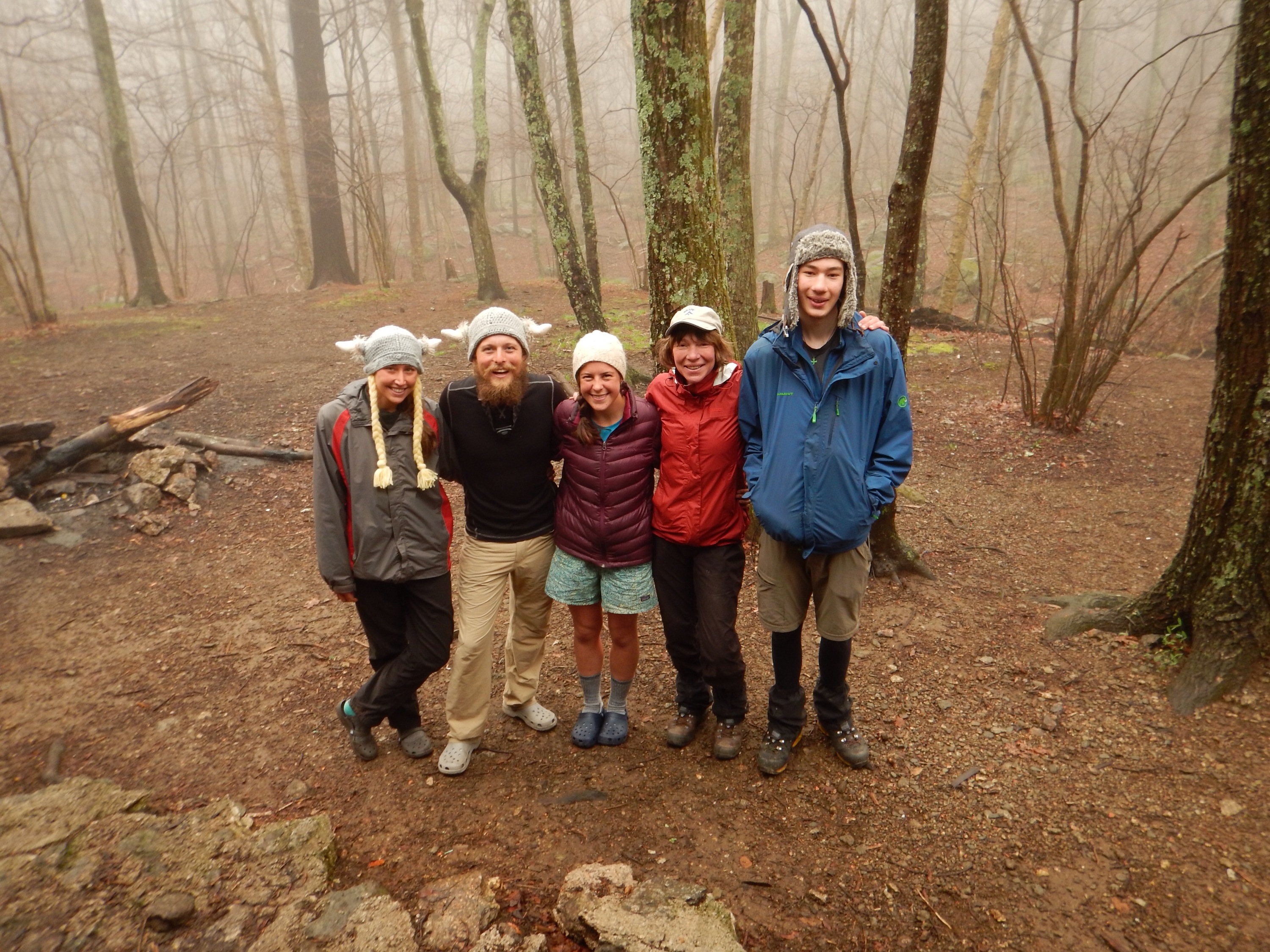 It was a long day of hiking. When we stopped at a shelter for a snack after 16 miles, we found a note from Ironman luring us to catch him with a special treat. We imagined what it could be, and where he would finish that night. Knowing he wouldn't go further than the shelter six miles up the trail, we resumed hiking with smiles on our faces and expectations on our brains.
The last six miles was harder than we imagined. We hiked up a mountain that would not quit. Every time we thought we had reached the top, we climbed over the edge only to see another mountain leering down at us. After this happened countless times, teaching us to always be expecting another summit, the trail headed down, just as thunder started booming from the sky.
We caught up with Eddy on the descent and the three of us scurried to the shelter, certain we would find Ironman with our candies (the treat was undoubtedly food). It was sprinkling when the shelter was finally in sight and we saw movement inside! Though it wasn't Ironman, we were not disappointed to see Mother Nature and Between propped up in their sleeping bags!
Day 67
"Fourteen miles after four P.M.?!" I wasn't convinced but both Nate and Eddy were as enthusiastic as two yippy, micro-dogs, bouncing up and down on the dirt in front of the shelter. Ironman had left us our treat in the shelter where we took our lunch break and left us a note directing us to where he would be spending the next couple of nights. The treat was six chocolate chip cookie bars that were heavenly. They tasted as though there was a spoonful of vanilla ice cream in every bite. The treats inspired Nate and Eddy to hike further and faster than we ever had. Fourteen miles after 4 P.M. so that we ended up at the same shelter as Ironman. I let them know that I did not think it possible, but I would try.
Two miles later, they had changed their tune. "Maybe we won't catch Ironman tonight," they confessed. "We can just meet him in Waynesboro in a couple of days." That's what I said from the beginning.
With our newfound idea of not sprinting up and down mountains, we had time to take a side trail and scramble up Spy Rock for a view. The sights were unbelievable, with 360-degree views of fluffy, white clouds against striking blue skies. The bugs were unbearable, swarming around our heads and threatening to bite any exposed skin. We slid down what Nate had renamed Fly Rock and continued along the AT.
Day 68
We were worried. Could Eddy have fallen off of the mountain? We asked everyone we passed–and there were a million day hikers out today–if they had seen her ahead of us, and no one had. Eddy left the shelter a least fifteen minutes before us. Our only consolation was that, with all the day hikers, she would not be alone if something went wrong.
In order to meet Ironman in Waynesboro early the next day we needed to hike at least twenty miles today. Those twenty miles included a 3,000 foot descent followed directly by a 3,000 foot ascent and too many curious day hikers to count. Nate, whose trail name should be Chatty Cathy, feels compelled to talk to each and every one of them. There is a definite bonus in that: free food. We barely ate anything from our packs all day. We were handed Oreos, juice, Samoas, granola, beef jerky and fresh vegetables! But there is also a downside to so many day hikers: time. We must have stopped thirty times and spent at least two hours talking along the trail. It's wonderful, but on this day we had miles to make.
We hiked 14.5 miles before we stopped at a shelter for a rest and a snack. Hoping that we were out of the day hiker zone, we approached the shelter with caution. I cringed when I noticed a dog running loose around the picnic table. More day hikers. Needing a rest, Nate and I decided to continue to the shelter and we plopped ourselves down and tore off our shoes, facing a couple who were relaxing on the picnic table. I attempted to text Eddy while Chatty Cathy shared our story and learned what brought the couple to the trail on this day.
We learned that the man was a 2002 thru-hiker, with the trail name of Red Oak. His lady friend was a certified massage therapist. More than once, I caught her stealing glimpses of my feet, her forehead burrowed in worry. Finally, she revealed her profession.
"I'm a massage therapist. Would you like a foot massage?"
I appreciated her offer, but I couldn't put her through that torture. "Thank you so much, but my feet do stink."
"Well, that's okay," she shrugged her shoulders.
"I haven't taken a shower in a week," I elaborated.
"There's a creek right there. I can wash my hands when I'm done."
I got a free, professional foot massage.
Afterwards, as Red Oak and his masseuse were leaving the shelter, we saw a figure coming toward us. Clad in blue with a giant pack bouncing behind her was Eddy! She explained that she had stopped to make a phone call before our 3,000 foot descent and that we must have passed her then. While we were rested and ready to tackle the next six miles, she wanted to take a break. We agreed to meet at the designated campsite.
Nate and I passed parking lots full of cars and a few more day hikers before we crossed the Blue Ridge Parkway and entered a small boulder field. The trail was covered in rocks, big enough to step on, but angled enough to cause a sprained ankle if we hurried through them too quickly. We slowed down our pace and watched the sun begin to sink behind the trees. A few miles later we heard people talking around the bend. It sounded like there were a good many of them, and when we rounded the corner we saw why.
The trees went away, leaving an unhindered view of the sunset beyond the mountain ridges in the horizon. There were huge rock slabs on which to sit and watch this wonder and every seat was taken. With no time to spare, Nate snapped a picture over his shoulder as we raced by, smiling and waving to the families and couples picnicking on the rocks.
Day 69
Ming Garden in Waynesboro is a Chinese buffet that anyone who eats Chinese food would describe as heavenly. I don't eat Chinese food.
Just beyond the door is a koi pond, complete with a wooden, arched bridge. There's a fish tank big enough to entertain an entire line of hungry buffet-goers. And there's a corner of the restaurant where they hide the hikers.
We scooted 14 miles to Rockfish Gap, where we expected to have to hitch a ride into town. When we got to the road crossing, we were surprised to find a list of trail angels, those who offered hikers a ride into town for little or no money. I recited the first number and Nate dialed. No answer. I began calling out the second number. Meanwhile, Eddy was set on hitch hiking. She threw her thumb out at every passing car.
"Eddy, stick your thumb out to this girl on her bike!" Nate suggested. She did.
"I'm just kidding. I know you're on a bike!" Eddy laughed as the woman pedaled by. She smiled, passed us and craned her neck to look back at us.
"I do have a car if you need a ride!"
Eddy got us a hitch from a bicyclist.
At Ming Garden we met up with Yoyo and Tweet, Stretch, Mother Nature and Between, Ironman and a southbound hiker named Slingshot. There were nine thru-hikers and we still couldn't make a dent in the buffet offerings.
After nearly three hours of chowing down, Nate's budd Nick came to chauffeur us to his home. He lives just outside of Waynesboro and offered us a place to stay as soon as he heard we were going to thru-hike the trail. His place was amazing. We were able to take showers, wash our clothes, sort out a resupply and sleep in the most comfortable bed yet. Waynesboro was also the place we decided to have our next pair of boots shipped to us, as well as my new pack and our new sleeping bags. We had a lot of equipment to exchange!
I stayed up later than I wanted to that night trying to stuff all of my gear into my new pack, which is 15 liters smaller than my original pack. I sorted out what I truly didn't need and arranged it in a box that Nate's mother would pick up in a few days. Once my pack was full, I flung it over my shoulders to see how it felt. Never again would the fin on my back or the knots on my shoulders be rubbed by an ill-fitting pack! With our new gear, we were ready to tackle the Shenandoahs.
Affiliate Disclosure
This website contains affiliate links, which means The Trek may receive a percentage of any product or service you purchase using the links in the articles or advertisements. The buyer pays the same price as they would otherwise, and your purchase helps to support The Trek's ongoing goal to serve you quality backpacking advice and information. Thanks for your support!
To learn more, please visit the About This Site page.