Mile 1891.8 – Mile 2075.3
Mile 1905.8
Today was pretty rough. I left the hostel in the rain and the rain didn't stop all day.
The boards that go over the bogs are getting worse. I wonder if this Northern NH section just isn't cared for as much since it's not part of The Whites. Most of the boards I went over today were either broken or submerged. I assume maybe they're submerged because of the rain. I ran into a south bounder and he told me that just a couple miles back he had stepped on a board, it sunk and he fell into one of the bogs a little over waist deep. He said he wasn't even touching the bottom and was able to grab a board to pull himself up. I just really don't want that to happen to me.
I really wanted to make it to the Maine state line tonight and drink the beer I packed out. But I'll just drink the beer now and get to the state line in the morning. No sense in carrying the extra weight any longer.
Mile 1915.0
Zonked. Exhausted. Pooped.
I made it to Maine and Maine has started off by kicking my ass. Everything is still super wet. It takes a really long time to descend on a slick slanted boulder. Today the boards were somewhat better and there was even some rebar ladders for convenience. Honestly, I think they should have ladders built more often. It's really scary coming straight down an angled rock. I feel like I know how to shift my weight a certain way but I also keep thinking I'm going to get cocky and slip and fall 20 feet.
Here's a photo of my cold and wet socks and shoes. My least favorite part about thru hiking –

I'm camped in the Mahoosac Notch. It's a 1 mile section in between two mountains. It's a huge boulder field and the trail goes up and over and sometimes under the boulders. I honestly was just terrified the whole time. I've heard people describe it as a jungle gym. I mean, I guess it is in a super terrifying, irritating way. If you misstep, you're falling hard and on sharp jagged rocks. I kept picturing myself falling through the boulders like a blinko chip. I just think an actual jungle gym would be a lot more fun and a safer.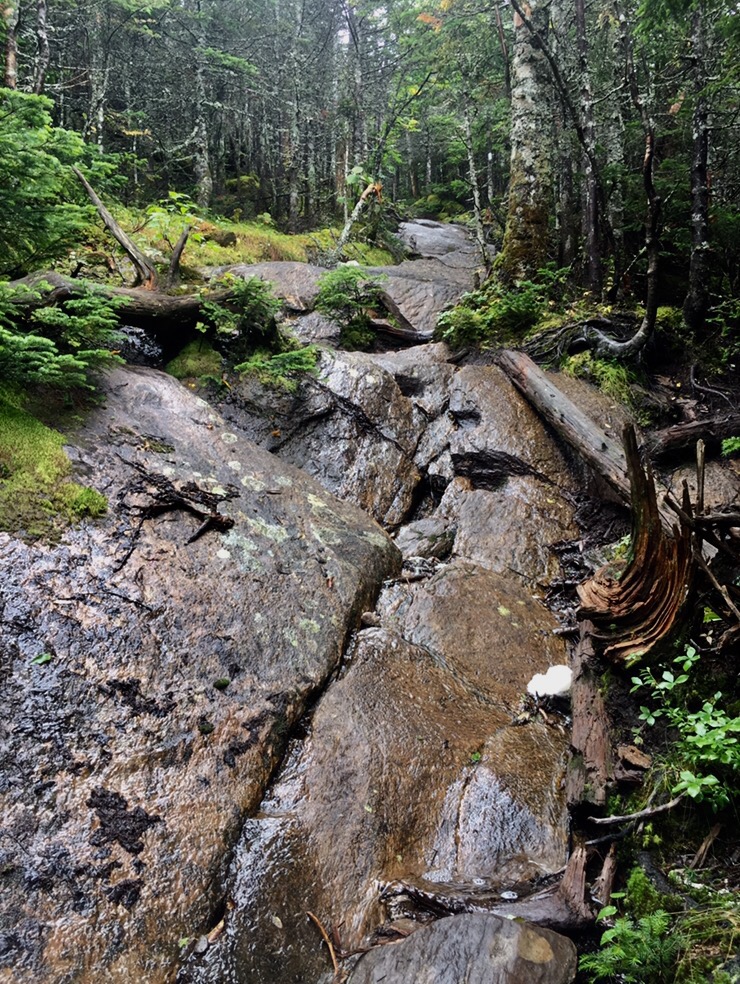 Mile 1927.1
Another rough, wet day. I cried on and off all day. Everything is still wet. Everything. My shoes, my socks, my clothes, my sleeping bag, my air pad, my pack, my food bag. I mean, you name it, its wet and smells absolutely awful. The trail is a wet disaster as well.
Okay, enough complaining.
I did find a great campsite on top of west Baldpate Mountain. And the rain stopped and I could see a great view. Also, I went to pee earlier and found a bunch of wild blueberries. I realized they're all over the top of this mountain. Pretty awesome timing because I'm just about out of food. I actually paid a girl I met on the trail today for 4 granola bars. I need to plan better.
Mile 1932.9
I made it to the road today and got shuttled into Andover. Im really glad. 3 days of being wet and having all of my stuff be wet is plenty. Honestly, I cried again this morning because I was so uncomfortable and because everything smells so nasty. My feet have been really itchy. I think it's because they've been consecutively wet for the past 3 days. I hope it's not some fungus or something. Ugh.
Anyway, I'm staying at the new hostel tonight and it's super chill and relaxing. I took a super long hot shower. I got picked up in a BMW camper van. We made a stop at the local deli so I could get a hot sandwich, a dr pepper, and some chips. It was great.
The hostel is run by 3 former thru hikers and they really are accommodating and helpful. The only major frustrating thing is that my shoes aren't here. I ordered shoes a few days ago and had them expedited here. My toes are exposed on both shoes so I need new ones badly. I guess I'll get them on Monday. One of the gals that works at the hostel is going to leave them somewhere for me.
Mile 1947.4
I woke up at 5:30 this morning. Not on purpose -my body is automatically waking at that time now. I febreezed my sleeping bag in hopes to get rid of some of the nasty stench.
I had blueberry pancakes the size of a plate this morning. The hostel owner made them. They were insanely good.
I hiked for a few hours with "Call me Daddy". He's in his 60s and originally from Scotland. He talked for hours about American government, downhill skiiing in Utah, friends that aren't reliable, and his favorite trail towns. It was quite entertaining. When we got to the shelter, we had lunch.
The rest of the day, I hiked alone. I found a campsite in a pine grove. It's nice and flat.
Today's my 5 month trailversary. Happy to still be on trail but also happy to be almost finished. It's a weird, exciting time.
Mile 1967.4
Today was a beautiful weather day.
Today I also got some seriously unexpected trail magic. I had a hamburger, two hotdogs, chips, a banana, and an apple for lunch. The couple is at this dirt road two times a week in the summer months. They live 60 miles south and travel to this particular AT road crossing. It's pretty awesome.
I'm on shoe pair number 4 now. I got my new ones this afternoon.
Mile 1980.1
I had another beautiful weather day. It seems like it's starting to warm up too. The evenings aren't as cool and during the day, I'm sweaty.
I climbed the Saddlebacks today. It's a mountain range on the AT that includes 3 mountains. Saddleback and Saddleback horn are both above treeline but Saddleback Junior is not.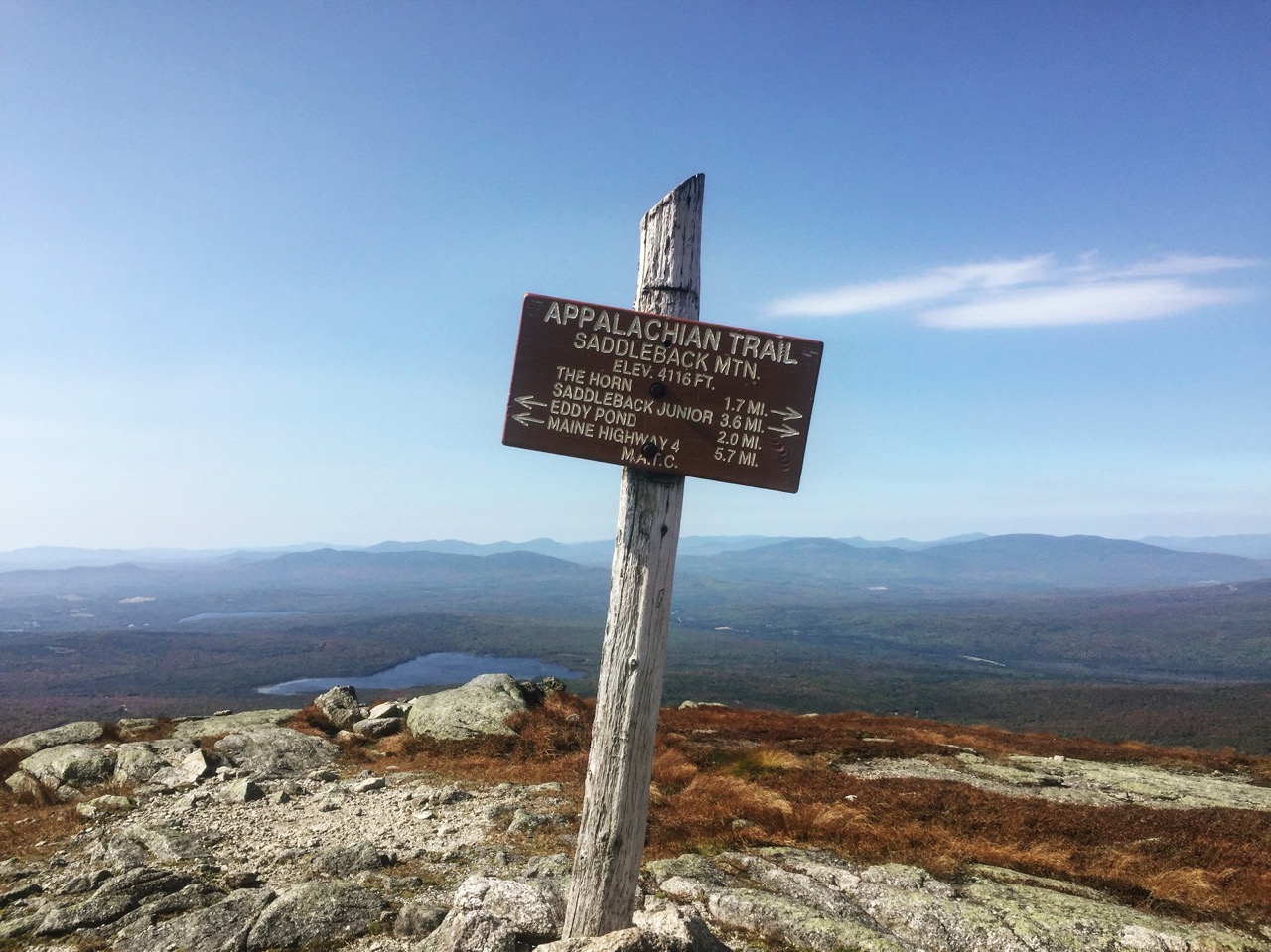 Mile 1994.3
I have a lot of time to think while I walk. I think about one particular thing and then dissect it and dissect it until there's nothing left.
I also think about what I'm going to write about in my blog while I walk. But when it comes time to write in the evenings, I feel like my brain is fried and I hardly remember exactly what happened that day.
I passed the spot today where they completed the final link of the trail in 1937. I got goosebumps thinking about it. This trail connects so many states and thousands of people walk along it each year. It's just amazing.
Mile 2006.7
2000 miles. My feet have taken me that far.
I made it into Stratton to resupply and have lunch. I immediately got a hitch on my way in but on my way out I was not so successful. I walked about a mile before someone picked me up.
It's definitely warmer out. The mosquitos are back and my sports bra smells horrid.
Mile 2019.5
I summited the Bigelows today. When I got to the top a man asked me if I wouldn't mind taking his photo. He then told me it was his birthday and he had cake in his pack. He offered me some and we chatted back and forth while I we ate.
I stopped at a lake tonight. I immediately got in the water. I haven't showered in 6 days now so the swim felt awesome and I brought soap in with me too.
I found a great spot on the beach to pitch my tent.
Today was a pretty solid day.
Mile 2038.2
I was planning on camping right at the Kennebec River today. You can't ford the river since it's 10 feet deep. There's a ferry driver (a guy in a canoe that's employed by the ATC) to take you across. The hours are 9-2 so I was going to have to wait the next morning.
Well when I arrived at the bank of the river to find a spot to camp Mona and Wolfdog were there and said that they called a lady and she was motoring over to pick them up. It was $30 for the shuttle so we all split it. Since I got over the river, I got into town and stayed in the bunk room at the Sterling Inn.
Mile 2055.6
My feet have been super achey all day. I'm not sure what the deal is all of a sudden.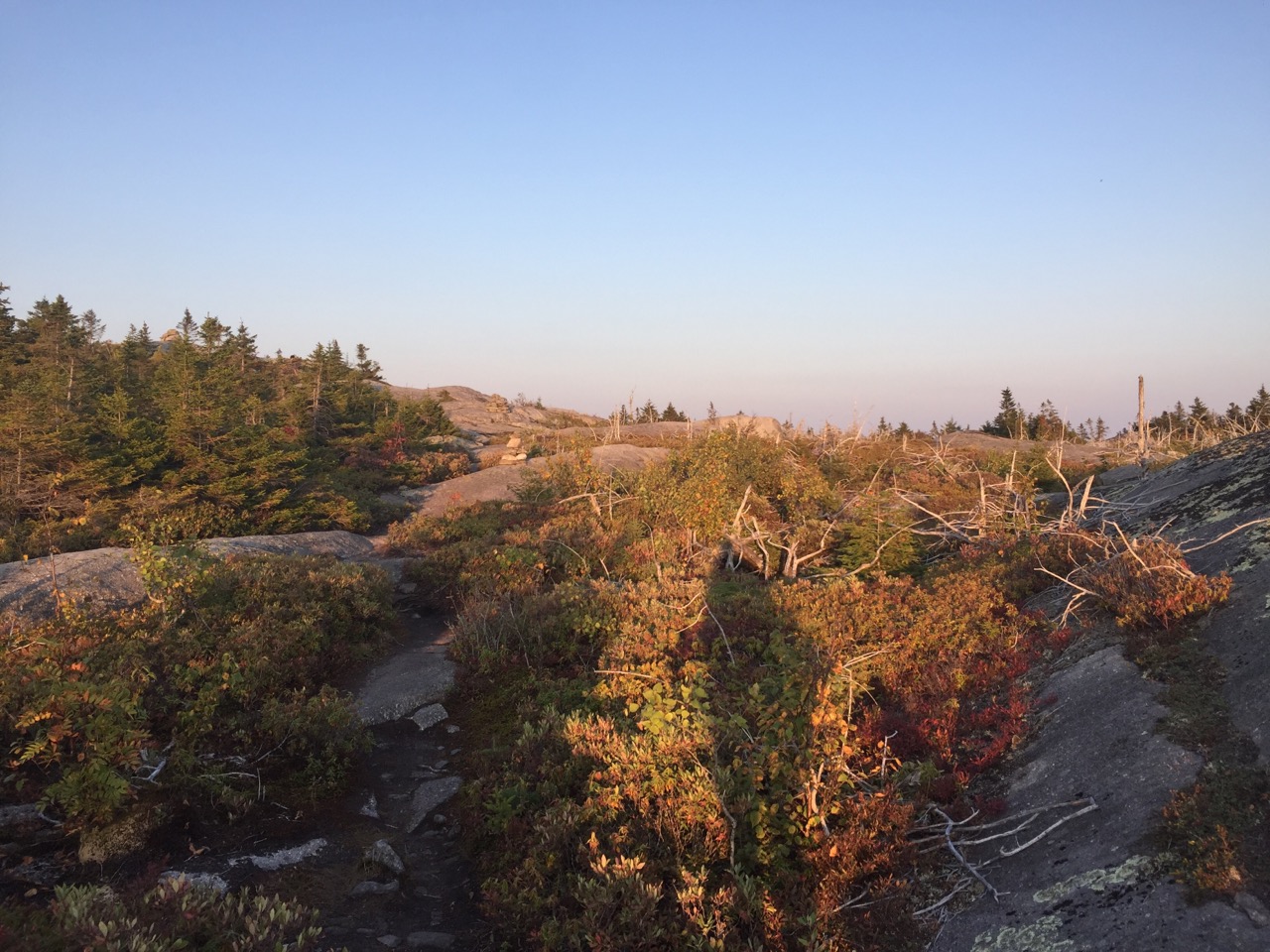 I managed to find a great campsite right on the north side of Moxie Bald Mountain. The view from here is so beautiful.
Mile 2075.3
I made it to Monson, my very last trail town on the trail. I am staying in a bunk at the lake house. I'll enter the 100 mile wilderness tomorrow. I kind of can't believe it. I just have the 100 mile wilderness, a few miles in Baxter State Park, and then, Katahdin.
The end is so close and the time is flying.
Affiliate Disclosure
This website contains affiliate links, which means The Trek may receive a percentage of any product or service you purchase using the links in the articles or advertisements. The buyer pays the same price as they would otherwise, and your purchase helps to support The Trek's ongoing goal to serve you quality backpacking advice and information. Thanks for your support!
To learn more, please visit the About This Site page.