Mile Marker 1,700
Day 114
The morning started with a gradual 2,000 ft. climb to Killington Peak. I don't mind a climb first thing in the morning. Plus the terrain of pines, moss, and ferns was gorgeous, though the root-covered trail required careful walking. At a junction near the top, Serendipity and I finally got service and discovered that Hobble-It, All The Way, and Dinglebeary were zero'ing in Killington. That meant only a 14.5 mile day for us, which made me happy.
Serendipity hurried ahead, but I took my time. The 1700 mile marker made an appearance. I started "Return of the King" then took a break as it rained lightly for a bit. The rain was cool and a pleasant change. I went back to my book and came to the well-marked crossroads where the Long Trail and AT part ways. I ate my lunch there, enjoying the sounds of the forest and the tall trees all around.
Not long after 3 pm I reached the Killington Motel. It was great to see our other tramily members (minus Sonic Boom who got off trail to visit his boyfriend) again. I washed some clothes out and showered. All The Way and Hobble-It came to get me and we went to the deli next door for food. Hobble-It and I ate dinner together, chatting about the Lord of the Rings and resupply plans.
More tramily time, soaking feet in epsom salt, chatting with my parents… the day quickly disappeared.
Day 115
The motel had a decent continental breakfast, winning me over with hard-boiled eggs and good coffee. A nice hiker who was doing the Long Trail had too much food in his resupply box and let us pick through his leftovers. We each scored a couple items. There was no hurry as Hobble-It was waiting until the post office opened at 8:30. After she mailed her boxes, we caught a few Pokémon before heading back to the trail.
The first couple miles were fairly flat, past a calm pond and through tall, shady woods. There was a very short side trail to the picturesque Thundering Falls. Then came a well-graded 1,300 ft. climb that I found enjoyable. The temperature was perfect with a slight breeze and sunny skies.
Shortly past Stony Brook shelter, we took a break at a stream. I had fun chatting with All The Way, Hobble-It, and Serendipity as we sat on rocks to filter water and chat. Dinglebeary got water then took off. When the rest of us set out again we soon encountered a metal ladder strapped to a rock drop. The day continued up and down.
In the late afternoon we came across a side trail to a lookout. Hobble-It watched our packs while All The Way and I checked it out. A very steep stair led to an observation deck on top of a private cabin. There was a 360 degree view of forest. A couple miles later we stopped to camp at Winturri shelter. My ankle did not hurt at day's end, yay!
Day 116
I spent the first two hours of the day walking in silence, admiring the beauty of Vermont's green forests. Though I have walked many miles in the woods, I am not tired of them. They contain so many shades of green. Often I see squirrels who cause a ruckus much bigger than their size seems to warrant.
At the top of one climb I ran into All The Way and Serendipity caught up to us. They decided to push on to Norwich in order to stay at a motel. I declined to join, preferring to sleep outdoors.
A few miles later I stopped at Thistle Hill shelter. I was out of water and the day was hot. Hobble-It stopped as well and we ate lunch while chatting with a south bounder. As we got back on trail we ran into Dinglebeary. There were many crabapple trees along the trail and on the downhill into Hartford I foraged several blackberries.
The three of us stopped at Podunk Brook to fill up on water as our destination, Happy Hill shelter, was dry. The first rumbles of thunder began when we hoisted our packs. With impeccable timing, we made it to the shelter maybe ten minutes before the rain. It was a neat shelter with stone walls, a second level, and an arched entrance. We had it to ourselves and decided to sleep inside. I was excited, having not slept in a shelter since Virginia where I was attacked by gnats. Oh, once again my ankle didn't hurt!
Day 117
Due to last night's rain there were many newts out for the four miles into Norwich. Yay! Other than stopping for newt pictures, I covered the distance quickly, eager to reach my resupply box at the post office. I did my reorganization in Serendipity's room at the Norwich Inn. The shoulders of my rain jacket were patched with duct tape and my sports bra had rusted strap rings. I threw away both items as there were replacements in the box.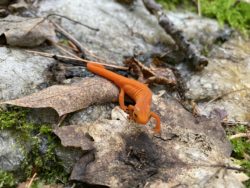 From the Inn, we walked along paved roads to a bridge across the Connecticut River and on into Hanover, New Hampshire. Another state that is new to me and the second to last in our journey! The trail went by Dartmouth College before we stopped at a food co-op. Hobble-It remained to hang out in town and hike to the shelter a mile away. The rest of us got picked up by the shuttle to Hanover Adventure Hostel.
We started on our normal hostel chores. Then the others went to play in the water while I planned resupply boxes. Soon I joined them. Dinglebeary was floating in a tube while All The Way and Serendipity had taken turns on a paddleboard. I got on the paddleboard and floated & paddled along the Connecticut River. It was peaceful and easy to keep upright.
At around 8 pm Tracks arrived at the hostel. He is a thru-hiker that many in our group met in the Smokies and will be joining out tramily for the White Mountains and beyond. We chatted and an hour-ish later Sonic showed up. Great to see him again! We had nero'd mostly so he could catch up, though now he is staying around to meet a friend on Sunday so he will soon be behind again.
Affiliate Disclosure
This website contains affiliate links, which means The Trek may receive a percentage of any product or service you purchase using the links in the articles or advertisements. The buyer pays the same price as they would otherwise, and your purchase helps to support The Trek's ongoing goal to serve you quality backpacking advice and information. Thanks for your support!
To learn more, please visit the About This Site page.