Misery Loves Company: 6 Examples of the Soul-Crushing Lows of Thru-Hiking
Welcome to July on the Appalachian Trail. The NOBOs have been hiking for what feels like forever. The SOBOs are fresh, but wow Maine and New Hampshire are a tough way to start. The Flip-Floppers… you guys are doing pretty well, right?
Here is a post is for the hikers who are down in the dumps. Your food bag is gross. The bugs are lousy. You're stuck in an annoying bubble. You're really, really sick of walking. You might be unsure of whether or not you want to continue. In our experience, we've found that besides a town day or trail magic, nothing boosts low morale like reading about someone else's crappy time. "I've cried every day for the past two weeks BUT so did this hiker and it was actually kind of funny, and hey look things got better."
This is a rather dismal collection of tales, as they reflect some of our blogger's saddest, most tear-filled times on the trail. But it's also uplifting, because they got through it. These tough-as-nails hikers overcame the rough patches and finished their thru-hikes, and our 2016 example is still going strong. For a follow-up dose of encouragement, we've included their triumphant summit posts. Enjoy, and revel in someone else's bad, bad, bad days.
by Emmi Laasko, 2015 NOBO
Emmi flew through Virginia without a care in the world, but PA kicked her butt. From drug-riddled motel rooms to extreme heat and rocks, she was not having fun. "The last straw was hitting Wind Gap, and being supremely sketched out at the Travel Inn, to the point where I got no sleep. The next morning I was in such a state of tired rage that I just hiked as quickly as I humanly could out of Wind Gap, unwilling to stop or talk to anyone, until I got to Delaware Water Gap. I started to feel sick, and spent the rest of the day sleeping in my tent behind the church hostel." We all know Emmi pushed right through it though and summited in early August.
by Olivia Stoken, 2016 NOBO
This is an important post from a current blogger. While the majority of folks on the trail are wonderful and respectful individuals, Olivia was stuck in a bubble of people who most definitely did not fit that description. "The first day I considered quitting my hike was on Dragons Tooth in Virginia. I had been feeling down and unenthusiastic… I was shocked to stumble into Niday Shelter after a long day and find the area 100% packed. I got one of the last tent spots and to top it off several hikers had hiked out cases of beer." However, the next we heard from her, she had weighed her options and plowed forwards, now surrounded with far better people.
by Amy Long, 2014 NOBO
Amy Long had never been on a backpacking trip in her life, and set out on the AT solo in 2014. She absolutely crushed it, and wrote fantastic, honest updates the entire way. This section of the trail saw many, many episodes of tears, with one particular day ending with her smashing open a can of peas with her trekking pole. "After a grueling day, I got to the deli. The deli has been closed since March. I sat on the steps of the deli and cried. Yes. I cried again. This has been the hardest week of my life. And also I was hangry. I'm allowed to cry. I tried to call and order for pizza. Nobody delivers to West Hartford. I looked up restaurants and the nearest one was 5 miles away. I asked the locals where they bought their groceries and they said in another town. I noticed a box of canned food on the porch of the deli. I don't know if it was for hikers. I just want to throw it out there that hikers don't usually carry can openers. I ate a pop top can of some kind of strange Caribbean peas. They weren't good, but I didn't care. After that, I set my sights on mandarin oranges, and pears. But how does one get in to a can without a can opener? Trekking poles. I smashed into the cans like a cave woman with my trekking poles." Don't worry, Amy summited Katahdin with a crowd of friends, and we were all stoked.
by Jennifer Williams, 2015 NOBO
Jennifer was sick, exhausted, and weak for a large chunk of Massachusetts. Then came the ultimate test- a tragedy struck home, forcing her to consider her options. "The stretch to Great Barrington was rough. My feet were dragging. My legs felt so heavy. I had no appetite and my stomach was making noises I never heard before. I might have averaged one mile per hour. After finally making it to Great Barrington,  we were able to find the culprit. I have a history of anemia, but it's not something I have thought about in years. I don't want to discuss details, but my sister informed me of an unthinkable tragedy that happened at home.I  stood on the side of a 2 lane highway and felt like a ton of bricks hit me." Jennifer found solace in her trail family, and pushed through the bout of sickness to finish the trail the first week of September.
by Maggie Slepian, 2015 NOBO
That title is a slight understatement. Getting stuck in a bad bubble can break a thru-hiker's spirit into a million sad pieces. Especially when someone in that bubble is killing animals along the trail. This is a rather disturbing post, please be aware. Maggie was ready to get off the trail in New York, but instead switched up plans and took a few extra days off to let the negative crowd get further ahead. "I have been steadily becoming more discouraged, and Hare, Silent Bob, and myself just left the trail a day early for meeting Rocky's parents. I couldn't handle being out there anymore, and I have never been so close to just quitting.Somehow we wound up in a cluster of hikers who gave me a bad feeling. There's a constant slew of corrections and snide comments when I engage in conversation, so I've found myself speaking up less." Luckily, the extra zeros did the trick and they never saw those people again, finishing the trail in early August.
by Dayna Thomas, 2014 SOBO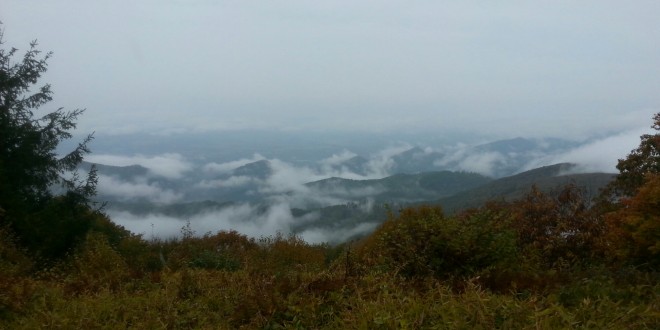 Dayna dealt with a lot of trials during her 2015 SOBO hike. Loneliness, bad weather, and uncertainty plagued her on and off throughout. "The first day, I was like, 'This sucks.' The second day, however, I really broke down. I had heard weather reports from various people who all said there was no end in sight to the rain. I stopped at a shelter for a snack and just cried, already missing the sun so badly. I know what you're thinking: 'Man, this girl cries in, like, every single one of her blog posts.' And you know what? Maybe I do. Whatever. " We loved her honest updates and the continuous perseverance. That means we were all so so happy when she got to Springer and wrote a truly wonderful reflection post.
What's the moral of the story? YOU CAN DO IT. The vast majority of long-distance hikers are going to experience tough times on the trail. Sometimes they last a day, sometimes a week. Sometimes things just feel awful for 500 miles. And you know, if leaving the trail is the right option for you, more power to you. But if you're on the fence, keep these blogger's posts in mind and remember: It doesn't always keep getting worse.
Affiliate Disclosure
This website contains affiliate links, which means The Trek may receive a percentage of any product or service you purchase using the links in the articles or advertisements. The buyer pays the same price as they would otherwise, and your purchase helps to support The Trek's ongoing goal to serve you quality backpacking advice and information. Thanks for your support!
To learn more, please visit the About This Site page.