Mothers Day, 200 Miles, and a Bear
Happy Mother's Day
Happy Mother's Day! During our hike we have noticed that almost to a hiker, everyone contacts their mother at least twice a day. Once in the morning when leaving camp and once in the evening when arriving at camp. It has made us realize even more than we had, just how important mothers are. So to all you mothers, we hope you have enjoyed your day. This means you Dora!
When last we wrote we were in Franklin, North Carolina. Yolo celebrated her 53rd birthday!!!  Even the shuttle driver joined in the festivities by delivering a surprise birthday cake.
And of course there was pizza.
We decided to do some slack packing. To us, slack packing rules. A shuttle driver, in our case Bobby the Greek would drop us off at one location with a backpack just carrying food and then pick us up at a predetermined spot some miles down the trail. We did this for two days. We would do this for the entire AT but it's not exactly a cheap way to go.
The Tramily
Along with the luxury of slack packing, we have formed a small tramily. A tramily is a group of hikers that hike about the same pace and distance and therefore seem to always be at the same spot each night. We have had the pleasure of hiking with 'Patmos' and 'The Don'. It is nice to have a familiar face to share a drink of water, lunch, or story with. Thanks tramily for always having our back.
We bid our adieus to Bobby the Greek at Tellico Gap and with full packs started off to rendezvous with a cheeseburger at the Nantahala Outdoor Center (NOC), some eight miles north.  Of course, as the trail often provides, we were greeted there by fellow hikers that we had meet along the way.  Special thanks to Lazy Log and Turbo for a great lunch!
One thing that a thru hiker has to be aware of is being sucked into the vortex of a town or in this case a place that just seems to perfect to not spend a lot of time in. With this on our minds we decided to leave after lunch and hike a few miles to eliminate that temptation. Trust us when we say, we could have spent a lot of time at the NOC.
God's Handiwork
Continuing our trek North we spent a few days and nights getting to what, at that time was the most beautiful spot we had seen, Cheoah Bald.
The picture does not do the beauty of this justice.
Dinosaur
Onward we go, next destination; Fontana Dam. Of course as often happens on the trail, there are obstacles that must be overcome. Having to climb Jacob's ladder, one of the refuted 5 hardest sections of the AT is between us and Fontana.  We were not informed of this little tidbit of information until we reached the top and another hiker congratulated us for our accomplishments. Sometimes ignorance is bliss.   Reveling in our accomplishment, we press on and where quickly humbled  when out of no where we were passed by an older gentleman that floated up rock embankments that for us were an exercise in contortion. We finally catch up to him having his lunch at the next shelter.  This man, trail name Dinosaur,  was 75 years old and looked as if he were in his fifties.  Humbled and inspired yet again.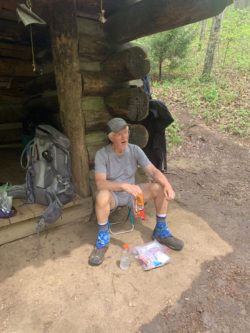 Where were you when the lights went out?
Finally we make it to Fontana where we had planned to spend the night at the Fontana Dam Lodge.  Walking the last mile to the Dam Road, we hear and see a tree fall in the forest. Little did we know that this one seeming small event would have repercussions for our night.  We arrive at the Lodge to discover that tree falling in the woods had managed to cut power to the lodge.  Oh well, when your handed lemons, hang out with fellow hikers, eat cold turkey sandwich's provided by the Lodge as they felt sorry for you, and laugh.  The lights finally came on and its time to eat real food and resupply for the next few days adventures.
We are off to the Smoky Mountains.
Permits in hand we set out for the next milestone of the trip; hiking through the Smoky Mountains.  The Federal Government gives a thru hiker eight days to hike 73 miles though the park. So off we go.
We were soon met by a welcoming committee, a black bear.  While black bears are plentiful in the Smokys, few are seen.
Having been officially greeted, we press on. We had a long way to go and by federal mandate, a short time to get there.
Changes in Altitude, Changes in Attitude
Thus far a lot of parts of our adventure have been difficult. However, God always seems to put someone or something in our path to lighten the load.  For us this appeared in the form of a fellow hiker, 'Pineapple Express'.  We met Pineapple at Birch Spring Gap where he was, as his name implies, blazing a path of his own. We fell in love with this young man.  His carefree attitude and love of life made him an absolute joy to hike with for some three days where he had to leave trail to return to the real <?> world.
There are all professions of people on the trail,  people who you think would never get along seem to form a bond that transcends any form of relationship they may have had in a different situation.  In this case a retired deputy sheriff now looks at Pineapple as an adopted son.  We miss you Pineapple!!!
Good Ole Rocky Top
One of our best memories of Pineapple, was climbing up to the top of Rocky Top mountain. Upon reaching the summit and us breaking out in song, Pineapple, who had never heard the lyrics, finds the song on the internet and proceeds to play it to all those who summit while we sat there catching our breath.
Clingmans Dome
At 6,643 feet, Clingmans Dome is the highest point on the AT.  At this height weather changes and changes quickly. At one moment its sunny and in the next its raining with a 50 mph wind blowing.  After a few windy, rainy nights getting to the base of Clingmans, we set out on a drizzly day to climb to the top.  The climb albeit wet was beautiful.  We climbed through a spruce and fir forest where the only thing missing was a fairy to jump out.  Just when it seems that things were going well, the temperature, as one would expect as your climbing elevations starts, to drop.  After a quick discussion, a decision was made to make it to the top of Clingmans and drop into Gatlinburg, TN and dry out.  Upon reaching the summit, we immediately find the visitor's center, drop our packs and inquire about a shuttle to town.  As luck would have it, there were no shuttles available.  However, as often happens, the trail provides. When we asked a random couple if we could get a ride into town this couple from Whitehouse, OH, Mike and Kathy tells us to jump in the car with them and they would gladly take us to town.  Woo-Hoo! Thanks Mike and Kathy!
Our Current Situation
The road back up to Clingmans Dome is going to be closed tomorrow, Tuesday, and Wednesday.  So what does one do? Improvise.  One of the many trail angels we have met, 'Stripper' is going to take us 40 miles north on Tuesday where we will walk Southbound back to Clingmans Dome. She will then pick us back up and deliver us back into Gatlinburg. Things always work out. Usually not in the way we would like it, but one of the biggest lesson the trail teaches is flexibility.
Poops
A hole, now fixed, in Santa's air mattress.
A rattlesnake on the trail deciding that the trail was his and his alone.
Thunderstorms and very cold temperatures.
Falls. We have had so many while walking through the mud that we have lost count.
Popsicles
Our Tramily.
Running into hikers we had not seen in a while.
Pineapple Express.
A trail angel bringing us much needed candy.
A trash can at Stecoah Gap.
Fall down seven, get up eight.
Yolo communing with nature. Touching and talking to trees, birds and anything living.
Random Photos
Thanks again for reading and keeping us in your prayers.
Affiliate Disclosure
This website contains affiliate links, which means The Trek may receive a percentage of any product or service you purchase using the links in the articles or advertisements. The buyer pays the same price as they would otherwise, and your purchase helps to support The Trek's ongoing goal to serve you quality backpacking advice and information. Thanks for your support!
To learn more, please visit the About This Site page.